2019 Summer Heritage Passport

The Columbia Montour Visitors Bureau (CMVB) is pleased to announce the second annual Summer Heritage Passport in partnership with fourteen area historical assets and heritage organizations.  This year's passport trail will take participants on a journey through the history, culture, and stories of Columbia & Montour Counties and beyond.
The 2019 Summer Heritage Passport will begin on Friday, May 10th and last through Saturday, October 12th.  At each of the fourteen stops, passport holders will receive a sticker to place in their passport indicating their attendance at that location. Once milestones have been reached, passport holders may drop off or mail their passports to the CMVB Welcome Center at 121 Papermill Road in Bloomsburg.
Any participants who complete at least 5 out of 14 stops on this year's summer heritage passport will receive a limited edition embroidered commemorative patch. Participants who visit at least 10 of the 14 locations and receive their cancellation stickers will be entered to win one of five prize baskets. One Grand Prize basket will feature several hundred dollars in gift cards to area restaurants. Four additional runner-up prizes will also be awarded, and will include more area gift cards, historical regional book collections, and items from several of the passport stops. The total value of all prizes is estimated at $1,000.
The Passport trail kicks off with the "History Comes Alive" event at the Bloomsburg Fairgrounds, which will take place Friday, May 10th and Saturday, May 11th from 9am – 4pm daily.  Attendees will learn about the Civil War from living historians, period demonstrators, and re-enactors. Topics include Civil War-era medicine, wood turning, broom making, chair caning, printing presses, spinning and weaving, blacksmithing, spies, and more. The Barton House and historic School House will be open for tours all weekend. The first sticker can be collected at this event from the Barton Historical Association or at the Visitors Bureau's display table.
Each of the fourteen participating locations holds a unique experience for visitors, from Bill's Old Bike Barn to the Knoebels Carousel Museum. The majority of the stops on the summer passport can be found in either Columbia or Montour Counties, but Ashland's Pioneer Tunnel in Schuylkill County and the three Eagles Mere museums in Sullivan County are also included.  Other participants include the Boyd House, Catawissa Quaker Meeting House, Columbia County Historical & Genealogical Society, the International Harvester Collectors Museum, the Jane E. DeLong Memorial Hall in Washingtonville, the Montgomery House, and the Mooresburg School.
There is no cost to participate in the event, but admission fees may apply at several of the locations.  To get started, travelers may pick up a free passport from any of the 14 participating locations or at the Columbia Montour Welcome Center (121 Papermill Road, Bloomsburg).  All locations will be open during their normal posted hours. Please call or visit individual websites for complete hours of operation. For more information about the Summer Heritage Passport trail, please call 800-847-4810.
Download the brochure today and get started!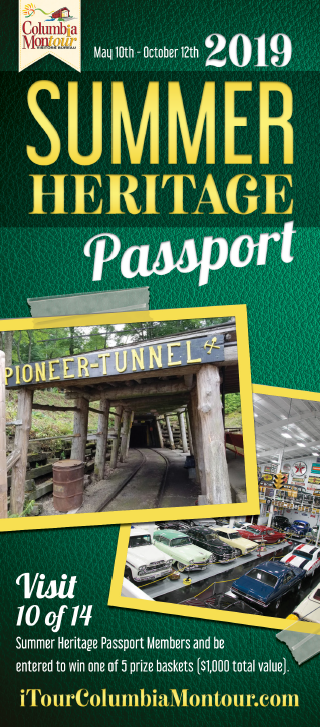 Passport Participants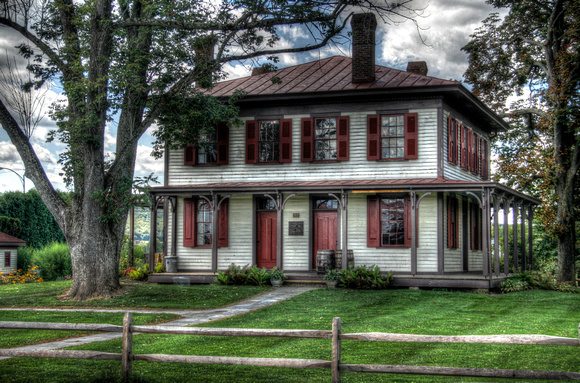 620 West 3rd Street, Bloomsburg, PA 17815
bloomsburgfair.com • 570-784-4949
The Barton House historic area represents the original acreage of the Bloomsburg Fair in 1855 and preserves an important element of the Fair and its history.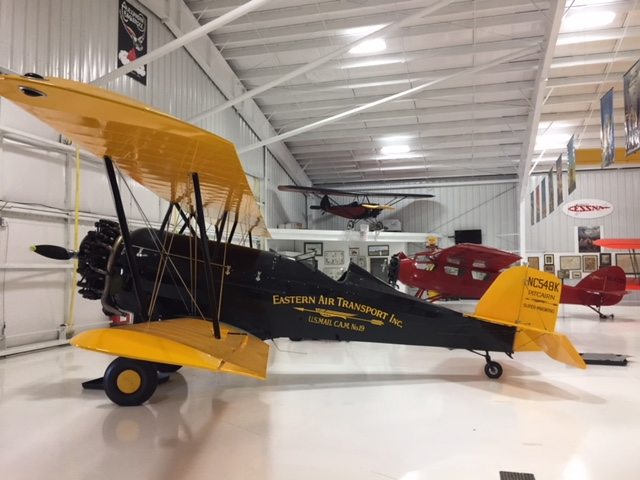 14013 Pennsylvania SR-42, Laporte, PA 17731
eaglesmereairmuseum.org • 570-220-2429

The Air Museum is a "live museum" of vintage planes that fly weather permitting. The museum contains a history of early flight pilots and a variety of memorabilia.

391 Knoebels Boulevard, Elysburg, PA 17824
knoebels.com • 800-487-4386

The Knoebels Carousel Museum features over 50 carousel figures, scenery panels, chariot sides, and other memorabilia from carousels dating back to 1870.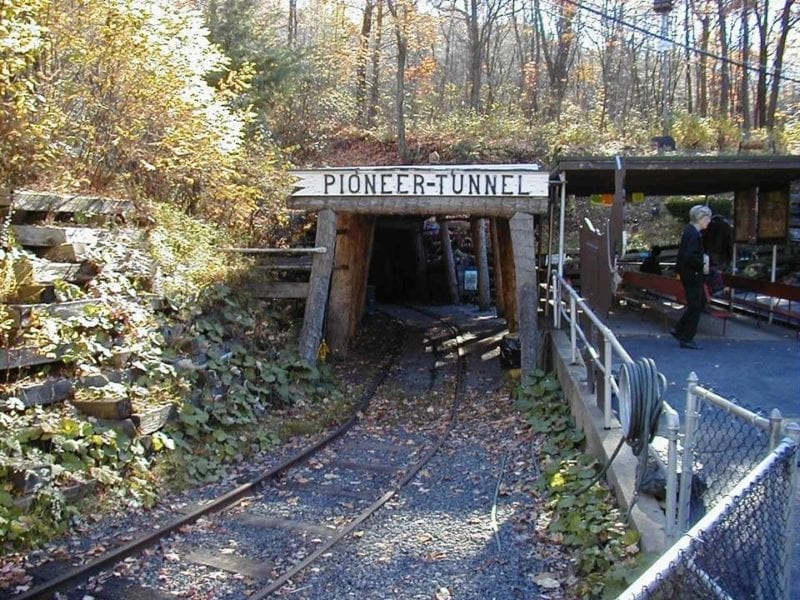 19th and Oak Street, Ashland, PA 17921
pioneertunnel.com • 570-875-3850

At the Pioneer Tunnel, you can take a tour inside a real underground anthracite coal mine & enjoy a train ride on an old fashioned narrow gauge steam engine. Tours are great for all ages!
Heritage & History
The rich history of Columbia & Montour counties is filled with stories that span generations. From the first settlers and local Native American tribes to the golden days of industry and the onward march of community progress, the memories contained within our counties have helped shape the region into the cultural gem that it is today.
The river towns of Danville, Bloomsburg, and Berwick all contain Historical Societies that exist to preserve the area's important past for future generations. History lovers will delight in spending a day browsing the extensive and educational collections of historical documents, records, and files. Other visitors will seek to trace genealogies, read up on archived newspaper articles, or study old photos. Several area museums and historical homes provide insight into early life in the counties, and make for a great rainy day activity. Intrepid visitors in search of a history lesson might spend a day or weekend traversing the back roads in hopes of discovering some of the county's historical treasures for themselves.
At 444 miles, the mighty Susquehanna is one of the longest rivers on the east coast. It derives its name from one of the area's early Native American inhabitants – the warlike Susquehannock tribe. The Susquehanna River is also one of the oldest rivers in the world. Its origins trace back over 300 million years to the Paleozoic Era – pre-dating even the Appalachian Mountain range. The North Branch of the river flows directly through both Columbia & Montour counties. The Susquehanna River plays an important role in the past, present, and future of our counties, and provides countless recreation opportunities for visitors.
Danville's heritage includes a documented role in the westward expansion of America and indelible ties to the growth of the railroad industry. For more than a century, the town of Bloomsburg has held the distinction of being the only incorporated town in Pennsylvania. In the heart of the Fishing Creek Valley, Benton's past is deeply rooted in rural successes. One of the first settlers in the area built up an iconic whiskey brand, and lumber and tanning industries drove community growth during the mid-1800s. Berwick's story centers around its reputation in industry, most notably the production of over 15,000 tanks at the American Car and Foundry for the World War II effort.
For more information and in-depth stories about the main towns in Columbia & Montour counties, visit our individual Benton Area, Berwick Area, Bloomsburg Area, and Danville Area pages.
We are excited to be able to share our counties' stories, and look forward to helping you explore our local history! Stop at our Welcome Center to get your journey started. Be sure to pick up our historical town walking tour brochures and our classic covered bridge driving tour.