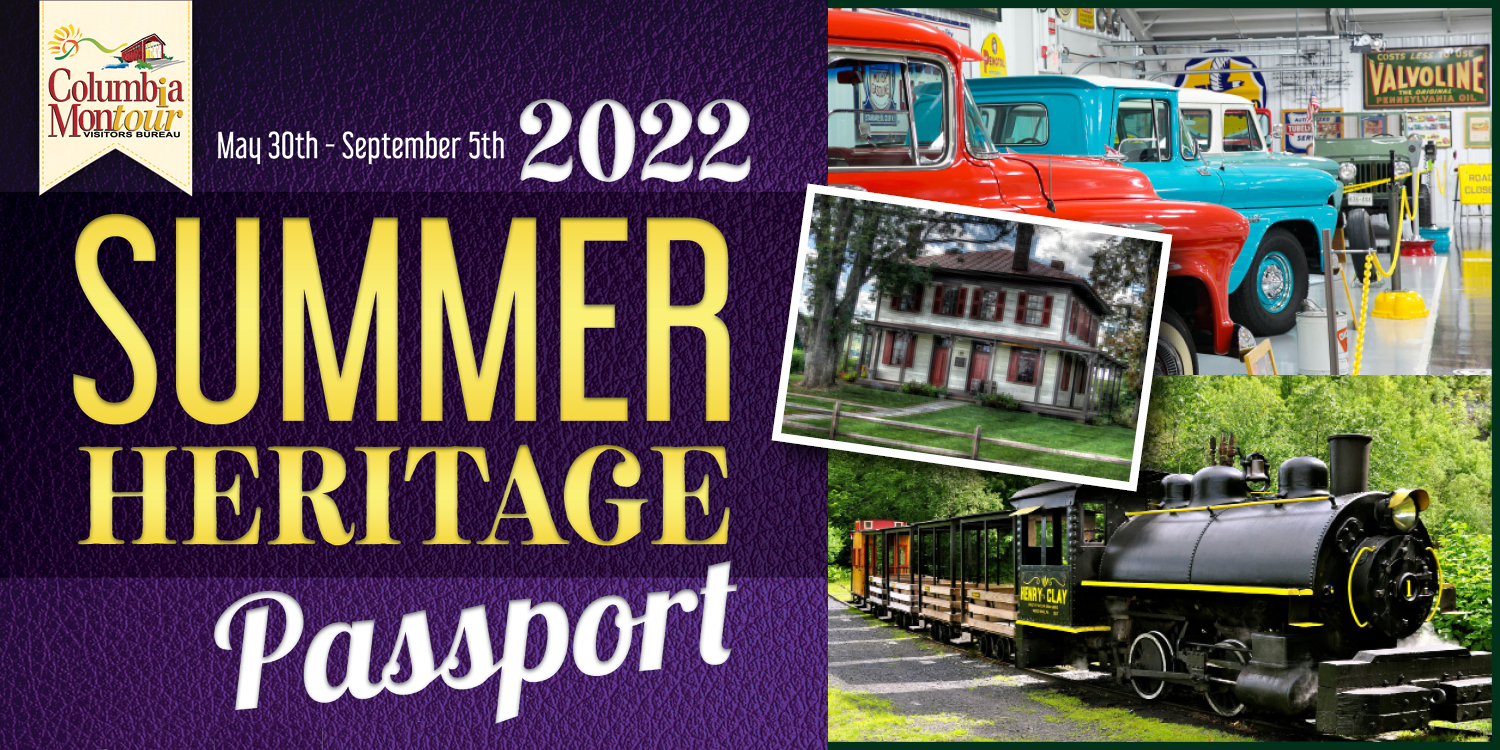 2022 Summer Heritage Passport
The Columbia Montour Visitors Bureau (CMVB) is pleased to announce the return of the annual Summer Heritage Passport for 2022.  This year's passport trail will be digital, and will take participants on a journey through the history, culture, and stories of Columbia & Montour Counties and beyond.
The 2022 Summer Heritage Passport started Monday, May 30th and runs through Monday, September 5th.  At each of the stops, passport holders will use their mobile device to check in, indicating their attendance at that location.
If you visit at least 3 stops this year, you'll receive a commemorative embroidered patch, sent in the mail. If you visit at least 12 stops, you'll be entered to win one of several amazing grand prize bundles filled with regional gift cards and local goodies. Visit at least 16 of the locations, and you'll receive a double entry for the grand prizes.
Each of the twenty participating locations holds a unique experience for visitors. The majority of the stops on the summer passport can be found in either Columbia or Montour Counties, but Ashland's Pioneer Tunnel in Schuylkill County and the three Eagles Mere museums (Eagles Mere Museum, Eagles Mere Auto Museum, and Eagles Mere Air Museum) in Sullivan County are also included.
There is no cost to sign up for the passport, but admission fees may apply at some of the locations. All locations will be open during their normal posted hours. Please call or visit individual websites for complete hours of operation.
To sign up for this year's passport, click the purple "Sign Up" button in the window below! Please note - we recommend filling out separate "orders" for each person in your family who has a smartphone so that each person can check in individually for a chance to win. Two of the six prize baskets will be geared toward youth, so if you are embarking upon the passport program with children or grandchildren, we encourage you to submit them for consideration. One of the questions during sign-up will ascertain if the pass will be for a youth under 18.