Covered Bridge & Arts Festival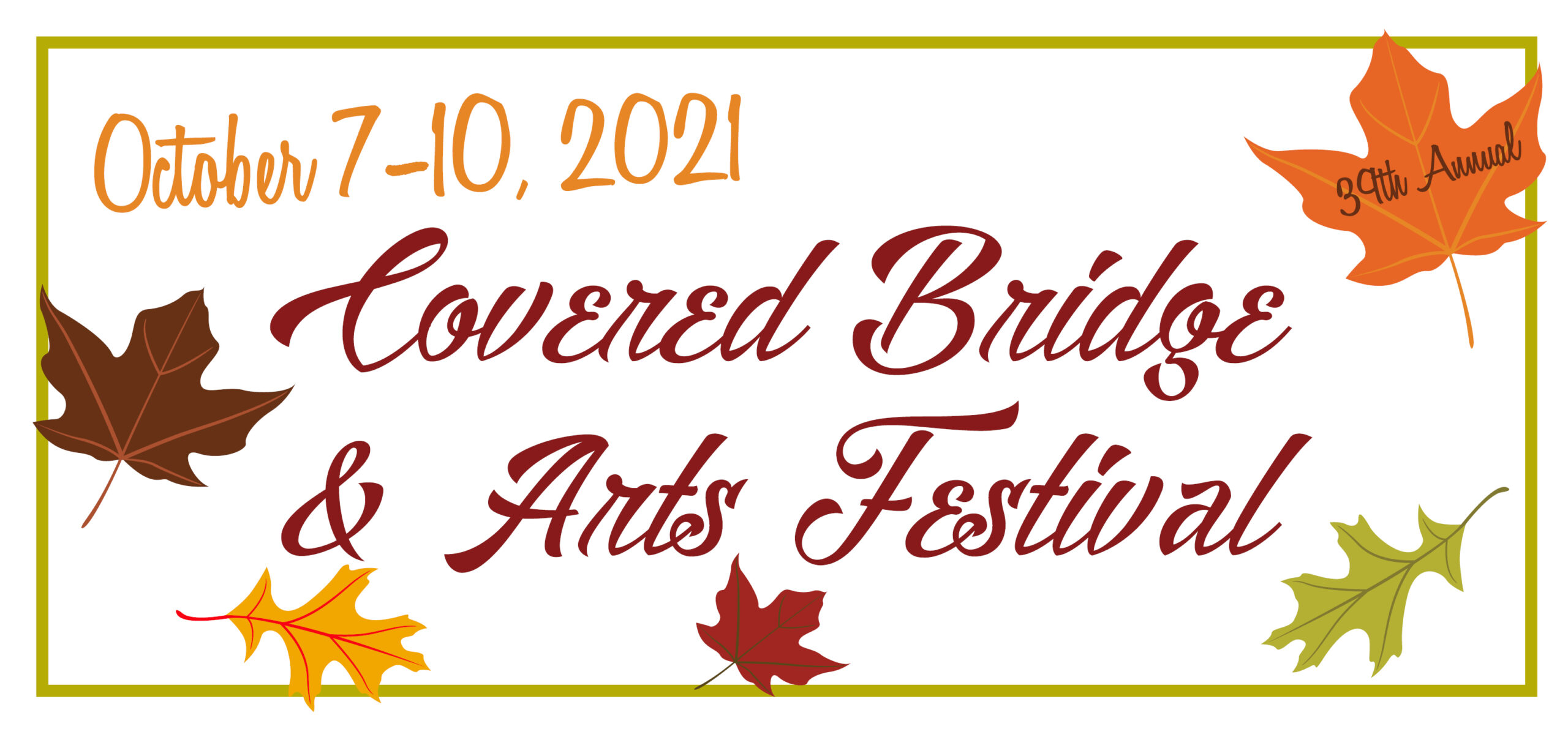 ---
- 2020 Festival Cancelled -
OFFICIAL STATEMENT FROM COLUMBIA-MONTOUR VISITORS BUREAU FESTIVAL COMMITTEE
2020 Covered Bridge & Arts Festival Cancelled
ELYSBURG - With the COVID-19 pandemic continuing to evolve unpredictably and in accordance with state guidance on large gatherings, the Columbia-Montour Visitors Bureau (CMVB) is deeply saddened to announce that the 2020 Covered Bridge & Arts Festival, held annually at Knoebels Amusement Resort in early October, will be cancelled this year.
Together with local leaders as well as Knoebels management, the festival committee has concluded that at this time, the risk is too high in having such a large gathering. Each year, the festival draws in close to 400 vendors and about 150,000 visitors from all over the country. With respect to vendor and visitor travel plans for the multi-day event, it was imperative that a decision be made well in advance of the festival's start.
CMVB Board President Stephanie Severn said, "We struggled mightily in making this decision. Having a front-row-seat to the total upheaval within our industry provided us with a unique perspective that assures us we made the difficult, but correct, decision. Our primary concern was preserving the safety of our attendees, vendors, local communities, and festival staff."
As the host location to the annual festival, Knoebels Amusement Resort fully supported the festival committee's decision. "Knoebels has successfully provided a healthy and safe environment for amusement park guests," said Stacy Ososkie, Knoebels spokesperson. "However, hosting the festival would have provided a unique challenge with gatherings in the designated festival area. We respect the committee's foresight that the atmosphere festivalgoers and vendors have come to expect could not be upheld this year."
Each year, the festival's overall economic impact to the region is $14,240,420.  David "Otto" Kurecian, CMVB Executive Director noted, "The travel & tourism industry is so much more than dollars and jobs. The global pandemic has shown us a world without travel, events, and the arts; and it isn't pretty.  As we look toward 2021 and beyond, I believe the travel & tourism industry will be more clearly recognized for breaking down barriers and connecting communities. Our industry makes you happier, healthier and more productive."
The Covered Bridge & Arts Festival, organized by the Columbia-Montour Visitors Bureau and hosted by Knoebels Amusement Resort each year, will plan to return on October 7–10, 2021. It is our sincere hope we'll be able to celebrate the festival's 39th anniversary with everyone next year.
- Virtual Vendor List -
Although this year's festival has been cancelled, we've gone VIRTUAL with a list of vendors who would have been in attendance. Now, you can find more details about your favorite vendors and even contact many of them directly via email to make your purchases!
** Please note: Only emails for craft vendors who have given permission for them be shared are included. **
THANK YOU for supporting our vendors in a difficult time; we hope to see you next year!

DOWNLOAD FULL VENDOR LIST
--------------------------------
The 2021 Festival will be planned for October 7 - 10, 2021
Thursday, Friday, & Saturday: 10 AM – 6 PM Sunday: 10 AM – 5 PM
Location: Knoebels Amusement Resort 391 Knoebels Boulevard, Route 487 Elysburg, PA 17824
---
Looking for lodging options in our area for your stay? Click here.
Situated in the beautiful surroundings of Knoebels Amusement Resort, the 39th Annual Covered Bridge & Arts Festival has something for everyone!
• More than 350 Craft Vendors & 38 Food Vendors!
• FREE Parking & FREE Admission
• Select Knoebels rides open ALL FOUR DAYS! Full details about 2019 park rides can be found below [2020 ride info will be released in late summer] - please note that what rides are open are SUBJECT TO CHANGE.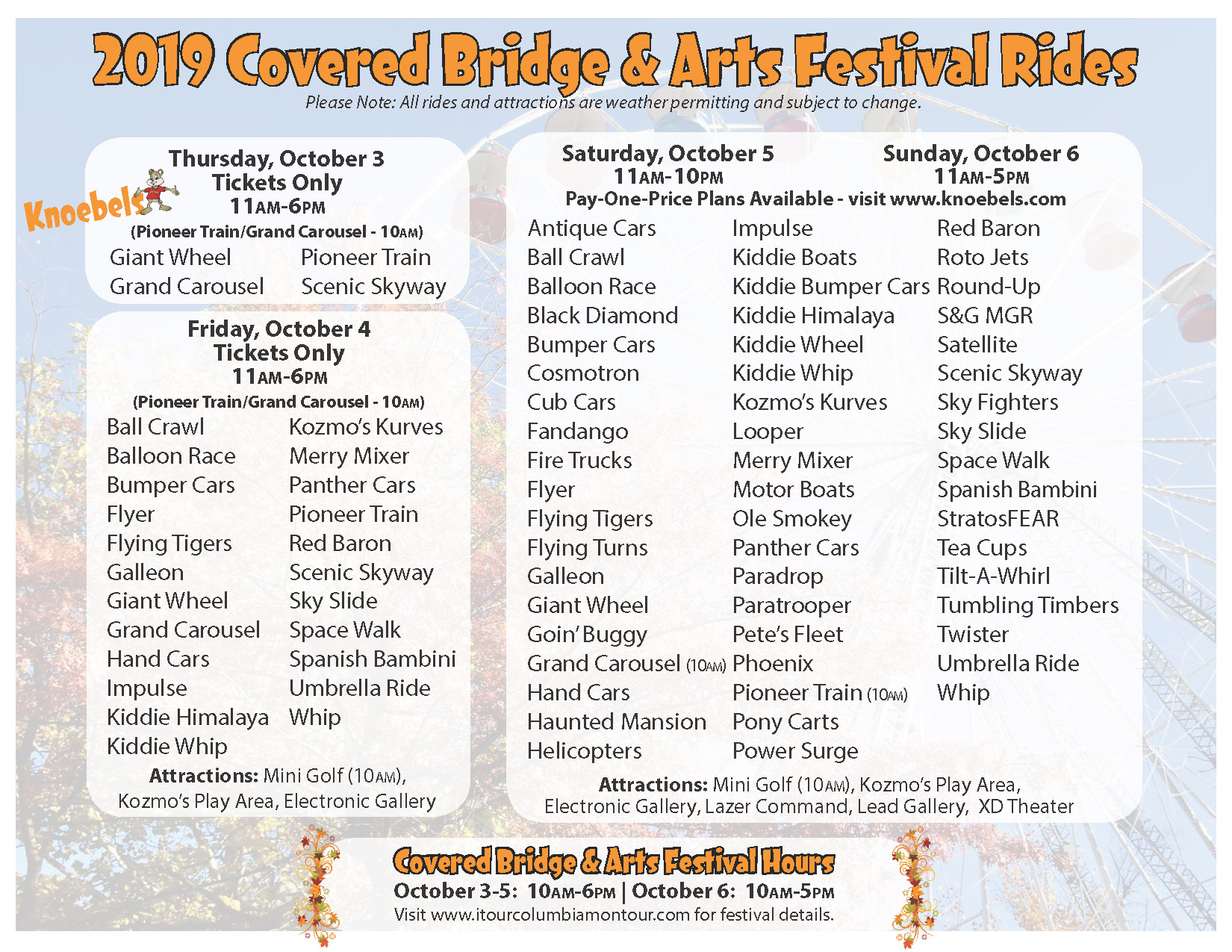 Handmade & Traditional Crafts • Turned & Carved Wood • Glass
Prints • Sewn & Woven Textiles • Jewelry • Photography • Paintings • Pottery
Decor for Every Holiday • New & Repurposed Primitives
Plus Much More!
---
Covered Bridge Festival Interactive Map 
---
The 2020 Festival Map will be released in late summer! Be sure to see if your favorite vendors will be at the festival again this year and where they are located.
Plan your visit to this year's Covered Bridge Festival using our interactive vendor map.  This map will include all vendor information, their location, as well as a brief description of what they are selling.  The map also includes restroom locations, parking, nearby landmarks and important park resource locations.
Download the 2019 Covered Bridge Festival Interactive Map right here.
Please note, the interactive map will be in Google Earth format. The link will take you to a Dropbox folder where you can download the Google Earth .kml file.  You do not need to have a Dropbox account to download the file (simply click on the file and then select "Direct Download" option from the available dropdown menu). However, you will need to have Google Earth installed on your computer or smartphone to open the file once downloaded. Google Earth is a free download, and can be found here.
THE FULL (2019 UNOFFICIAL) VENDOR LIST IS HERE. FIND OUT WHETHER YOUR FAVORITE VENDORS WILL BE BACK AND WHERE EVERYONE IS LOCATED. Download the 2019 List.
Covered Bridge Festival 2020 Schedule of Events
Thursday, October 8
10 AM - 6 PM: Craft & Food Vendors throughout the park.
11 AM - 6 PM: Select amusement park rides open; tickets only.
Friday, October 9
10 AM - 6 PM: Craft & Food Vendors throughout the park.
11 AM - 6 PM: Select amusement park rides open; tickets only.
Saturday, October 10
8:00 AM: Knoebels Lumber 5K Race - For more information, or to pre-register, call 800-332-6755. Race day registration at Pavilion L.
10 AM - 6 PM: Craft & Food Vendors throughout the park.
11 AM - 10 PM: Park rides open; Ride-All-Day Passes available.
Sunday, October 11
10 AM - 5 PM: Craft & Food Vendors throughout the park.
11 AM - 5 PM: Park rides open; Ride-All-Day Passes available.
---
Limited Edition Covered Bridge Puzzles Available
The Visitors Bureau may have the 2020 Edition of the Columbia & Montour counties Covered Bridge Puzzle Series available for sale at the Festival (subject to availability).
A portion from every puzzle sold is donated to the Columbia County Covered Bridge Association for upkeep, restoration, and preservation of these iconic bridges. Pick your puzzles up at the Festival by visiting the Visitors Bureau table!
---
---
---
Covered Bridge Festival Application Forms
CRAFTER:
Interested in becoming a crafter at the Covered Bridge Festival?  Your first step is to download our Covered Bridge Festival Pre-Qualification Form. 
Please remember that applicants must hand make their craft – no buy/sell.  This is a juried show.  Pre-qualification forms are added to the Committee's files for up to 3 years of consideration.  Submitting a pre-qualification application does not guarantee you a spot in the show. If your pre-qualification forms and paperwork are in order, you will be placed in the qualified pool of vendors.  Craft vendors who were at the prior festival are given priority to return.  The spaces of craft vendors who elect not to return will be filled from the pre-qualified pool of applicants who have already been approved.  If you are in the pre-qualified pool, you will be notified in late spring if your pre-qualification application was selected to attend our upcoming festival as a new vendor.  If you are one of the vendors selected, you will receive a full application to fill out along with instructions for space payment. If you were not selected from the pre-qualification pool for the given year, you will not be notified directly. You will only be notified if you were selected as a vendor, or if your pre-qualification paperwork has expired (after 3 years).  THE 2021 SHOW IS PLANNED FOR OCTOBER 7 - 10, 2021.
FOOD VENDOR:
Download the food vendor application form and follow the instructions on the form to submit it for consideration!