Covered Bridge & Arts Festival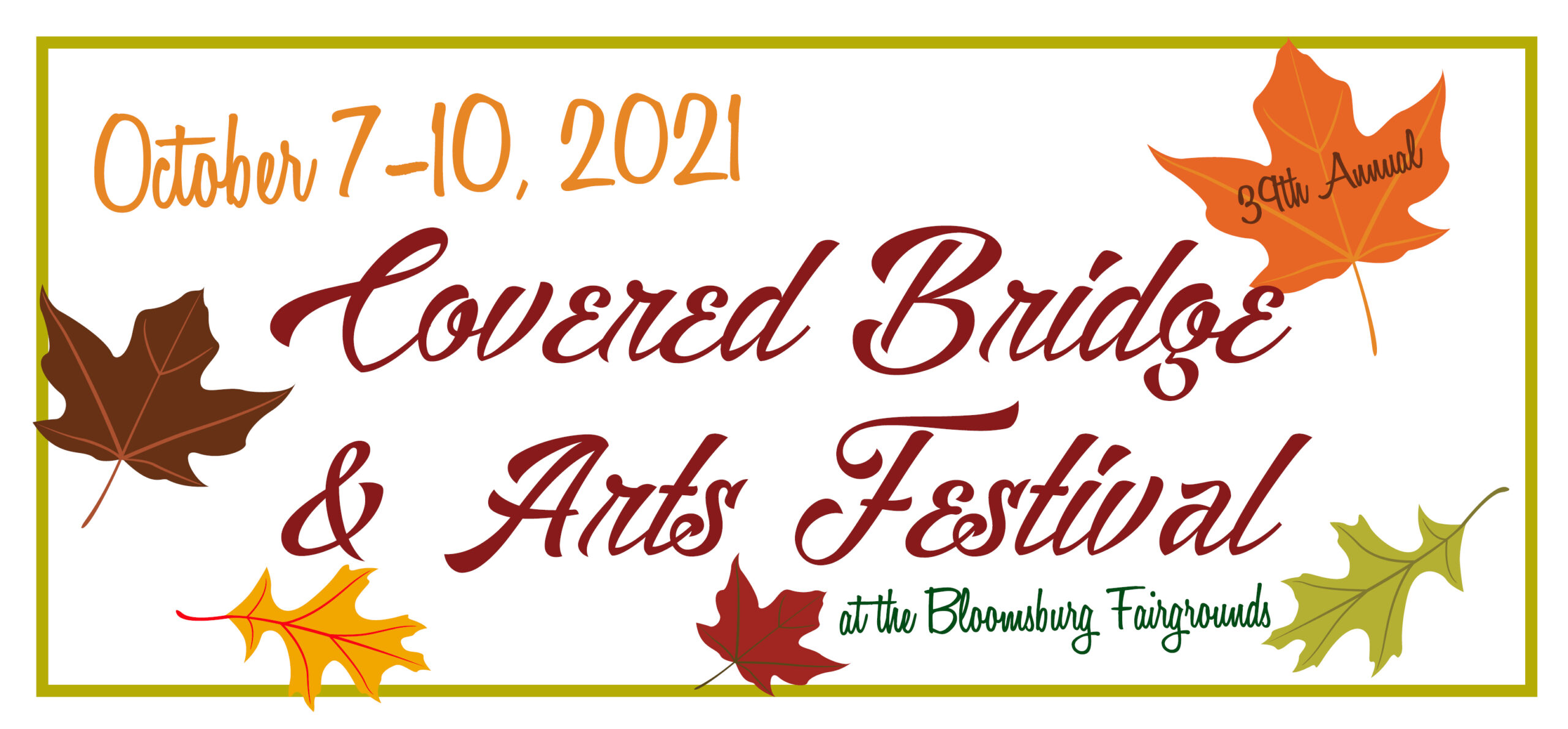 ---
NEW HOME: THE BLOOMSBURG FAIRGROUNDS!
The 2021 Festival is set for October 7 - 10, 2021
Thursday, Friday, & Saturday: 10 AM – 6 PM Sunday: 10 AM – 5 PM
Location: Bloomsburg Fairgrounds | 620 West Third Street | Bloomsburg, PA 17815
--------------------------------
Situated in beautiful Central Pennsylvania at the Bloomsburg Fairgrounds, the 39th Annual Covered Bridge & Arts Festival has something for everyone!
• More than 325 Craft Vendors & 32 Food Vendors!
• FREE Parking & FREE Admission
Handmade & Traditional Crafts • Turned & Carved Wood • Glass
Prints • Sewn & Woven Textiles • Jewelry • Photography • Paintings • Pottery
Decor for Every Holiday • New & Repurposed Primitives
Plus Much More!
The 2021 Covered Bridge & Arts Festival will adhere to all applicable CDC festival & large gathering guidelines as mandated at the time by state and local restrictions.
Looking for lodging options in our area for your stay? Click here.
--------------------------------
Download the 2021 Festival Rack Card to Share With Friends!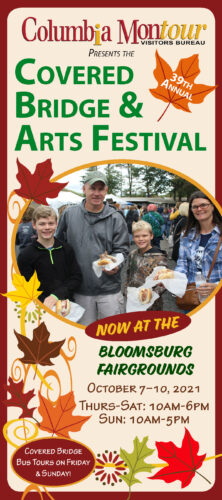 View & Download
--------------------------------
---
Covered Bridge Festival Parking
Parking will take place in the main parking lot of the Bloomsburg Fairgrounds - please plan to enter from the main entrances off State Route 11. Regular tram service will run from the parking areas to the festival gate entrance.
--------------------------------
Covered Bridge Festival 2021 Schedule of Events
Thursday, October 7
Gates open at 10 AM & close on Thursday at 6 PM
10 AM - 6 PM: Craft & Food Vendors at the Fairgrounds
Friday, October 8
Gates open at 10 AM & close on Friday at 6 PM
10 AM - 6 PM: Craft & Food Vendors at the Fairgrounds.
10:30 AM: Covered Bridge Bus Tour leaves.
12:30 PM: Covered Bridge Bus Tour leaves.
Saturday, October 9
Gates open at 10 AM & close on Saturday at 6 PM
10 AM - 6 PM: Craft & Food Vendors at the Fairgrounds.
Sunday, October 10
Gates open at 10 AM & close on Sunday at 5 PM
10 AM - 5 PM: Craft & Food Vendors at the Fairgrounds
11:30 AM: Covered Bridge Bus Tour leaves.
--------------------------------
Additional Festival Happenings
Wagon Rides to the Rupert Covered Bridge, located just 1.2 miles from the Fairgrounds.
Wine Tasting in the Horticultural Building.
A variety of kiddie rides, games, and pony rides.
Geisinger will be on-site at the Festival on Friday providing FREE flu slots to those interested.
--------------------------------
Covered Bridge Festival 2021 FAQ's
Will there be a cost for entrance and parking? NO!
Will there be help for handicapped? There will be scooters available to rent.
Will there be transit trams operating in the parking lots? Yes!
Will there be any kid-friendly rides? There will be several children's rides and games. Rides and games will be finalized closer to the event dates. 
Are dogs allowed at the Festival? No, dogs are not permitted at the Festival. The Festival rents the Bloomsburg Fairgrounds for the event and thus abides by traditional Fairground policy regarding dog entry.
Are service dogs allowed at the festival? Service dogs ARE PERMITTED at the Festival. You may be asked if the animal is a service animal and which task(s) the animal is trained to perform.
Will there be ATMS there?  There are two ATMs available on premises.
What types of food will be there? Many of the same food venders who were at Knoebels during prior Festivals will be at the Fair for the 2021 Festival.
What is the cancellation policy for the CB bus tours?  Health is the only reason and the request must be made at least 1 week in advance.
How do you get into the Festival? Enter through the main gate (gate 3) of the Fairgrounds.
Where can I get Festival information on the day of the event? The information booth will be right inside the entrance of the Educational Building.
Where do I board for the Covered Bridge Tour? Tour buses are loading at gate 2
--------------------------------
Covered Bridge Bus Tours
Interested in seeing our area's historic covered bridges while you visit the festival? Take one of our guided bus tours, complete with a step-on guide to provide information and history about the various bridges and sights along the way!
Bus Tour Dates/Times:
Friday, 10/8 at 10:30 AM
Friday, 10/8 at 12:30 PM
Sunday, 10/10 at 11:30 AM
Cost: $20 per seat
Approximate length of trip: 3 hours
Seating is limited and typically sells out early. Please make reservations as soon as possible. Pre-payment is required to book your seat. Tickets must be picked up at the CMVB info booth (located at the entrance of the Education Building) at least 30 minutes prior to departure. Guests will board the bus at the Gate 2 entrance.  Buses are NOT handicap accessible.
PLEASE NOTE: Sunday's bus tour has a planned short stop at the Columbia County Covered Bridge Association's 20th Anniversary & Table Art Celebration with food, drink, music, and crafters on site.

Reserve your spot over the phone with a credit card payment! Either call 570-784-8279 to get signed up or mail in this form with payment via mail. Make checks payable to Columbia Montour Visitors Bureau.
Cancellation Policy: No refunds given for cancellations less than one week out, and will only be given due to illness or emergency.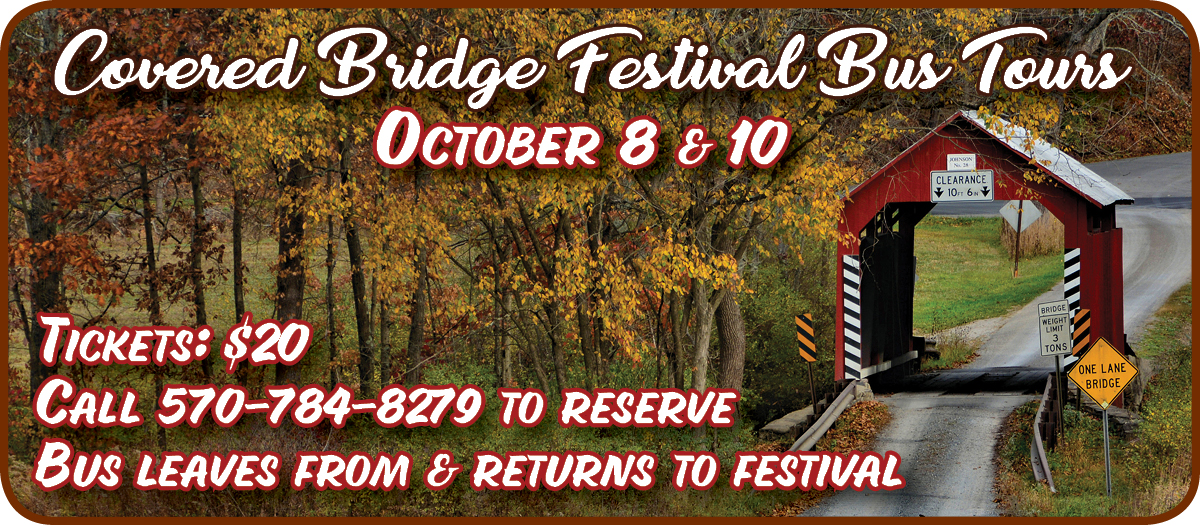 ---
--------------------------------
Covered Bridge Festival Application Forms
CRAFTER:
Interested in becoming a crafter at the Covered Bridge Festival?  Your first step is to download our Covered Bridge Festival Pre-Qualification Form.  A standard booth space is currently $350 for the 4-day festival.
Please remember that applicants must hand make their craft – no buy/sell.  This is a juried show.  Pre-qualification forms are added to the Committee's files for up to 3 years of consideration.  Submitting a pre-qualification application does not guarantee you a spot in the show. If your pre-qualification forms and paperwork are in order, you will be placed in the qualified pool of vendors.  Craft vendors who were at the prior festival are given priority to return.  The spaces of craft vendors who elect not to return will be filled from the pre-qualified pool of applicants who have already been approved.  If you are in the pre-qualified pool, you will be notified in late spring if your pre-qualification application was selected to attend our upcoming festival as a new vendor.  If you are one of the vendors selected, you will receive a full application to fill out along with instructions for space payment. If you were not selected from the pre-qualification pool for the given year, you will not be notified directly. You will only be notified if you were selected as a vendor.
THE 2021 SHOW IS PLANNED FOR OCTOBER 7 - 10, 2021.
FOOD VENDOR:
Download the food vendor application form and follow the instructions on the form to submit it for consideration!