Covered Bridge & Arts Festival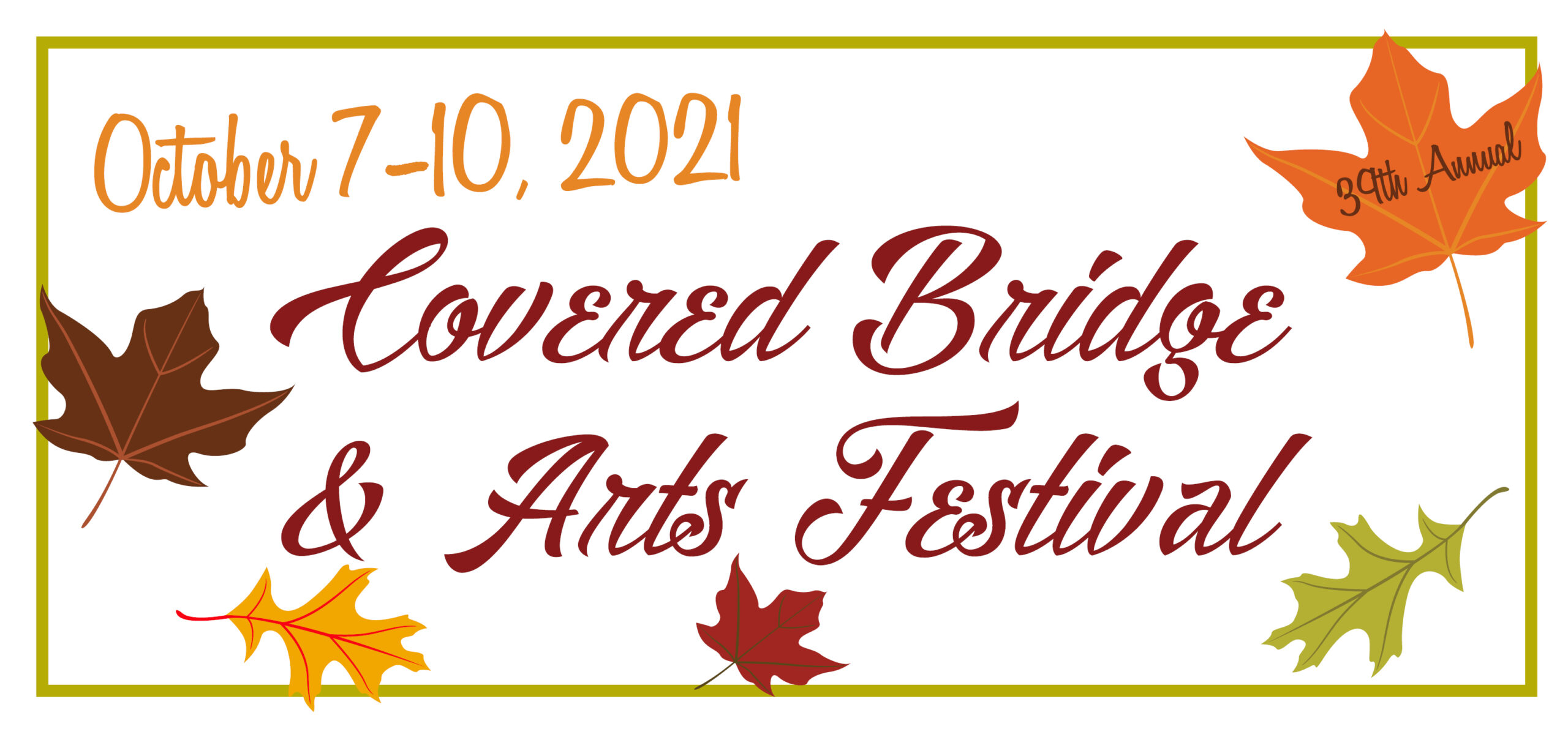 The 2021 Festival is set for October 7 - 10, 2021
Thursday, Friday, & Saturday: 10 AM – 6 PM Sunday: 10 AM – 5 PM
Location: Bloomsburg Fairgrounds 620 West Third Street Bloomsburg, PA 17815
--------------------------------
Situated in beautiful Central Pennsylvania at the Bloomsburg Fairgrounds, the 39th Annual Covered Bridge & Arts Festival has something for everyone!
• More than 350 Craft Vendors & 38 Food Vendors!
• FREE Parking & FREE Admission
Handmade & Traditional Crafts • Turned & Carved Wood • Glass
Prints • Sewn & Woven Textiles • Jewelry • Photography • Paintings • Pottery
Decor for Every Holiday • New & Repurposed Primitives
Plus Much More!
The 2021 Covered Bridge & Arts Festival will adhere to all applicable CDC festival & large gathering guidelines as mandated at the time by state and local restrictions.
Looking for lodging options in our area for your stay? Click here.
--------------------------------
---
--------------------------------
---
Covered Bridge Festival Parking Map 
Parking will take place in the main parking lot of the Bloomsburg Fairgrounds - please plan to enter from the main entrances off State Route 11.
--------------------------------
Covered Bridge Festival 2021 Schedule of Events
Thursday, October 7
10 AM - 6 PM: Craft & Food Vendors at the Fairgrounds
Friday, October 8
10 AM - 6 PM: Craft & Food Vendors at the Fairgrounds.
10:30 AM: Covered Bridge Bus Tour leaves.
12:30 PM: Covered Bridge Bus Tour leaves.
Saturday, October 9
10 AM - 6 PM: Craft & Food Vendors at the Fairgrounds.
Sunday, October 10
10 AM - 5 PM: Craft & Food Vendors at the Fairgrounds
11:30 AM: Covered Bridge Bus Tour leaves.
--------------------------------
Covered Bridge Bus Tours
---
--------------------------------
- 2020 Virtual Vendor List -
Although last year's festival was cancelled, we went VIRTUAL with a list of vendors who would have been in attendance. Now, you can find more details about your favorite vendors and even contact many of them directly via email to make your purchases!
** Please note: Only emails for craft vendors who have given permission for them be shared are included. **
THANK YOU for supporting our vendors in a difficult time; we hope to see you in 2021!

DOWNLOAD FULL VENDOR LIST
--------------------------------
Covered Bridge Festival Application Forms
CRAFTER:
Interested in becoming a crafter at the Covered Bridge Festival?  Your first step is to download our Covered Bridge Festival Pre-Qualification Form.  A standard 10' x 16' booth is currently $350 for the 4-day festival.
Please remember that applicants must hand make their craft – no buy/sell.  This is a juried show.  Pre-qualification forms are added to the Committee's files for up to 3 years of consideration.  Submitting a pre-qualification application does not guarantee you a spot in the show. If your pre-qualification forms and paperwork are in order, you will be placed in the qualified pool of vendors.  Craft vendors who were at the prior festival are given priority to return.  The spaces of craft vendors who elect not to return will be filled from the pre-qualified pool of applicants who have already been approved.  If you are in the pre-qualified pool, you will be notified in late spring if your pre-qualification application was selected to attend our upcoming festival as a new vendor.  If you are one of the vendors selected, you will receive a full application to fill out along with instructions for space payment. If you were not selected from the pre-qualification pool for the given year, you will not be notified directly. You will only be notified if you were selected as a vendor, or if your pre-qualification paperwork has expired (after 3 years).  THE 2021 SHOW IS PLANNED FOR OCTOBER 7 - 10, 2021.
FOOD VENDOR:
Download the food vendor application form and follow the instructions on the form to submit it for consideration!