Covered Bridge & Arts Festival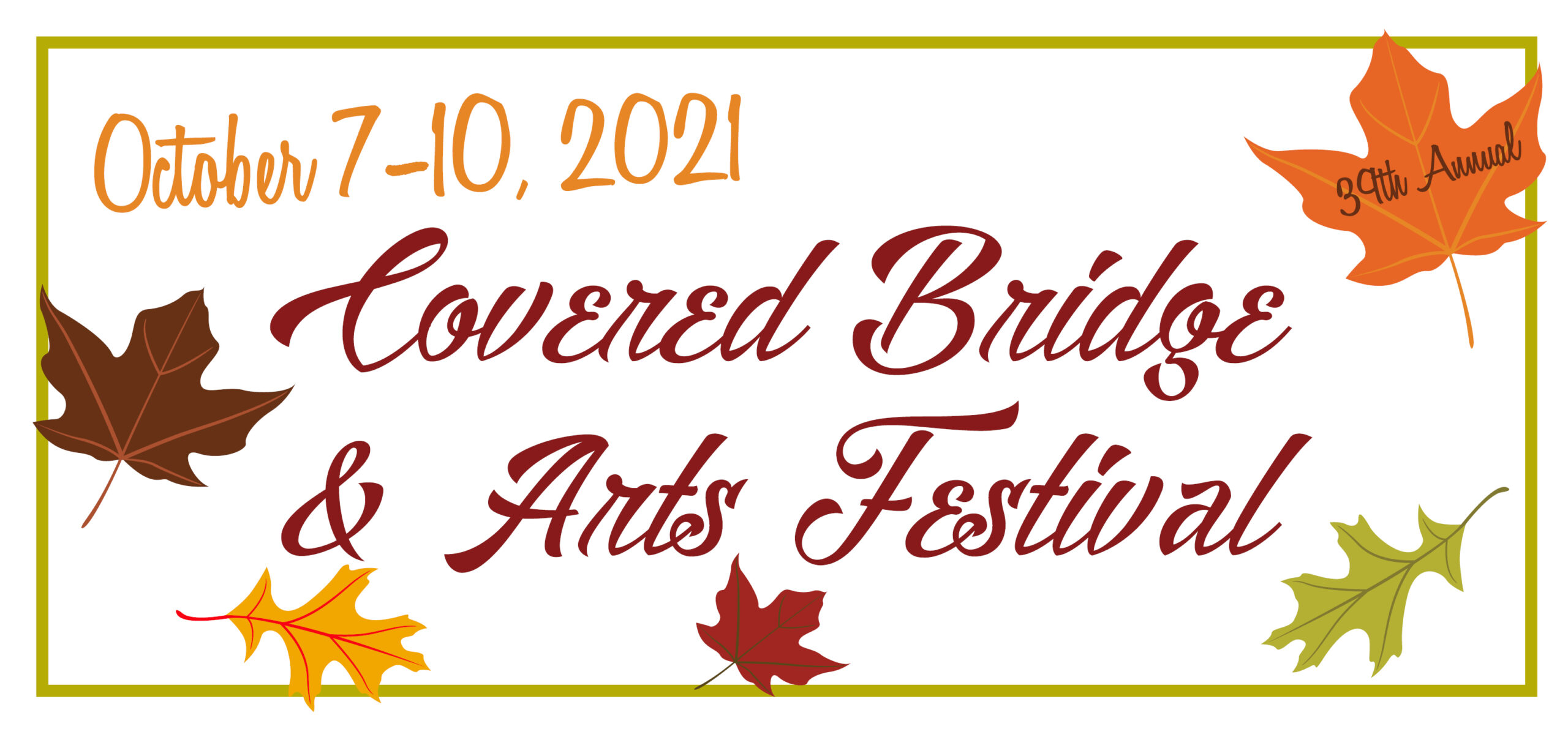 The 2021 Festival will be planned for October 7 - 10, 2021
Thursday, Friday, & Saturday: 10 AM – 6 PM Sunday: 10 AM – 5 PM
Location: Knoebels Amusement Resort 391 Knoebels Boulevard, Route 487 Elysburg, PA 17824
--------------------------------
Situated in the beautiful surroundings of Knoebels Amusement Resort, the 39th Annual Covered Bridge & Arts Festival has something for everyone!
• More than 350 Craft Vendors & 38 Food Vendors!
• FREE Parking & FREE Admission
• Select Knoebels rides open ALL FOUR DAYS!
Handmade & Traditional Crafts • Turned & Carved Wood • Glass
Prints • Sewn & Woven Textiles • Jewelry • Photography • Paintings • Pottery
Decor for Every Holiday • New & Repurposed Primitives
Plus Much More!
The 2021 Covered Bridge & Arts Festival will adhere to all applicable CDC festival & large gathering guidelines as mandated at the time by state and local restrictions.
Looking for lodging options in our area for your stay? Click here.
--------------------------------
---
--------------------------------
Covered Bridge Festival Interactive Map 
---
The 2021 Festival Map will be released in late summer! Be sure to see if your favorite vendors will be at the festival again this year and where they are located.
Plan your visit to this year's Covered Bridge Festival using our interactive vendor map.  This map will include all vendor information, their location, as well as a brief description of what they are selling.  The map also includes restroom locations, parking, nearby landmarks and important park resource locations.
Download the 2021 Covered Bridge Festival Interactive Map here (COMING IN LATE SUMMER, 2021).
Please note, the interactive map will be in Google Earth format. The link will take you to a Dropbox folder where you can download the Google Earth .kml file.  You do not need to have a Dropbox account to download the file (simply click on the file and then select "Direct Download" option from the available dropdown menu). However, you will need to have Google Earth installed on your computer or smartphone to open the file once downloaded. Google Earth is a free download, and can be found here.
--------------------------------
Covered Bridge Festival Parking Map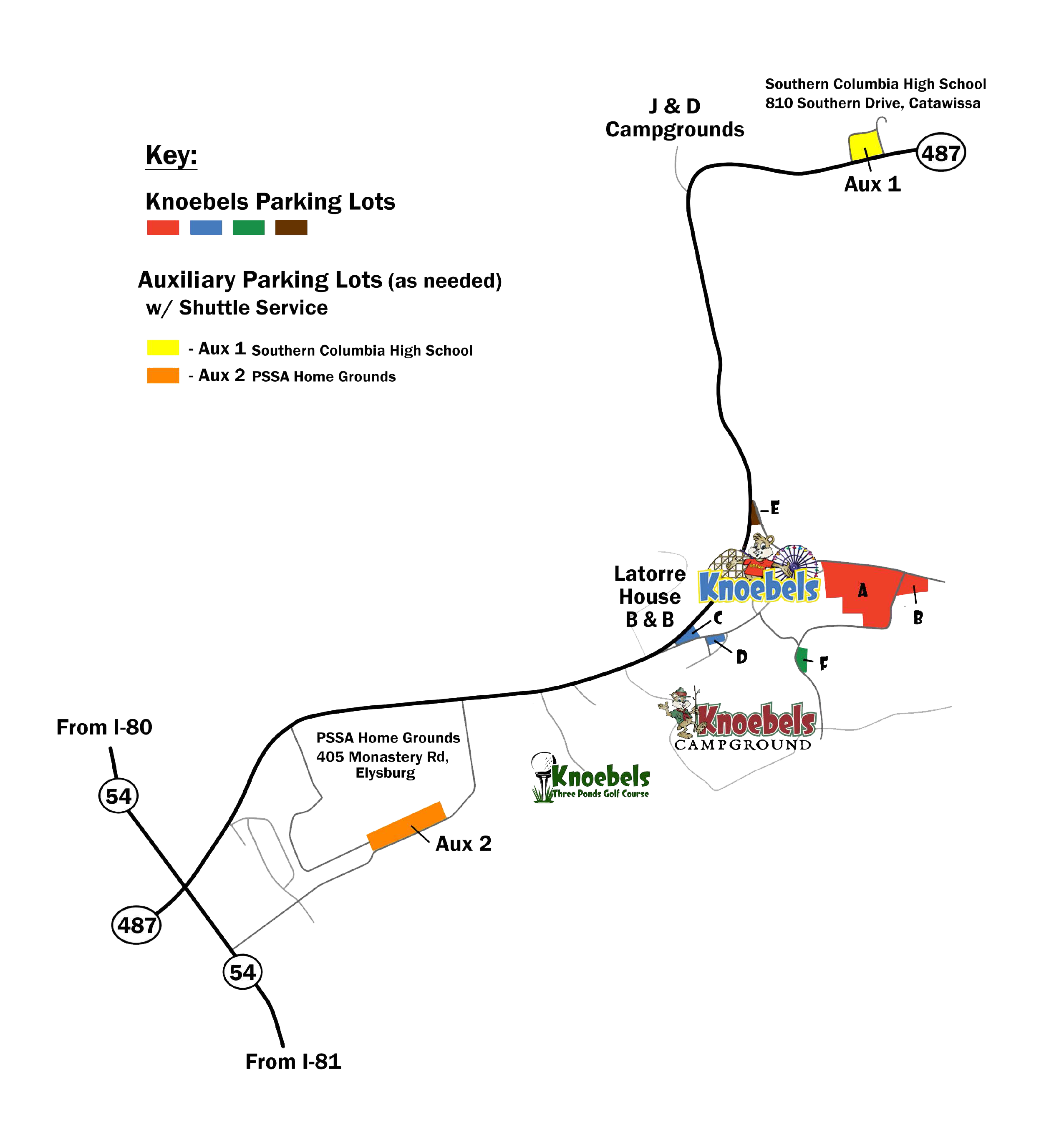 PLEASE NOTE: Festival attendees can learn when auxiliary parking lots are being used by checking the official Facebook event page, Knoebels Amusement Resort's Facebook page, or with local signage.
--------------------------------
Covered Bridge Festival 2021 Schedule of Events
Thursday, October 7
10 AM - 6 PM: Craft & Food Vendors throughout the park.
11 AM - 6 PM: Select amusement park rides open; tickets only.
Friday, October 8
10 AM - 6 PM: Craft & Food Vendors throughout the park.
10:30 AM: Covered Bridge Bus Tour leaves.
11 AM - 6 PM: Select amusement park rides open; tickets only.
12:30 PM: Covered Bridge Bus Tour leaves.
Saturday, October 9
8:00 AM: Knoebels Lumber 5K Race - For more information, or to pre-register, call 800-332-6755. Race day registration at Pavilion L.
10 AM - 6 PM: Craft & Food Vendors throughout the park.
11 AM - 10 PM: Park rides open; Ride-All-Day Passes available.
Sunday, October 10
10 AM - 5 PM: Craft & Food Vendors throughout the park.
11 AM - 5 PM: Park rides open; Ride-All-Day Passes available.
11:30 AM: Covered Bridge Bus Tour leaves.
Daily Note - all Knoebels rides are weather permitting.
--------------------------------
Covered Bridge Bus Tours
Interested in seeing our area's historic covered bridges while you visit the festival? Take one of our guided bus tours, complete with a step-on guide to provide information and history about the various bridges and sights along the way!
Bus Tour Dates/Times:
Friday, 10/8 at 10:30 AM
Friday, 10/8 at 12:30 PM
Sunday, 10/10 at 11:30 AM
Cost: $20 per seat
Approximate length of trip: 3 hours
Seating is limited and typically sells out early. Please make reservations as soon as possible.
Pre-payment is required to book your seat.
Tickets must be picked up at the CMVB info booth (Pavilion H) at least 30 minutes prior to departure.
Riders with tickets in hand will board the bus behind the Impulse by the road. Buses are NOT handicap accessible.
Reserve your spot over the phone with a credit card payment! Either call 570-784-8279 to get signed up or mail in this form with payment via mail. Make checks payable to Columbia Montour Visitors Bureau.
---
--------------------------------
- 2020 Virtual Vendor List -
Although last year's festival was cancelled, we went VIRTUAL with a list of vendors who would have been in attendance. Now, you can find more details about your favorite vendors and even contact many of them directly via email to make your purchases!
** Please note: Only emails for craft vendors who have given permission for them be shared are included. **
THANK YOU for supporting our vendors in a difficult time; we hope to see you in 2021!

DOWNLOAD FULL VENDOR LIST
--------------------------------
Covered Bridge Festival Application Forms
CRAFTER:
Interested in becoming a crafter at the Covered Bridge Festival?  Your first step is to download our Covered Bridge Festival Pre-Qualification Form.  A standard 10' x 16' booth is currently $350 for the 4-day festival.
Please remember that applicants must hand make their craft – no buy/sell.  This is a juried show.  Pre-qualification forms are added to the Committee's files for up to 3 years of consideration.  Submitting a pre-qualification application does not guarantee you a spot in the show. If your pre-qualification forms and paperwork are in order, you will be placed in the qualified pool of vendors.  Craft vendors who were at the prior festival are given priority to return.  The spaces of craft vendors who elect not to return will be filled from the pre-qualified pool of applicants who have already been approved.  If you are in the pre-qualified pool, you will be notified in late spring if your pre-qualification application was selected to attend our upcoming festival as a new vendor.  If you are one of the vendors selected, you will receive a full application to fill out along with instructions for space payment. If you were not selected from the pre-qualification pool for the given year, you will not be notified directly. You will only be notified if you were selected as a vendor, or if your pre-qualification paperwork has expired (after 3 years).  THE 2021 SHOW IS PLANNED FOR OCTOBER 7 - 10, 2021.
FOOD VENDOR:
Download the food vendor application form and follow the instructions on the form to submit it for consideration!