Susquehanna River Arts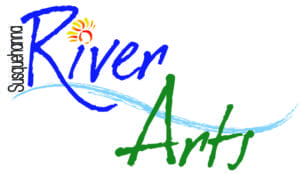 Grounded in the belief that art shapes both the spirit and vitality of a community; the Columbia-Montour Visitors Bureau created Susquehanna River Arts.  By showcasing the works of our local artists, the Susquehanna River Arts project not only highlights the cultural assets of our region, but fosters an appreciation of both our communities and our heritage.
---
Attend Susquehanna River Arts Shows & Receptions
Saturday, March 24, 2019 – 12th Annual ArtFest, Downtown Bloomsburg
Want to stay up-to-date on all things the Susquehanna River Artists are doing?  Sign up for our e-mail newsletter on our contact us page.
---
---
Confluence by the Susquehanna River Arts Artists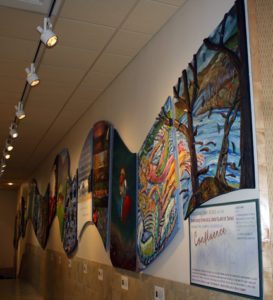 A cooperative project between the Columbia-Montour Visitors Bureau, the Susquehanna River Arts Artists and the Bloomsburg University Celebrity Artist Series  brought together 19 of the Susquehanna River Arts Artists who've created 18 individual tiles that together created the vision, CONFLUENCE. 
---
---
Meet the Susquehanna River Arts Artists
Dave Ashby
Photography
Bloomsburg, PA
www.ashbyphoto.com
Dave has been photographing since 1990. Dave's love of nature and outdoor activities such as mountain biking, white water rafting, hiking and skiing have inspired Dave's images of nature. Oftentimes, Dave is drawn to bold and empowering subjects for the focus of his images. Sometimes turning delicate objects into the main subject creates a more powerful image. While viewing Dave's images, the viewer should not be afraid to seek and interpret his or her own personal metaphors within each work. To Dave, photography is a medium that is personal, metaphysical, existential and poetic all at once and he encourages everyone to look within to find their own artistic truths. Each image is more then just an image if you take the time to look. Besides note cards Dave also offers wall art custom printed in almost any size you may desire. Follow Him on Facebook!
Sara Baker
Pottery
Bloomsburg, PA
www.sarabakerhandmadestoneware.com
After 20 years of making pots professionally, I still find this life very satisfying. I see the shelves in my studio fill up with mugs, bowls, pitchers, casserole dishes, knowing that eventually someone will be enjoying these pieces—someone who shares my ideas about the importance of using a beautiful pot for even the most mundane activities like morning coffee. While the bulk of my work is functional, I have also developed more decorative pieces. These sculptural vessels, tiles, and vases spring from the patterns of sand, waves, tree bark, and clouds; they require significant amounts time and thought to create. I throw each piece on the wheel and then carve away the soft clay to form a series of ridges. For every pot, I use several glazes, intensifying the vibrant colors. As I continue to grow and my life changes, so does my work. I look forward to the next stage, even as I wonder what it will be.  Follow me on Facebook!
Gail "Annie" Barnhardt
Painting
Bloomsburg, PA
From Rochester Institute of Technology I earned my Bachelor of Fine Arts in Graphic Design and my Master of Fine Arts in Painting and Printmaking. Currently my focus is painting, pencil drawings, lettering, and artist books.  My exploration of "faces and places" continues to evolve.  I delight in the unexpected surprises found in marrying reality and abstraction.  I welcome commissions. I may be reached at 854-1352 and in my Moose Exchange studio, 2nd floor, on Fridays from 5-8 p.m. or by appointment.
Robert Brown
Photography
Danville, PA
www.premierphotostudio.com
I have been photographer and instructor since birth. Not really, but at least for the last 30+ years. When not working in my studio, Premier Studios in Danville, PA that produces consumer and commercial photography, I indulge in my hobby – photography. My "fine" photography utilizes most traditional and contemporary photographic tools. I especially like working with larger format cameras and the silver process. My images are mostly natural abstractions, landscapes, historic architecture or cultural studies. I have been blessed to have traveled extensively. I additionally instruct numerous photographic workshops annually. My work is handled by Artspace Gallery in Bloomsburg, PA or on line at: rhbphoto.com.  Follow me on Facebook!
Gail Fox
Graphite Drawings, Jewelry
Bloomsburg, PA
www.gailfoxfineart.com
Gail Fox is primarily self-taught and has taken classes from various artists. Her long time love of horses and equine graphite drawings prompted her to begin sketching in late 2003. Plein air painting in the Pennsylvania countryside is one of her favorite experiences as an artist. Another rewarding pleasure has been exhibits such as Canton Apple and Cheese Festival, Forksville Fall Festival, North Mountain Art League exhibits, Bald Eagle Art League exhibits and various others. Her love for all-things-natural is captured in her art, jewelry and personality.
Susan Fulginiti
Drawing
Bloomsburg, PA
Being born in this beautiful are of PA has certainly influenced my art.  I spent my childhood summers at my grandparents cottage on the Isle of Que.  This is where my love of nature, Indians and antiques came into being.  Most of the subjects that I draw and paint are from memories of those days.  As a self taught artist, I have developed my own style and technique.
Joan Gallup Grimord
Drawing, Printmaking
Bloomsburg
Joan has been making playful and macabre art for a long time now. In her 30+ years art career, Joan has managed to combine whimsy and the macabre using paper combined with printmaking techniques and drawing. Additional materials may include beads, bits of minerals, and various threads. Her studio also includes a high quality jig saw for cutting fine details in wood and plastics, plus to an industrial drill press for making holes in the various materials that are often applied to her paper drawings. She works in the spirit of Edward Gorey, Egan Schiele, and others that have depicted the twisted figures coming out of the small European villages and monasteries over the millennia. From the misty past of the dark north of Europe she enjoys the imagery and story of Grimm's fairytales, Germany and Denmark. These crazy Central European artists have led her work over the decades. The moody darkness of her work is offset by the light hearted figures that populate her imaginary landscapes. She is also fixated on Native Americans and Central American, the patterns of the Navaho make their obsession with borders and outlying forms. She likes the fact that she has some Native American bloodline. Parenthetically: one can also see aboriginal patterns, but never having visiting these areas this is strictly coincidental. She likes the alien influence also. This may speak to the common origin of all these things if you really want to step down to the ancient alien theory! Wow! She has published over 6 children's books of illustrations. Recently she published a book titled "Super Tiny Knitted Animals" also available on Amazon. She is in collections globally. Her sculptural work was included in Hollywood movie sets "Maybe Baby" starring Jane Curtain! Woohoo! She has discussed her work on local TV and radio programs in Philadelphia where she spent 25 years of her life. She presently spends her time in the beautiful foothills of the Appalachian Mountains in north central Pennsylvania in a 150 year old farmhouse, where she lives with her husband, also an artist, and their two dogs. Joan and her husband have yet to convince the ghosts and spirits that haunt the house to help with the house cleaning.
Peter Grimord
Sculpture, Photography, Drawing
Bloomsburg
My lengthy career as an artist includes sculpture, photography, and drawing. My sculpture and photography works are now in private and corporate collections throughout North America and the abiding sense of completion with these endeavors inspired a return to my "first art", drawing, which is something I did since I was very young and developed into a personal style while studying biology in college. My classroom morphological sketches were currency among my fellow students as they were better than the textbook illustrations and gave one an edge in lengthy laboratory exams. I literally picked this up where I left it over 35 years ago and dusted off my Rapidograph pens, bought some ink and an assortment of imported cotton rag papers and got to work. I collect all of my images with a camera and for the tiny specimens I use a studio set-up which includes a vintage Nikon bellows and an inverted 55mm macro lens to produce high magnification photos. I'm an avid walker and bicyclist and always have my camera handy to add to my growing library of subjects to draw.
Doug Hopkins
Ceramics
Bloomsburg, PA
www.pumphousebandb.com
Drawing is the first concentrated effort in the search to find what is essential in form.  It is a search for the hidden constructs in nature, and becomes a pathway that leads to seeing beyond tangible and physical realities.  In other words, drawing something is a way of seeing something in its deepest essence.  I like to think that teaching drawing is a way of showing others how to love nature and the world and to see its beauty and form, rather than teaching someone to look at the world so that they may learn to draw.  Follow me on Facebook!
Glen Klein
Photography
Danville, PA
My artwork originates from my graphic design background along with my years of experience with the computer and software I use everyday at my printing business. My early influences were comic books and Saturday morning TV cartoons. I was especially drawn to the style and humor of Don Martin of Mad Magazine. Some of my pieces reflect the sense of humor I developed from not only Don Martin, but also National Lampoon Magazine and Monty Python's Flying Circus. Most of my art begins with a digital photograph and I manipulate it with Photoshop to create something resembling a painting or other hand-drawn design. Other pieces are montages of found old photographs or my own photos put together to create a thought provoking journey through my created space. My goal is to continue exploring the possibilities that can be realized through the combination of my imagination, sense of humor, and the tools at my command.
Abigail Smith Kurecian
Ceramics
Orangeville, PA
One of the jewels of the Sonoran desert is the Chiricahua National Monument.  This forest of rock spires and monoliths was eroded from layers of ash deposited 27 million years ago by the Turkey Creek Volcano.  The naturally-occurring erosion process, which created this "Wonderland of Rocks", is evident in my personal styling techniques.  My functional pieces take life on my wheel.  However, much like the winds and rains on Turkey Creek's volcanic ash, my works take on their distinctive shape, texture and personality afterwards – through a series of sometimes delicate, sometimes dramatic  hand-altering techniques.  Follow me on Facebook!
Jeffery Edward McGreevy
Metal, Mixed Media, Sketches, Acrylic Paintings, Hand-carved frames
Bloomsburg, PA
jefmcg.com/
I am happiest when my hands and mind are busy. Simple thoughts and scribbled daydreams evolve into a fury of physical process and fine craftsmanship. At a young age I realized the power of art and its ability to speak beyond language and nationality. It intrigued me to work with it's energy. An inspired view of nature and her oddities play muse to my expression. Carefully chosen vantage points reveal spectacular views and small worlds. I combine elements of texture and color to make the eye wonder. Subtle details exist for those whom insist on a closer look. With an open heart and mind, you can drift into my paintings and explore feelings not yet experienced. I get a particular joy when I display my work in public and people of all walks of life stop, and say "Wow!". Intrigued by my choice of color and form, their attention is grabbed as they gaze curiously at my creations. I smile as I recall the struggles and the joy that go into each piece. I am my work, and this is how I communicate. Follow me on Facebook!
Sara Mika
Fabric
Catawissa, PA
www.mockpiestudio.com
The quilting arts have caught me hook, line, and sinker.  They have provided a vehicle for expressing my inner thoughts visually, yet still silently.  My work says so much more than I ever would.  Much of it is small and therefore intricate.  I find striving for perfection in technique much more attainable in a small format.  I create my original work using a combination of techniques.  I quilt and embellish both by hand and machine, often hand painting designs I've free-motion machine stitched on plain muslin.  Follow me on Facebook!
Rita Millard
Fiber, Painting
My watercolor art is typically an expression of a particular scene in nature that invokes a memory from a past adventure. I am often drawn to paint landscapes from a day of hiking in the woods, and I am romantically involved with old barns, which depict the strength of our nation, acknowledging the craftsmanship and ingenuity of our generations. The textures created from various brush strokes, and the thoughtfulness of the placement of light defining shadows continuously intrigues me as a painter. My fiber art represents much of the same, and I am constantly challenged by the many different techniques involved in the process of embellishing my subject matter, often creating a three dimensional impact for my viewer. The other challenge with fiber art is finding the intended message in the materials on hand. I am absolutely obsessed with the color and texture found in a swatch of fabric, and when it does not occur naturally, my skills as a technician of thread place and the use of beads and other fibers becomes the focus in order to deliver the intended impact. My work tends to be very detail-oriented, hoping that the viewer has had an occasion to be intensely involved with my subject. I often feel the brush of the wind, or the scent from a flower, the residue of pollen on my nose or fingers, or the song of the sounds associated with a landscape. A musical theme often accompanies me while I work on a piece, which allows me to express the gladness or sorrow accordingly. My art is intended to transform the viewer to a place of wanting or a place already visited. Emotions of that experience are left up to the imagination, although subtly, by the artist persuaded.
Larry Ney
Painting
Bloomsburg, PA
www.etsy.com/people/larryney?ref=owner_profile_leftnav
I am a self-taught artist and have been painting for 30 years. My main focus is oil painting landscapes and florals in an abstract/impressionistic form. I also do some water colors, digital photography, and sculpture. Art for me is a journey that consists of not being afraid to try many different techniques and ways of expressing myself through my work. I believe that you should go your own direction with your art and not let others place you in a box. Don't be afraid to experiment. I admire a lot of artist's work, but I don't want to paint like them. I want people to look at my work and know it was done my Larry Ney II, not a copy of someone else's style. I am proud of my accomplishments and work hard to promote them whenever possible. I work in two locations–a studio in my home as well as the Bloomsburg Moose Exchange where I offer my paintings for sale as well as offering oil painting classes. I hold regular Exchange studio hours on Thursday evenings, Saturday, some Sundays, and also by appointment.  Follow me on Facebook!
Donna Shaffer
Painting, Sculpture
Bloomsburg, PA
donnashafferartist.com
I have never felt that an artist could improve on nature, but I have always tried to interpret, through my work, how nature presents itself to me. I consider myself an abstract naturalist artist. Simple things like tree roots, the way water washes over rocks, or the color of autumn leaves, give me ideas for my work. Once I have the mental image of an idea I can begin working to capture the varied elements of nature's design. Most of my sculpture materials are found in the environment. All types of wood, branches and roots are incorporated in my work. Clay, that is pit or barrel fired, is another major component of my work. I am also raku firing some of my newer pieces. Recently, I have begun to use glass to provide color. I am always looking for new materials that will bring another dimension to my work. I received a B.A. degree in studio art from Bloomsburg University I studied painting with Maxine Masterfield I have shown at galleries and juried shows throughout New England and Pennsylvania I also do commission work. Listing of clients upon request.
Pamela McHenry Thomas
Pastels, Calligraphy
Cambra, PA
www.clotheslinedesign.vpweb.com
Creating art, for me, has always been as natural and as necessary as breathing. I started drawing as soon as I could hold a pencil and have never stopped!  I have always been fascinated with letterforms and began doing calligraphy in college. I did design for a company that manufactured emblems for jackets and  I  hand painted signs, as well as doing custom calligraphy, before getting into pastels with an informal group called the Barn Painters.  Through my pastel pieces, I like to touch the heart of the viewer with everyday places and objects that evoke a sense of nostalgia or longing for the simpler life.  Living in the country affords endless opportunities to see the unremarkable as wondrous. My fondness for clotheslines led to my business name and a series of paintings, each one telling its own story.  I've always enjoyed taking pictures and recently have been putting some photographs together with quotes or poetry in calligraphy. I've had several solo shows, as well as ongoing exhibits at some local businesses,  and  through membership with the North Mountain Art League, I've participated in shows at various venues.  I sell original pastels and calligraphy as well as limited edition prints and welcome commission work. To quote John Updike, "what art offers is space – a certain breathing room for the spirit."  I couldn't say it any better.  Follow me on Facebook!
Sandy Tranor
Pottery
Benton, PA
www.blackbearpottery-finearts.com
Pottery is the artistic area that holds my interest. I create clay pieces from my imagination using both hand and wheel techniques. My efforts are more artistic than functional. For over 20 years, I have been evolving my range of expertise with various clays and glazes through continued experimentation. It is that aspect of pottery as well as the earthy feel of the whole process that holds my attention to this art form. Combining that with the opportunity to teach others, mostly through show more than tell, makes pottery special for me and is a continued method of physical and mental stroke therapy. The act of pottery creation has become a stress relieving and rewarding occupation.
William Whitmoyer
Drawing
Millville, PA
www.whitmoyerart.com
I've always had an insatiable curiosity about things and I love doing just about anything as long as I learn something from it. To me, art is a means of exploration — a search for information driven by my thirst for knowledge. In much the same way that an infant explores objects with his mouth in order to have a better understanding of what things are and how they work, I explore things with my pencil or brush. My artworks are really just a byproduct, rather than the desired goal or end point. I never seriously considered the possibility of one day making a career out of art, until one day in junior high. I had been drawing in class, as I usually did. (I seemed to absorb more information that way than I did with traditional note taking; none of my teachers ever understood or believed that for some reason.) All of a sudden, the teacher, who had a reputation for his very short and very heated temper, came flying back the aisle and took my drawing pad. He started to say something in anger but stopped himself short as his eyes locked on the rendering of a nude woman. After staring at the piece for a moment, he exclaimed, "Damn, son! If you're not an artist when you grow up, then you're a freakin' idiot!" and actually handed back my drawing pad (keeping the nude) and asked me to see him after class. So, after two years in art school and more than twenty years as a Graphic Designer and Illustrator, including eight years active duty in the U.S. Army as a "Multimedia Illustrator" (and the PA Army National Guard ever since), I've expanded my tools for exploration to include a lot more than just drawing. I still have so much to learn, but I feel that I also have a lot to share. I am still strongly driven in my search for knowledge and I hope that I never lose my curiosity as that is the essence of my work.  Follow me on Facebook!
Shene Woodley
Acrylic and Ink Paintings, Mixed Media, Custom Design Stained Glass, Digital Paintings, Photography
Bloomsburg, PA
www.artbyshene.com
"Art is an unbounded medium of expression; a potent instrument for communicating ideas, thoughts and feelings. Art enables us to see, hear, feel and speak. The power of art is its ability to evoke a unique emotional response; the gift of art is the personal and intimate connection that develops as a result." Shene Woodley is a visual artist residing in the beautiful mountains and rolling hills of Bloomsburg, PA. She is a mother and wife of over 20 years. As an artist, Shene finds inspiration in the area's natural beauty, as well as its diverse and talented artist community. Shene recognizes her artistic ability to 'see' and 'express' as a gift meant to be shared with others. She is focused on her artistic endeavors, always seeking to challenge her creativity and explore new avenues to fulfill her artistic desires. Shene enjoys fine-art painting, custom designed stained glass, digital paintings, illustration, photography and more. She is always eager to learn and explore new mediums, as well. Shene has a unique style reflecting her passionate view of life. Her art is expressive; utilizing vivid colors, bold lines and texture to emit strong emotions and feelings. Shene is also an analytical thinker, often evident in her use of shapes and patterns. Shene finds the most rewarding aspect of art is its potential to stir an emotional response and connection with others. She believes when an individual develops their own personal insight and relationship with a piece of artwork, it develops to its fullest potential, no longer belonging to just the one who created it. Shene has both commercial art and fine-art experience; formal education in the commercial arts and primarily self-taught in the fine arts. She is an active member of the North Mountain Art League.  Follow me on Facebook!
Interested in becoming a member of the Susquehanna River Arts Artist group? Contact the Visitors Bureau today at 570-784-8279!