Interactive Outdoor Recreation Map
Find a park or trail in our area that suits what you're searching for using our interactive map! Click on an individual park outline, trail line, or point of interest for more information about that asset.
Fishing & Boating Access
Looking for fishing access or boat launch options in our counties?  Check out the interactive map for locations & details!
In Depth: Biking & Hiking Trails
For some of the top hikes/walks in our area, check out our "Five Great Central PA Hikes to do This Season" article.
Visitors looking to return to their roots and get out into nature will delight in the multitude of hiking, biking, and walking trails in Columbia & Montour Counties. Leisurely walking trails can be found at various sites around the two county region, including at the Montour Preserve outside Washingtonville, Kocher Park outside Bloomsburg, Briar Creek Lake Park near Berwick, and at the Bloomsburg Town Park, among other sites. Berwick's Test Track Riverfront Park is great for both casual bicyclists and walkers alike.
In Bloomsburg, the Columbia County Trail starts on Railroad Street and continues north for several miles where it ends just prior to meeting Route 42. The trail is constructed on portions of an abandoned Reading Railroad line and Pennsylvania Canal towpath. It connects to the larger Bloomsburg Rail Trail. which spans portions of downtown including a crossing of one of Columbia County's many famous covered bridges, the Rupert Bridge. Further east at the Susquehanna Riverlands near Berwick, hikers and bicyclists can traverse the 12.5 mile Susquehanna Warrior Trail that runs along the mighty Susquehanna River.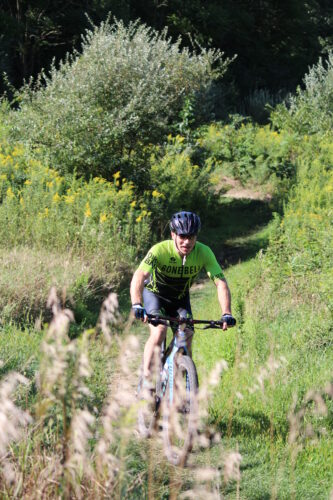 For the moderate biking enthusiasts, several State Gamelands are the places to go. State Gameland #58 (near Catawissa), State Gameland #226 (northwest of Bloomsburg), and State Gameland #329 (near Aristes) all offer more rugged mountain biking trails. State Gameland #13 covers 49,500 acres and is one of the largest Gamelands in Pennsylvania. The forest spans several counties including Columbia County. Several hiking trails connect for an approximate seven mile trail system. In the winter, portions of the nearby forest roads are opened exclusively to snowmobiles.
At the Montour Preserve, various trails totaling approximately 8 miles are open from dawn til dusk. The majority of these trails are intended for casual walking, but visitors are encouraged to get more information by stopping at the Preserve's Visitors Center before hitting the trails. Looking closer toward Danville, the Robbins Trail at the Hess Recreation Area is the oldest known rail-to-trail in the United States and provides a scenic 3.9 mile walk or bike.
Right down the road at Hopewell Park, the challenging series of mountain biking trails are a cyclist's dream (or nightmare). Built by mountain bikers for mountain bikers, the Hopewell Park / Danville Borough Farm Trail network is designed to challenge experienced riders while still allowing beginners to enjoy a great day on the trail. The trails make use of the varied terrain and feature both manmade and nature-made twists and turns that will keep you coming back for more. With more than 11 miles of trails built so far and more in the works, there are plenty of options to keep you riding. Plus, a specially constructed jump park by the parking area is a great place for the mountain bike enthusiast to test their skills. The Geisinger Stewardship Trails in Danville also boast vigorous hiking and mountain biking trails. There are eight miles of marked, single-track loop trails.
In the southern part of Columbia County, Weiser State Forest – Roaring Creek Tract offers perhaps the largest trail system, including an eight mile hiking/biking trail which is ideal for families out for a casual weekend jaunt. Weiser State Forest is also home to four historic miner trails from the 19th century that were recently restored to allow for present-day explorers to "walk in the footsteps" of miners from days past.  In total, there are approximately 40 miles of shared use trails for hiking, mountain biking, and cross-country skiing at the Roaring Creek Tract.
For the true outdoor adventurer, the trail system at Ricketts Glen State park offers a rigorous and challenging adventure. In total, 26 miles of trail are available for hiking. The Falls Trail in particular provides some of the most spectacular hiking scenery in the state. The trail stretches approximately 7.2 miles and takes hikers past 21 stunning waterfalls. The trail weaves over and around free-flowing waterfalls and takes travelers through rock-strewn clefts and old growth forest. As per the PA DCNR website, the terrain is rocky, can be slippery and descends steeply on both the Ganoga and Glen Leigh sides of the Falls Trail. Hikers should take extra precautions with trail conditions, wear proper footwear, stay on the trail and be in good physical condition before attempting to hike the loop. Diverse wildlife, including bald eagles, will have visitors scrambling for their cameras. Snowmobile and cross-country skiing trails also exist in the park boundaries.  Ice climbing on the Falls Trail is even permitted with special approval during the winter months!
Throughout the counties, there are also a myriad of country roads that make for great road cycling.  Many will wind through rolling farmland or pass through peaceful woodlands, and some will even provide an added bonus of a picturesque covered bridge. For additional bicycle routes in the area, check out our specialty "Biking Trails" brochure and get some good ideas for your next ride!