Escaping to the great outdoors is one of the best ways to make the most of your summer. Columbia & Montour Counties and the surrounding region is known far and wide for its outdoor recreation opportunities, including hiking, kayaking, tubing, fishing, boating, hunting, and more. For the trail lovers out there, we've decided to come up with a short list of our five favorite area hikes to complete this summer or fall in the peaceful Central Pennsylvania region.
1. Falls Trail at Ricketts Glen State Park
Trail Length: Full trail loop – 7.2 miles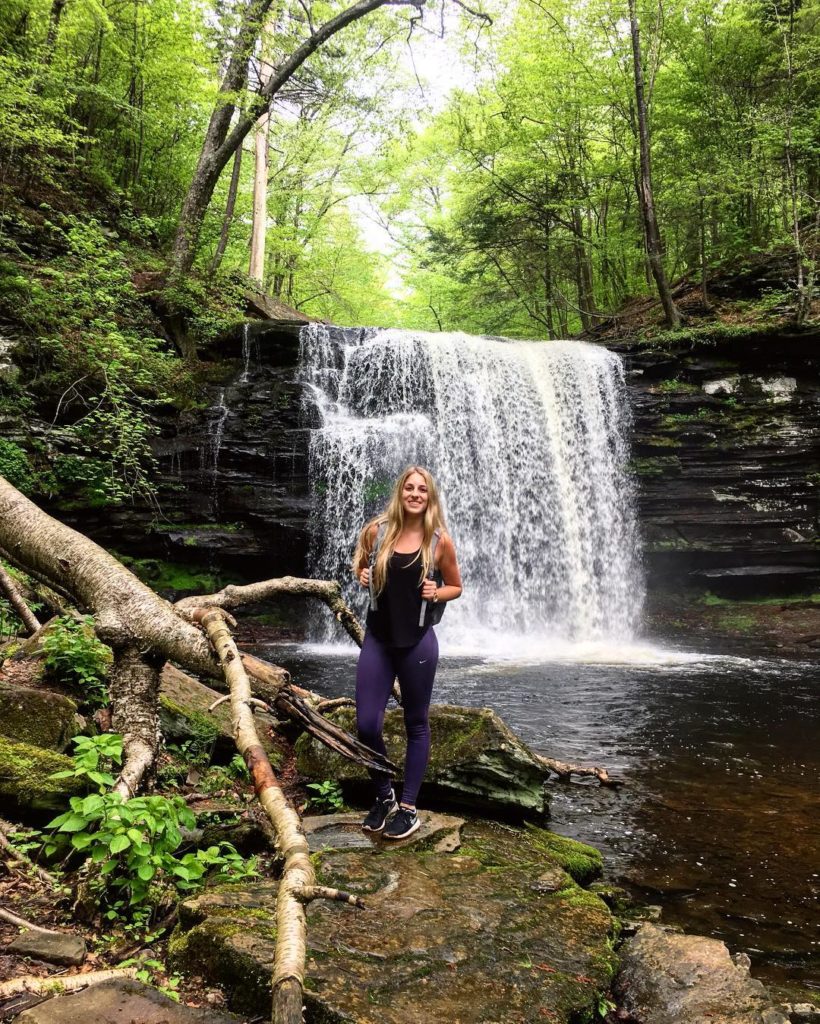 Ricketts Glen State Park is one of the standout gems of Pennsylvania, and the popular Falls Trail Loop in the park is one that simply can't be ignored if you're planning to do any hiking this summer. The trail winds through the Glens Natural Area via a series of steep rock staircases and packed dirt paths. The Glens Natural Area is a National Natural Landmark (designated in 1968) whose highlight is the series of 21 free-flowing waterfalls that cascade down through the glen along the trail. Hikers will have a hard time hearing themselves think as they pass some of the roaring waterfalls that are only a few feet off the trail. The most spectacular of the falls is Ganoga Falls, at 94 feet. Hikers can stand near the base of Ganoga Falls and gaze up in wonder at the power of nature as they feel the cool misty breeze coming off of the falling water. For those looking to spend the better part of their day exploring the waterfalls and the Glens Natural Area, plan to hike the full 7.2 mile loop. If you'd rather have some time to spare to spend along the beach at Lake Jean, you can plan to hike the shorter 3.2 mile loop and still see 18 of the 21 waterfalls.
If you go: We recommend starting from the Lake Rose parking lot and traveling down the Ganoga Glen side of the trail to Waters Meet. Then, you can either complete the full 7.2 miles by continuing south toward Route 118, or just head back up the Glen Leigh Side and use the Highland Trail to connect your hike back to Lake Rose (approximately 3.2 miles total). And remember to bring your camera – this is one of the most scenic hikes you'll find on the entire East Coast! Find more information here.
Plan for: 2-3 hours if doing the 3.2 mile loop, 4-5 hours if doing the full 7.2 miles.
IMPORTANT: Bring sturdy hiking shoes and be prepared for some steep trail sections. Hikers on the Falls Trail should be in good physical condition and should exercise caution due to the slippery/wet conditions often found on the trail.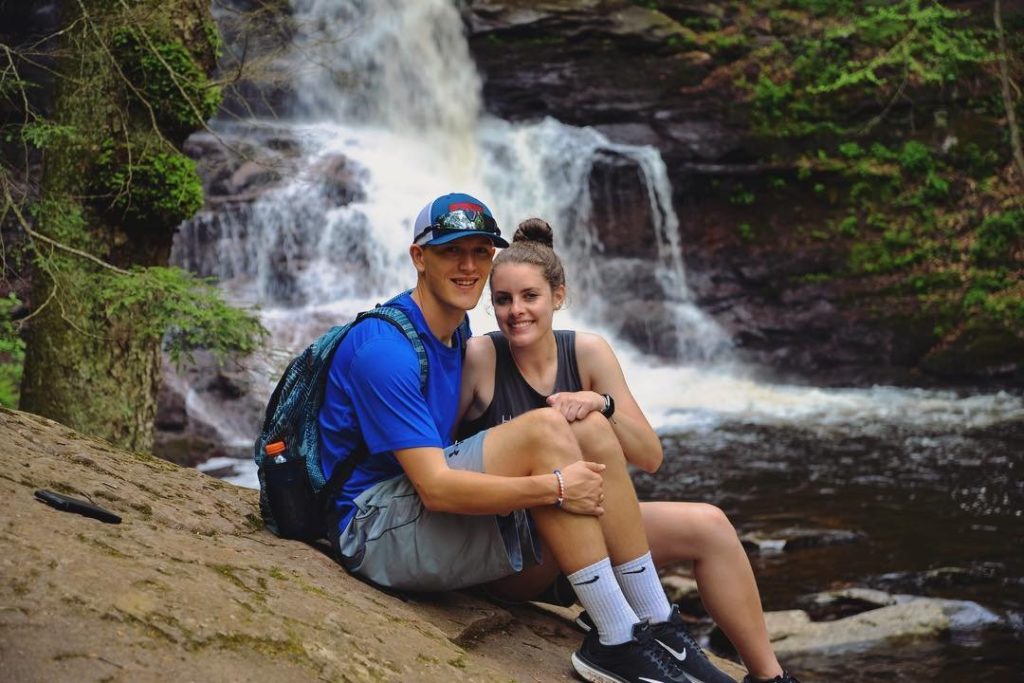 2. Historic Weiser State Forest Miner Trails
Trail Length: Approximately 6 miles
Weiser State Forest – Roaring Creek Tract provides visitors the opportunity to experience a bit of Pennsylvania history while at the same time enjoying some quality trail time in the woods. Weiser State Forest is home to four historic miner trails from the 19th century that were recently restored to allow for present-day explorers to "walk in the footsteps" of miners from days past.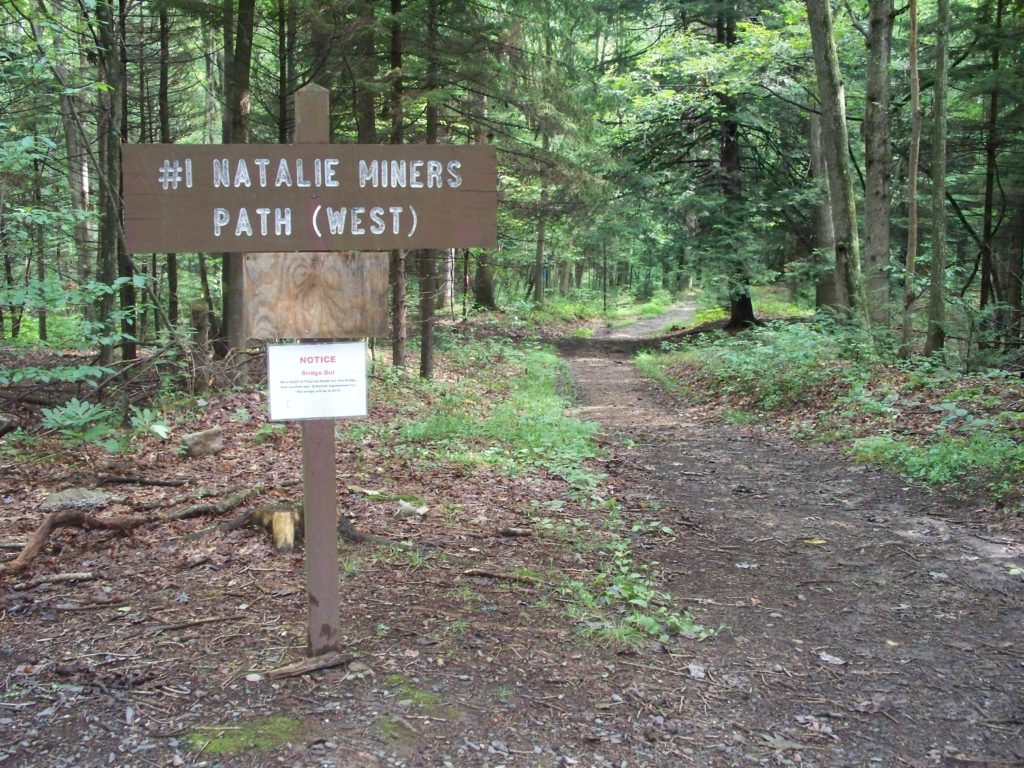 In the 1800's, coal mines were a main source of work for many Central Pennsylvania inhabitants, and the industry is a big part of the region's history. At the time however, advanced road systems had not been invented. To get to work, miners in parts of today's Columbia County would meet in the early hours of the morning and walk in groups up over the mountain on footpaths into the main production towns of Natalie and Wilburton. Each neighborhood had its own little meeting place in the morning – whether it was at someone's house or just a tree on the edge of town. In the evening when the miners came home to their families, the wives and children would count the strings of helmet lights to make sure everyone came back safely from a hard day at work.
Eventually, with the invention of automobiles, a road system came into place. At the same time, as other industries rose and many of the coal mines slowly closed, these once vital paths for miners slowly disappeared into the obscurity of the forest.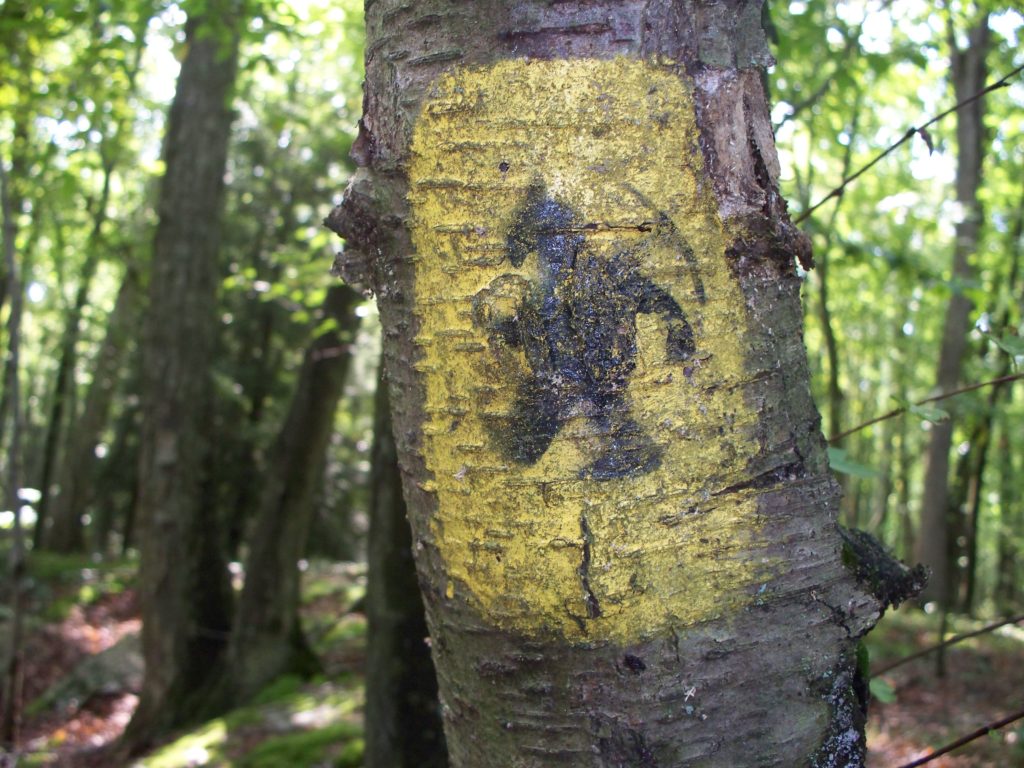 In 2004, the Roaring Creek and Catawissa Valley Historical Study Group was reviewing old maps of the area, and noticed the old abandoned miner trails that seemed to transect the valley in a North to South direction. The group approached the Bureau of Forestry to seek permission to reestablish the trails and was granted authorization to do so. With the assistance of local scouts and other interested individuals, the group worked diligently for many months to re-establish the trails. Many of the trees contained visible hash marks from past trail blazing so finding the trails were easy; cleaning them to make the paths passable was the hard work. In 2005, the trails were completed and a night hike commemorated the project. A group of over 200 people gathered to hike the trails and feel what it was like to be one of the miners that hiked to work in the early morning darkness on those trails almost 200 years prior.
If you go: Today, there are four historic trails that are open for visitors to explore. They are referred to as Natalie #1 East, Natalie #1 West, Natalie #2 and Old Natalie Road. Together, the four trails are approximately six miles in length. In total, Weiser State Forest – Roaring Creek Tract has around 40 miles of shared use trails for hiking, mountain biking, and cross-country skiing. Find more information here or download the public use map for Weiser State Forest – Roaring Creek Tract.
Plan for: 3-4 hours with potential for more depending on how much you'd like to explore.
3. Susquehanna Warrior Trail
Trail Length: 12.5 miles
If you've ever heard the song "Over the River & Through the Woods", the Susquehanna Warrior Trail embodies it well. The trail starts outside of Berwick in the Susquehanna Riverlands Park, and stretches along the banks of the Susquehanna River north to Canal Park in West Nanticoke.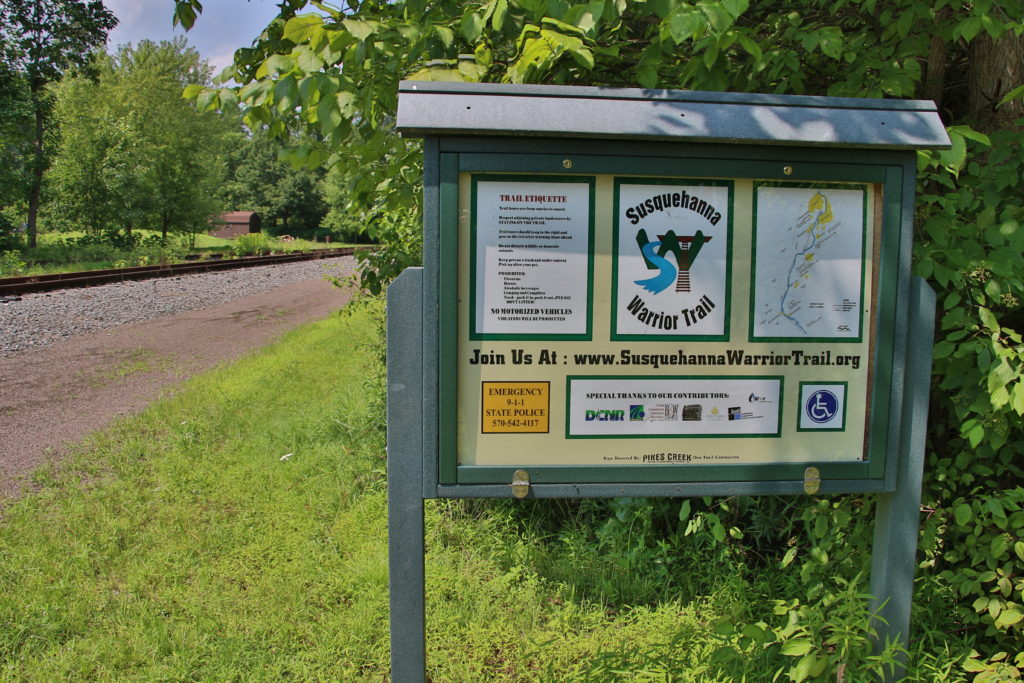 The trail follows the path of an old railroad bed, and going further back into history, an old Native American footpath. The Susquehanna Warrior Trail was constructed in 2007 and takes hikers through quiet stretches of woods, along sections of the river, and even past a drive-in movie theater!
Wildlife is abundant along the trail, and hikers will have a reasonably good chance to see otters, blue herons, groundhogs, bald eagles, and more. The great thing about this trail is that it feels like you're on an old-fashioned adventure the whole time. Set out on the trail in the morning with your picnic lunch and plenty to drink and you'll be well on your way to a full day of quiet solitude.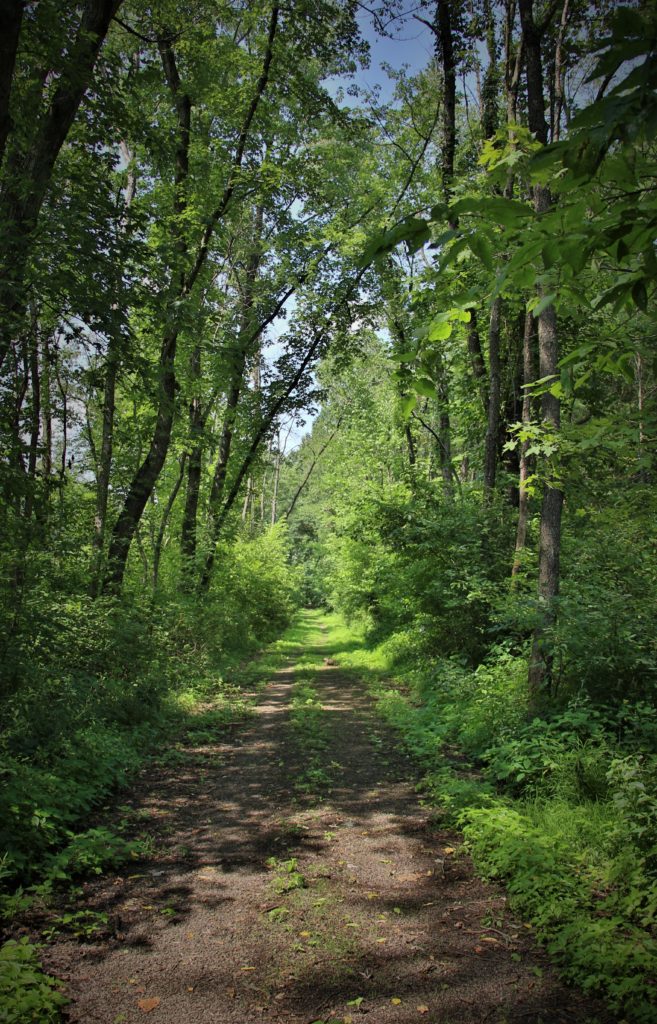 ​A good portion of the trail is shaded, and with the occasional river breeze, it makes for a great summer hike. The trail is open for hikers and bicyclists alike, and is mainly comprised of a finely crushed stone surface.​ Along the way, you will pass through the small village of Shickshinny. The trail enters Shickshinny Park and continues left onto East Butler Street, where it resumes down East Vine Street and across a small footbridge crossing Shickshinny Creek. If you need to grab a bite to eat or restock on your water supply, Shickshinny is going to be your best bet.
If you go: Parking for the southern trailhead is in the Susquehanna Riverlands Park along State Route 11. Parking for the northern trailhead in Hunlock Creek is directly adjacent to the Garden Drive-In; turn into the drive-in entrance and look for signs for the Susquehanna Warrior Trail. For a map and current trail information, click here.
Plan for: A full day hike along the river; the trail is 12.5 miles one way, so a car parked at each trailhead might be a good idea unless you're planning to bike the trail. Alternatively, you may hike as far as you feel comfortable and then turn around to hike back to your car – this way you'll be able to make the exploration as long or short as you'd like.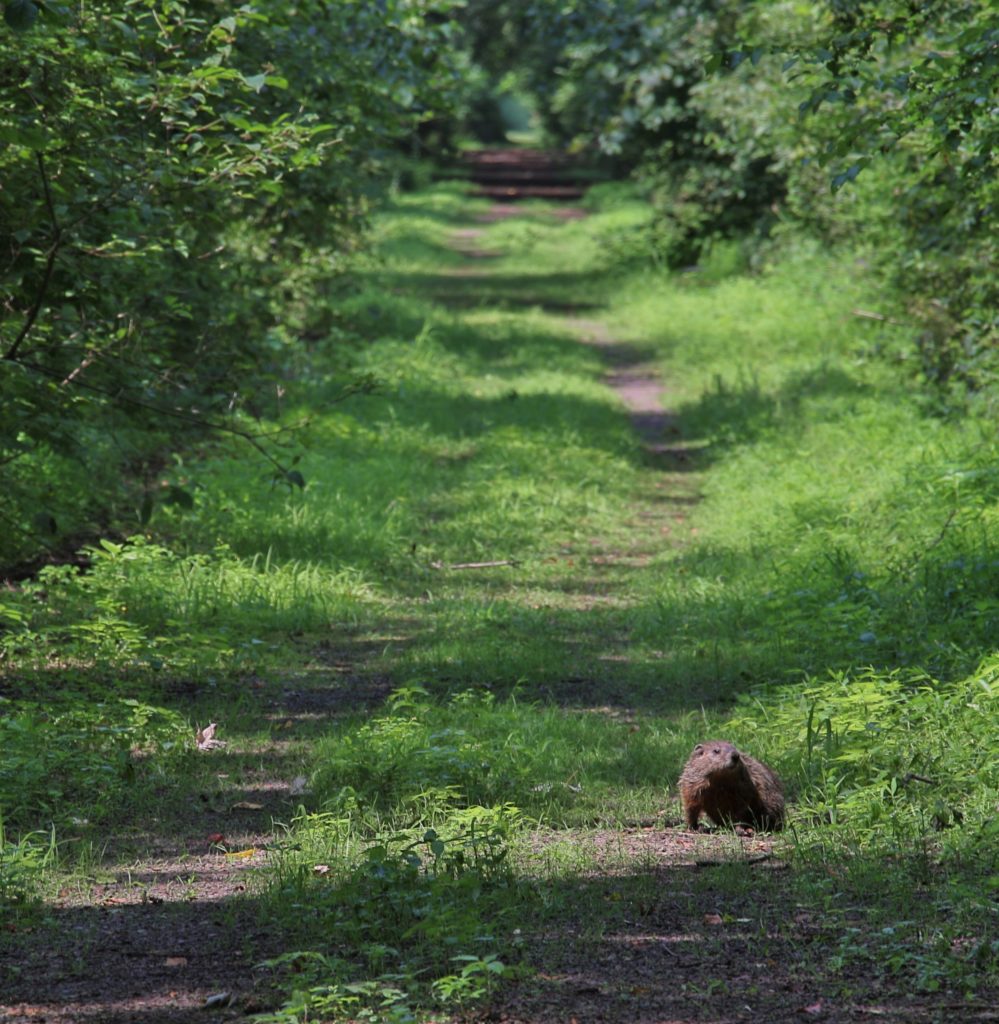 4. Montour Preserve's Goose Woods Trail + Chilisaugi Trail
Goose Woods Trail Length: 0.9 miles; Chilisuagi Trail Length: 3.85 miles
The Goose Woods Trail at the Montour Preserve is a naturalist's dream. Although short, trailgoers could spend hours wandering the trail looking at wildflowers, insects, pond life, small woodland dwellers, and animal tracks by the creek. Goose Woods Trail is great for families with children or the elderly, as it is short in distance and almost completely flat. Plus, children will love exploring the forest!
Goose Woods Trail is also a great place to bring a nature journal or camera. You can find a comfortable spot just off the trail to sit and journal about the sounds, sights, and small details of the natural world around you. Or perhaps a camera is more your speed; photograph birds, spiders, flowers, or practice taking some landscapes by the creek.
Learn about the different types of trees, leaves, and animal tracks, and see if you can spot a scarlet tanager or red-winged blackbird flying from tree to tree. Along the way, you'll pass the Preserve's Sugar Shack, where maple sugar is made in the early part of each year. Visitors to the Montour Preserve on a Saturday in March can experience their annual open house, with an educational maple sugaring workshop and maple sugar tasting.
If you go: The Preserve is open dawn til dusk daily. Be sure to visit the education center and learn about some of the animals and plants you might see during your visit. For those looking for additional hiking beyond the Goose Woods Trail, the Chilisuagi Trail that circles the 165-acre Lake Chillisquaque is 3.85 miles long. While there's not a ton of elevation gain or loss here, doing some of the trails at the Montour Preserve will guarantee you some time to relax and unwind from life's stresses while still getting those steps in! We also recommend bringing a picnic lunch and spending some quality time enjoying the day by the shore of the lake. Learn more about the Montour Preserve here.
Fossil Pit: If you have the full day to spend at the Preserve, the fossil pit is a must visit. Recently named one of the top 30 fossil pits in North America, the Preserve's fossil pit consists of approximately one acre of exposed Mahantango Formation shale. Formed some 395 million years ago during the Devonian Period when much of Pennsylvania was covered by a warm, shallow sea, these shales are particularly rich in fossils. The most commonly found fossils at the site are Pelecypods (oyster, mussel and clam-type species), Cephalopods, Brachiopods (lamp shells), Byrozoans (moss-like animals), Crinoids, Gastropods (snail-like creatures), Corals and Trilobites. The site is open from dawn to dark year-round. Admission is free and visitors may keep any fossils they find. Fossil pit visitors are encouraged to come prepared with some basic supplies, including: small geologist's hammer, soft brush, safety goggles, a bag or bucket to carry fossils and supplies and newspaper or other material to wrap fossils for safekeeping.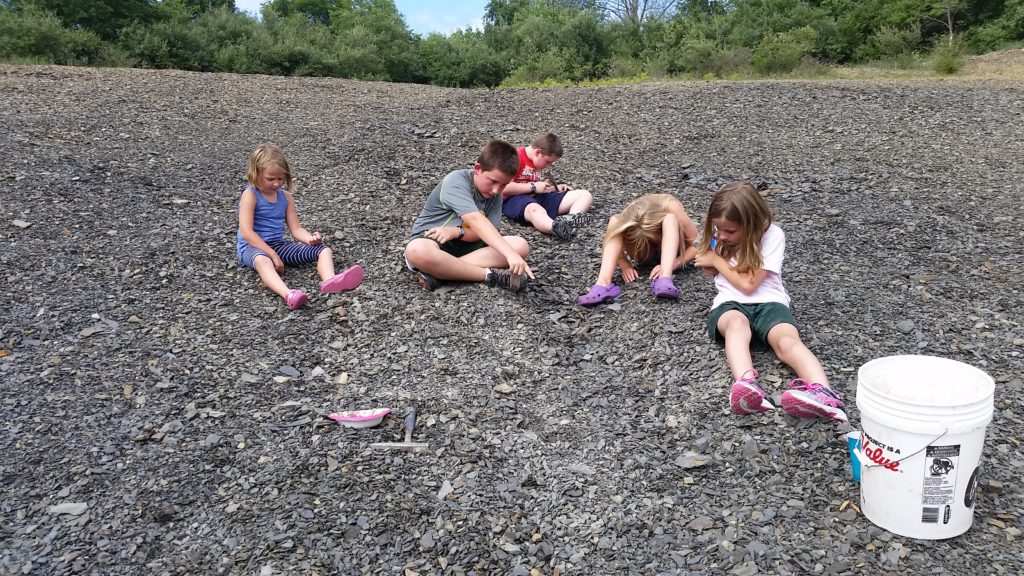 5. Hess Loop Trail / J. Manley Robbins Rail Trail
Trail Length: 3.8 miles
If you spend some time in the beautiful river town of Danville and want to build some outdoor recreation into your visit, you'll find the Hess Recreation Area just outside of town. The featured trail here is the Hess Loop Trail, which encompasses the historic J. Manley Robbins Trail. The Robbins Trail is a former railroad line for the "Montour," a 10-ton narrow gauge locomotive used for carrying iron ore between local deposits and furnaces. The line was converted to a bicycle path in the 1890's by a club of local bicycle enthusiasts, and is believed to be the oldest rail trail in the United States.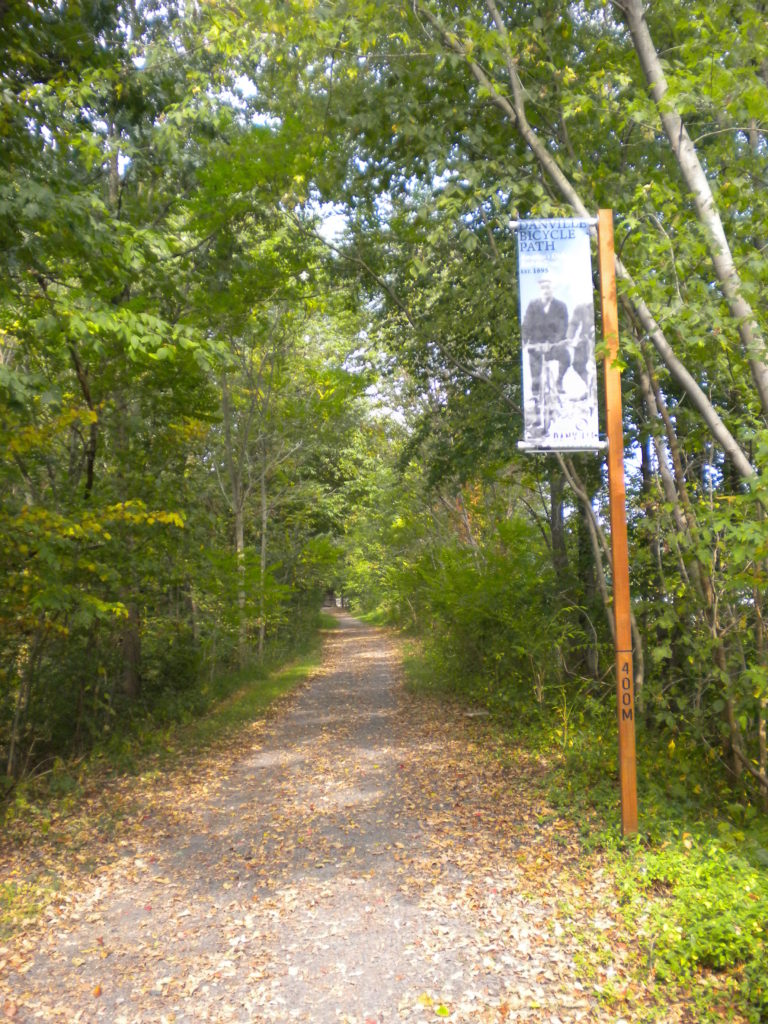 Back in the late 1880's and early 1890's, the newest bicycle craze from England had made its way to Danville. The "Rover safety bicycle" had a diamond-shaped frame with pneumatic wheels and was reasonably enough priced that many young men ordered them and began riding around Mill Street, the main Danville thoroughfare. Local residents, however, weren't as thrilled. Believing that these new bikes were dangerous, they succeeded in passing a local ordinance that banned them from being operated on the street. A group of young cyclists, calling themselves the Danville Wheelmen, still wanted to use their new bicycles, so they turned their attention to the nearby, recently defunct narrow-gauge railroad line. At one time, it hauled limestone, anthracite coal and iron ore to Montour Iron Works, where the first iron T-rail was rolled in 1845. Danville even produced some of the iron T-rails that were used to connect the Transcontinental Railroad at Promontory Summit on May 10th, 1869. But now the narrow-gauge "dinky train" was no longer operating, and the local men worked to re-purpose the rail bed into a bike trail.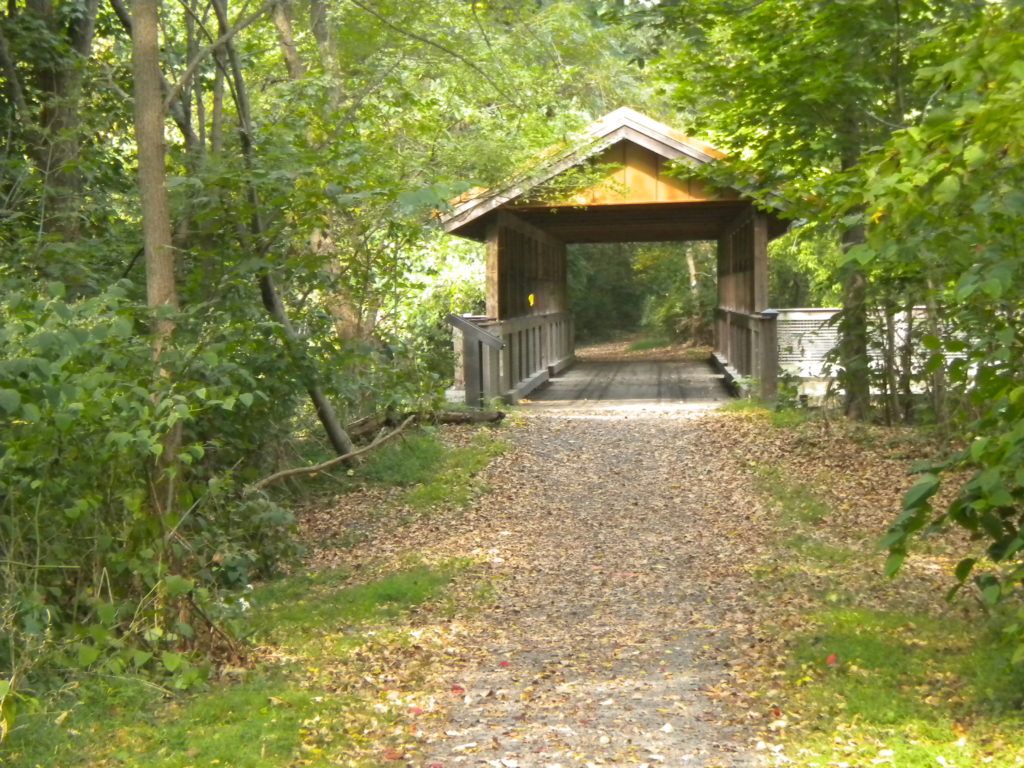 The trail now connects with additional trails and recreation amenities at the Hess Field Complex. After walking the first portion of the trail that runs parallel to State Route 54 (and crosses a small covered bridge), it winds through a beautiful stretch of deciduous forest above Mahoning Creek. The enjoyable 3.8 mile loop is a multi-purpose trail that accommodates bicyclists and walkers of all ages. Dogs are allowed, if they are leashed.
If you go: If you're coming into Danville on State Rt. 54 from Interstate 80, turn right onto Route 642 (Liberty Valley Road) and make an immediate left onto a dirt road/parking area. This is one of the Hess Loop trailheads. Further down the trail, the Hess Recreation Area has several fields and a pavilion that can seat up to 75 people. If you prefer to begin your journey from the Hess Recreation Area, there's ample parking and easy access to hop onto the Hess Trail Loop, including the J. Manley Robbins Trail segment.
Plan for: 1.5 to 2 hours to walk the trail. Consider combining it with a trip to the Montour Preserve (about 20 minutes away) or one of the other hikes on this list.
More Info About the Area
Columbia & Montour counties, nestled in the central part of Pennsylvania, are a great choice for a few days away from the hustle and bustle of your everyday life. Consider checking these five hikes off your bucket list and turn your trip into a weekend getaway while you're at it! Some intrepid hikers may want to tackle multiple hikes in one day, or complete several over the course of a weekend. If camping is your thing, there are plenty of area campgrounds to stay at, or you can select a centrally-located hotel or B&B in Bloomsburg or Danville.
If you're traveling to the area to visit for a few of these hikes, consider planning to do some kayaking or tubing on the lazy Susquehanna River while you're at it. You can also kayak at Ricketts Glen State Park on Lake Jean or at the Montour Preserve on Lake Chillisquaque. If you want to add some history into your vacation adventure, consider that Columbia & Montour Counties have the third most covered bridges in the United States with a total of 25 bridges! Grab a free covered bridge driving map from our "Request a Brochure" page and you'll soon be on your way to some old-fashioned fun in the countryside. The bridges make for great photo opportunities, especially the famous Twin Bridges!
For the hardy explorers out there, consider researching additional hiking trails in Ricketts Glen State Park, Weiser State Forest, various area State Gamelands, or the nearby Loyalsock State Forest. There are approximately 60 miles of trails to be found in Ricketts Glen and Weiser State Forest combined, and countless additional trails in area gamelands.
Looking for even more info about the Columbia-Montour region before you visit to hike these trails? Request a free Travel Guide or a number of other free brochures including a covered bridge driving map to help plan your trip into a fun-filled weekend. You'll find a list of area restaurants and lodging options, outfitters, other area attractions, and more!
If you're looking for a paddling adventure to pair with your hiking excursion, consider checking out our Quick Guide to Paddling the Susquehanna River!