by Nancy Bishop
Ahhh, February. It's Valentine's month and you know you want to do something better than the usual card and candy for your sweetheart. Lucky for you, there are a number of options in the Columbia & Montour Counties area that are sure to please.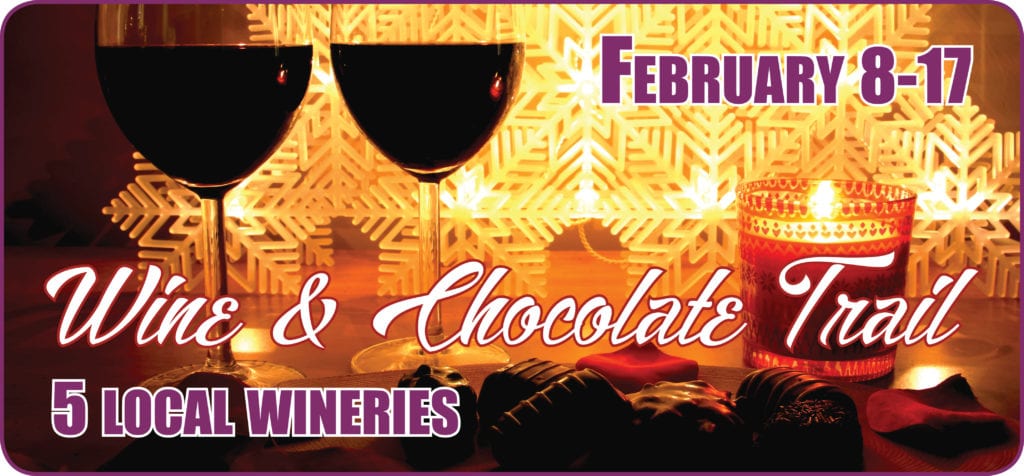 Who could go wrong with wine and chocolate? From Friday, Feb. 8 to Sunday, Feb. 17, five wineries in the area will offer special chocolate pairings with their wines, and participants will have the chance to get tickets stamped at each location for chances to win a prize. Each winery will provide an individual prize basket and then there will be one large Grand Prize basket with bottles of wine from every winery. Wineries participating in this year's February Wine & Chocolate event are:
Colonel Ricketts Hard Cider Winery, Benton
Freas Farm Winery, Berwick
Red Shale Ridge Vineyards, Danville Outlet
Shade Mountain Winery & Vineyard, Riverside/Danville Outlet
Three Dogs Vino, Bloomsburg
The trail can be completed during each winery's normal business hours. Please call or visit individual wineries' websites for their hours of operation. Tickets are free, but tasting fees may apply at several of the wineries.
If you are interested in participating in Wine & Chocolate Week, simply go to one of the wineries of your choosing during the posted event dates (you may start at whichever one you'd like) and pick up an event ticket. Then visit each winery and get your ticket stamped at each after you enjoy the wine! At your final winery stop, turn in your ticket to be entered to win any of the prize baskets. All participants who complete every stop on the trail will have a chance to win any of the individual baskets and the Grand Prize basket regardless of where they turn in their ticket.
Romantic Dinner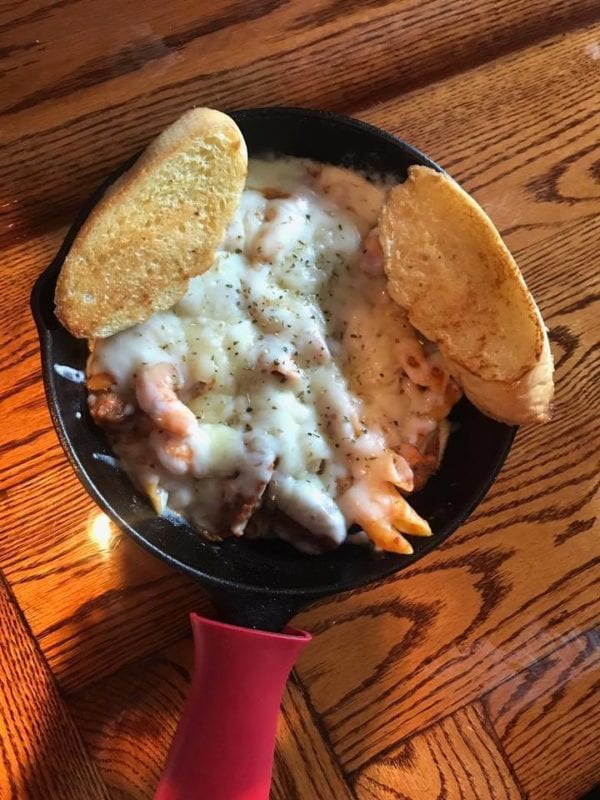 Who can go wrong with a romantic dinner for two at one of the area's many fine restaurants? Here are a few to consider.
The Farmhouse at Turkey Hill, Bloomsburg – Fine dining in a relaxed, yet formal, country setting using local organic and free-range ingredients, complemented with fresh ingredients from around the world.
Jamison City Hotel Bar & Restaurant, Jamison City – Featuring daily specials, live music, and of course, great food.
LT Evans Eatery & Drafthouse, Danville – Open daily for lunch and dinner, LT Evans offers a relaxed, family-friendly atmosphere and great food. Reservations are recommended.
The Nickle Plate Bar & Grill, Elysburg – Nestled within the picturesque Knoebels Three Ponds Golf Course, the Nickle Plate provides a casual dining experience if you're the kind of couple that's looking for a great burger, fries & an ice-cold beer.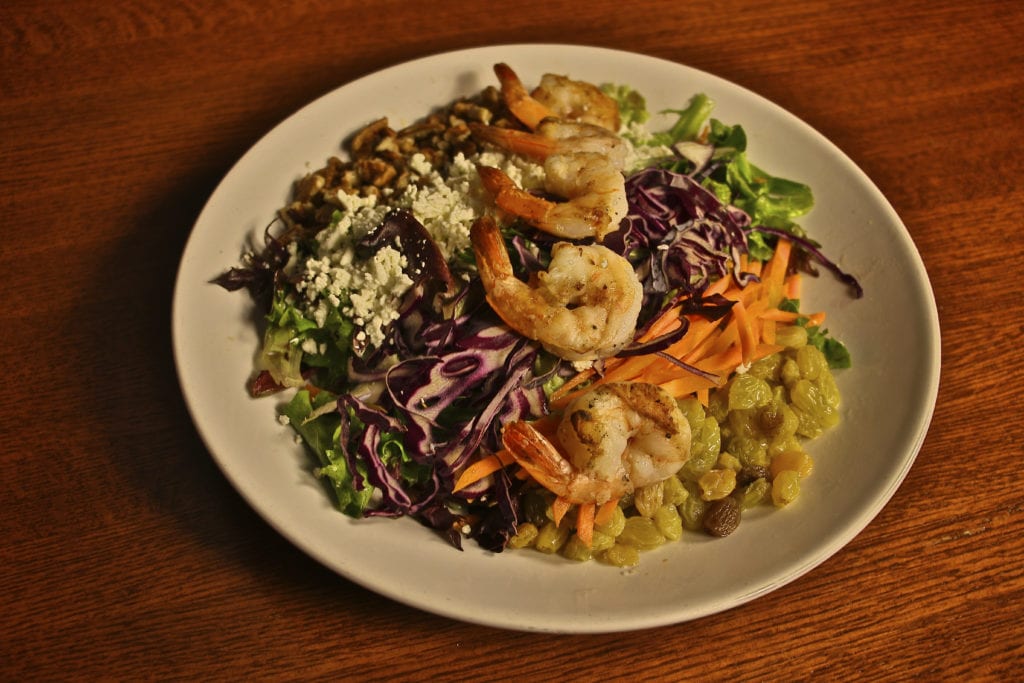 Pine Barn Inn Restaurant, Danville – Fine dining in a relaxed, rustic setting with a special monthly dinner menu that focuses on unique and seasonal items.
That's Amore Pizzeria & Italian Restaurant, Bloomsburg – If you're looking for fine Italian cuisine, That's Amore is the place for you and your sweetheart to visit for a lovely night out.
Cozy Getaways
After that romantic dinner for two, spend the night at one of the area's many cozy bed and breakfast venues. Here are a few to consider:
The Doctor's Inn Bed & Breakfast, Danville
Fish & Loaves Bed & Breakfast, Catawissa
Inn at Turkey Hill, Bloomsburg
The Old Tioga Inn Bed & Breakfast, Benton
Paper Mill Pines Bed & Breakfast, Shikshinny
Peaceable Kingdom B&B, Catawissa
Pump House Bed & Breakfast, Bloomsburg
White Birch Inn Bed & Breakfast, Berwick
Enjoy the Scenery Together
Feeling the need for some exercise after all that fine dining? How about enjoying the scenery on a hike or cross country skiing. Or challenge yourselves to a scavenger hunt to find and visit all of the 25 covered bridges in Columbia and Montour counties. Columbia County alone has 19 bridges, Montour County has two covered bridges and four additional bridges span the divide between Columbia & Northumberland counties. No two covered bridges are alike and each one has its own history, personality and story to tell.
With more than 13,000 acres, Ricketts Glen State Park, located at 695 State Route 487, north of Benton in Columbia County, is one of the most scenic areas in all of Pennsylvania. Snowmobile, cross-country ski, snowshoe or hike. Or, try your hand at ice fishing on Lake Jean.
Located off Route 54 near Danville, the Montour Preserve is a hiker's paradise with trails located around Lake Chillisquaque, a 165-acre reservoir on the middle branch of Chillisquaque Creek. Leafless trees and a wintery landscape make February a good month to look for winter raptors.
Other hiking venues to try include the Columbia County Susquehanna Trail in Bloomsburg, the Robbins Trail in Danville or the six miles of trails at the Susquehanna Riverlands in Berwick. Whatever you choose, you'll build lasting memories that will bring you closer together.
Face a Challenge Together
For an interesting adventure that will challenge you, head to an "Escape Room." An escape room, also known as an "escape game," is a physical adventure in which players solve a series of puzzles and riddles using clues, hints and strategy to complete the objectives. At Can U Xcape in downtown Bloomsburg, participants are locked in a room and have 60 minutes to work together to solve the puzzles and escape. Pick from the Tornado Room, the Submarine Room or the Mineshaft. Give your sweetheart a reason to put down the phone and bond!
Explore Days Gone By
By visiting the area's many antique shops, you'll discover the things that our ancestors loved and used in their everyday lives. Find nostalgic memories of days long past, along with vintage furniture, primitives, pottery, linens, jewelry, books, records, toys and much more. These shops are often housed in a historic home or a barn built well before the turn of the 20th century.
Make a Memory
Viewing art, hearing music, and going to the theater can be awesome ways to learn more about your sweetheart and build a lasting memory.
"The Sound (and Sight) of Music" – The Exchange in Bloomsburg asked artists to choose their favorite line in a song, or their favorite musical phrase, and make artwork about it. Visit the free exhibit through Feb. 15. On the last Wednesday of every month, from 7 to 9 p.m., regional Blues musicians will perform at the Exchange in the Destination Blues Listening Room. Playing on March 27 will be Tom Graham.
"Put A Little Love in Your _ _art" – Artspace Gallery in Bloomsburg will hold a reception featuring chocolate, coffee and wine tasting from Three Dogs Vino and Bason Coffee Roasting. Julia Pena will provide beautiful harp music to add to the magic of this special evening, Feb. 9 from 6 p.m. to 8 p.m.
The Weis Center for the Performing Arts will host Brian Skerry Feb. 19 at 7:30 p.m. Voyage across the oceans with one of National Geographic's most seasoned photographers and discover a vast, hidden world beneath the waves.
And My Favorite…
As my kids and grandkids will tell you, it's never too cold for ice cream if you want to win my heart. So, wrap up your romantic adventure with ice cream! Make it a peanut butter milkshake for me, but you can choose whatever YOUR sweetheart wants from May's Drive In Restaurant. There's one in Bloomsburg and one in Berwick.