Covered Bridge Festival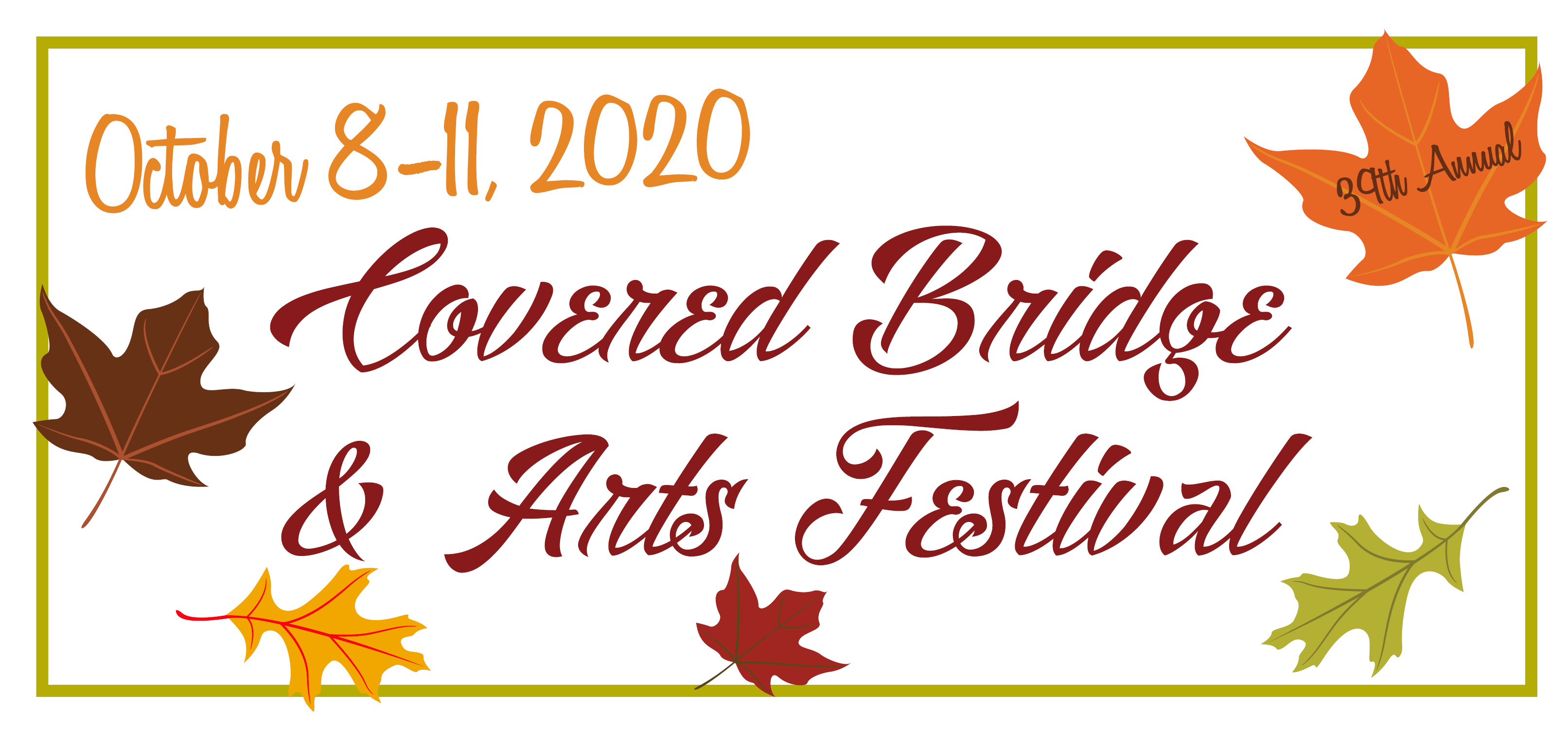 October 8th – 11th, 2020
Thursday, Friday, & Saturday: 10 AM – 6 PM
Sunday: 10 AM – 5 PM
---
Location: Knoebels Amusement Resort
391 Knoebels Boulevard, Route 487
Elysburg, PA 17824
---
Looking for lodging options in our area for your stay? Click here.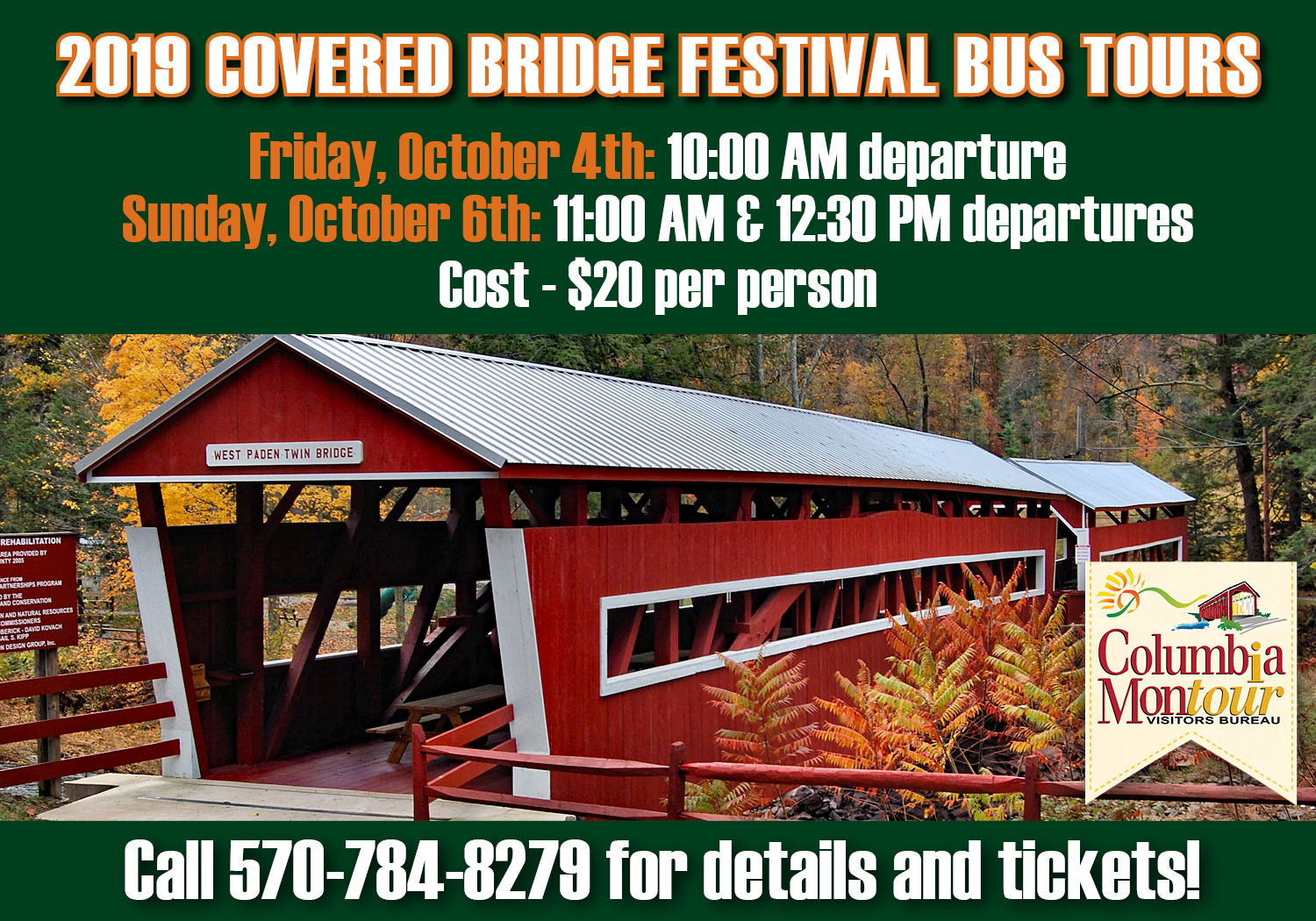 Situated in the beautiful surroundings of Knoebels Amusement Resort, the 39th Annual Covered Bridge & Arts Festival has something for everyone!
• More than 350 Craft Vendors & 38 Food Vendors!
• FREE Parking & FREE Admission
• Select Knoebels rides open ALL FOUR DAYS! Full details about 2019 park rides can be found below [2020 ride info will be released in late summer] – please note that what rides are open are SUBJECT TO CHANGE.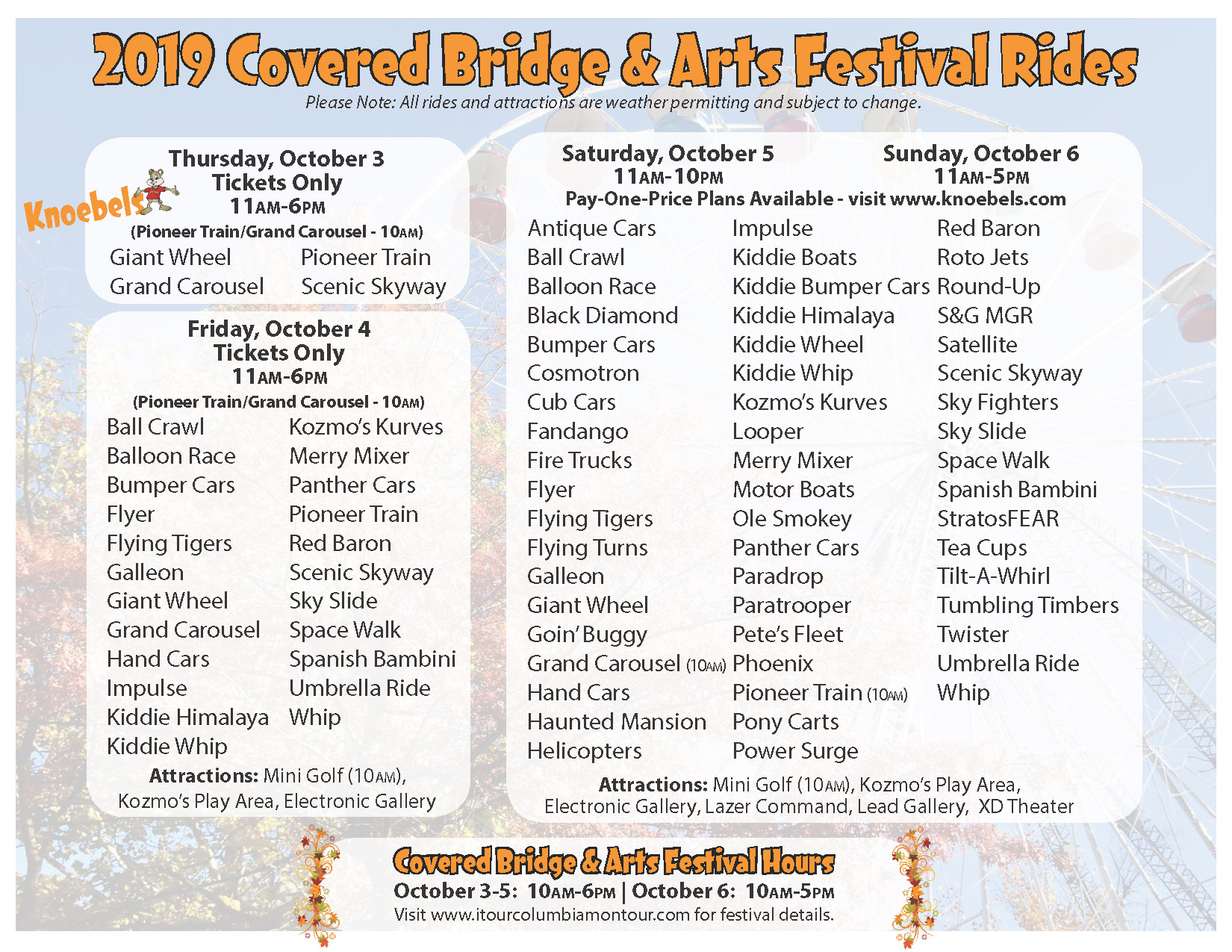 Handmade & Traditional Crafts • Turned & Carved Wood • Glass
Prints • Sewn & Woven Textiles • Jewelry • Photography • Paintings • Pottery
Decor for Every Holiday • New & Repurposed Primitives
Plus Much More!
---
Covered Bridge Festival Interactive Map 
---
The 2019 Festival Map is here! Be sure to see if your favorite vendors will be at the festival again this year and where they are located.
Plan your visit to this year's Covered Bridge Festival using our interactive vendor map.  This map will include all vendor information, their location, as well as a brief description of what they are selling.  The map also includes restroom locations, parking, nearby landmarks and important park resource locations.
Download the Covered Bridge Festival Interactive Map right here.
Please note, the interactive map will be in Google Earth format. The link will take you to a Dropbox folder where you can download the Google Earth .kml file.  You do not need to have a Dropbox account to download the file (simply click on the file and then select "Direct Download" option from the available dropdown menu). However, you will need to have Google Earth installed on your computer or smartphone to open the file once downloaded. Google Earth is a free download, and can be found here.
THE FULL (UNOFFICIAL) VENDOR LIST IS HERE. FIND OUT WHETHER YOUR FAVORITE VENDORS WILL BE BACK AND WHERE EVERYONE IS LOCATED. Download the 2019 List.
Covered Bridge Festival 2019 Schedule of Events
Thursday, October 3
10 AM – 6 PM: Craft & Food Vendors throughout the park.
11 AM – 6 PM: Select amusement park rides open; tickets only.
Friday, October 4
10 AM – 6 PM: Craft & Food Vendors throughout the park.
10 AM: Covered Bridge Bus Tour Departs.
11 AM – 6 PM: Select amusement park rides open; tickets only.
Saturday, October 5
8:30 AM: Knoebels Lumber 5K Race – For more information, or to pre-register, call 800-332-6755. Race day registration at Pavilion L.
10 AM – 6 PM: Craft & Food Vendors throughout the park.
11 AM – 10 PM: Park rides open; Ride-All-Day Passes available.
Sunday, October 6
10 AM – 5 PM: Craft & Food Vendors throughout the park.
11 AM – 5 PM: Park rides open; Ride-All-Day Passes available.
11:00 AM: Covered Bridge Bus Tour Departs
12:30 PM: Covered Bridge Bus Tour Departs
---
Limited Edition Covered Bridge Puzzles Available
The Visitors Bureau may have the 2019 Edition of the Columbia & Montour counties Covered Bridge Puzzle Series available for sale at the Festival (subject to availability).
A portion from every puzzle sold is donated to the Columbia County Covered Bridge Association for upkeep, restoration, and preservation of these iconic bridges. Pick your puzzles up at the Festival by visiting the Visitors Bureau table!
---
Covered Bridge Festival Agritourism Days
ALL FOUR DAYS! – Festival goers will find a special agritourism fair, located next to Pavilion O.
• Bring the kids to see alpacas; pony rides will be available all day!
• Shop for locally grown produce, pumpkins, gourds, mums and decorative corn.
• See various crafter demonstrations.
---
Covered Bridge Festival Covered Bridge Bus Tours
UPDATE – All tickets for the 2020 Covered Bridge Bus Tours will go on sale in late spring! Please call the Visitors Bureau Welcome Center to reserve your seat (570.784.8279)
Our guided tours visit various covered bridges in Columbia County – including the Twin Covered Bridges! The traditional journey includes the following bridges: Paar's Mill, Esther Furnace, Davis, Hollingshead, Rupert, Josiah Hess, Stillwater, East & West Paden ("Twin Bridges"), and occasionally the Johnson Bridge (time permitting).
2019 Ride Info
• When: Friday, October 4 at 10:00 AM;  Sunday, October 6 at 11:00 AM & 12:30 PM.
• Cost: $20 per seat
• Approximate length of trip: 3 hours
• Seating is limited and sells out early! Please make reservations ahead of time.
• Pre-Payment is required to book your seat.
• Tickets must be picked up at the CMVB information booth at Pavilion H at least 30 minutes prior to departure.
• Riders with tickets in hand will board the bus at Pavilion L.
• NO Cancellations after September 12th.
Have more questions?  Check out our Covered Bridge Bus Tour FAQ sheet.
Now you can now reserve your spot over the phone with a credit card payment! Call the Visitors Bureau office at 570-784-8279. You can also download the reservation form (2019 Bus Tour Reservation Form) and mail it with full payment to the address listed on the form.
---
Covered Bridge Festival Application Forms
CRAFTER:
Interested in becoming a crafter at the Covered Bridge Festival?  Your first step is to download our Covered Bridge Festival Pre-Qualification Form. 
Please remember that applicants must hand make their craft – no buy/sell.  This is a juried show.  Pre-qualification forms are added to the Committee's files for up to 3 years of consideration.  Submitting a pre-qualification application does not guarantee you a spot in the show.
FOOD VENDOR:
Download the food vendor application form and follow the instructions on the form to submit it for consideration!