The 2018-19 season at the Weis Center for the Performing Arts at Bucknell University will include nearly 40 professional performances – including world music from Egypt, Spain, Africa, China, Japan, Mexico, Mongolia, Denmark and Sweden, plus classical music, modern dance from two acclaimed companies, world dance from India and Spain, Americana and folk, jazz, and family-friendly performances. Ten performances are free.
Performances begin in late August 2018 and continue through May 2019; all performances are at 7:30 p.m. unless otherwise noted.
The season will kick-off with a free outdoor concert on the Weis Center Plaza by Banda Magda on Thursday, August 23 at 6 p.m. The ensemble seamlessly moves from South American rhythms with jazz improvisation, to mid-century classics and even tunes sung in six languages.
Highlights of the season include: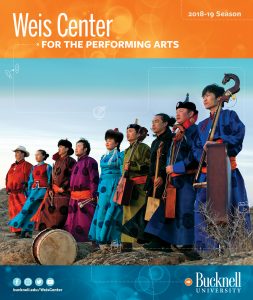 Brochure Available
The Weis Center's 32-page season brochure and ticket order form can be downloaded from the Weis Center's website, Bucknell.edu/WeisCenter.
Hardcopies are also available at the Weis Center and throughout the Susquehanna River Valley region, including Visitors Bureaus and public libraries.
To request a hardcopy brochure, contact Lisa Leighton, marketing and outreach director, at 570-577-3727 or e-mail Lisa.Leighton@bucknell.edu and one will be mailed at no cost.
Sponsors
The Weis Center's 2018-19 season is supported by the following season-level sponsors:Bucknell Sports Properties, The Daily Item, Press Enterprise, Seven Mountains Media, Sunbury Broadcasting Corporation, Standard Journal, Susquehanna Life, ViaMedia and Service Electric, Williamsport Sun-Gazette, WITF, WNEP-TV, WPSU, and WVIA. Geisinger and the Susquehanna River Valley Visitors Bureau are the lead sponsors of the Weis Center's five family discovery performances.
Event sponsors include Backyard Broadcasting, Centre Daily Times, Children's Museum of Bloomsburg, Coldwell Banker Penn One Real Estate, Doug and Mary Candland, Columbia-Montour Visitors Bureau, Julianna and John Cooper, Nancy and Sam Craig, Evangelical Community Hospital, the Exchange/Art Cart, Geisinger/SPARK, Bob and Dede Gronlund, iHeartRadio Williamsport, Lewisburg Children's Museum, Clayton and David Lightman, National Geographic Live, News Item, PPL, Public Library for Union County, Priestley-Forsyth Memorial Library, Riverwoods, Gary and Sandy Sojka, Susquehanna Life, Karl Voss and Chanin Wendling family, and the Family of Janet Weis.
Grant funding for the season includes Arts Midwest, Center Stage a State Department initiative, Mid Atlantic Arts Foundation, National Endowment for the Arts, and the Pennsylvania Council on the Arts.
Tickets
The majority of Weis Center tickets range in price from $20 to $35 for adults, with discounts available for subscribers (5 or more events), senior citizens, college students, groups and youth.
Subscribers have priority seating until Monday, August 13 at noon.
Beginning on Friday, Aug. 17, at 10 a.m., non-subscribers may order single tickets for any Weis Center season performance at Bucknell.edu/BoxOffice or by calling 570-577-1000.
Tickets will also be available in-person from several locations including the Weis Center lobby weekdays 10 a.m. to 4 p.m. and the CAP Center Box Office, located on the ground floor of the Elaine Langone Center, weekdays, 10 a.m. to 4 p.m.
For more information about the Weis Center for the Performing Arts, go to Bucknell.edu/WeisCenter or search for the Weis Center on Instagram, Facebook, Twitter or YouTube.