by Nancy Bishop
Looking for something to do on a Sunday afternoon? Tired of our modern era? Take a step back in time and visit the Montgomery and Boyd Houses at the corner of Bloom and North Mill streets in Danville.
Built in the late 1700s by Gen. William Montgomery, whose son Daniel is the "Dan" in Danville, the Montgomery House was home to descendants of Montgomery until his great-granddaughter, the last resident, passed away in 1939. At that time it was put up for sale and local residents were concerned that it would be demolished, so the Elks Lodge (B.P.O.E.) bought it and deeded it over to the Montour County Commissioners, who turned it over to the newly formed Montour County Historical Society for a "Historical Shrine."
Lovingly restored and maintained by tireless volunteers from the Historical Society, the house has two parts – the original log home built around 1777 and a Federal-style stone building added later.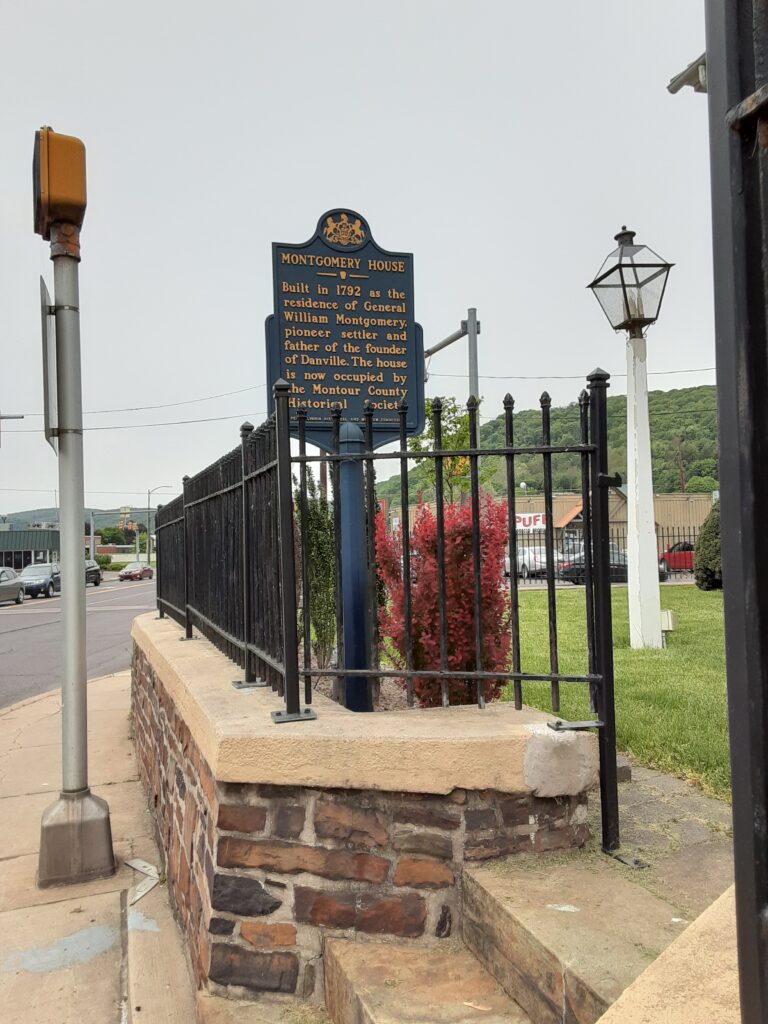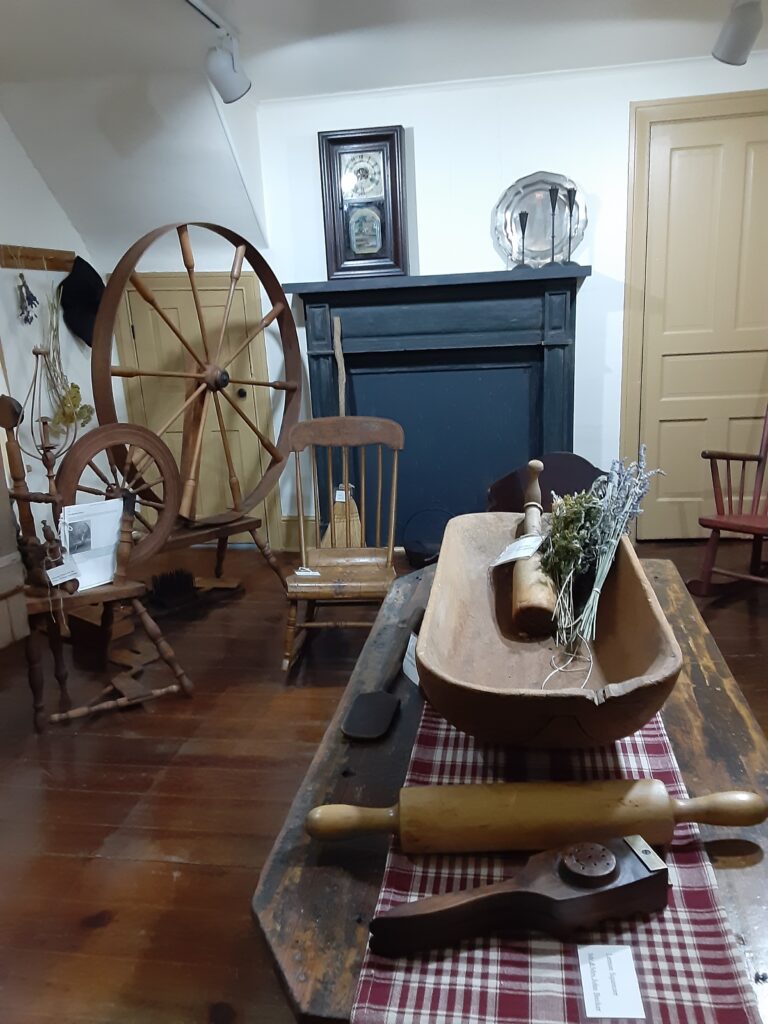 An officer in the Revolutionary War, Gen. Montgomery came to the area from Chester County near Philadelphia. When he bought land on the Mahoning Creek in 1774, the area still had occasional altercations between the settlers and the Native Americans. The Montgomery's had lived in the log home only a short time when there was an uprising in the Wyoming Valley. After moving temporarily downriver to Fort Augusta, the family returned in 1779 and Gen. Montgomery built a sawmill, grist mill and woolen mill.
Helped by his father, Daniel Montgomery operated a trading post that provided items settlers in the surrounding area needed. They began calling the area "Dan's town," which eventually evolved into "Danville." Both father and son donated land for public buildings in the new town. In a Fourth of July speech in 1800, William said hills around the area were full of iron. He predicted "great iron factories employing large numbers of workman and yielding much wealth to the community."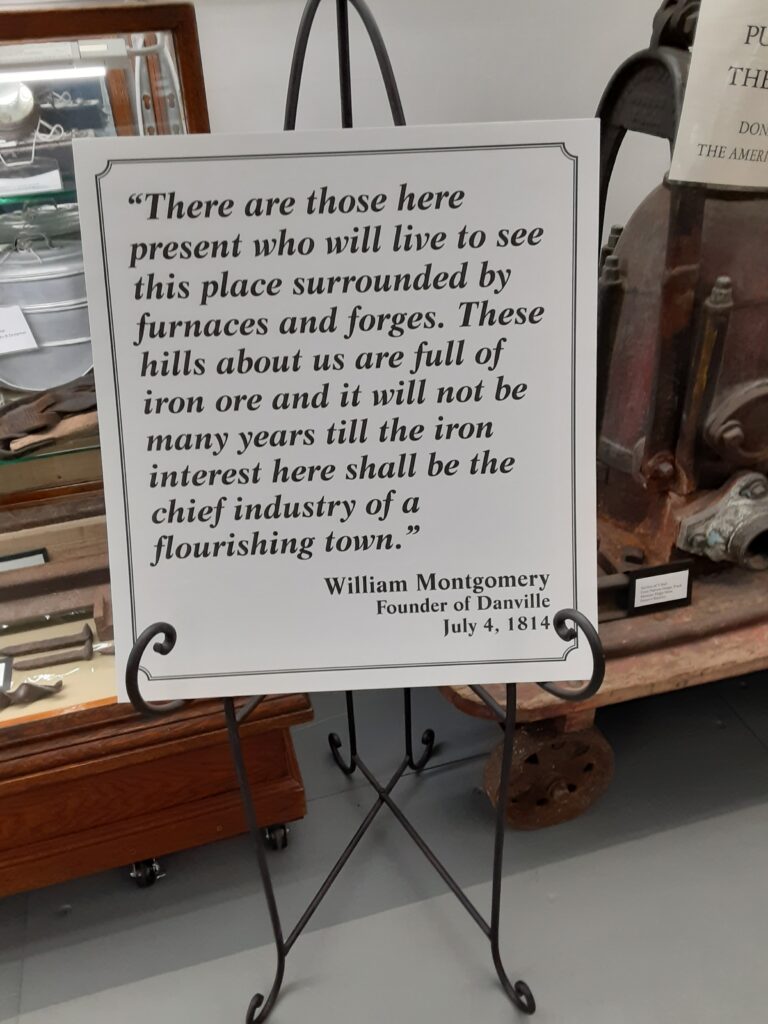 A dedicated public servant, Gen. Montgomery, who was born in 1736, served in the Army for 34 years, and was elected or appointed to 16 different offices, including the Continental Congress, Pennsylvania Congress and the United States Congress. He died in 1816.
After the new historical society acquired the house, local residents began donating their prized memorabilia and historical artifacts to the society. Today the older log and wood frame part of the house is set up the way a home would have been at the time the Montgomery family first lived there and includes items donated by their descendants.
Although the Montgomery House and neighboring Boyd House weren't able to be open for a year because of the COVID-19 pandemic, the members of the Historical Society put that time to good use, going through many of the donated historical items that had been in storage and creating new displays.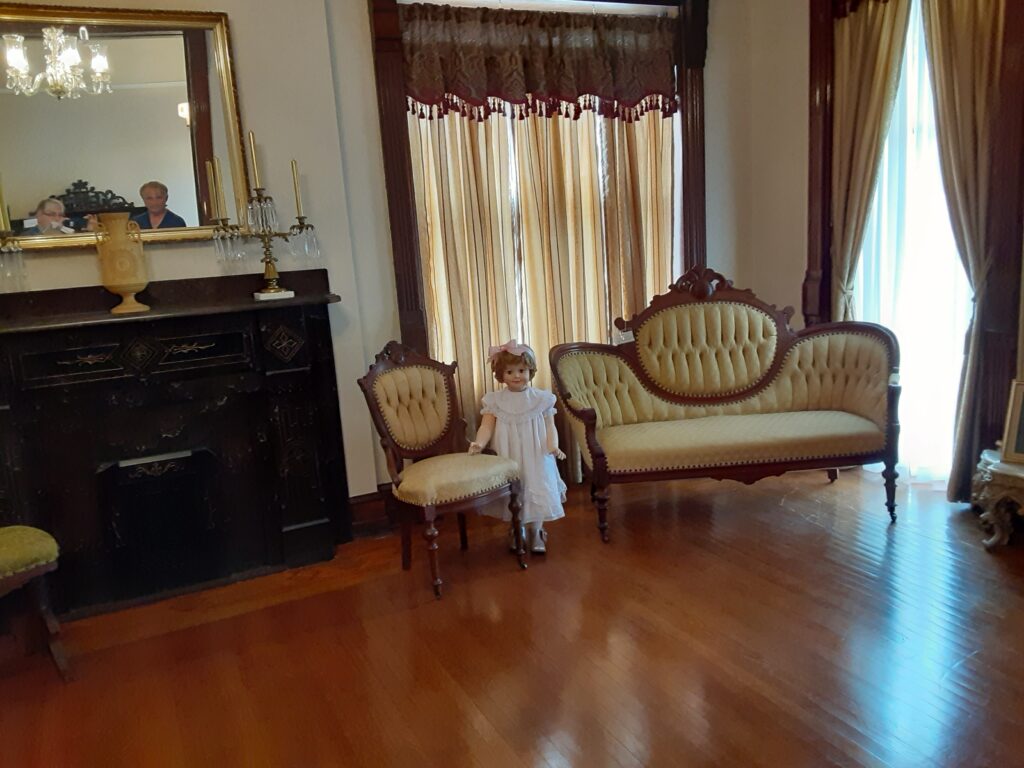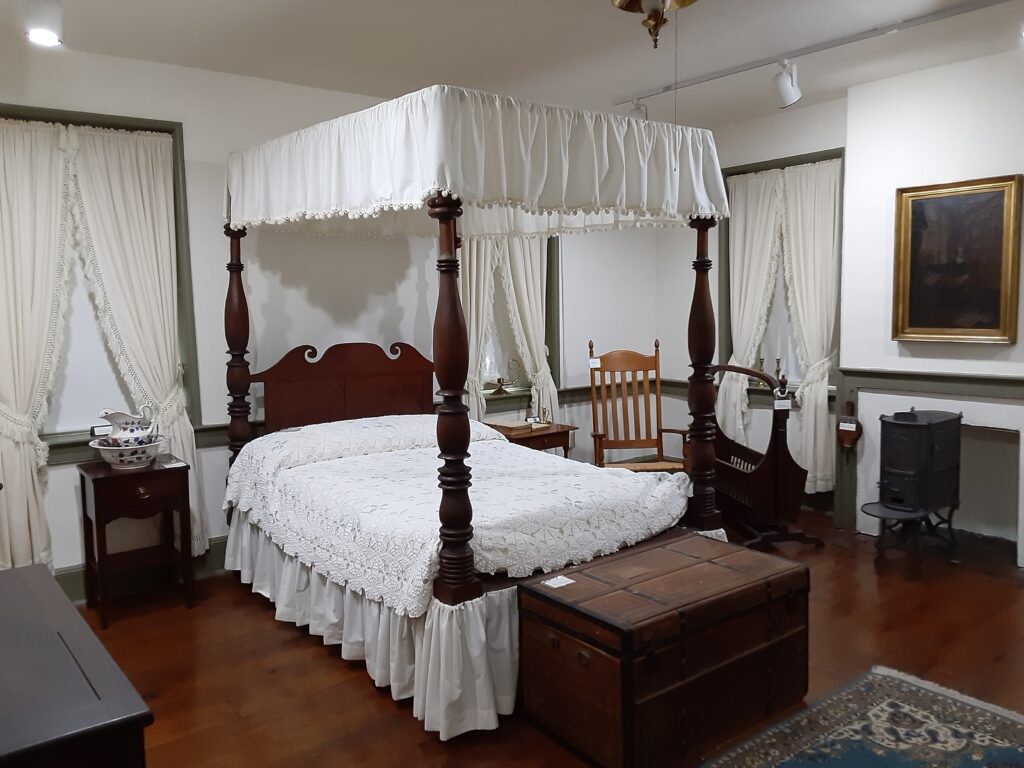 Since mid-April, the two buildings have been reopened for public tours on Sunday afternoons from 1 to 4 PM. It's a great destination. On a recent Sunday, I spent several hours there looking at the fascinating displays and talking to the Historical Society volunteers who were eager to tell visitors about the houses.
One room in the Montgomery House is dedicated to Geisinger Hospital founder Abigail Geisinger and contains some of her personal belongings including a beautiful needlepoint chair. I learned that Mrs. Geisinger, born Abigail Ann Cornelison in 1827, had been married twice – the first time to a distant cousin, Jacob Cornelison. After she was widowed, she married George Geisinger in 1866 when she was 39.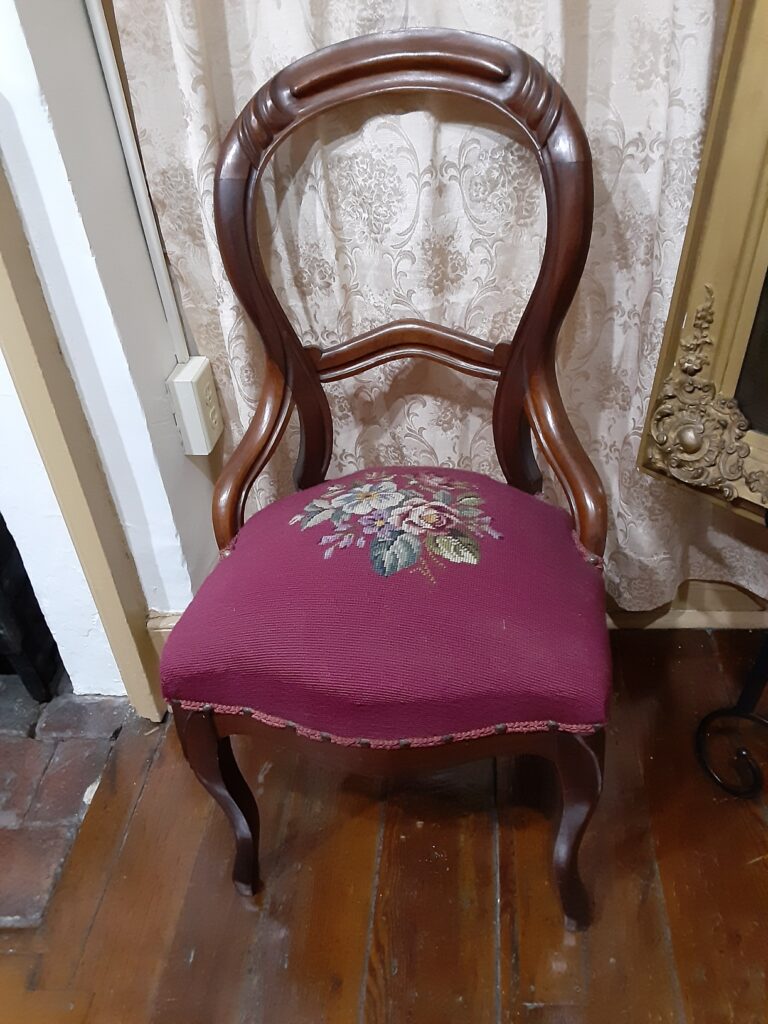 Next door to the Montgomery House is the Boyd House, built in the early 1880s by Daniel Montgomery Boyd, grandson of Daniel Montgomery and great-grandson of William Montgomery. The Elks Lodge purchased the house in 1923 and used it until 1999. Since purchasing the Boyd House, the Historical Society has turned it into a museum that is home to some unique collections. There's the Military Room that has a huge collection of military items from all eras of American history. Uniforms, medals, enlistment papers, newspaper articles track America's military history. You could spend hours in there and still miss something!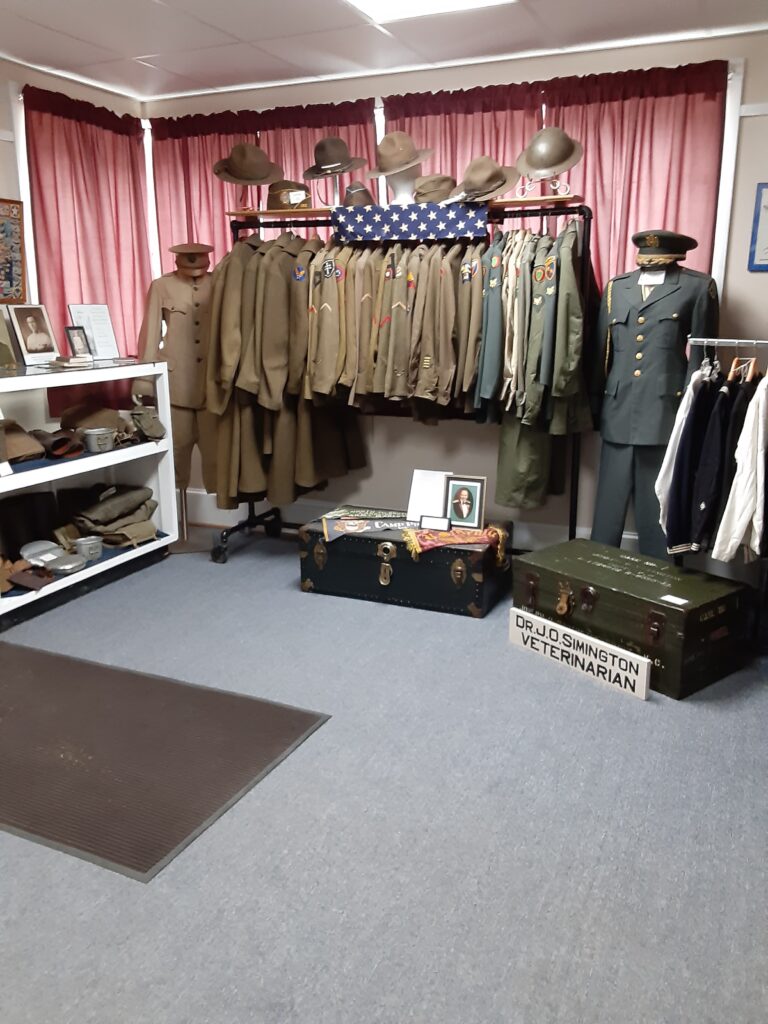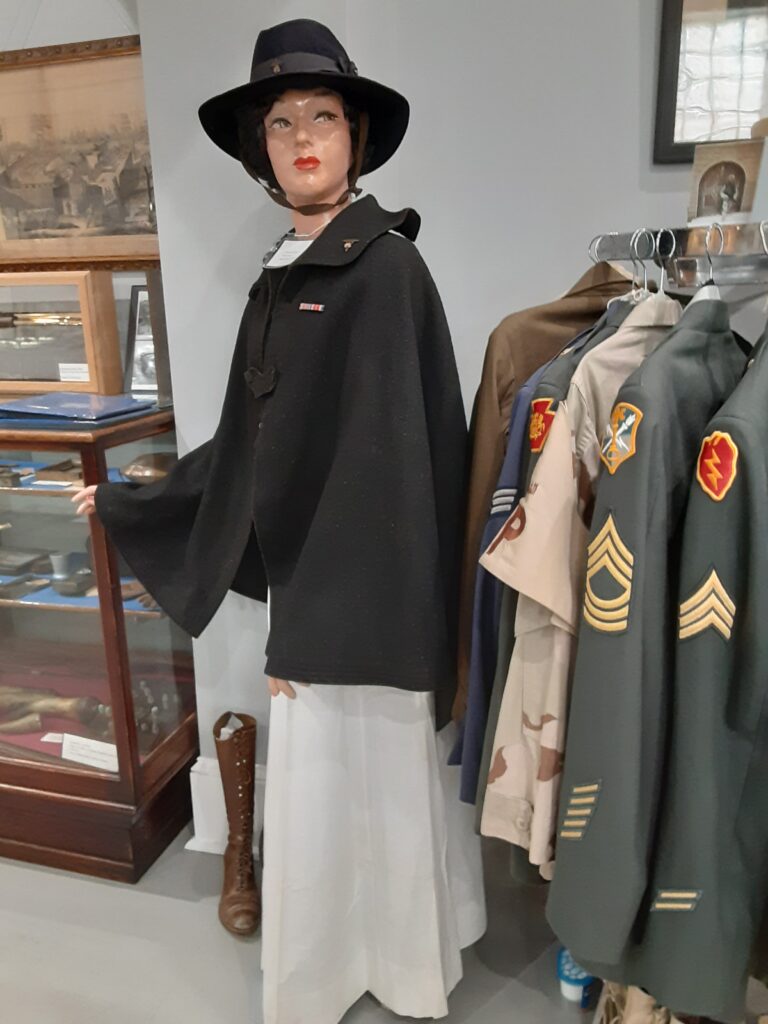 In the Business & Industry Room you'll find items including documents, pictures and even cast iron stoves from the mining and iron industry that was a huge part of Danville history for a century. One of the items that will surely catch your eye is an advertising backdrop from the old Opera House in town that takes up a whole wall.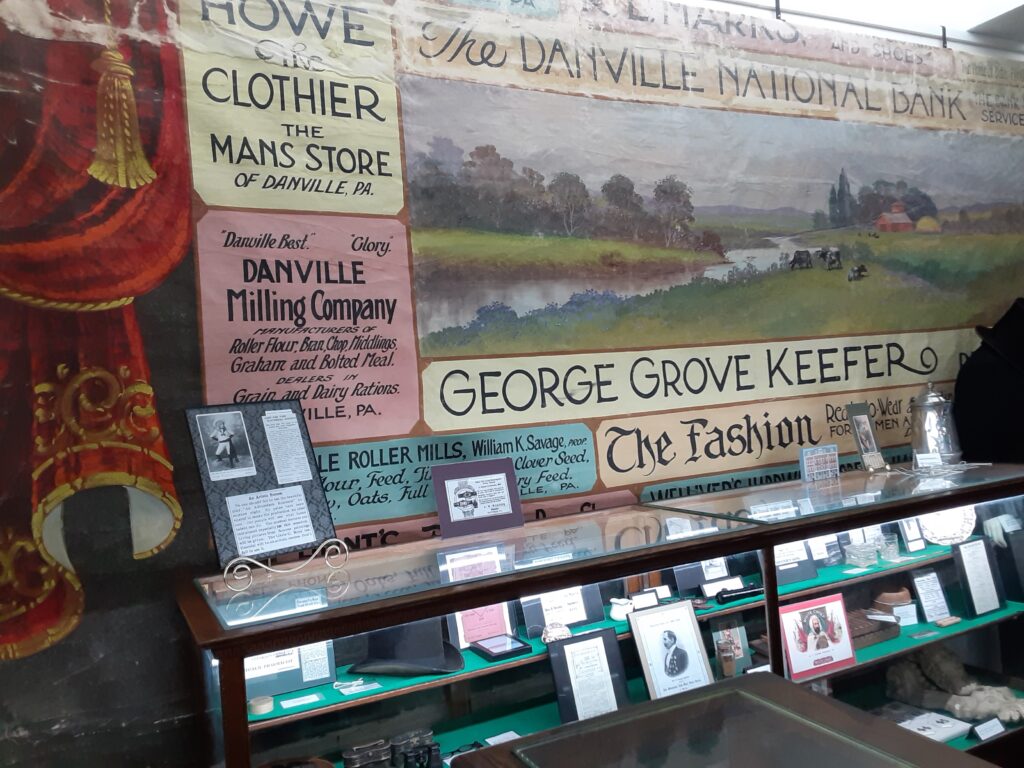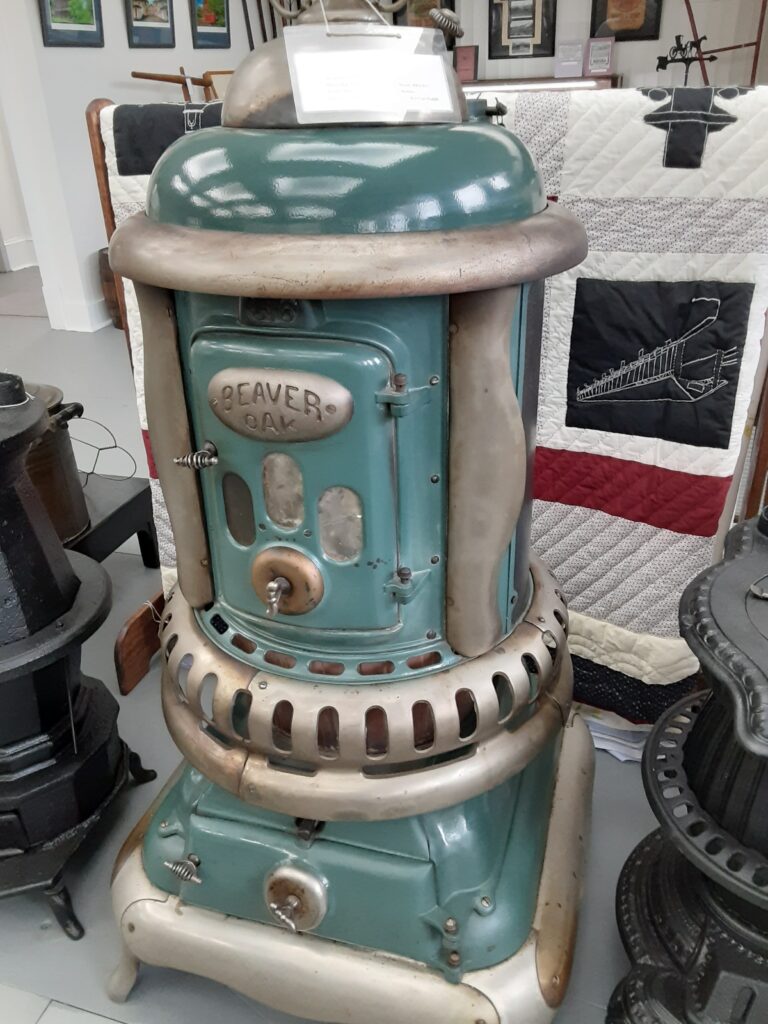 As if that isn't enough to keep you there for hours, there's a room with Native American artifacts including a display of arrowheads that were found in the surrounding fields, streams and river. No matter what your interests are, you're sure to find an exhibit whether it's musical instruments, toys, clocks or early photos. The Historical Society also has assembled clothing and accessories that highlight the fashions from the 19th and 20th centuries. And there's a library with historical books and documents.
Plan a visit soon. Even if you have been to the Montgomery and Boyd Houses before, you'll find so many changes and new exhibits that you'll be glad you gave it another try.
The two houses are open Sundays from 1 p.m. to 4 p.m. from April through October and by appointment during the winter season. Admission is $10 if you are not a member of the Historical Society. Members, young children and students from kindergarten through 12th grade are free.
You can also help the Historical Society continue the Montgomery and Boyd House renovations by donating to the Boyd House Fund, PO Box 8, Danville, PA 17821.