History & Overview
Of the nearly 14,000 authentic wooden covered bridges that once existed in the United States, less than 900 remain. Over the years, many covered bridges have been destroyed by fire, flooding, or vandalism. The majority of the
others simply collapsed due to age and disrepair, and some were torn down to make way for newer iron bridges.
Pennsylvania is the state with the most covered bridges remaining in the country, with approximately 200 bridges. Columbia and Montour counties are home to the towns of Benton, Berwick, Bloomsburg, and Danville – not to mention 25 of the state's total covered bridges. This places the counties as having the third highest number of bridges in the entire United States, only behind Parke County, Indiana and Lancaster County, Pennsylvania!
No two covered bridges are alike and each one has its own history, personality, and story to tell. Columbia County alone has 19 bridges, Montour County has two covered bridges, and four additional bridges span the divide between Columbia & Northumberland counties.
Why Were Bridges Covered?
Many reasons are suggested for covering bridges. One generally accepted reason is protection from weather and wood rot in order to make sure the bridges lasted longer. Sides and roofs protected the beams and timbers that served as key bridge supports. Less exposure to adverse weather conditions meant the bridges would hold up much better year after year.
Other explanations include:
The covered bridges resembled barns so animals would be calm when passing through them.
Having covers kept snow off the bridges and made for less maintenance in the winter months after the invention of automobiles.
The bridge trusses were unsightly to many travelers, so adding sides and roofs created a much more aesthetically pleasing structure.
To provide a place of shelter for travelers during storms.
From an engineer's viewpoint, adding a roof to a bridge added stability and strengthened the entire structure. A more romantic utilization of covered bridges was as a location for courting couples to meet. Covered bridges are also known as "kissing bridges" for that very reason!
"The stories that this bridge could tell
Are numerous and happy and sad
Each could fill a book or two
With the experiences it has had"
– From "The Old Covered Bridge" by Doug Frederick
Winter Travel
Despite roofs and sides playing an important role in preserving key support beams, the earliest winters with covered bridges brought another challenge.  In the latter part of the nineteenth century and the early twentieth century, workers would be paid to shovel snow onto bridge floors to enable winter horse and sleigh traffic. If the rest of the roads in the area were snow-covered, travelers would have utilized a horse-drawn sleigh in lieu of the traditional carriage to get around. Without snow covering the floorboards of the bridges, crossing them in a sleigh would otherwise have been extremely difficult.
A past resident of the area, Donald L. Diseroad, recalled his father using a rented horse and sleigh in the early 1900's to complete his rural mail route when the roads were snow covered. He also noted that in the late 1800's, his grandfather John Diseroad worked odd jobs throughout the year. One of his odd jobs in the winter was shoveling snow down on the bridge floors.
Planning to Visit the Bridges?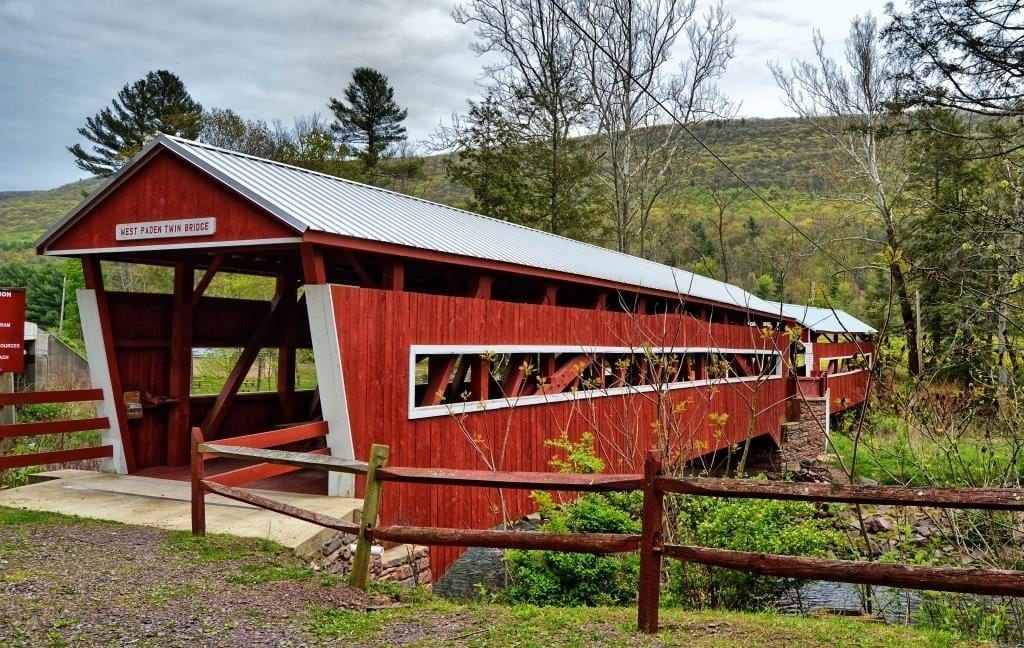 If you are planning to visit our iconic covered bridges, your first step would be to obtain our free Covered Bridges of Columbia and Montour Counties brochure and driving map. This comprehensive publication includes all 25 area covered bridges, including a detailed driving map and turn-by- turn directions. The brochure will take you on a historical and educational journey along our scenic back roads to visit the beloved bridges. To get your free copy, visit our "Request a Brochure" page or by stopping in to the Visitors Bureau Welcome Center (121 Papermill Road, Bloomsburg). You can elect to complete the entire driving tour or just go out and visit a few of the bridges. Venture out at your own pace and enjoy the beauty of the surrounding landscape and covered bridges!
At the same time, plan to make a weekend out of your visit.  There are plenty of wonderful things to see in do in the rest of the county, including stunning fall foliage, State Parks, hiking, biking, river and lake sports, historical walking tours of the area towns, and much more.  Often, there are also special events and festivals happening every weekend throughout the region. For more information, please contact the Columbia Montour Visitors Bureau at 570-784-8279 or head over to our "Request a Brochure" page to get more information. We hope to see you soon!
Can't get enough of our covered bridges?
Covered Bridge Photo Contest & Puzzles
Each year, the Visitors Bureau holds a photo contest to produce a 500-piece puzzle featuring one of the area covered bridges. Limited-edition puzzles have been produced the past eight years and have featured the East & West Paden bridges (2 times), the Knoebels Bridge, Keefer Mills Bridge, Esther Furnace Bridge, Stillwater Bridge, the Josiah Hess Bridge, and most recently, the Rupert Bridge.  The 2018 edition of the puzzle was released in September and featured the Rupert Bridge for the first time. All 2018 puzzles have been sold out – the 2019 puzzles will become available after the winning photo is selected from the photo contest!
– 2020 PHOTO CONTEST – 
The Visitors Bureau's 2020 Covered Bridge Photo Contest will accept submissions from March 1 – June 1, 2020.
How to Enter:
Email your photos to skiefer@cmvb.com within the dates above. MUST INCLUDE: Photographer's name and the name of the covered bridge.
OR post your photo on Instagram using #CMVBPuzzle2020. MUST INCLUDE: Photographer's name and the name of the covered bridge. If selected as a finalist, you will be contacted for a high quality version of your Instagram submission.
Rules and Regulations:
All photos must be of bridges located within Columbia or Montour County.
All photos must be owned by the person submitting them. By submitting, you are giving the Columbia-Montour Visitors Bureau permission to use your photo as their 2020 puzzle and in future marketing efforts.
All photos must be high-resolution (at least 1000 pixels on either side).
A max of four photos per person will be accepted.
One lucky entrant will be chosen by staff of the Columbia-Montour Visitors Bureau to have their photo featured as our 10th anniversary 2020 Covered Bridge Puzzle. The puzzle is released in September and sold at the Bloomsburg Fair, the Covered Bridge & Arts Festival, and at the CMVB Welcome Center.  The winning photographer will have their name and a short bio published on the puzzle box. The winner will also receive a free puzzle and will be announced to local press outlets.  $2 from each sale is donated to the Columbia County Covered Bridge Association. Each puzzle is a limited edition item, and can be kept as collector's items. Only 250 puzzles are produced each year.
– 2019 Winners –
The Visitors Bureau is pleased to announce the 2019 Covered Bridge Photo Contest winners. The overall winning image is featured as the 2019 Covered Bridge Puzzle.
Paul W. Naus Jr.'s snapshot of the Kramer Bridge in Columbia County was selected as this year's overall winner.  Paul lives with his wife Patti in Columbia County, and has been an amateur photographer since he was a young boy.  Upon his retirement in 2017, he devoted more time to his photography hobby.  His photo passions include; landscapes, architecture, wildlife, abstract, and of course, covered bridges.  He published a Columbia County Covered Bridge calendar for 2019.  Paul is very honored to be the 2019 Covered Bridge Photo Contest winner.
Several other photographers were recognized in this year's contest: Margie Hunsinger submitted the 5th place photograph of the Davis Bridge, Anthony Berard Jr. was awarded 4th place for his photo of the Kramer Bridge, Jill Davidson was awarded 3rd place for her image of the Sam Wagner Bridge, and Bob Erlsten placed overall runner-up with his photo, also of the Kramer Bridge.  The Visitors Bureau would like to thank everyone who submitted photos for the contest, as there were over 50 images submitted for consideration this year.
The 2019 Kramer Bridge puzzles will be available for purchase starting in late September at the Visitors Bureau Welcome Center, 121 Papermill Road in Bloomsburg.  The Visitors Bureau is now taking pre-orders for the puzzles – cost is $15, tax included.  Individuals interested in pre-ordering a 2019 Kramer Bridge Puzzle may stop in at the Welcome Center during normal business hours (Monday – Friday; 8:30am – 4:30pm) or call 570-784-8279.
The Visitors Bureau may also have the puzzles for sale at their Bloomsburg Fair booth this year and at the Covered Bridge and Arts Festival (October 3-6 at Knoebels Amusement Resort) if puzzles are not yet sold out.  The Visitors Bureau's covered bridge puzzles are collector's items and make for a great birthday or Christmas present.
A donation of $2 from every puzzle sold will be made by the Bureau to the Columbia County Covered Bridge Association to go toward restoration and preservation of our local covered bridge treasures.  Individuals are instructed to call the Columbia-Montour Welcome Center at 570-784-8279 with their pre-order intentions. A limited quantity of only 250 puzzles are available on a first come, first serve basis.
The Columbia County Covered Bridge Association restores, preserves, and advocates for the covered bridges of Columbia County for historical and recreational purposes.  Their purpose is simple: they recognized the historic importance of the covered bridges as a public treasure to be available to and enjoyed by the public and the important part they play in tourism. This non-profit association protects all of our covered bridges not only for today, but also for future generations.
Covered Bridge Bus Tours
Come join our bus tours of the bridges! The Visitors Bureau offers a bus tour each spring and several bus tours in the fall (associated with the Covered Bridge & Arts Festival).
2019 Fall Bus Tours
2019 Info: This year's Fall Bus Tours will be held on Friday, October 4th at 10 AM and and also on Sunday, October 6th at 11 AM and 12:30 PM. Tickets are $20 each. The tour lasts about 2.5-3 hours with stops at 4 bridges: Esther Furnace, Rupert, East & West Paden Twin Bridges, and Stillwater.  The tour will pass at least 4 additional bridges, but there will not be time allotted to stop and get off the bus at the additional bridges.  The bus is NOT handicapped accessible, and riders will need to be able to get up the three steps of the bus without assistance.  There will be step-on guides on each bus to provide further information about the bridges and a general history of the area.  Tickets will not be mailed in advance, and will need picked up at Pavilion H at Knoebels at least 30 minutes prior to departure.  Any tickets not picked up 10 minutes prior to departure will be resold to those waiting in line.  Pavilion H is located right off of the parking lot as you enter the Covered Bridge Festival.  There will be a large information sign on the front of the pavilion.
REMEMBER, allow for plenty of time to get into the park.  Saturday traffic can be backed up for 2-3 hours to get into the parking lot.  NO cancellations after September 12th. No exceptions.
Reservations are first come, first served, and spots are limited. Call 570-784-8279 for more information or to reserve your spot.
Spring Covered Bridge Bus Tour – SOLD OUT
Have you longed to see many of the nineteenth-century covered bridges Columbia County has to offer, but didn't want to travel off the beaten path alone?  If you are looking for a delightful and informative day touring our historic covered bridges, please join the Columbia-Montour Visitors Bureau for its sixth annual Covered Bridge Bus Tour on May 18th, 2019.
Hop on the bus at the Visitors Bureau office at 121 Papermill Road in Bloomsburg to begin a historical adventure. Guests can unwind as the guided ride meanders through the picturesque Central Pennsylvania countryside to visit 13 of the area's covered bridges.  Symbols of small-town America, these covered bridges coax travelers off the beaten path to explore little streams and forgotten dirt roads. At each stop, there will be opportunities for leisurely exploration and for taking photographs. Enjoy a picnic lunch provided by the Visitors Bureau at one of the only two twin covered bridges in the United States. Reserve seats on the 2019 bus tour by calling the Visitors Bureau Welcome Center at 570-784-8279! SOLD OUT!