History & Overview
Of the nearly 14,000 authentic wooden covered bridges that once existed in the United States, less than 900 remain. Over the years, many covered bridges have been destroyed by fire, flooding, or vandalism. The majority of the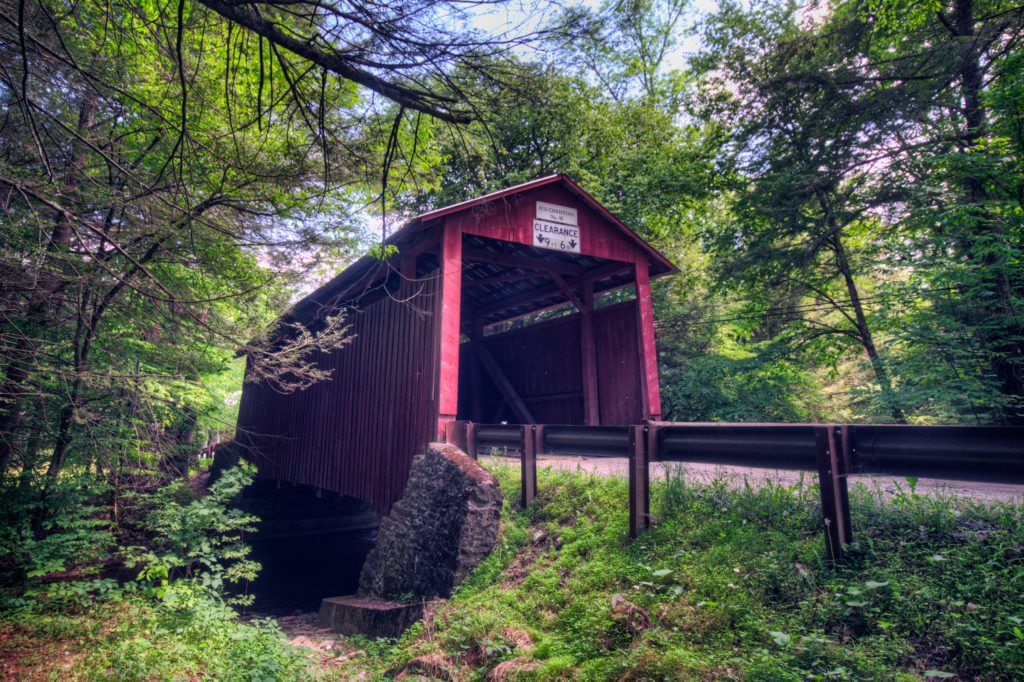 others simply collapsed due to age and disrepair, and some were torn down to make way for newer iron bridges.
Pennsylvania is the state with the most covered bridges remaining in the country, with approximately 200 bridges. Columbia and Montour counties are home to the towns of Benton, Berwick, Bloomsburg, and Danville – not to mention 25 of the state's total covered bridges. This places the counties as having the third highest number of bridges in the entire United States, only behind Parke County, Indiana and Lancaster County, Pennsylvania!
No two covered bridges are alike and each one has its own history, personality, and story to tell. Columbia County alone has 19 bridges, Montour County has two covered bridges, and four additional bridges span the divide between Columbia & Northumberland counties.
Why Were Bridges Covered?
Many reasons are suggested for covering bridges. One generally accepted reason is protection from weather and wood rot in order to make sure the bridges lasted longer. Sides and roofs protected the beams and timbers that served as key bridge supports. Less exposure to adverse weather conditions meant the bridges would hold up much better year after year.
Other explanations include:
The covered bridges resembled barns so animals would be calm when passing through them.
Having covers kept snow off the bridges and made for less maintenance in the winter months after the invention of automobiles.
The bridge trusses were unsightly to many travelers, so adding sides and roofs created a much more aesthetically pleasing structure.
To provide a place of shelter for travelers during storms.
From an engineer's viewpoint, adding a roof to a bridge added stability and strengthened the entire structure. A more romantic utilization of covered bridges was as a location for courting couples to meet. Covered bridges are also known as "kissing bridges" for that very reason!
"The stories that this bridge could tell
Are numerous and happy and sad
Each could fill a book or two
With the experiences it has had"
- From "The Old Covered Bridge" by Doug Frederick
Winter Travel
Despite roofs and sides playing an important role in preserving key support beams, the earliest winters with covered bridges brought another challenge.  In the latter part of the nineteenth century and the early twentieth century, workers would be paid to shovel snow onto bridge floors to enable winter horse and sleigh traffic. If the rest of the roads in the area were snow-covered, travelers would have utilized a horse-drawn sleigh in lieu of the traditional carriage to get around. Without snow covering the floorboards of the bridges, crossing them in a sleigh would otherwise have been extremely difficult.
A past resident of the area, Donald L. Diseroad, recalled his father using a rented horse and sleigh in the early 1900's to complete his rural mail route when the roads were snow covered. He also noted that in the late 1800's, his grandfather John Diseroad worked odd jobs throughout the year. One of his odd jobs in the winter was shoveling snow down on the bridge floors.
---
Planning to Visit the Bridges?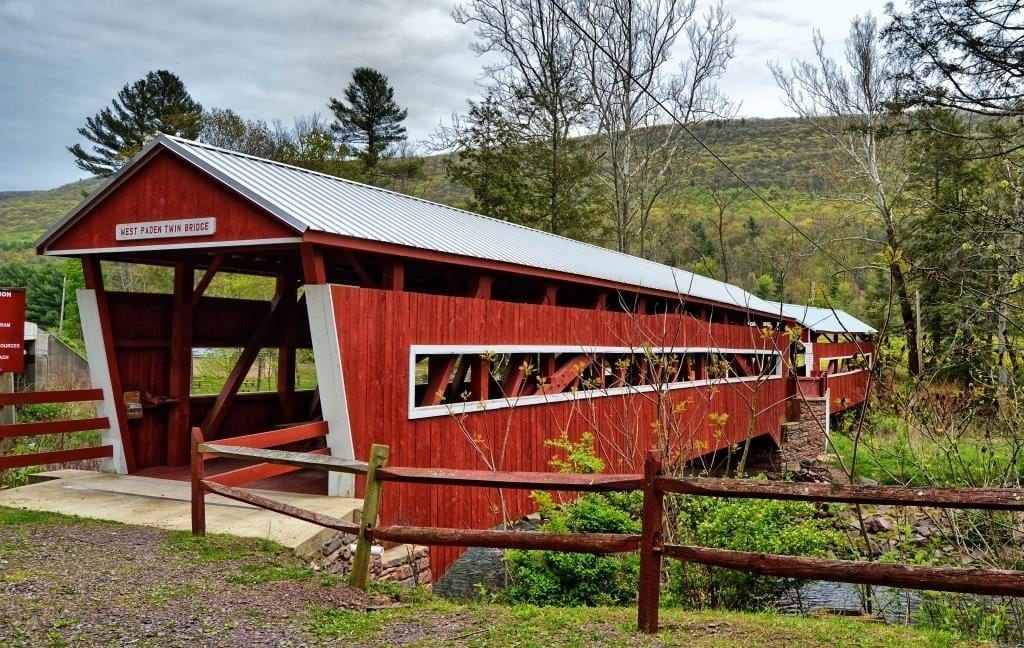 If you are planning to visit our iconic covered bridges, your first step would be to obtain our free Covered Bridges of Columbia and Montour Counties brochure and driving map. This comprehensive publication includes all 25 area covered bridges, including a detailed driving map and turn-by- turn directions. The brochure will take you on a historical and educational journey along our scenic back roads to visit the beloved bridges. To get your free copy, visit our "Request a Brochure" page or by stopping in to the Visitors Bureau Welcome Center (121 Papermill Road, Bloomsburg). You can elect to complete the entire driving tour or just go out and visit a few of the bridges. Venture out at your own pace and enjoy the beauty of the surrounding landscape and covered bridges. You may also elect to sign up for our brand-new mobile Covered Bridge Passport (details below), and you'll be ready to hit the trail in no time!
At the same time, plan to make a weekend out of your visit.  There are plenty of wonderful things to see in do in the rest of the county, including stunning fall foliage, State Parks, hiking, biking, river and lake sports, historical walking tours of the area towns, and much more.  Often, there are also special events and festivals happening every weekend throughout the region. For more information, please contact the Columbia Montour Visitors Bureau at 570-784-8279 or head over to our "Request a Brochure" page to get more information. We hope to see you soon!
---
2023 Covered Bridge Passport
Come explore the Covered Bridges of Columbia & Montour Counties! Picturesque and historic, they recall a time when life was simpler and closer to the land. On a yearly basis, visitors from all over the world come to admire the antique craftsmanship of the bridges and relax in the quiet countryside. Symbols of small-town America, these covered bridges coax travelers off the beaten path to explore little streams and forgotten dirt roads. Embark upon your own journey through the beautiful PA countryside with this FREE mobile passport and experience all 25 of the area's iconic covered bridges in person.
As an added bonus, you'll receive a special commemorative gift (mailed to you at no cost) once you've checked in at 13 of the bridges. This year, participants will receive an embroidered patch as well as a collectible Christmas ornament featuring the Rupert Covered Bridge.
And, for the true covered bridge enthusiasts out there who check in at all 25 bridges, we've got a grand prize getaway package drawing valued at over $500 waiting for one lucky recipient. To get started, simply click the "Sign Up" button in the box below and discover these covered treasures for yourself!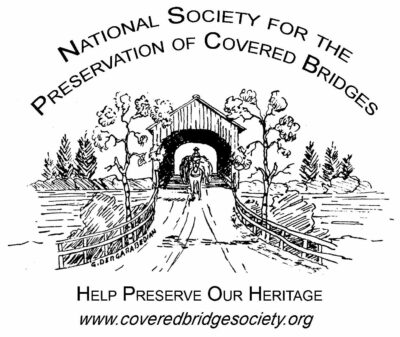 2022 WINNER: Dave Zellers from Slatington, PA
1,445 total passport check-ins, with 36 enterprising individuals completing all 25 stops. Congratulations!

Your visit has helped preservation efforts! In 2022, each bridge you checked in at on your passport journey helped support a renovation project at the Stillwater Covered Bridge as well as re-pointing repairs at the Shoemaker Covered Bridge. The passport check-in milestone of 1,000 visits was reached - THANK YOU to all who contributed via their digital check-ins! A special thanks to the National Society for the Preservation of Covered Bridges (NSPCB) for partnering for this project. The NSPCB provided a $5,000 donation to support the Stillwater Bridge renovation project, matching the Columbia-Montour Visitors Bureau's pledge.
---
Can't Get Enough of Our Covered Bridges?
Covered Bridge Photo Contest & Puzzles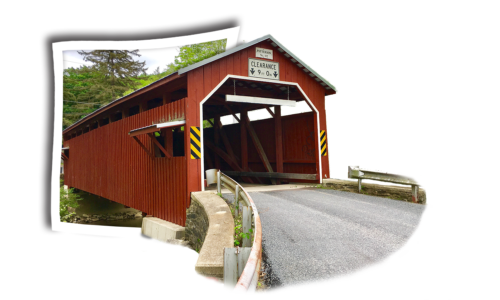 Each year, the Visitors Bureau holds a photo contest to produce a 550-piece puzzle featuring one of the area covered bridges. Limited-edition puzzles have been produced the past ten years and have featured the East & West Paden bridges (multiple times), the Knoebels Bridge, Keefer Mills Bridge, Esther Furnace Bridge, Stillwater Bridge, Josiah Hess Bridge, Rupert Bridge, Kramer Bridge, a special Twin Bridges 10th Anniversary Puzzle, the Wanich Bridge, and most recently, the Parr's Mill Bridge.  The 2023 edition of the puzzle will be released this fall, and will be based on the winner of this year's photo contest.
- 2023 PHOTO CONTEST - 
The 2023 Covered Bridge Photo Contest IS NOW CLOSED. Stay tuned for an announcement of the winner in late June!
How to Enter:
Email your photos to skiefer@cmvb.com within the dates above. MUST INCLUDE photographer's name & name of bridge in the photo's title (Example: RupertBridge_Joe Smith_2023.jpg)
OR post your photo on Instagram using #CMVBPuzzle2023. MUST INCLUDE: Photographer's name & Bridge featured. If selected as a finalist, you will be contacted for a high quality version of your Instagram submission.
Rules and Regulations:
 Entry to the contest is FREE.
 All photos must be of bridges located within Columbia or Montour County. For a map/list of the bridges, please click here.
 All photos must be owned by the person submitting them. By submitting, you are giving the Columbia-Montour Visitors Bureau permission to use your photo as their 2023 puzzle and in future marketing efforts for the contest and for the counties.
 Photos entered in prior year's contests ARE still eligible for entry into this year's contest.
 All photos must be high-resolution (at least 1500 pixels on shortest side).
 A max of four photos per person will be accepted.
The top overall photo will be selected by the Columbia-Montour Visitors Bureau to be featured as the 2023 Covered Bridge Puzzle. The winning photographer will have their name and a short bio published on the puzzle box. The winner will also receive a free puzzle and will be announced to local press outlets.
- 2022 Covered Bridge Contest Winner -
---
Bike the Back Roads & Discover our Covered Bridges
To create a cycling trip specifically with the covered bridges in mind, be sure to check out these great cycling route options!
For shorter "half" options:
COVERED BRIDGES - NORTH LOOP
COVERED BRIDGES - SOUTH LOOP
Thanks to enthusiast Jared Fenstermacher for putting the routes together.