by Nancy Bishop
Grab your Passport and hit the trail…the River Rat Brew Trail that is. You still have until Oct. 31 to visit the excellent craft breweries in this area and earn rewards!
It's been a busy summer for me, with my U.S. passport getting stamped in Italy and Ireland, so by the time things slowed down, it definitely was time to hit the River Rat Brew Trail to get that passport stamped. And believe me, it's worth visiting the RRBT brewers – their beers outshine anything my family and I had during our overseas trip. Even my beer trail friend who has visited Dublin and been to the Guinness Factory enjoyed the Lightstreet Porter at Turkey Hill Brewing, saying "I love it!"
First up on my passport run this time was Marzoni's in Selinsgrove. On that late August day, my beer trail companion Roger followed the recommendations of Kaile, the bartender, for the four beers in his beer flight. She suggested their Locke Mountain Lager, Patchway Pale Ale, Avalanche IPA and Stone Mason Stout. His favorite seemed to be the Avalanche IPA, which Kaile told us was one of their most popular IPAs. It was lunchtime, so we also had to sample their delicious food. A pizza lover, Roger – of course – chose their "Butcher" pizza, described on the menu as a meatlover's dream.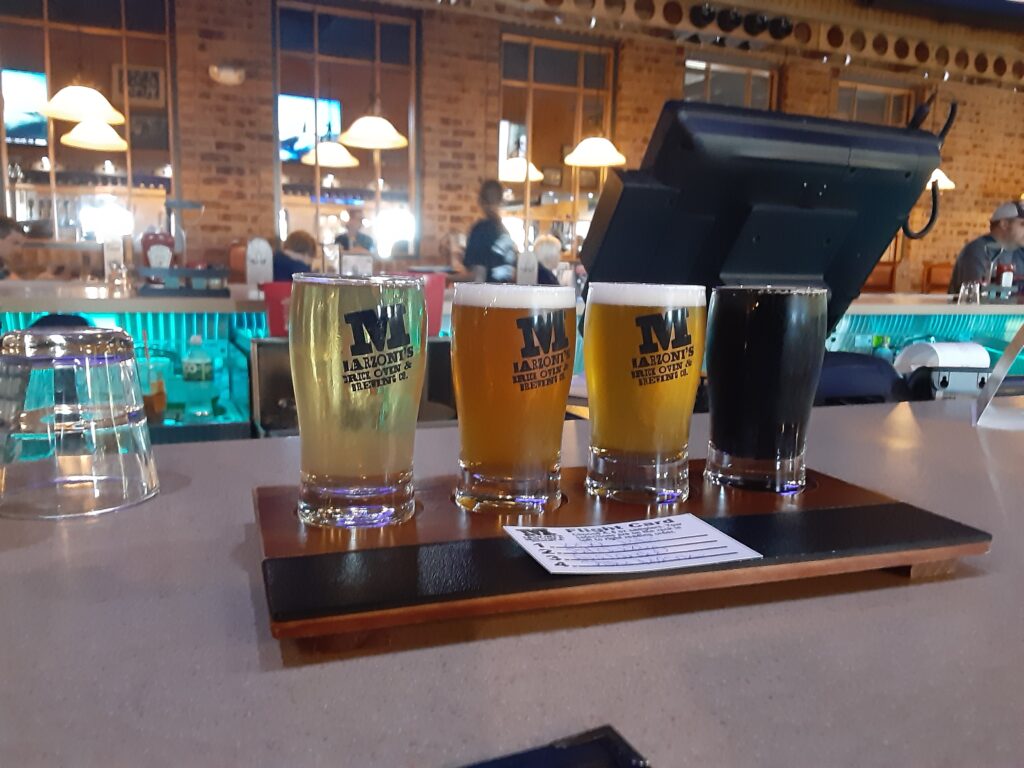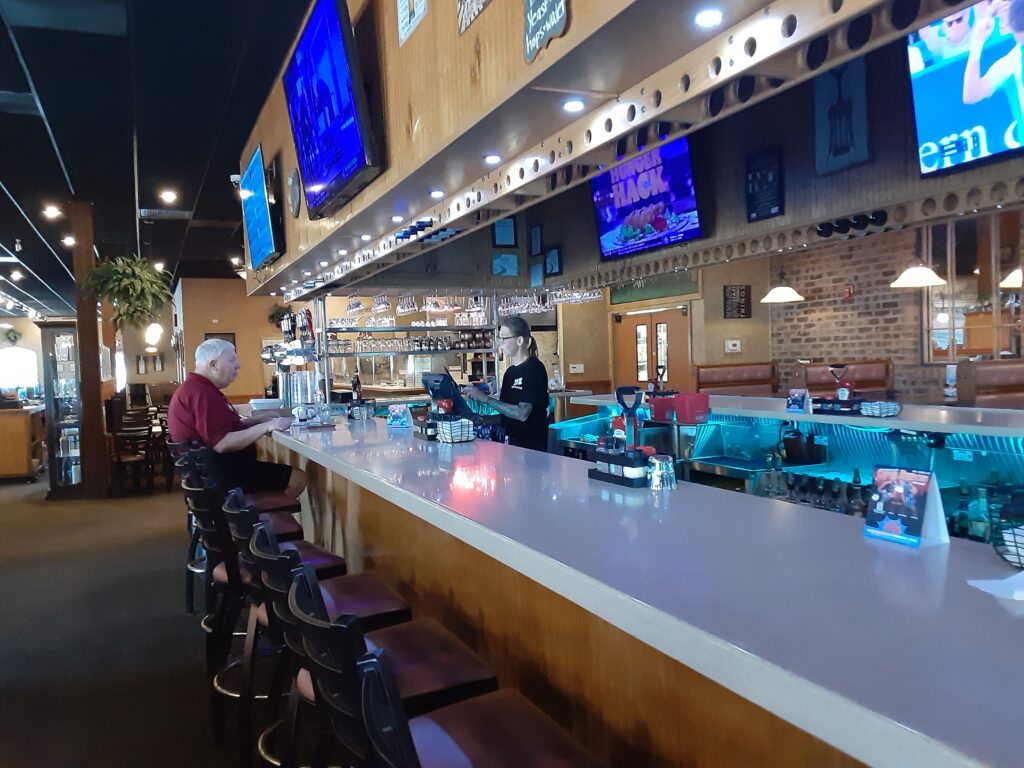 When my usual RRBT traveling companions Sally, Joanne and Maryann heard I had taken Roger to visit Marzoni's, they wanted to know when we were going to go back on the Trail. So we headed out. First up was Old Forge Brewing Company on Mill Street in Danville. Wanting to pace themselves since we planned to make other stops after Old Forge, they decided to share the beer flight: 5-ounce glasses of eight different Old Forge brews that were on tap that day.
Their choices were Rauchbier, Hopstash IPA, Endless Sun Ale, Sheep in Wolf's Clothing, T-Rail Pale Ale, Overbite IPA, Blood Orange Gose, Eternal Hoppiness. After tasting them all, Sally and Joanne liked the T-Rail Pale best while Maryann, who likes darker more full-bodied beer, said her favorite was the Rauchbier, which is described on the menu as "a traditional German smoked Lager with assertive smoke aroma."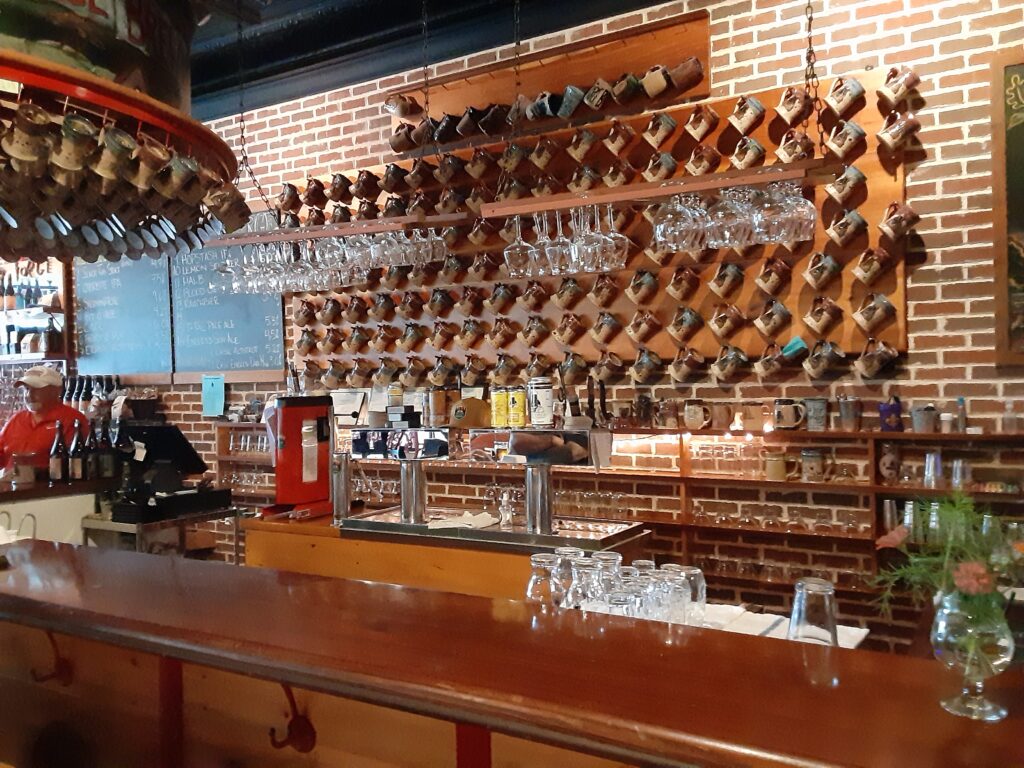 Living up to its name, they all found the Endless Sun Ale to be light and refreshing. "This would be nice sitting around the pool in the summer," was their verdict.
For a snack to soak up the beer, they chose the soft pretzel from the appetizer list and loved the beer cheese to dip it in. With a nod to healthy, we also had the hummus platter from the appetizer menu. The house-made hummus was delicious!
Next stop, located nearby on Rooney Avenue, the next street over from Mill Street in Danville, was Rock God Brewing Company. From their beer list, my companions chose Horse with No Name Horseradish Ale, Stonehenge Festbier Oktoberfest, Superbeeroes Hazy IPA, Bohemian Rhapsody, Everlong IPA and Foxy Lady American Porter.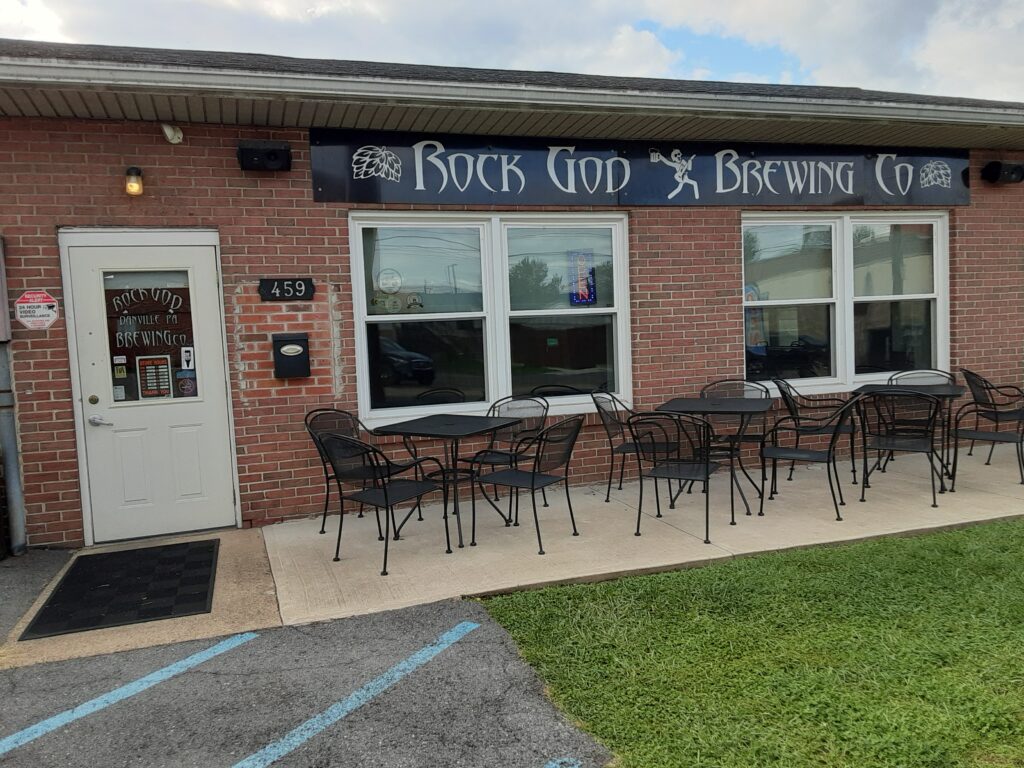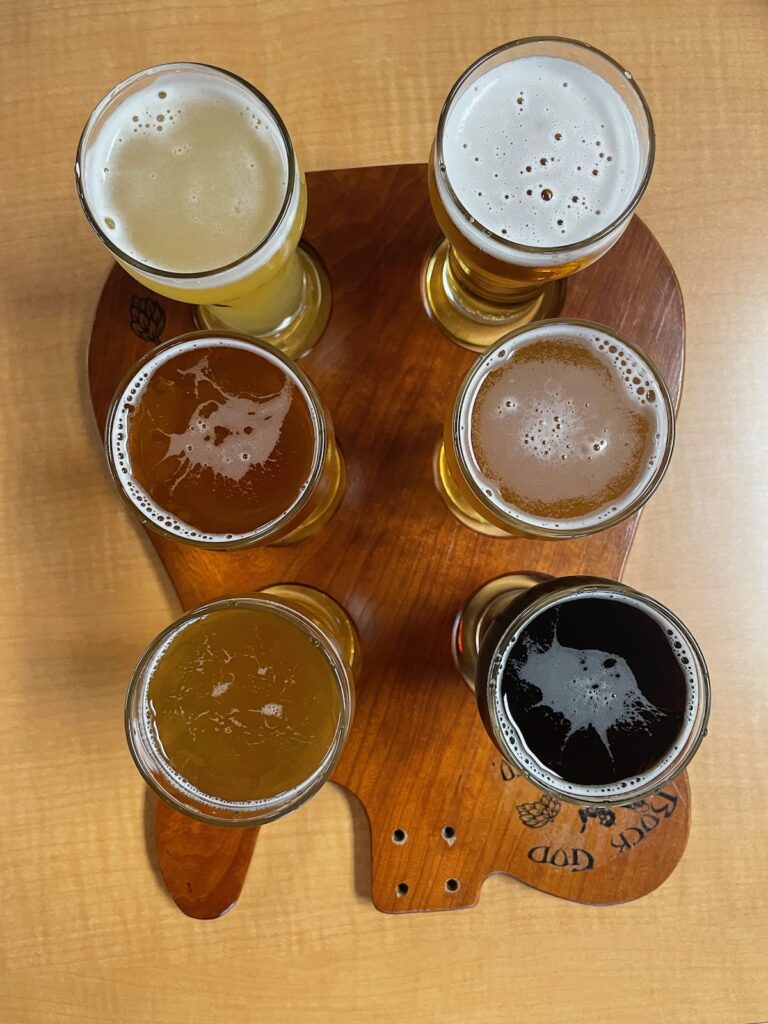 All three of them were intrigued by Horse with No Name, saying "You can taste the horseradish, but it's light – not too heavy a horseradish taste. " But their favorite was the Foxy Lady American Porter, described on the beer list as "dark and roasty with just enough bitterness to balance out the sweetness." Coming in as a close second on their favorites list was Bohemian Rhapsody. It's a golden Belgian strong ale that's aged in a rye whiskey barrel, giving it a mild whiskey flavor.
From there we headed over to Bloomsburg to Turkey Hill Brewing Company. There Maryann chose the Lightstreet Porter that she loved. She liked that you could taste the chocolate in it. It's described on the menu as "an English-style porter with chocolate malt and a smooth creamy body." The others switched to the Kendall-Jackson Chardonnay that was on Turkey Hill's wine list since it was now dinnertime and they were having the Wild for Salmon Wrap while Maryann chose the Ham & Cheese Quesadilla – Ham, Swiss, diced pickle and spicy house mustard in a crispy flour tortilla.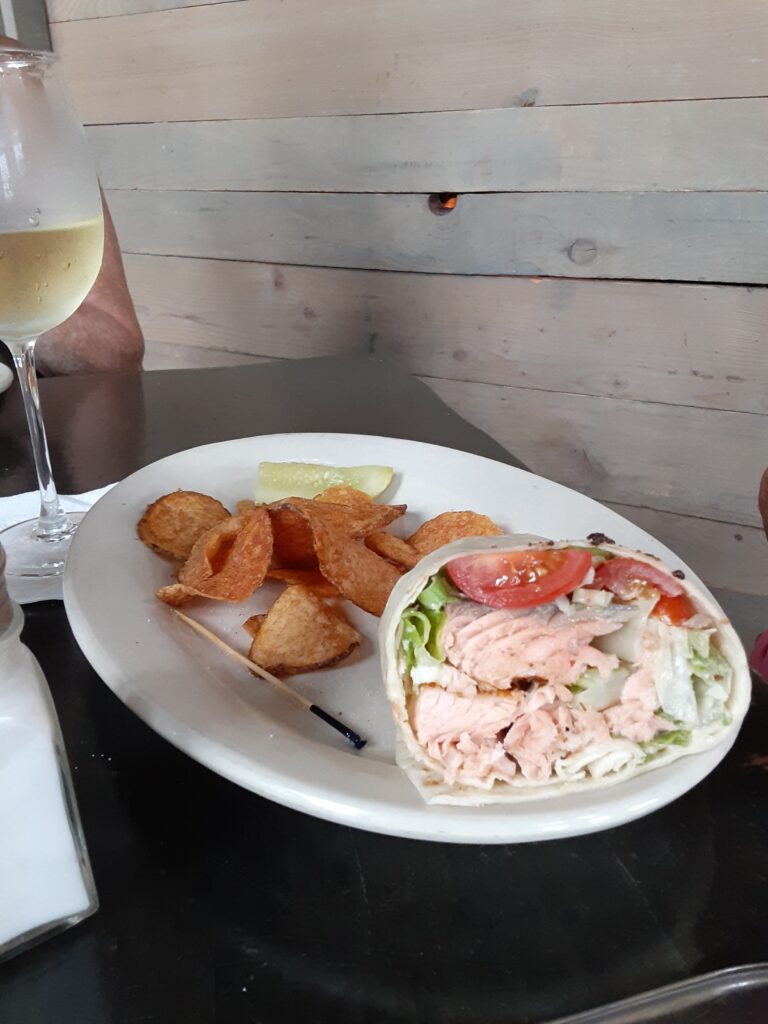 Hungry and thirsty now? Then it's time to order your River Rat Brew Trail Passport and get out there to enjoy. We certainly had a great time!