Original article by Nancy Bishop; revised by CMVB Staff for publication in September, 2022
If you love country fairs, you don't want to miss the Bloomsburg Fair, which opens with Preview Day Friday, Sept. 23rd, and runs through Saturday, October 1st. Since the first Fair in 1855, devoted fair-goers have flocked to the Fairgrounds on Rt. 11 in Bloomsburg the third Saturday after Labor Day — always the official beginning of Fair Week.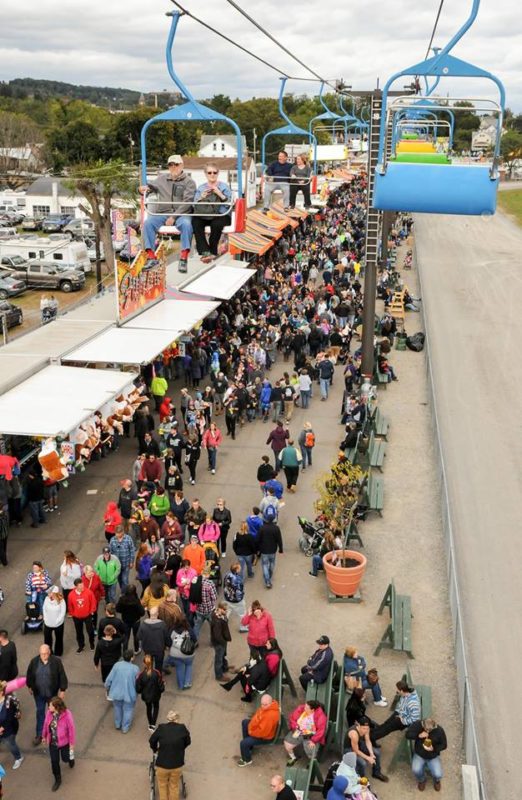 Walk into the Fair, which is the largest fair in Pennsylvania with more than 1,000 vendors in addition to all kinds of exhibits, and it's hard to know where to start! Do I want to check out the exhibit buildings first or the livestock areas or the free stage where there's entertainment going on all day or should I head straight for the food? Or maybe I should get on the Sky Ride that will give me a look from 25 feet in the air at all there is to see and do?
Since I usually go through Gate 3 into the Fairgrounds, I'm on the side where the exhibit buildings are so those win out unless I'm really hungry!
First up is the Educational Exhibits Building. Here you'll find the talents of area young people on display from 4H projects to school exhibits.
Then it's on to the Industrial Exhibits Building where dozens of booths offer products from home construction and remodeling to jewelry, clothing, candles, sunglasses and even essential oils. It's the place to go for everything for your home.
After that I head into one of my favorites – the Arts and Crafts Hall to see the entries from talented local and regional citizens. And, if you want to see some amazing floral exhibits, plants, and prize-winning fruits and veggies, head to the Horticulture Hall, where you'll also see this year's Bloomsburg Fair Garden Club Show with "Musical Gardens" as the theme for each class.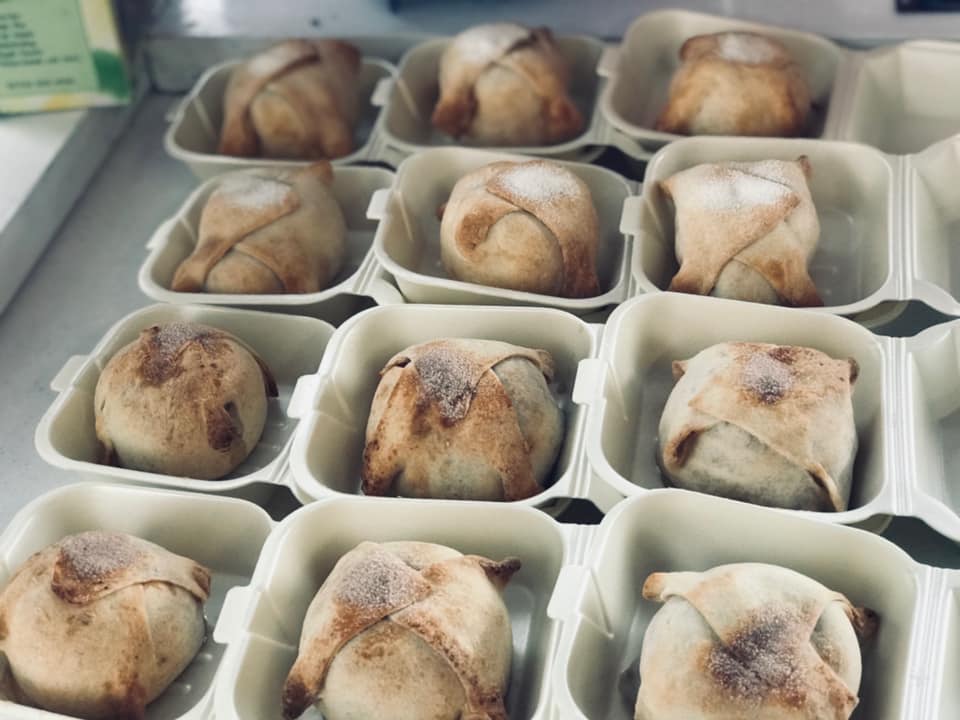 After walking through all those buildings and looking at the prize-winning pies and cakes in the Agriculture Hall, it's time to get some food. And what choices there are! My personal favorite, of course involves ice cream. This time it's the cinnamon ice cream that Bissinger's Catering has to go with their famous apple dumplings (or their peach dumplings – although I prefer apple). Taste of Home Magazine recently rated Bissinger's Apple Dumplings "Best State Fair Food" for Pennsylvania. The magazine noted: "While not a state fair, Bloomsburg does have Bissinger's Apple Dumplings. The long line is worth the wait for these delicious apple dumplings, which are made right in front of you and should most definitely be accompanied by some ice cream."
In addition to the usual funnel cakes, cheesesteaks, French fries, deep-fried vegetables, potato pancakes and pizza, you'll also find stands offering Caribbean, Mexican and Asian food. One of the more unusual food stands is The Twisted Egg Roll, offering all kinds of sandwiches and desserts wrapped in egg rolls.
After lunch it's time to head over to the bandshell to catch one of the free shows. On Preview Day Friday (9/23), Sapphire, an entertaining six piece female-fronted 80's tribute band, will perform at 3:45 PM & 8:00 PM.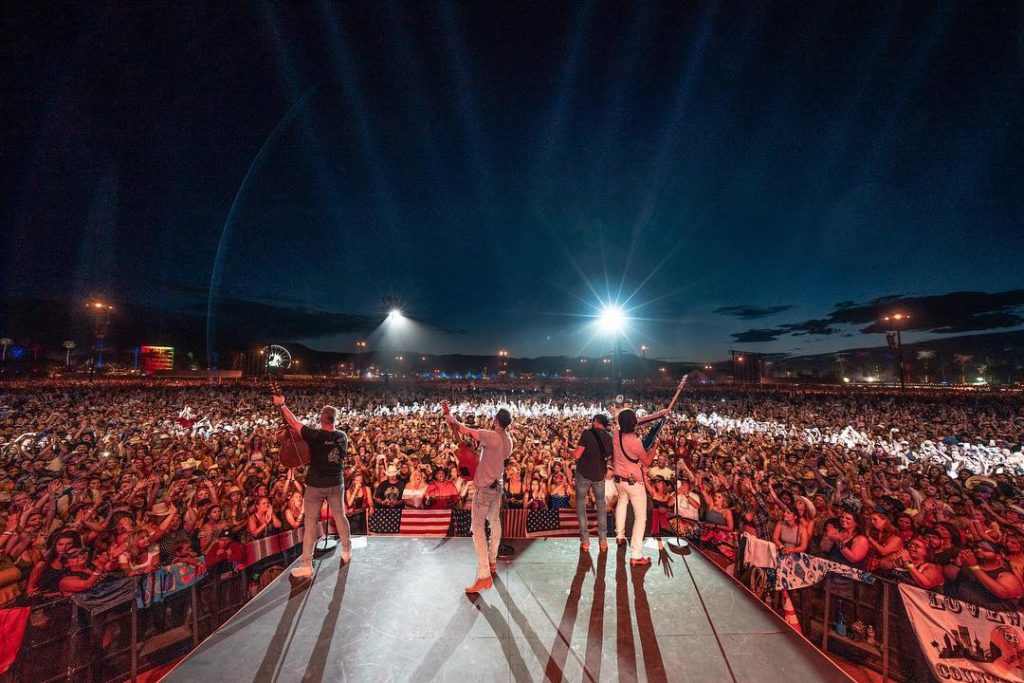 Headliners at the evening Grandstand concerts this year will include Justin Moore on Friday (9/23), Nelly on Saturday (9/24), Toby Mac on Sunday (9/25), and Joan Jett & the Blackhearts on Monday (9/26). Order Grandstand tickets here or visit the Grandstand Ticket Office at the Fairgrounds.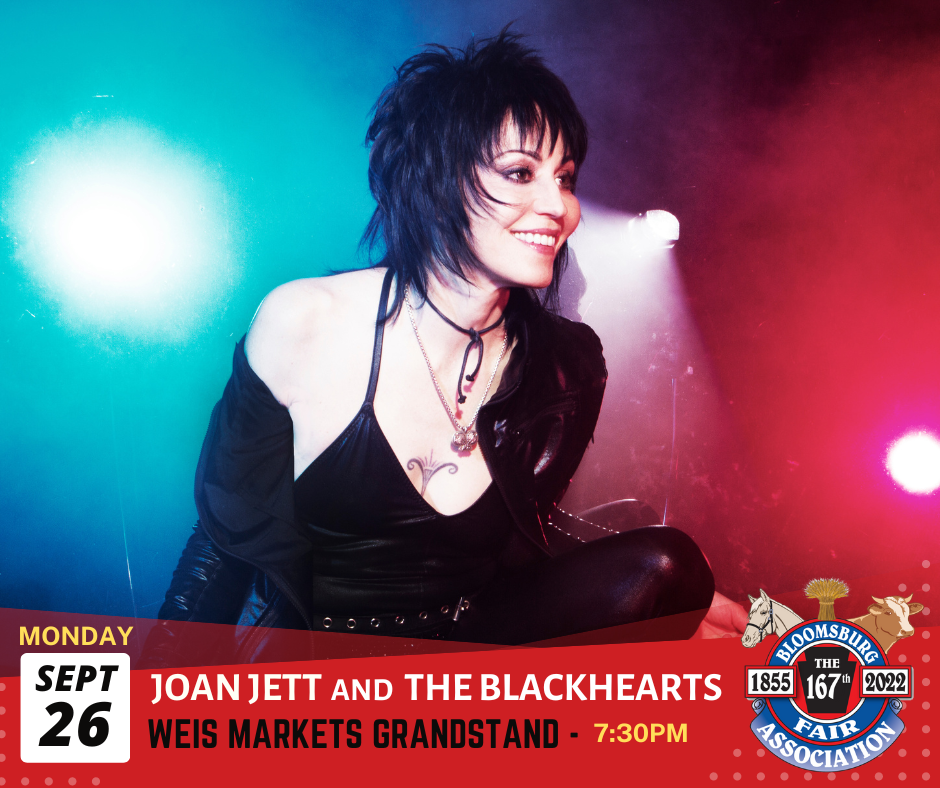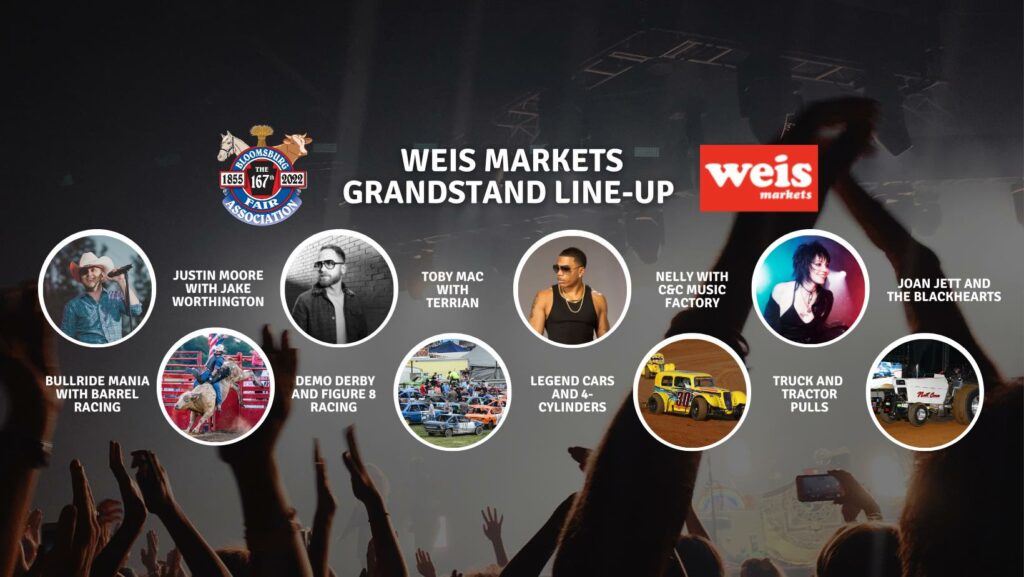 And what fair is complete without amusement rides? You'll find plenty of those at the Bloomsburg Fair, including my favorite, the Ferris Wheel.
The Fair also offers lots of opportunities to see the animals. There are competitive livestock shows throughout Fair Week for dairy cattle, sheep, dairy goats, market goats, swine and breeding beef. The 4-H kids get to show off their dairy cattle, market lambs, steers, goats and swine during the 4-H shows. There also will be a sale of the 4-H market animals. This sale gives 4-H members a chance to make money for college or to start a business.
You can even have a 4-H club member take your picture with a calf, lamb, donkey, horse or goat.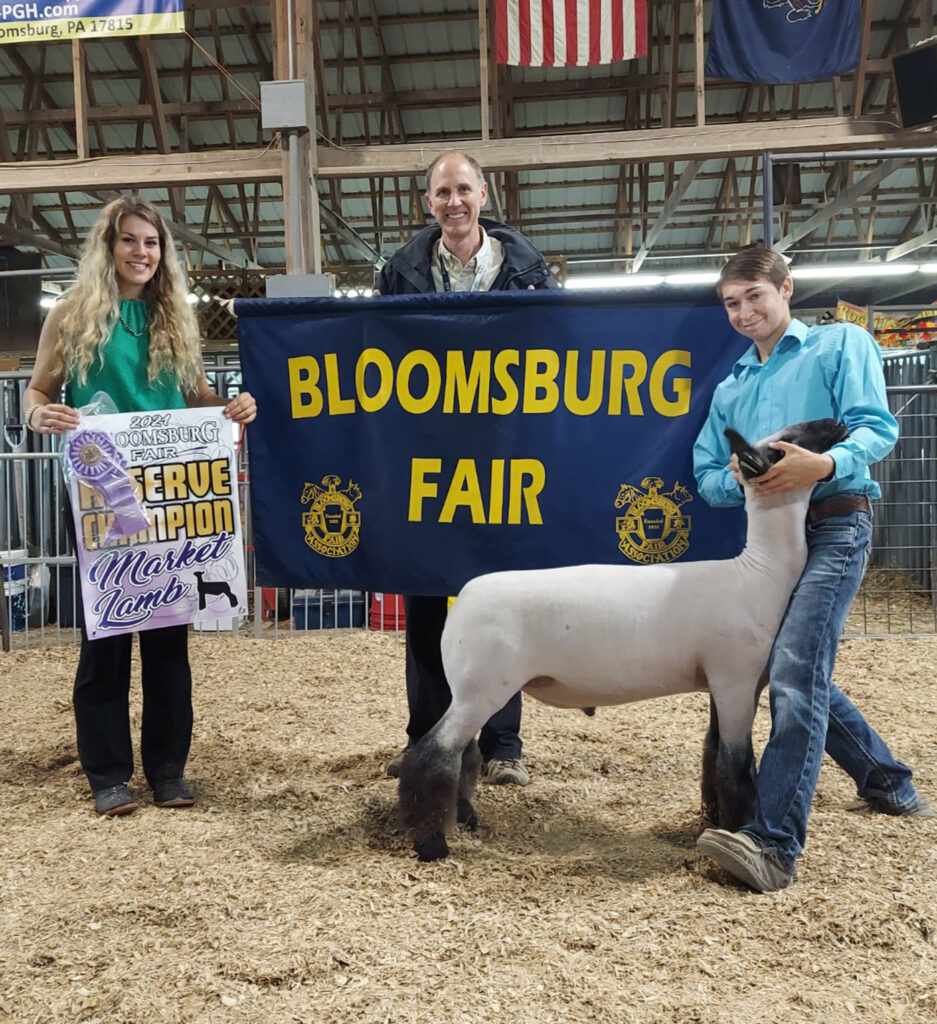 And while you're strolling around the Fair, make time to go to the Barton House historic area, where you'll find a variety of demonstrations of life in an earlier time. At least part of my usual day at the Fair is spent at the quilting demonstration set up by the Quilters in Bloom group. The hand-stitched quilt the group makes at the Fair is always beautiful.
What are you waiting for? Get to the Fair!