by Nancy Bishop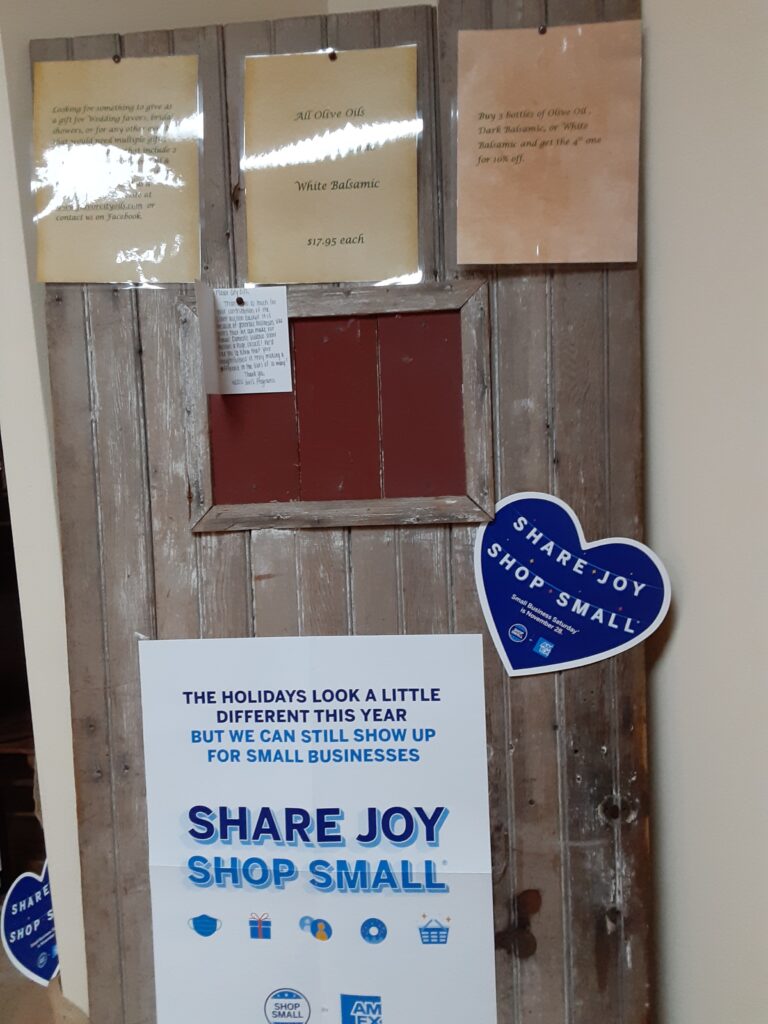 Does everything seem different this 2020 holiday season? Don't let the COVID Cooties ruin your joy in shopping for the holiday. Small local businesses are the way to do it! And this area is the best place. Most of the businesses have online shopping if you really don't want to leave your house, and all need your business to STAY in business.
My friend AnnMarie was up for a bit of an adventure one recent Friday and we both have lists of children and grandkids to shop for so we headed out to see what we could find.
First stop of the day was Wild for Salmon on Route 11 in Bloomsburg. You'll find seafood options from wild Alaska salmon to dog treats, pet products and gift items. You also can order fresh oysters – a great addition to the table if you follow the Italian Christmas Eve dinner tradition of the Feast of the Seven Fishes.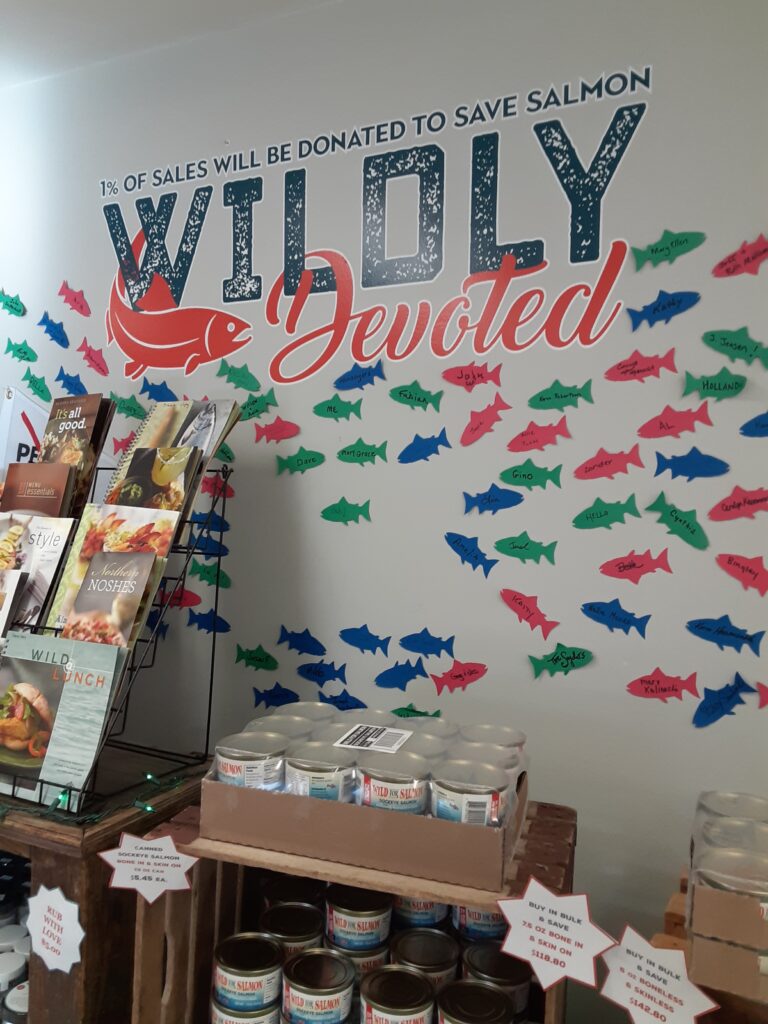 Into my cart went salmon fillets to go in the freezer and then gifts for my son and granddaughter — who both love smoked salmon — to share. Wild for Salmon has an amazing smoked salmon spread that my granddaughter likes to put on a bagel so of course I picked that up!
Store owners Jenn and Steve Kurian are passionate about seafood. They've said "We created this business to provide natural, sustainably harvested salmon products of superior quality, priced for the common good. We offer wild, Alaskan sockeye salmon because we believe the health benefits received from wild salmon are an essential part of our mind and body health."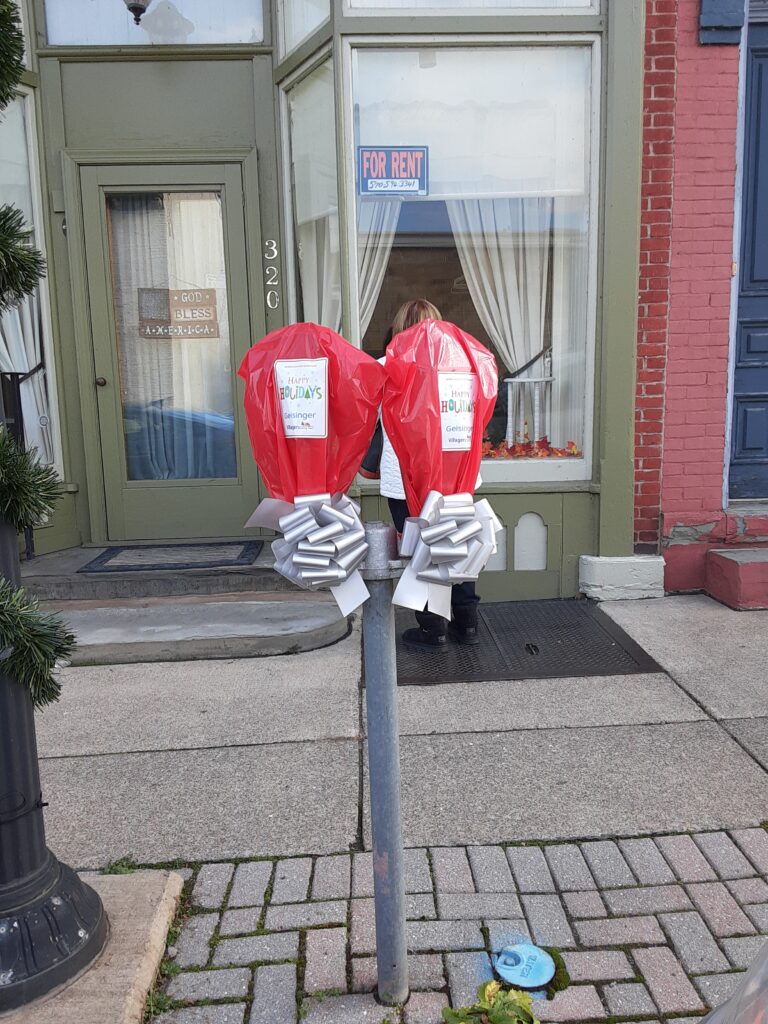 Next we headed to Danville. Needing a cup of coffee since we started our day's adventure at 9 a.m. — kind of early for retired folks like us – we headed first to Bason Coffee Roasters. We were barely inside the door when AnnMarie caught sight of the jars of jelly. Neither of us could resist picking up the "Yuengling Lager" jelly made by J&M Wine Jelly of New Columbia. (My purchase will be going to the same son who loves smoked salmon to eat with his Yuengling Lager!) I lost track of how many jars AnnMarie bought in flavors like "Blueberry Wine" and "Black Raspberry Merlot."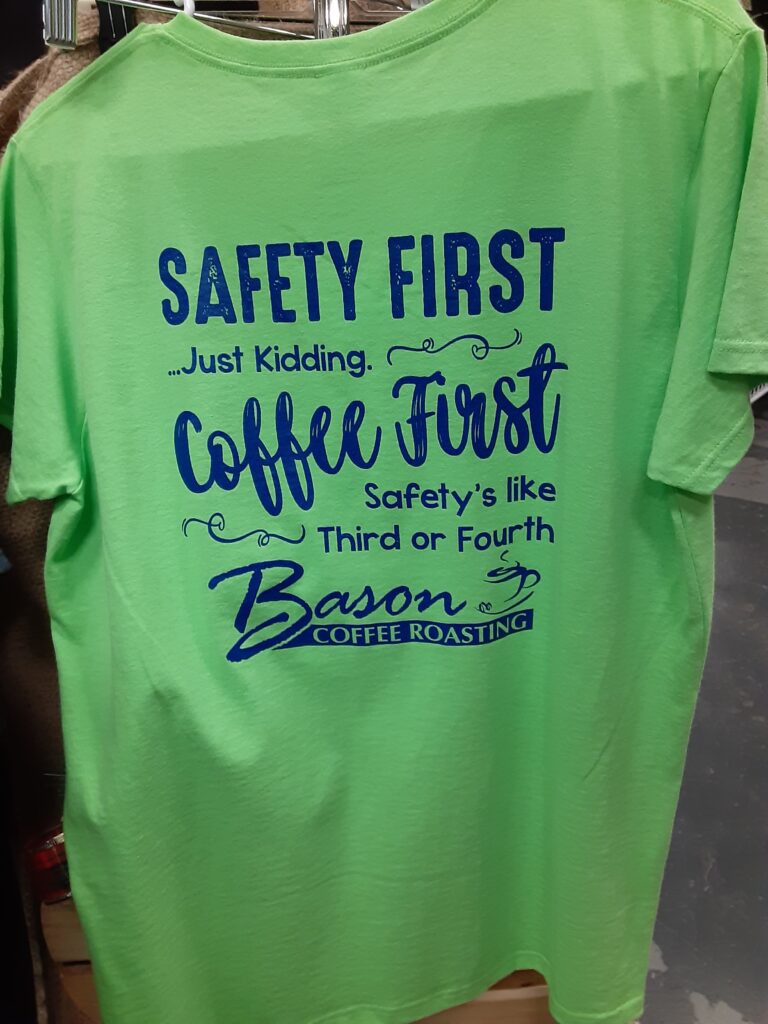 But we were there for the coffee. Bason buys its coffee beans from Rwanda and other countries, helping the local economies in disadvantaged areas around the world, JoAnn Bason told me. They roast and grind the beans right there at their shop at 50 East Mahoning St. in Danville. The aroma is heavenly for a coffee lover. And they even fill the little individual cups for Keurig® coffee machines. I picked up a dozen pods in a variety of flavors including "White Chocolate Raspberry Truffle," "Gingerbread Eggnog" and "Cookie Doodle," for my daughter-in-law who likes her coffee sweet.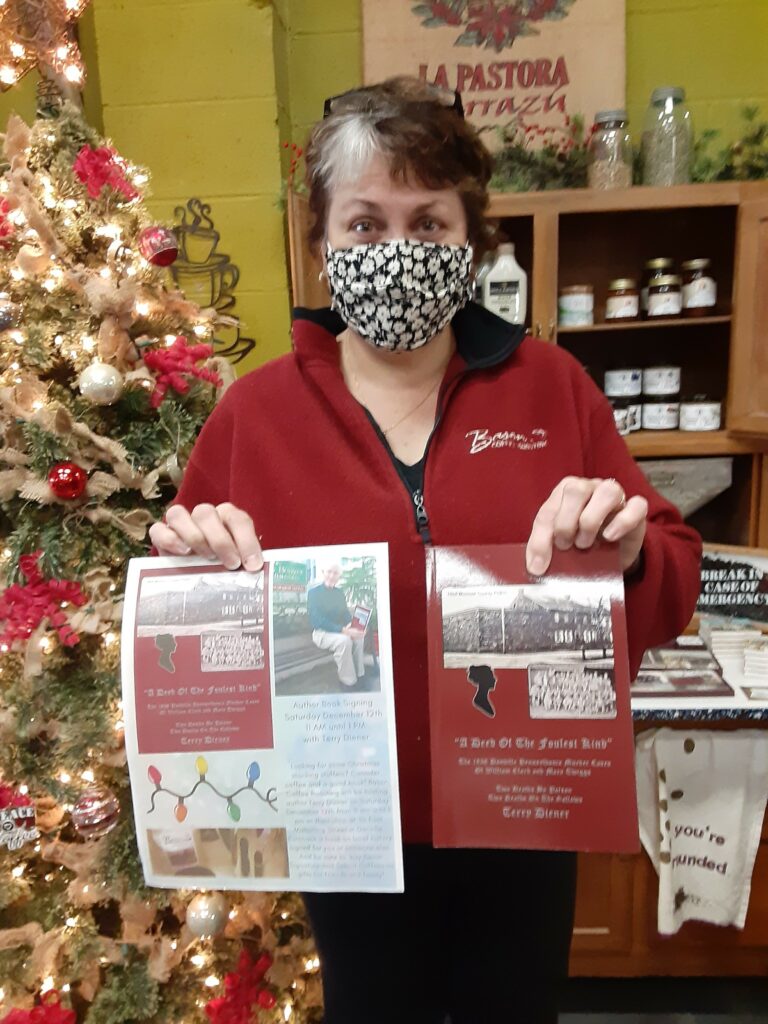 Plan to stop at Bason Coffee Roasters on Saturday, Dec. 12, when they will be hosting a book-signing by local author Terry Diener for his book "A Deed of the Foulest Kind" about the 1858 Danville murder cases of William J. Clark and Mary Twiggs.
After our coffee stop, we headed over to Mill Street to explore the shops there. Stopping at Flavor City Oils, we met Greg Ash, who, along with co-owner Deb Greerly, took the brave step of opening the shop during the pandemic after COVID-19 caused them to lose their previous jobs.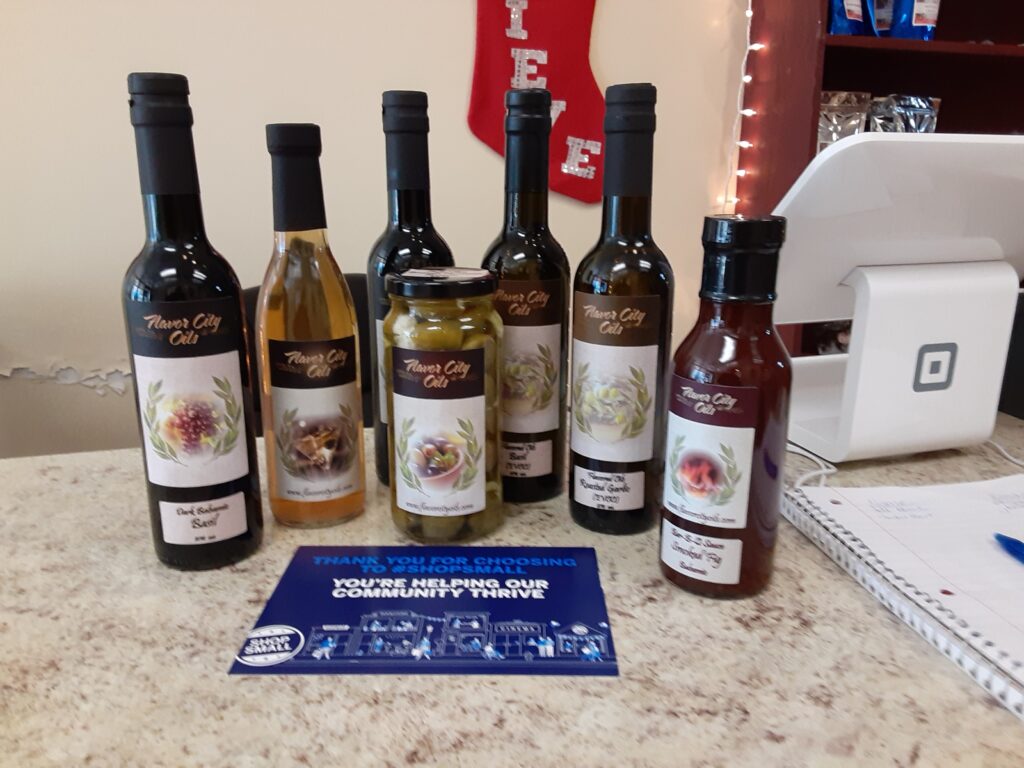 If you or someone you need a gift for loves to cook, you need to stop at Flavor City Oils. The shop offers a variety of flavored olive oils and vinegars along with barbecue sauces and delicious items like stuffed olives and tapenade. We sampled several in the shop's tasting room. Heavenly! I left with Smoked Fig BBQ Sauce (my gift to myself), a sweet bell pepper tapenade, olives stuffed with parmesan and Romano cheeses, Dark Balsamic Cranberry and Dark Balsamic Basil vinegars and Roasted Garlic and Basil olive oils to give as gifts.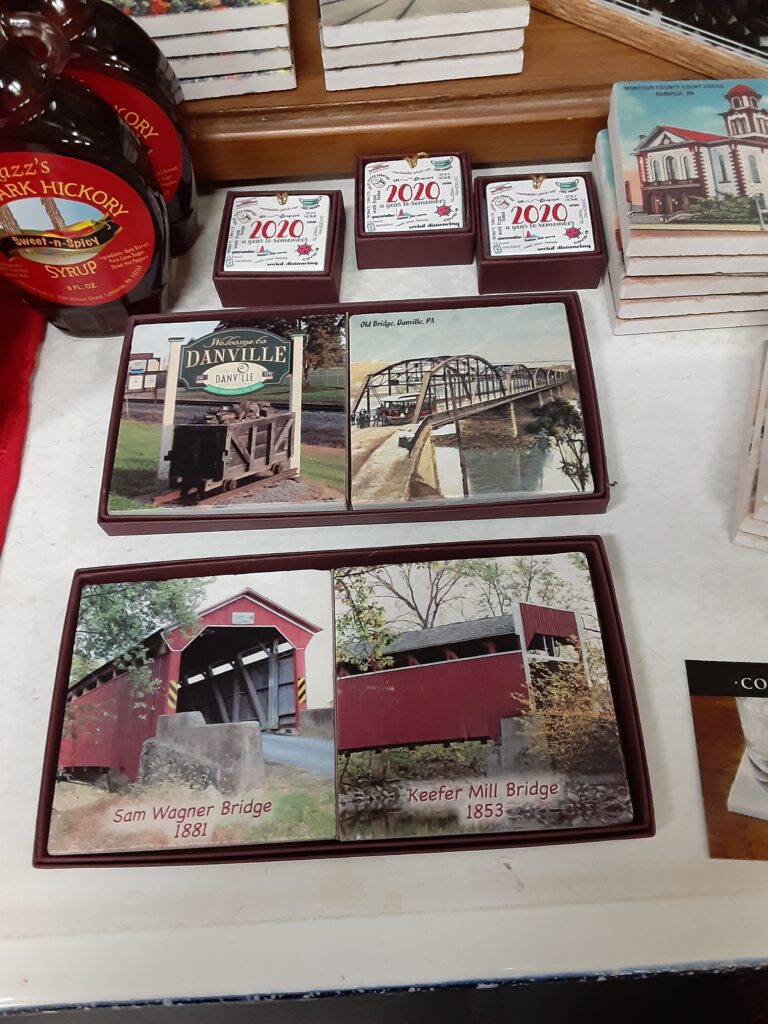 Next we headed to Twice As Dear, another shop that opened on Danville's Mill Street during the pandemic. Mother-and-daughter owners Cheryl Getkin and Macey Getkin offer American-made products created by small business owners throughout the United States. They look for products that are environmentally friendly.
My granddaughter will find new socks and a lovely bracelet among her gifts while my grandson who finished high school in the Class of 2020 will be getting an "I survived 2020" ornament. His mom will be getting the "Lemongrass Lavender Gift Set" to pamper herself.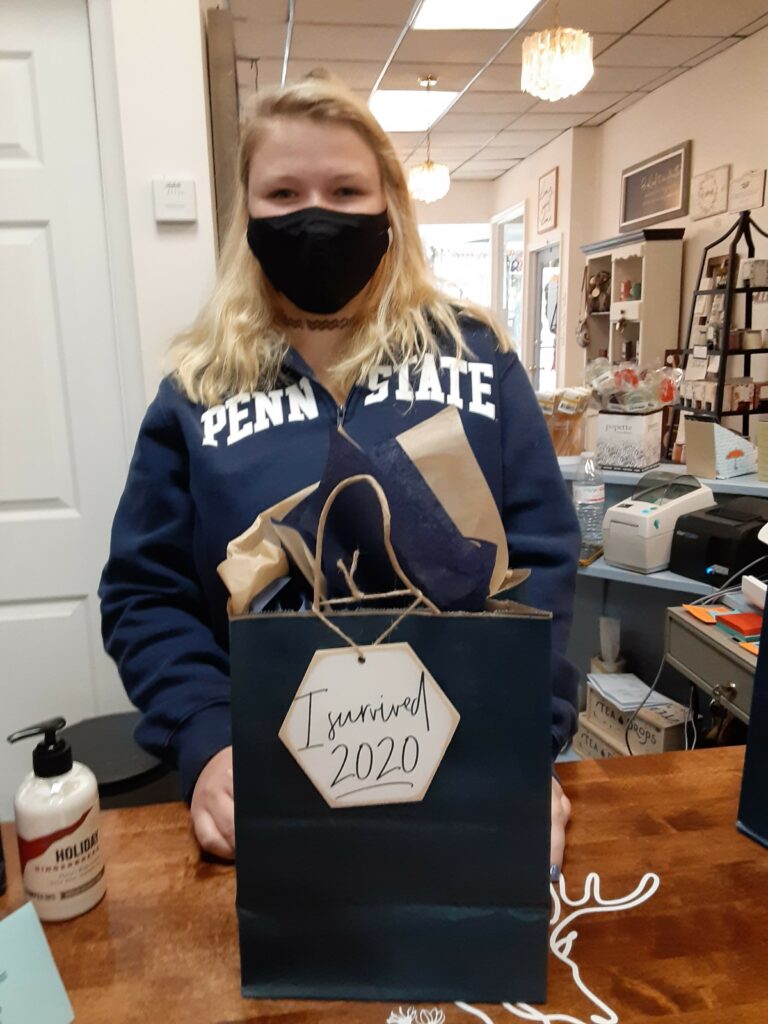 From there we headed back into Bloomsburg, stopping at The Exchange to see their "Mask and Carry" show going on through Jan. 8. There are some very creative pieces based on the face masks we all have to wear during the pandemic. You can even purchase the artwork online to support the Exchange!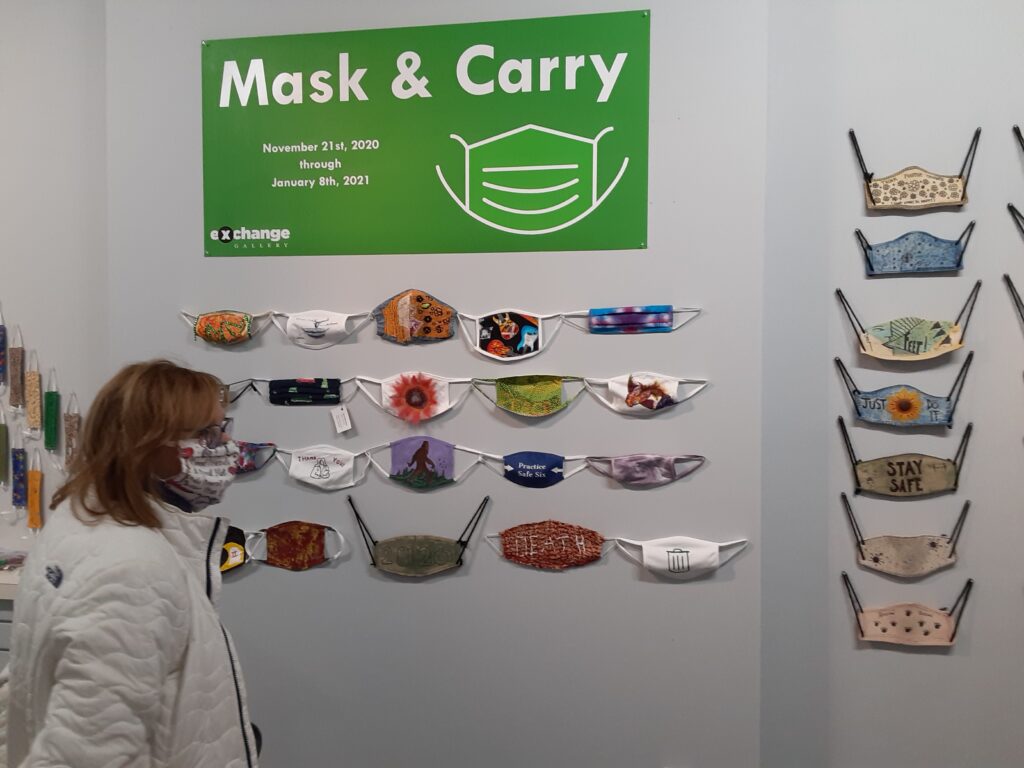 By now we were hungry, so we stopped by Playa Cancun on Central Road in Bloomsburg to grab some lunch. Fajitas for me and enchiladas for AnnMarie who also had a delicious-looking strawberry margarita since I was doing the driving on our adventure.
Then it was up Route 487 to the Benton area. We stopped first to admire the Twin Bridges decorated with wreaths to celebrate the holiday season. Then on to Pickering Winery where there were a number of gift items for sale along with wine, and then to Colonel Ricketts Hard Cider. There I enjoyed a piping hot cup of non-alcoholic mulled cider (it was a very cold day) while we shopped. Our stops at those last two places pretty much filled up the car and the sun was setting so we headed home after that. It was a great day and so nice to see all the different options there are in this area for gift shopping. Try shopping local small businesses this holiday season. You'll find unique gifts for everyone on your list and you'll be supporting the businesses that support our communities in so many ways!