The River Rat Brew Trail Passport is back for another round! This year, transcend beyond the average craft beer drinker and become a "Superbeero" craft brew aficionado. With the most participating breweries EVER, this year's trail is a can't miss event! The 2023 trail features fifteen super brewers across five counties, and will run from April 7 through October 31. As you tour each location along the Trail, be sure to check-in using your digital passport to verify your visit. No purchase is necessary, but we think you'll want to try some of the delicious craft creations on tap along the way. Passports can be purchased starting at NOON on Friday, April 7th by visiting riverratbrewtrail.com.
Upon completion of all the brewery stops on your passport, you will be eligible to receive your 2023 Trail prize. This year, final prizes will include a set of fifteen limited-edition magnets (featuring designs from each brewery), as well as your choice of a Superbeero-themed hoodie or t-shirt and winter beanie combo. Break out those superbeero six packs and hit the trail!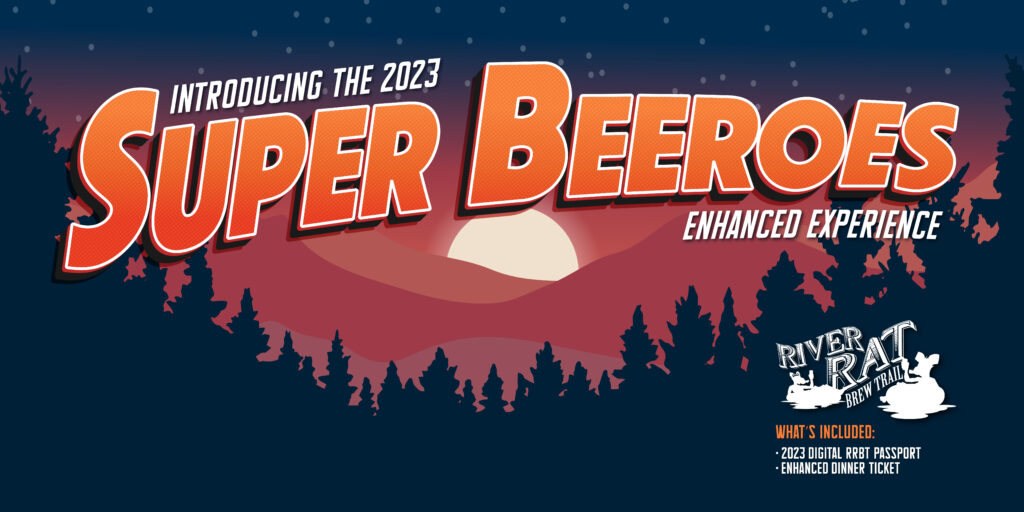 New: Enhanced Trail Experience Package
BRAND NEW THIS YEAR! Become Superbeero royalty and sign on for the Enhanced River Rat Experience this year! This enhanced package is limited to only 50 craft beer lovers and includes a 2023 passport PLUS a seat at the table for the star of this amazing experience: a multi-course dinner (appetizer, soup, salad, entrée, and dessert) where each course is paired with a craft beer presented by five of our stellar breweries.
Your next-level exbeerience for the evening will start with a mini-reception where you can mix and mingle with fellow craft beer enthusiasts, the brewers who will be showcased during the meal, and the producers of the River Rat Brew Trail. Next, you'll be escorted to the Great Room to begin your multi-course craft brew dinner. Each course will showcase a new beer presented by the brewer and you will get a complimentary tasting glass for your night to remember.
After dinner, your VIP evening gets even better, with an exclusive tour of Rusty Rail Brewing Company which will showcase their event and dining space, PLUS a tour of the brewery below the dining room AND a tour of their stunning overnight accommodations. And who knows, there may be some extra bling and swag thrown your way to help remember your evening of fun [so we hear from a reliable rat resource].
And speaking of their stunning overnight accommodations, for this event only – and exclusive to the 50 craft brew dinner guests – Rusty Rail Brewing Company is offering a sweet discount on their sleeping rooms for Friday night: $171 for a King Room [the value of this room is $295]. Upon purchase of your RRBT Craft Beer Dinner/Passport Package, you will get a confirmation email with complete instructions to book your room, Oh and by the way, there are only 9 rooms available at this rate so the early rat gets the cheese!
With only 50 seats at the dinner table and 9 sleeping rooms as part of this amazing evening, think fast and purchase your tickets now. This craft brew dinner experience offers the ultimate "date night" for craft brew loving couples, an awesome gift for your craft beer loving friend or family member, or a night to give you and your friends the ultimate craft beer TLC. This evening is made to order for all of our River Rat SuperBeeroes out there!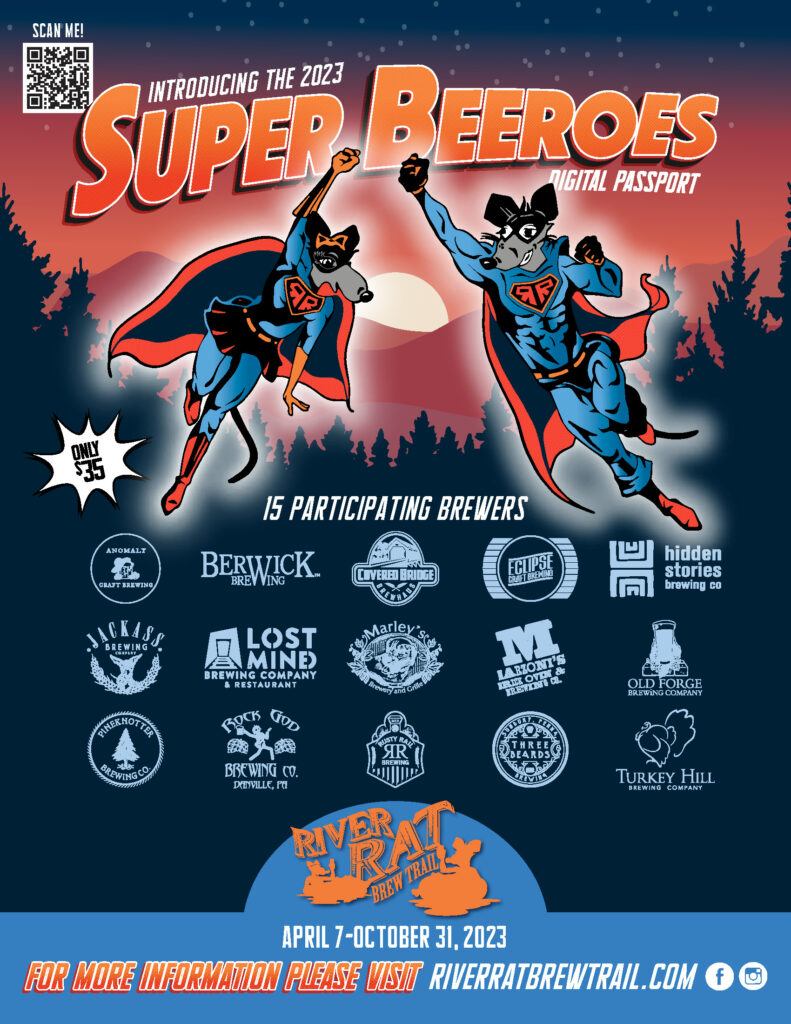 Passport holders must be 21 years of age or older to participate. Only one passport per person. No refunds or returns will be accepted for this product.