by Nancy Bishop
There's no getting around it – winter is here in Northeastern Pennsylvania —  and after New Year's, you'll be looking for things to do. Just in time for you to plan some winter activities and dream about some summer ones, the 2020 Columbia-Montour Visitors Guide will make its debut Saturday, Dec. 21 at the Berwick Christmas Boulevard.
If you just want to curl up by the warm fireplace and daydream about warm weather activities to come, then check out the Guide's Events Calendar. Coming up Jan. 22-26 at the Bloomsburg Fairgrounds is the 32nd Annual Early Bird Sports Expo in the Industrial Arts Building. Besides all the enticing displays about outdoor activities like hunting, fishing, hiking and kayaking there will be food vendors offering all kinds of goodies. Or if you're looking to entertain the kids, there's the 6th Annual Children's Museum Competitive Science Fair Jan. 16 at the Bloomsburg Children's Museum.

Articles in this year's guide focus on things to do. Dream about summer while you read "Finding the Perfect Trail: Five Fantastic Hikes for 2020." You'll read about the Falls Trail at Ricketts Glen, home to 21 waterfalls. Then there's Weiser State Forest, which is home to four historic miner trails from the 19th century that were recently restored to allow hikers to "walk in the footsteps" of miners from days past. Or you can hike the Warrior Trail that stretches from just outside Berwick all the way to West Nanticoke or visit the Goose Woods Trail at Montour Preserve – described as "a naturalist's dream."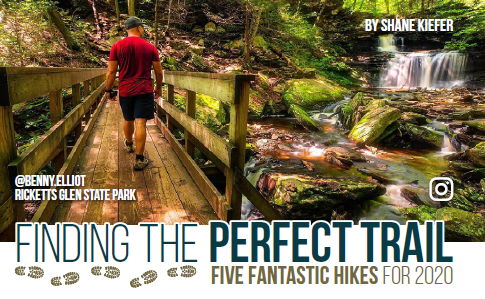 Or dream about summer fruits and veggies while reading "Rohrbach's Farm: An Ever-Changing Tradition."
Plan your trips for the summer of 2020 by reading "Summer Heritage Passport Brings History to Life," which will take you on a quick tour of some of the places on the Columbia-Montour Visitors Bureau's Summer Heritage Passport activity. It's a perfect activity for families with children or couples looking for something to do on the weekends during the summer. It's especially good for Scout groups and school groups, as it takes only a visit to five locations for the kids to earn a commemorative Heritage Passport patch. If you're ambitious, you can do 10 of the stops to be entered in a drawing for one of five grand-prize baskets!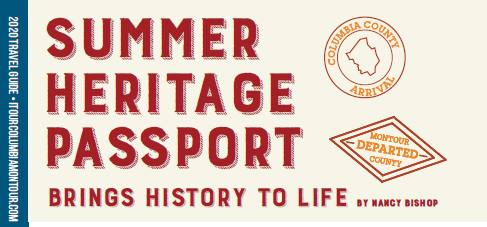 You'll also learn about "Camp Victory: A Special Camp for Special Kids," located in Millville. Each year from spring to fall, Camp Victory hosts various camps — one week for cancer survivors, a week for kids with heart disease, diabetes, spina bifida, autism, and many more. The Camp is accessible for all abilities: the treehouse has a ramp, the zip line and rock-climbing wall have adaptive harnesses, the swimming pool has a lift and a ramp, and the camp paths are paved.
You'll also find listings of service and community organizations, restaurants, lodging, and shopping in Columbia and Montour counties, so be sure to pick up your copy of the Visitors Guide.
Berwick Christmas Boulevard
A tradition for more than 70 years, a drive along Berwick's Christmas Boulevard will put you in the spirit of the season. The Berwick Christmas Boulevard was founded in 1947 by Jaycees organization in Berwick. They envisioned a free-for-everyone, mile-long stretch of Christmas decorations in the center of town. The Boulevard, located the length of Market Street has been decorated by volunteers ever since. The Jaycees organization closed in 2015, but the Berwick Boulevard Association formed to continue the holiday tradition, which takes place every night from 6 p.m. to 10 p.m. through Dec. 31.
Take a ride along the Boulevard and you'll find thousands of strings of lights draped in the branches of 400 freshly cut pine trees. Then there are the tiny buildings housing original animation by renowned New York City artist David Hamberger. Community members construct the tiny houses and buildings to display more than 60 of Hamberger's vintage movables acquired over the years. These remarkable figures, some dating back to the early 1940s, have been showcased in each Christmas Boulevard since its inception. Recently, the Association acquired a large lot of Hamberger movables, possibly making the 2019 Christmas Boulevard the largest display of vintage Hamberger figures in the nation.
And you'll even find Santa himself and his elf helpers handing out Wise Potato Chips to Boulevard visitors!
Check it out – it's worth the trip!
Happy Holidays.