by Nancy Bishop
Back from a great week of vacation on Cape Cod with my son and his family, it was time to hit the trail again…The River Rat Brew Trail that is! So, the day after returning home, I grabbed a beer-loving friend and headed out to visit two: Three Beards Brewing in Sunbury and Lost Mined Brewing Co. in Shamokin.
First stop on our trip was Three Beards. One look at the owners — Nate Badman, Matt Reinard and Levi Strouse – will tell you where the brewery got its name. All three sport full beards! Matt showed me around the brewery where a vat of Hefewiezen was brewing.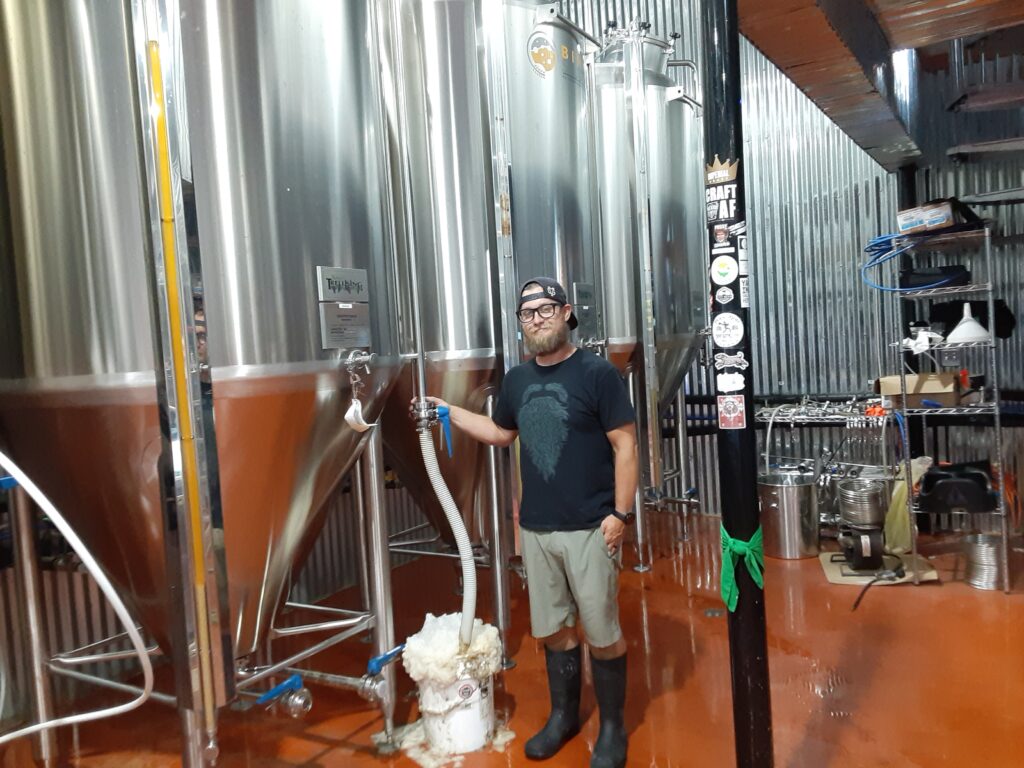 The three guys started their brewing adventure in a dusty basement sometime around 2011 and that eventually led to building the brewery adjacent to Spyglass Winery in Shamokin. Back in January 2020, they were anticipating a grand opening for the new brewery in March 2020. Then came the pandemic and it was 2021 until they were welcoming customers.
As we walked from our car to the front door, we noticed the grape arbors growing in the adjacent field and after we were seated at the bar, I learned from the menu that the grapes for Spyglass Winery's Seyval Blanc, a dry white wine served in the brew pub, were growing there.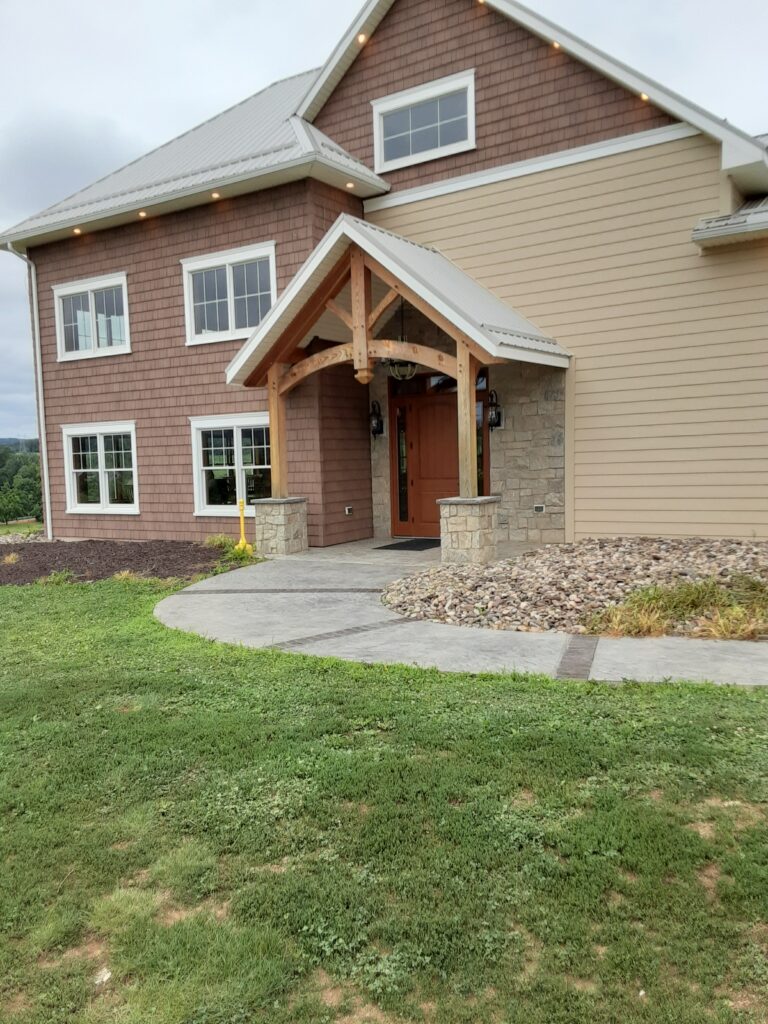 It had been a beautiful drive through the countryside to get to Three Beards, though, and we were ready to sample what they had. With some helpful advice from Bryson, our bartender, my companion chose a glass of the Fart Baby Cream Ale, which the menu described as a light crisp Pilsner. (But I think he chose it for the name!) He must have liked it because it was soon gone. I decided on a glass of Spyglass Winery's Pinot Gris, a crisp white wine the menu said was "food friendly." It was delicious. If I hadn't been the designated driver, I definitely would have enjoyed a second glass!
We quickly made friends with the other people sitting near us at the bar. Darla, who was sitting next to me, was drinking the Hard Root Beer from Spyglass, which she loved. The couple on our other side were having the Blueberry Port and the Con-Cran Port, also from Spyglass. It was "Open Mic" afternoon and there was live music. Good music, new friends, great drinks…what more did we need for a fun time?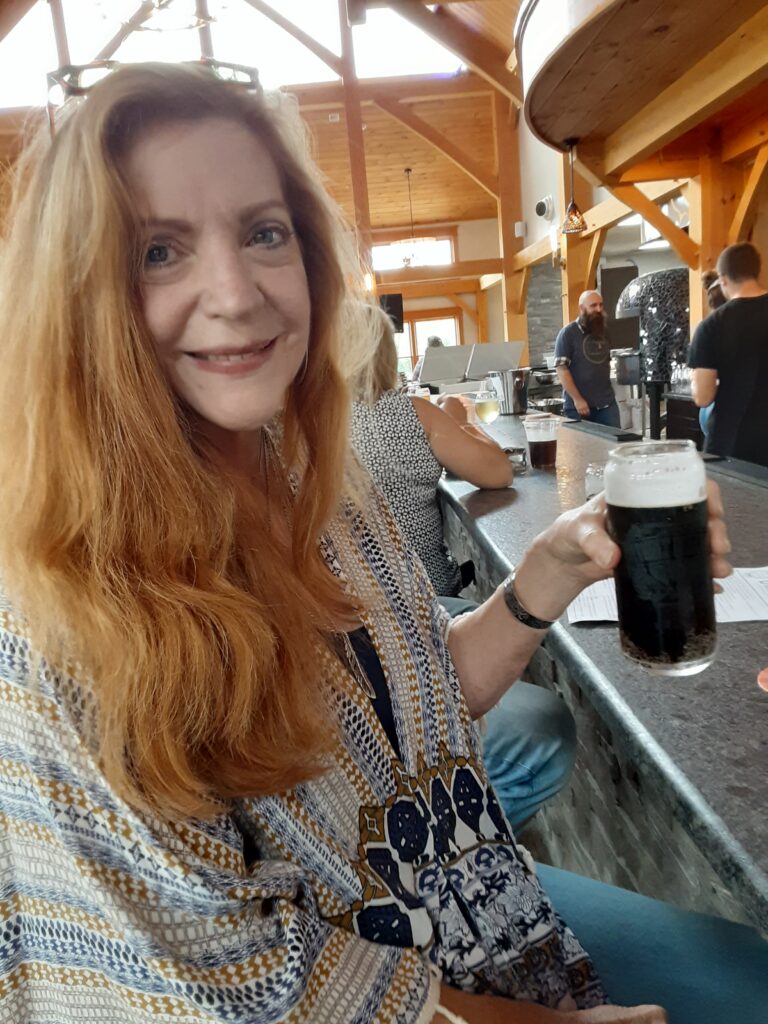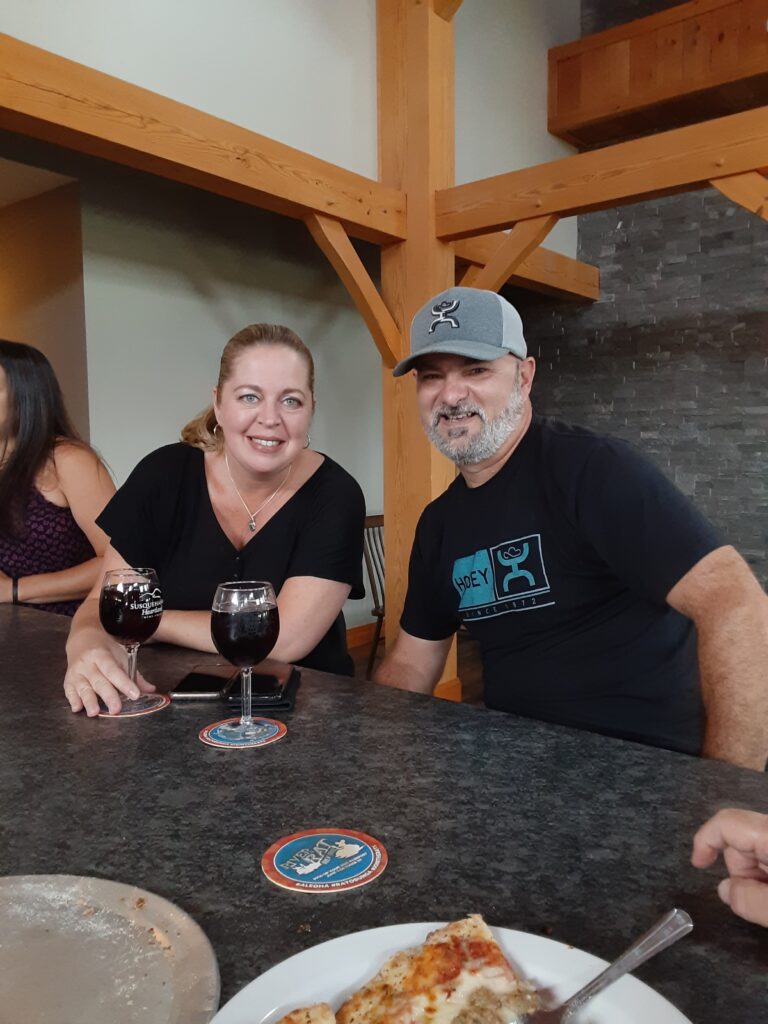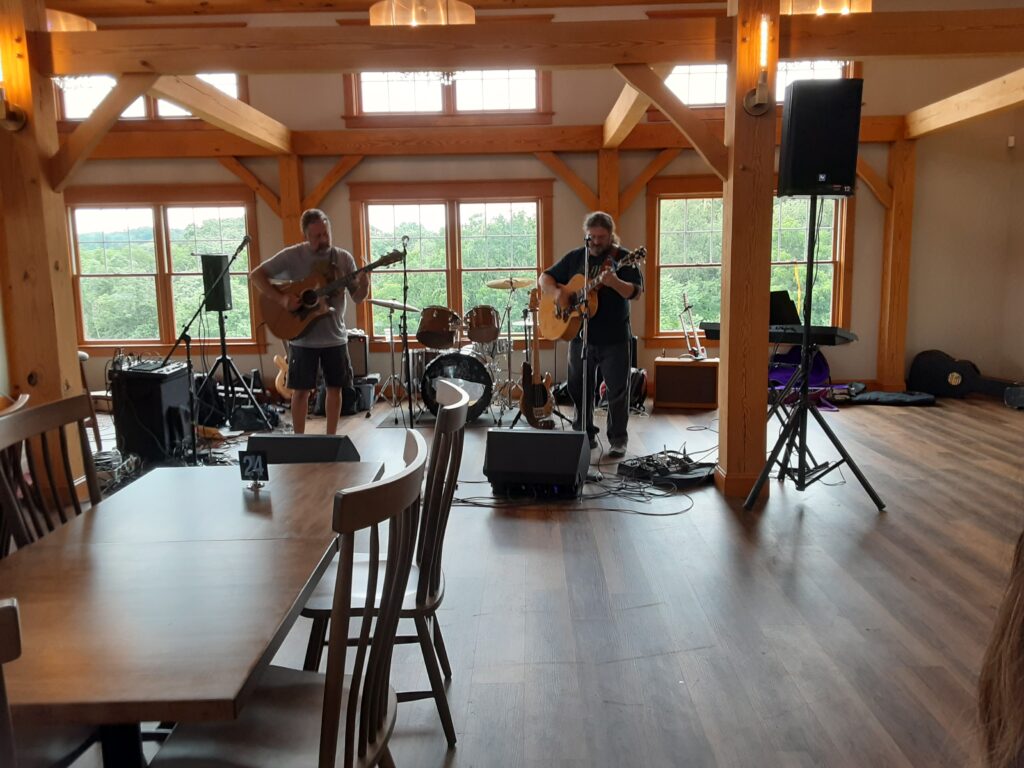 Oh, yes, food.
My companion wanted pizza, and Three Beards has great pizza, made from scratch and baked in a wood-fired oven. He chose the "Joey Would You Like Some Sausage?" pizza that had roasted Italian Sausage, peppers, garlic oil, fresh basil and red sauce. It looked really good. The Parmesan Asparagus that was one of the sides being served with their dinner meals appealed to me. I love asparagus, and It was so good!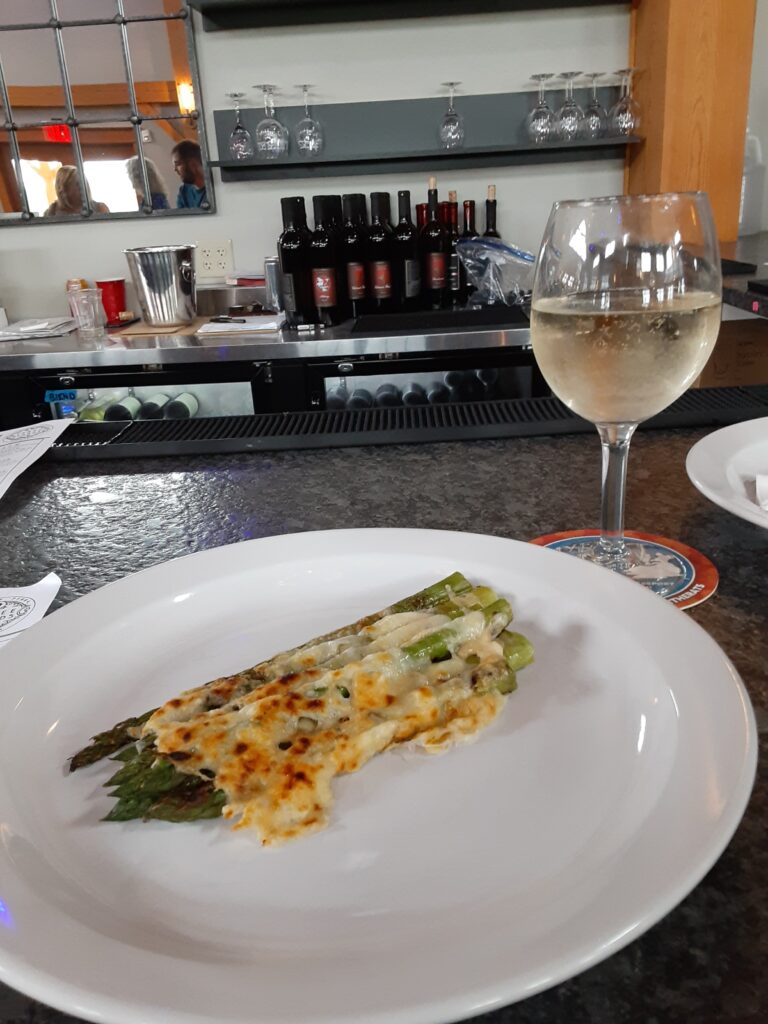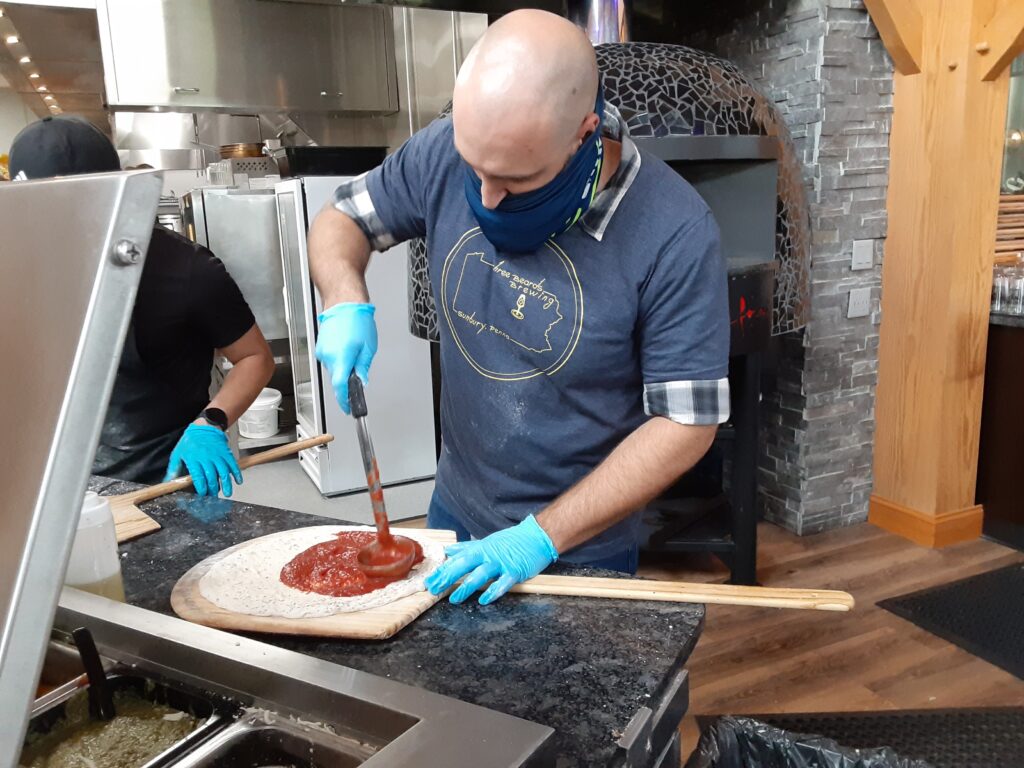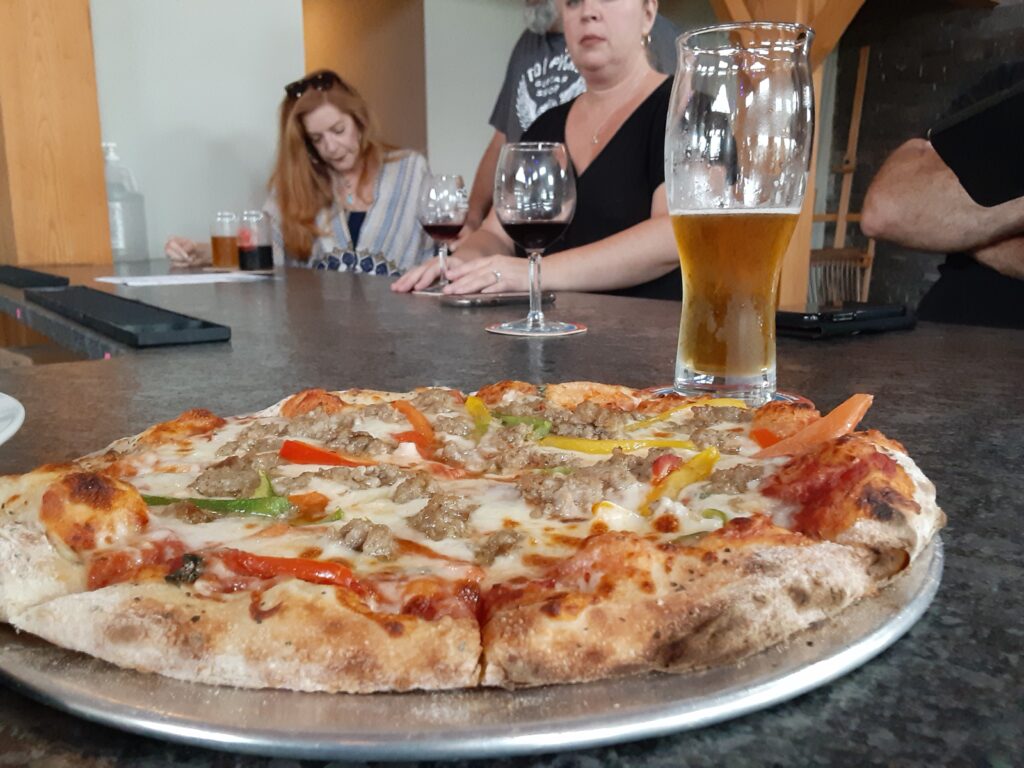 Too soon it was time to leave to go and try Lost Mined over in downtown Shamokin.
The little mine cars that flights of beer are served in were too cute to resist, so my beer-drinking buddy, with help from our server, Rosa, chose a flight that included Lost Mined's Red Ash Ale, Diffusion Wheat, Nut Coal Brown Ale and Apricot Mind Dust IPA. He liked them all! I chose Jack's Hard Cider (very good) and also had the "Fire in the Hole" sandwich – a chicken breast with pepper jack cheese, garlic aioli, onion, bacon and hot sauce on a bun. You can choose it mild, medium, or flaming. Mild was hot enough for me!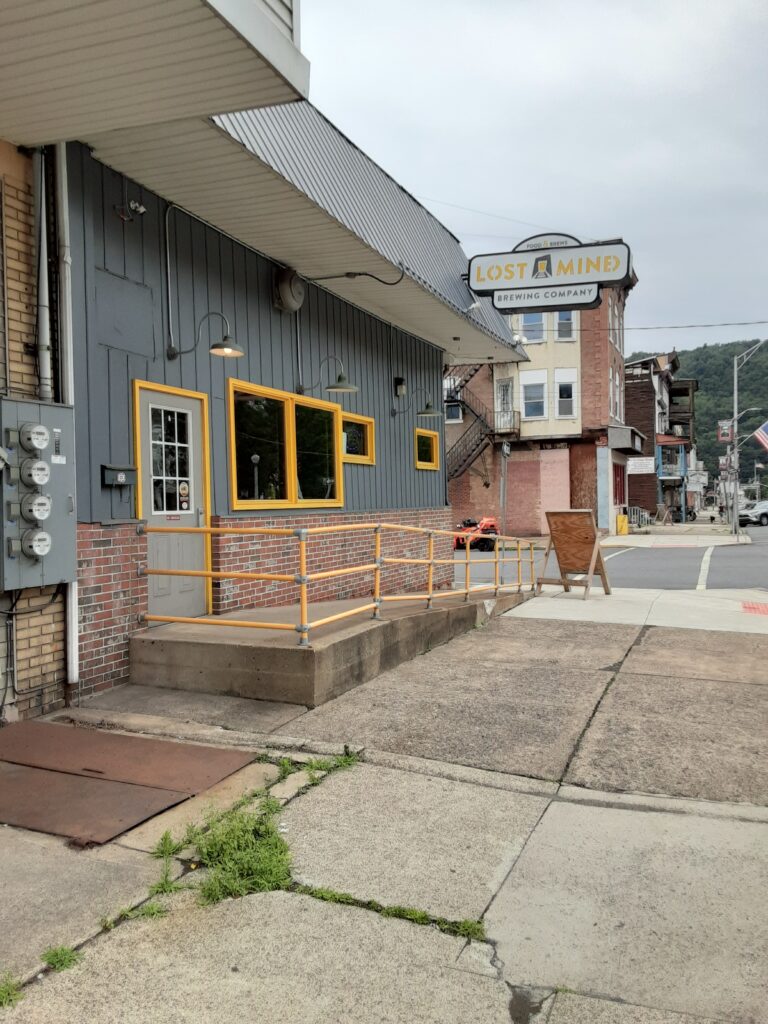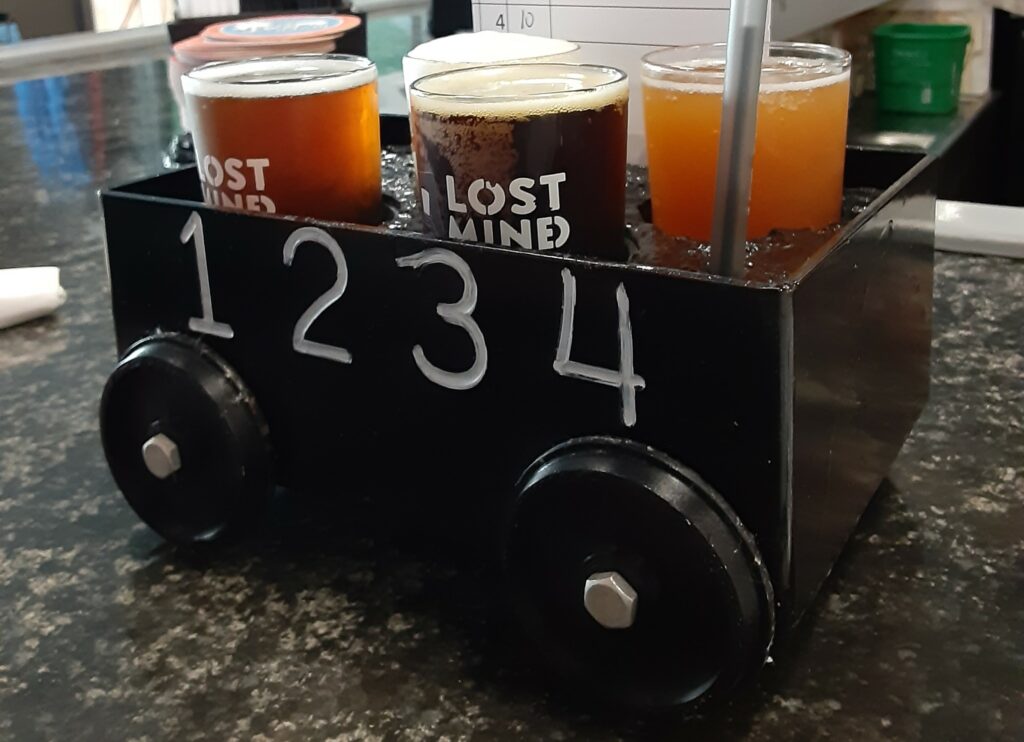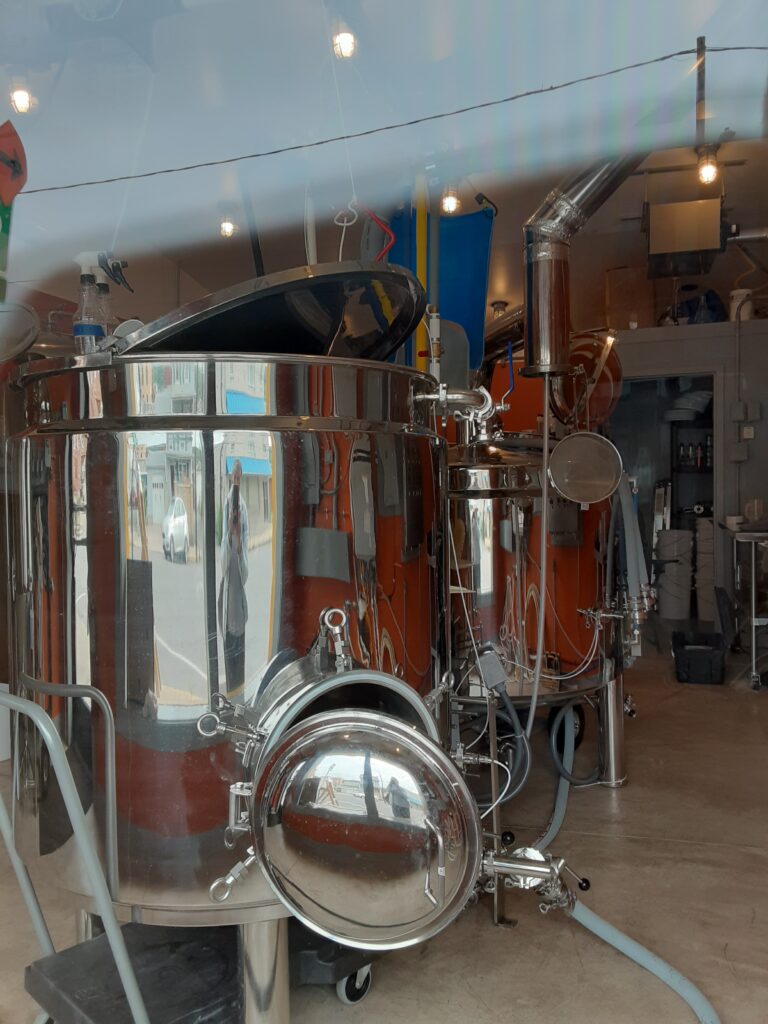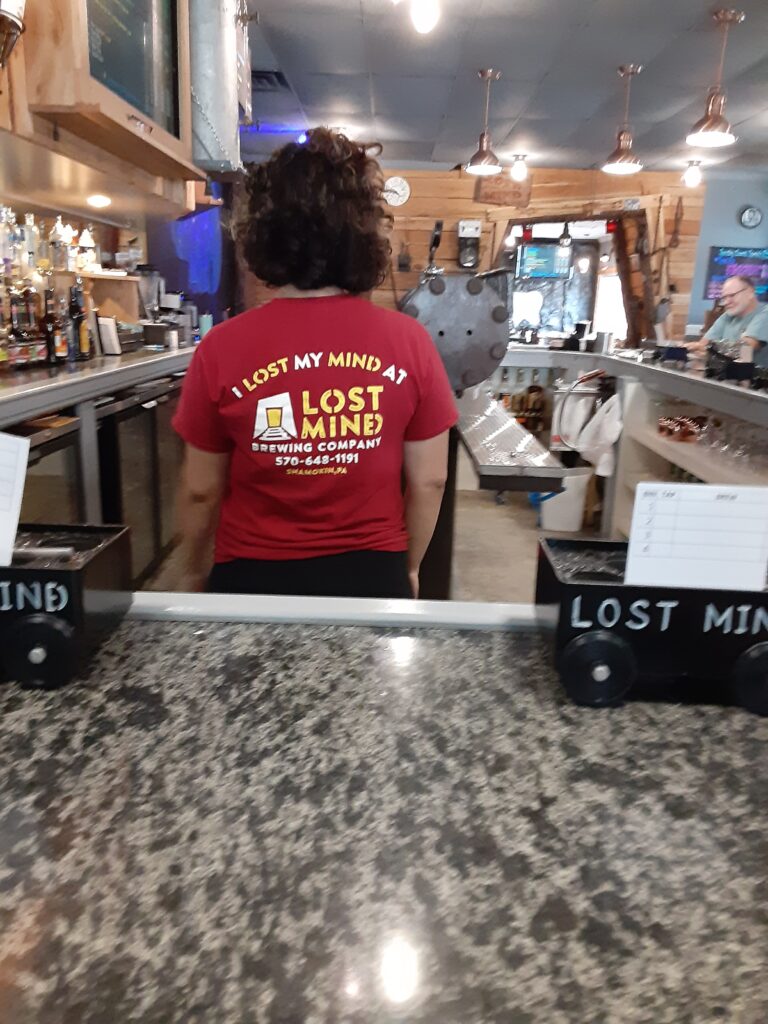 Lost Mined offers a full menu from appetizers to burgers, pizza and entrees like steak and fish and chips and there are daily specials. Wednesday night is Burger Night. They also offer live music on Sunday evenings.
A few days after our trip to Three Beards and Lost Mined, it was time for me to head out on the trail again to try two other breweries in Shamokin and Sunbury.
This time I picked up two friends from my neighborhood – Sally and Susan — who had told me they loved beer and would happily join me for a "Girls Night Out" anytime and we headed out on a Thursday night. Our trail destinations were Eclipse Craft Brewing Company in Sunbury and Covered Bridge Brewhaus in Shamokin.
At Eclipse, we found owner Thad Benner behind the bar. He stamped my River Rat Brew Trail passport and gave me the souvenir koozie. Sally and Susan each ordered a beer flight and I opted for a glass of Shade Mountain Winery Chardonnay.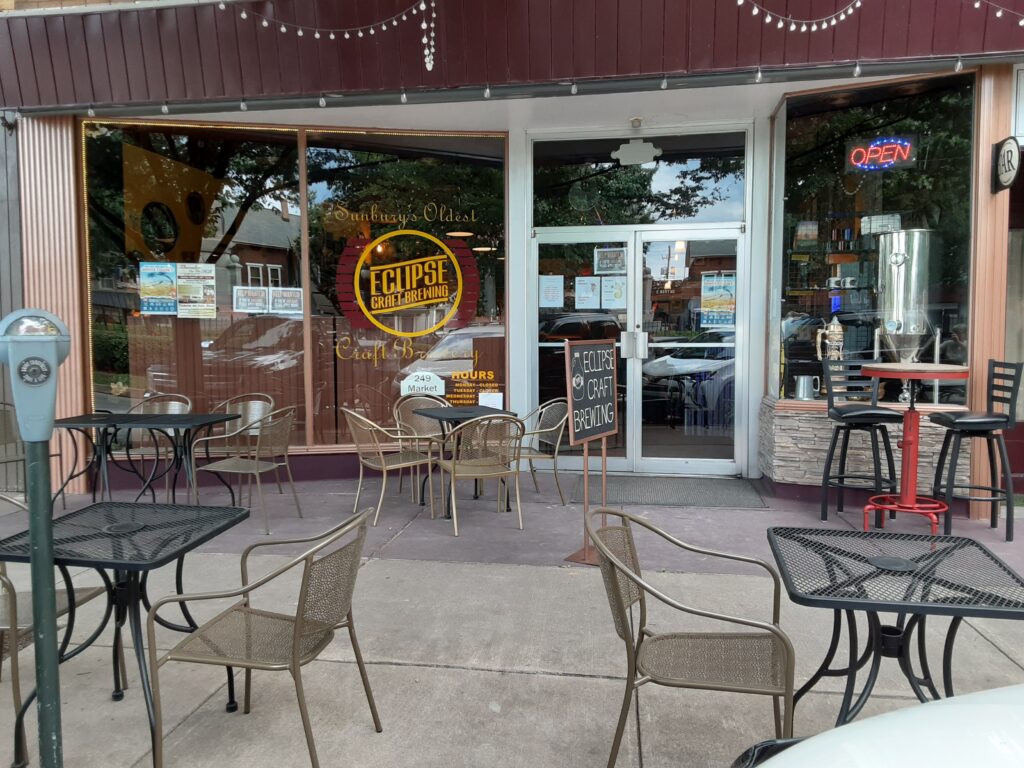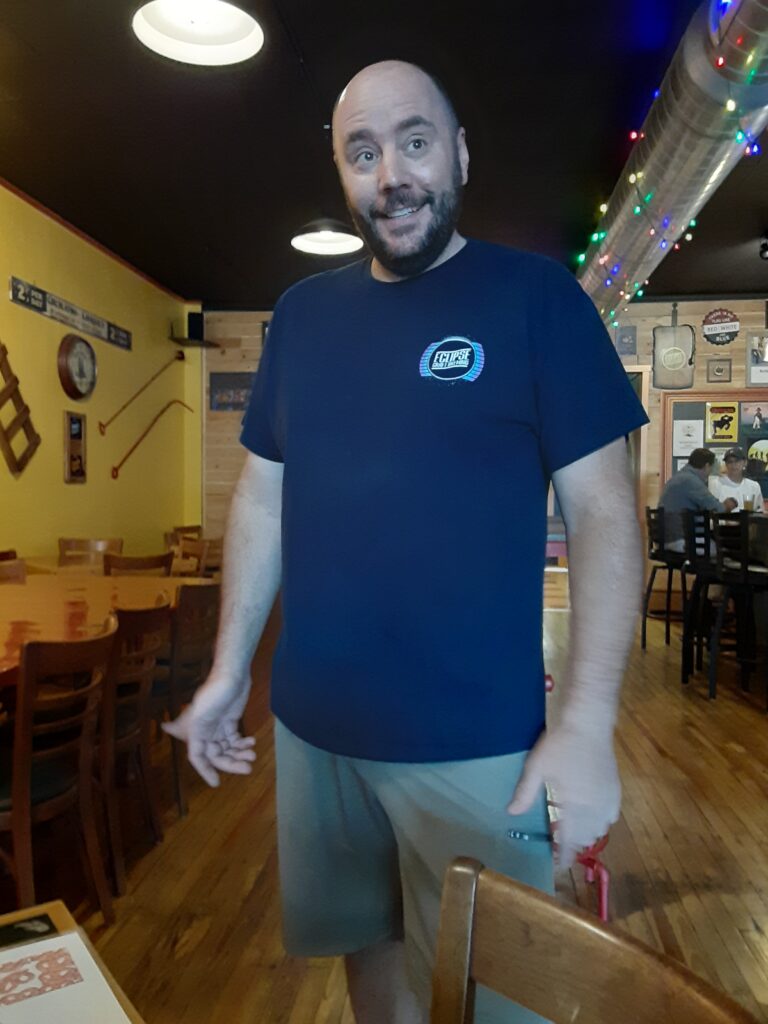 Sally chose the Imperial Alien IPA, Irish Red Head, Edison's Own and Heavenly Hefeweizen for her flight. Susan selected Imperial Alien, Edison's Own, Heavenly Hefeweizen and Sunbury's Bloody 3rd Ward Massacre for hers. You have to love the creative names these craft brews have at all the breweries! I especially liked the name "Edison's Own" since it hearkens back to Sunbury's history when Thomas Edison selected Sunbury for the world's first three-wire electric generating station in 1883.
Both Sally and Susan enjoyed Edison's Own, which they described as nice and light, but the favorite of the visit was Sunbury's Bloody 3rd Ward Massacre. "Yummy" and "very hoppy" was their assessment.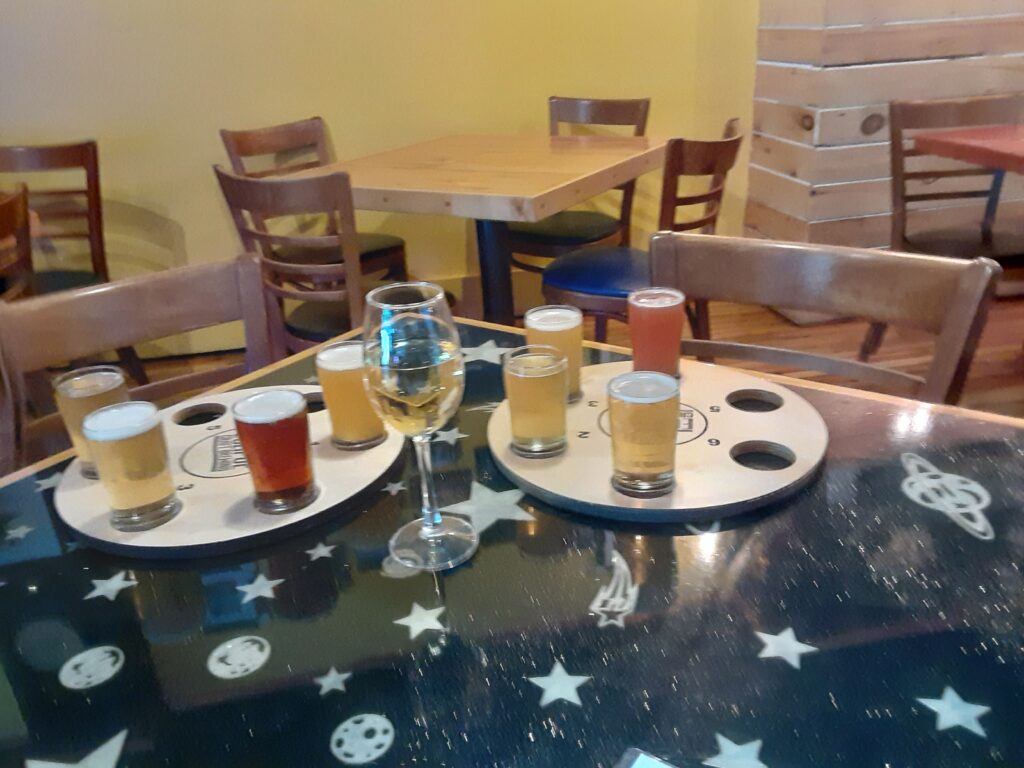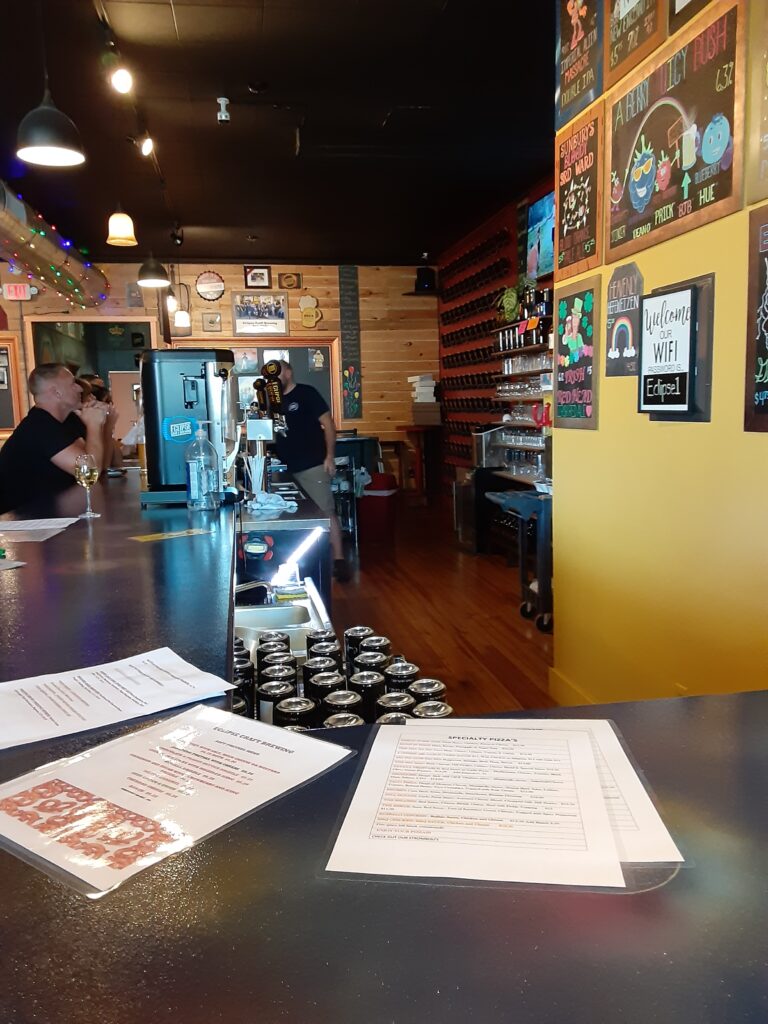 To go with our drinks, we decided to share the hot spinach dip with tortilla chips. It was an excellent choice. Lots of fresh spinach and cheeses. But the pizzas coming out of the kitchen for other customers looked great too.
Eclipse is a family brewery. Owners Thad and Curtis Benner first started brewing beer back in the '90s. They stopped for a while and then started brewing again in their garage in 2008. They opened Eclipse in 2018.
Next we headed to Shamokin to visit Covered Bridge Brewhaus. It was a warm, clear evening and the sidewalk was crowded with Brewhaus customers there for both the craft beers and the food truck visiting that night, which was Crooked Forest, with its Polish fusion food. Think kielbasa, pierogies, nachos with pulled pork and sauerkraut. Even before we went into the Brewhaus to order beer my traveling companions decided we would share pierogies!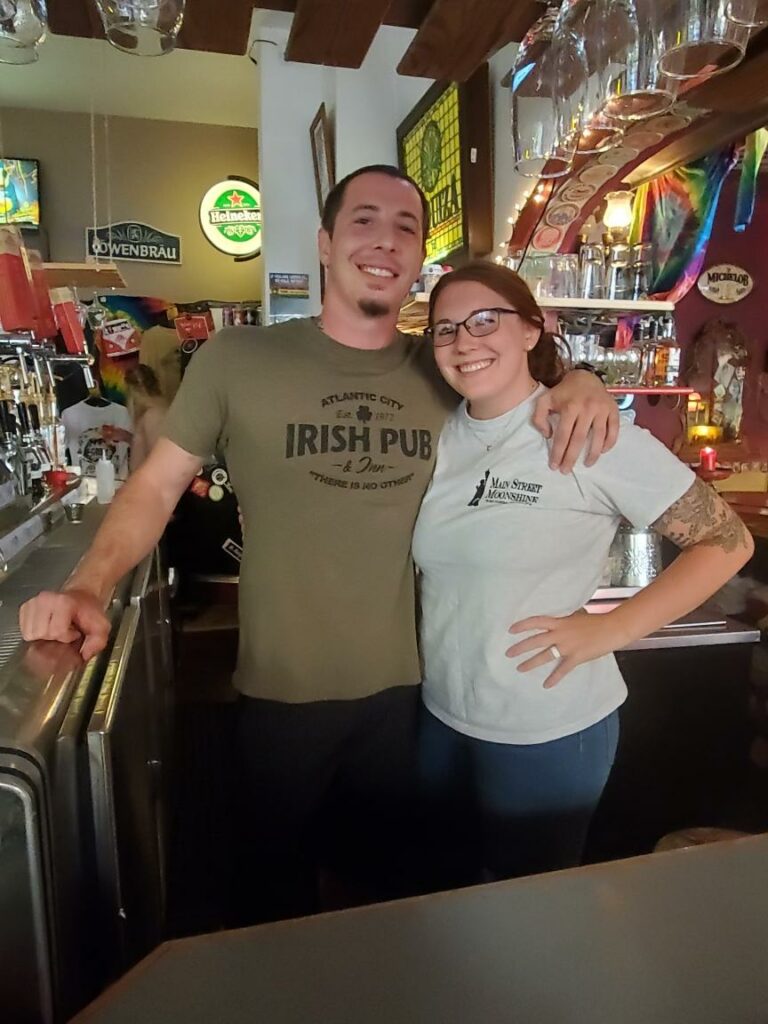 Once inside, Cheyenne Schweitzer and her brother Shane Popewczak greeted us and took our drink orders. Their Mom, Cindy Popewczak, runs the Brewhaus along with owner Eric Kuijpers. Susan and Sally decided to each order a beer flight. They both chose Cruz'n IPA, Coal Shanty and Shits Crick from the beer list. Susan added Ho-Butt to her flight while Sally chose Nude Peach. Covered Bridge also will add flavorings to your beer, so Susan decided to add the Pickled Jalapeno to her Ho-Butt. She said it was a good addition – nice flavor but not too spicy.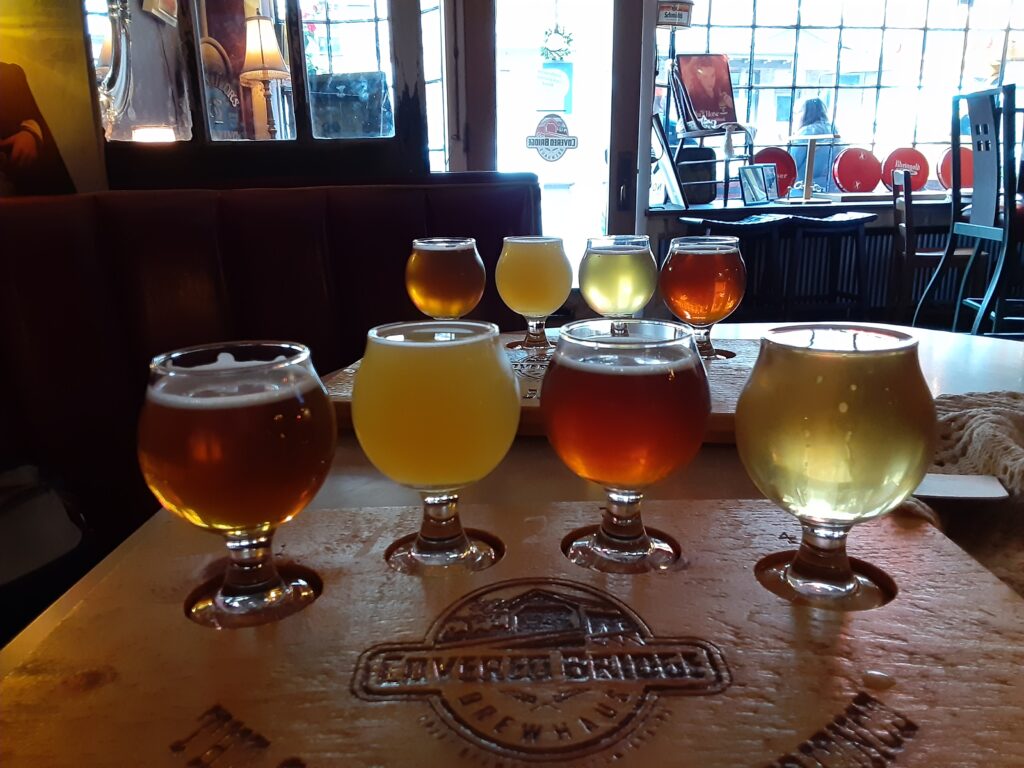 Covered Bridge is made up of three different rooms. We sat in one that seemed to have a '50s theme. Our booth was straight out of a '50s-vintage diner – a horseshoe shaped red vinyl booth with a formica table. Reminded us of childhood! Another room is a Victorian-era formal parlor.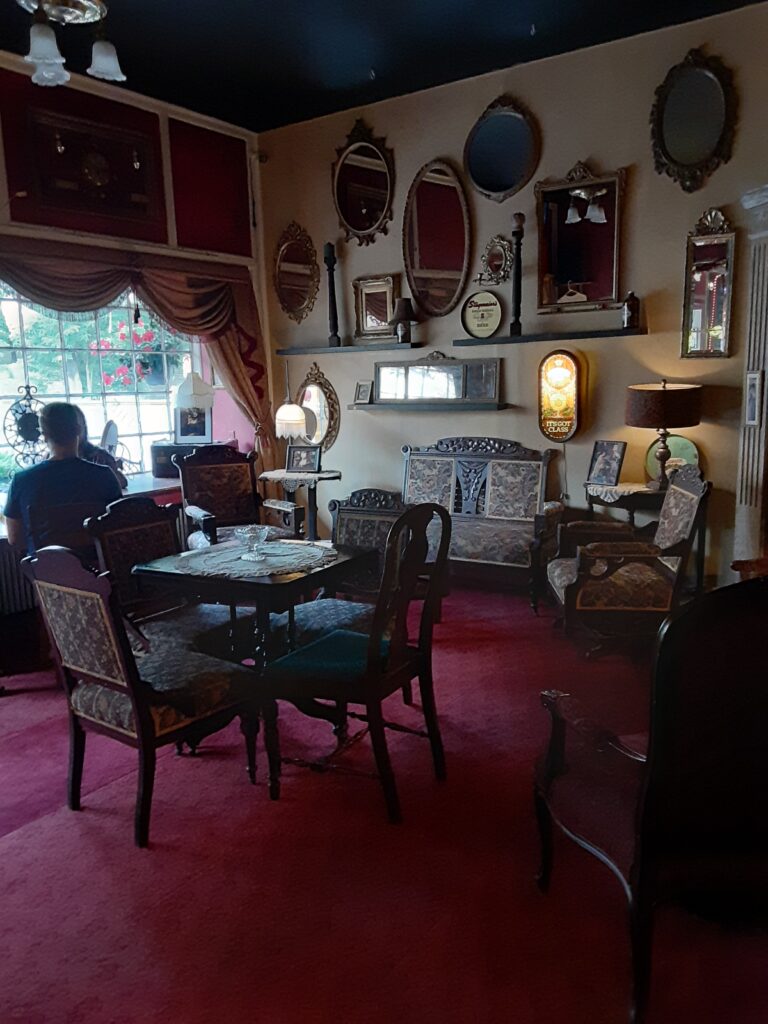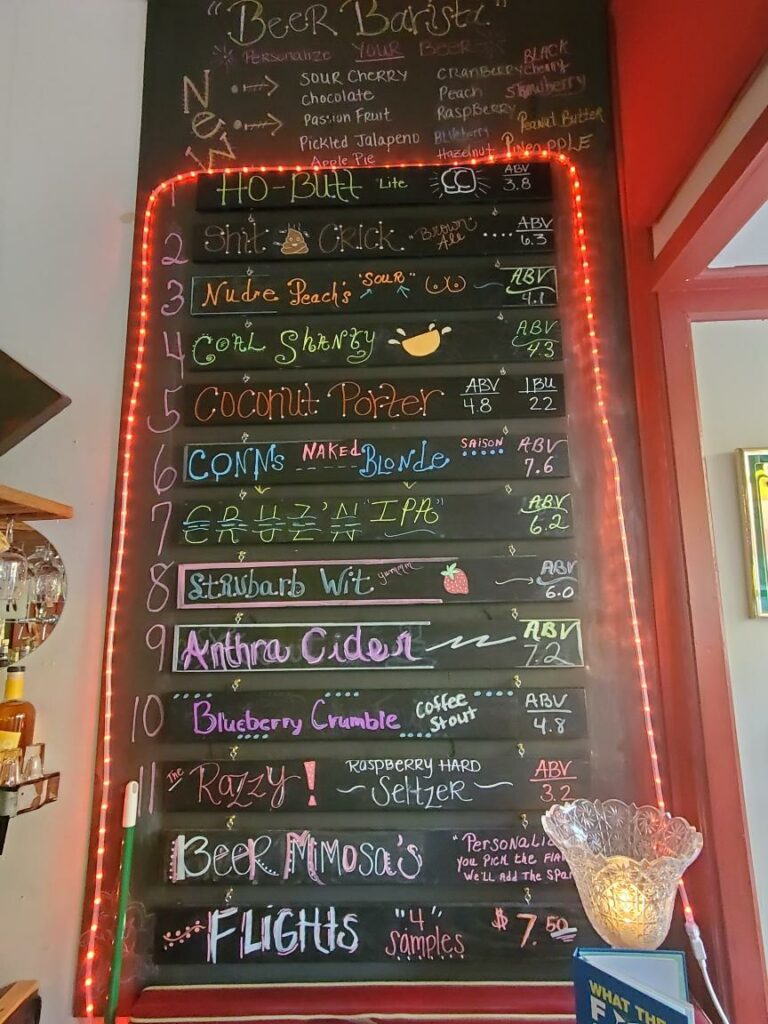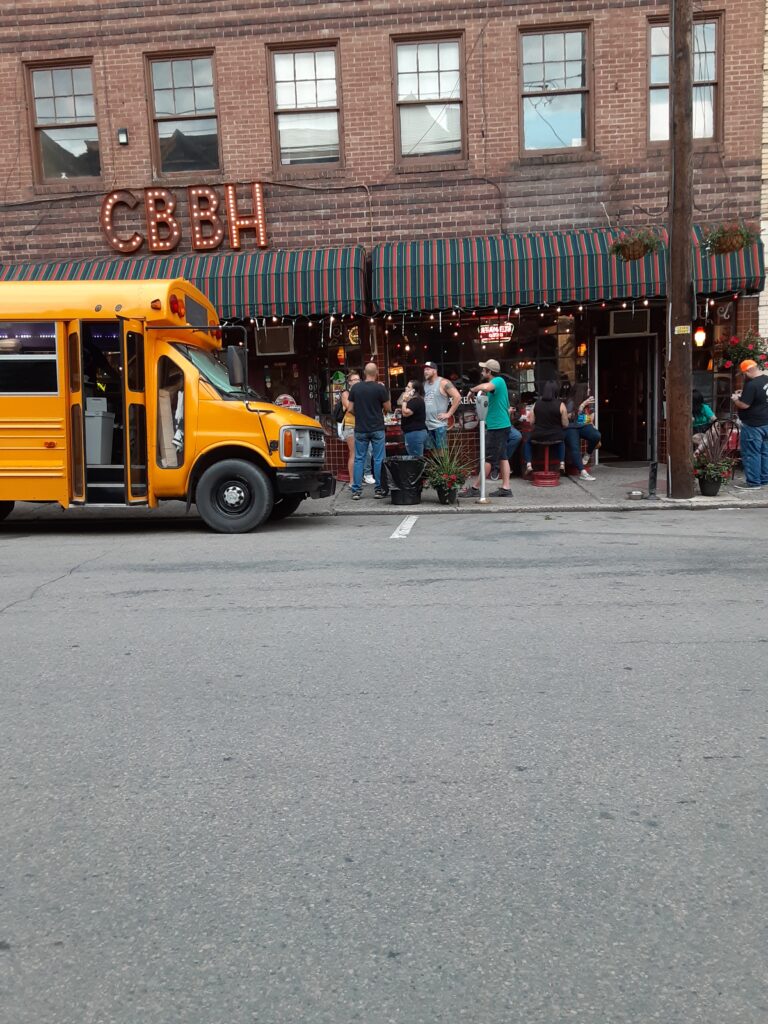 Glasses empty, pierogies gone, we decided to head home. Another fun adventure along the Brew Trail complete!
Tempted to try the trail? Those are only four of the 11 that are on the Passport. The others are:
Jackass Brewing Company, Lewisburg
Civil War Cider, Lewisburg
Rusty Rail Brewing, Mifflinburg
Marzoni's Brick Oven & Brewing Co., Selinsgrove

AND THE THREE STOPS I'LL BE VISITING FOR PART III:
Old Forge Brewing Co., Danville
Pineknotter Brewing Co., Northumberland
Rock God Brewing Co., Danville
See you on the Trail!