by Nancy Bishop
Were you looking forward to attending this year's Covered Bridge Festival in October at Knoebels Amusement Resort? If you were disappointed to learn the Festival is another of COVID-19's victims because you wanted to shop at the hundreds of craft and food vendors, then you're in luck. You can shop them online!
– CHECK OUT THE FULL VENDOR LIST HERE –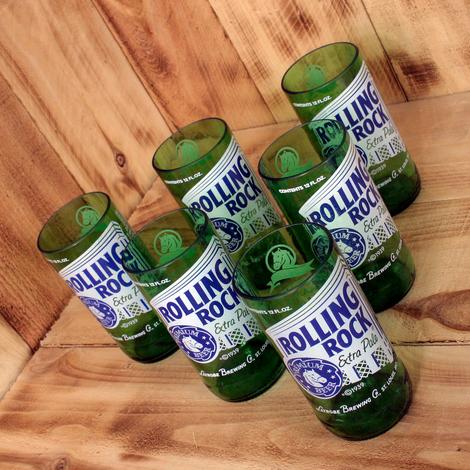 My neighbors and I always enjoyed going to the Festival. It was a chance to find the perfect Christmas present for some of the hard-to-please people on our shopping lists. This year I particularly wanted to search out Wicked Buy from McClure, PA, which also goes by the name Bottle Refab.
Suzanne Hoke and her husband create handcrafted glassware — glasses, vases, candles and lighting —  from recycled bottles. They "upcycle" empty beer, wine, liquor and soda bottles and cans, re-purposing them as quality, practical items. The Yuengling Lager glass bottle made into a candle seems like a perfect stocking stuffer for my oldest son who's a big Yuengling fan or maybe he'd like the Rolling Rock glasses.  So many choices!
You can shop all their products on their website or email them at sales@wickedbuy.com.
But maybe you're more likely to shop the food booths at the Festival. One of my favorites is Country Pride Foods by A&J LLC of Orangeville, PA.
They have 13 flavors of smoked cheese and a variety of smoked meats. My favorite is the Smokey Horseradish cheese. Yum! Try melting it on a burger.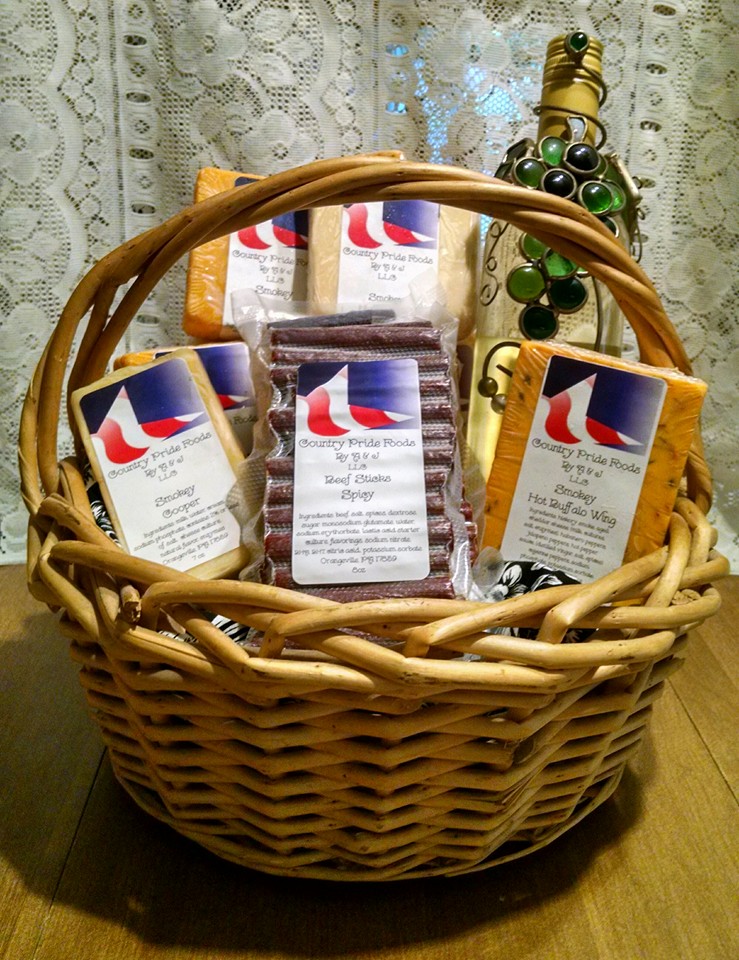 Or try the salsa from Aunt Jan's Salsa. Jan Dubbs Harris of Millville, PA, is the "Aunt Jan" of Aunt Jan's Salsa. She started her business 10 years ago when her youngest child headed to college. You can get salsas ranging from fruity to very hot. The list includes:
Mild
Strawberry – This sweet salsa satisfies the need for sweet in a healthy way.
Blackberry – A mildly sweet salsa for the tame pallet.  (Try the hot if you want adventure.)
Black Bean – This mild salsa is chock-full of southern style with black beans and corn.
Green – Classic taste of tomatillos sets this salsa apart from the rest.
Medium 
Peach – The taste of fresh ripe peaches with the zesty taste of salsa.
Tropical Peach (peach/mango)  – Add a taste of the tropics and visit the islands with every bite!
Pineapple – A trip to Mexico and Hawaii without leaving home.
Apple – Traditional salsa with a twist – if you enjoy fresh crisp apples, you'll love this salsa.
Hot
Tequila (Low Heat) – A touch of tequila brings out the real Tex/Mex flavor.
Garlic (Medium Heat) – You can see the garlic.
3 Pepper Caribbean (Heat) – Smoke flavored salsa with Diablo, Tabasco and Jalapeno peppers to give it a real kick!
Habanero (Extra Heat) – Extra, extra hot without sacrificing the taste!
If you love popcorn, visit Incredible Popcorn from Bloomsburg, PA. It comes in a wide variety of flavors. Some of the more unusual include Philly Cheesesteak, John the Greek Gyro, Loaded Baked Potato, Soft Pretzel, Cheddar Ale and Apple Pie. Or, if you're in Bloomsburg, visit the shop at 1009 Old Berwick Rd. Besides the popcorn, they have ice cream there. As an avowed ice-cream-aholic, I've mixed caramel corn with vanilla ice cream at home. Wonder if they've thought of that?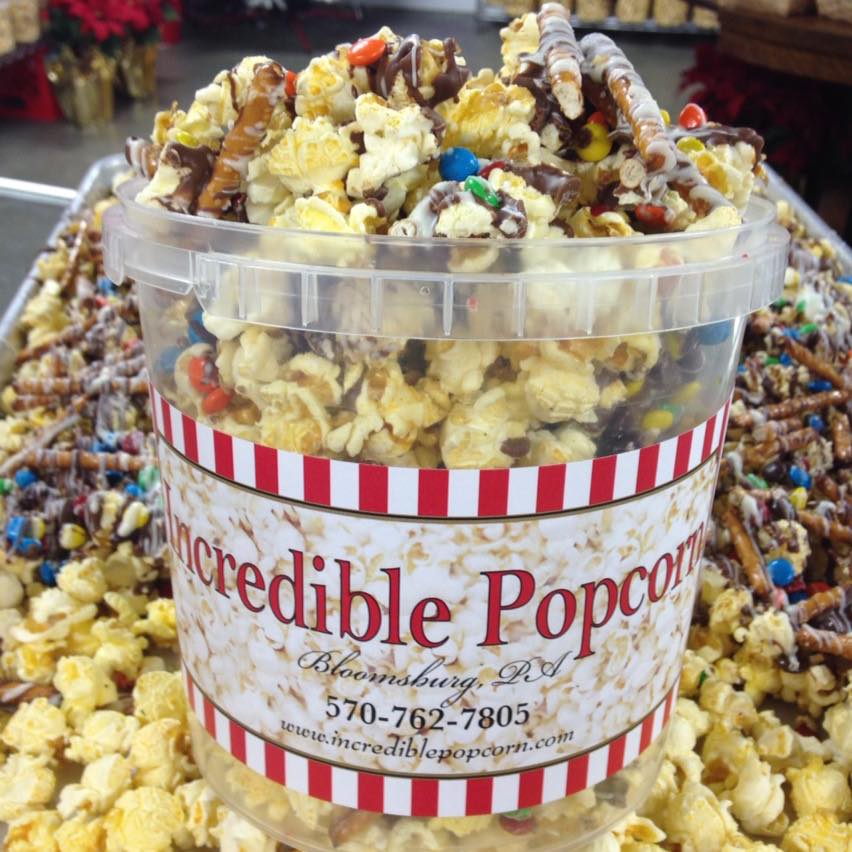 If you're looking for a handcrafted, personalized gift for someone special, how about a custom-embroidered one? H&P Embroidery of Benton, co-owned by sisters Cindy Hittle and Tina Posey, can help you. They offer custom embroidery from stitching a baby's name on a blanket to doing hundreds of items for a company. And they can transform any image into an embroidery pattern to be stitched. They also offer screen printing. Take that favorite picture of your family and print it on a t-shirt.
Jewelry more your taste? Jule's Artwear from Williamsport, PA has some beautiful pieces that I would love to get as a gift! All of Jule's jewelry is handcrafted and includes sterling silver, fine silver, 14kt gold-filled and copper pieces. She uses a variety of techniques such as fusing, soldering and cold connections in her designs. She even makes her own polymer clay beads.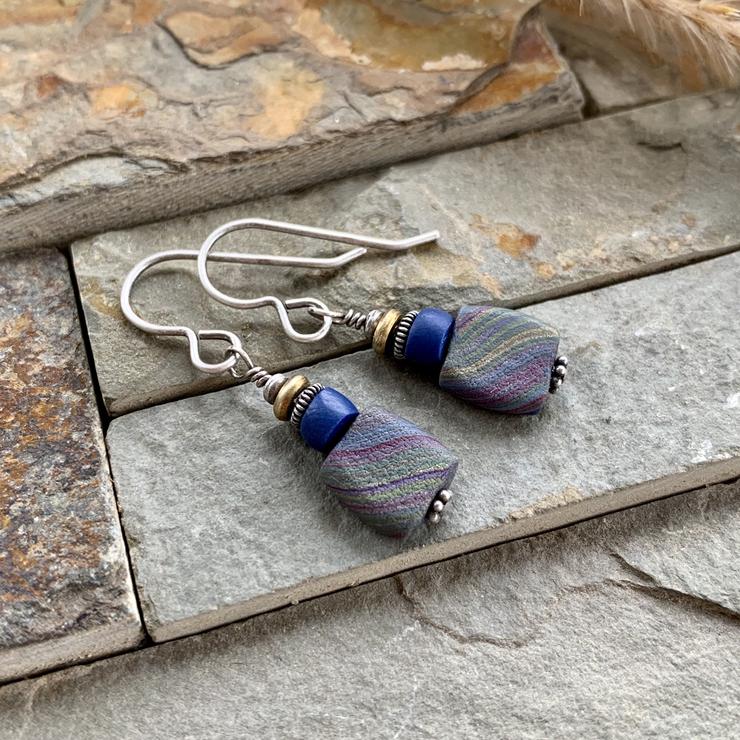 For wood crafts, furniture and jewelry, try Dill's WoodCraft of Hummelstown.
It's a difficult time for all of the Festival vendors, many of whom rely on business done at fairs and festivals that have now been cancelled. Please consider supporting them. The Covered Bridge & Arts Festival, organized by the Columbia-Montour Visitors Bureau and hosted by Knoebels Amusement Resort each year, will plan to return on October 7 – 10, 2021.