Visiting Knoebels this weekend? If so, you might be happy to learn that you can ride the WORLD's best wooden roller coaster, the Phoenix, as voted by Amusement Today's 2018 Golden Ticket Awards.  The beloved Elysburg resort also took home honors for the world's best carousel and the best amusement park food.  Plus, it was recognized for several other top five "best-ofs" in the amusement industry.
The spotlight was shining bright on the amusement industry this past weekend in the annual awards show hosted at Silver Dollar City resort in Branson Missouri, where the winners of Amusement Today's 2018 Golden Ticket Awards were announced.
The Golden Ticket Awards are presented annually to honor the "Best of the Best" in the amusement industry and are calculated from an international poll conducted by Amusement Today. The prestigious survey asks experienced amusement park voters around the country and world to rate the "bests" in 23 categories.
Knoebels received the top Golden Ticket Award for "Best Food," and "Best Carousel" for its Grand Carousel. The 105-year-old Grand Carousel was purchased by the park in 1941, and has received the top award every year since its inception. "We take great pride that the Grand Carousel is the heart of Knoebels – A ride for all to enjoy and a place for the whole family to come together for a happy memory," said Knoebels' Vice President, Leanna Knoebel Muscato. "Our Grand Carousel is steeped in tradition and has a rich history of bringing people together, whether it's by parents teaching their kids how to catch rings, by grandparents singing along to classic organ music as they bounce a toddler in a chariot, or through the incredible team who works tirelessly to care for and maintain the carousel's timeless beauty."
In addition to their first place awards, the park was a finalist in a number of other categories.  Knoebels was ranked as the 3rd "Best Overall Park", 3rd Best "Dark Ride" for their Haunted Mansion, 3rd Best "Halloween Event" for their popular Hallo-Fun Weekends, the 4th "Friendliest Park", and the 5th Best "Indoor Coaster" for their Black Diamond ride.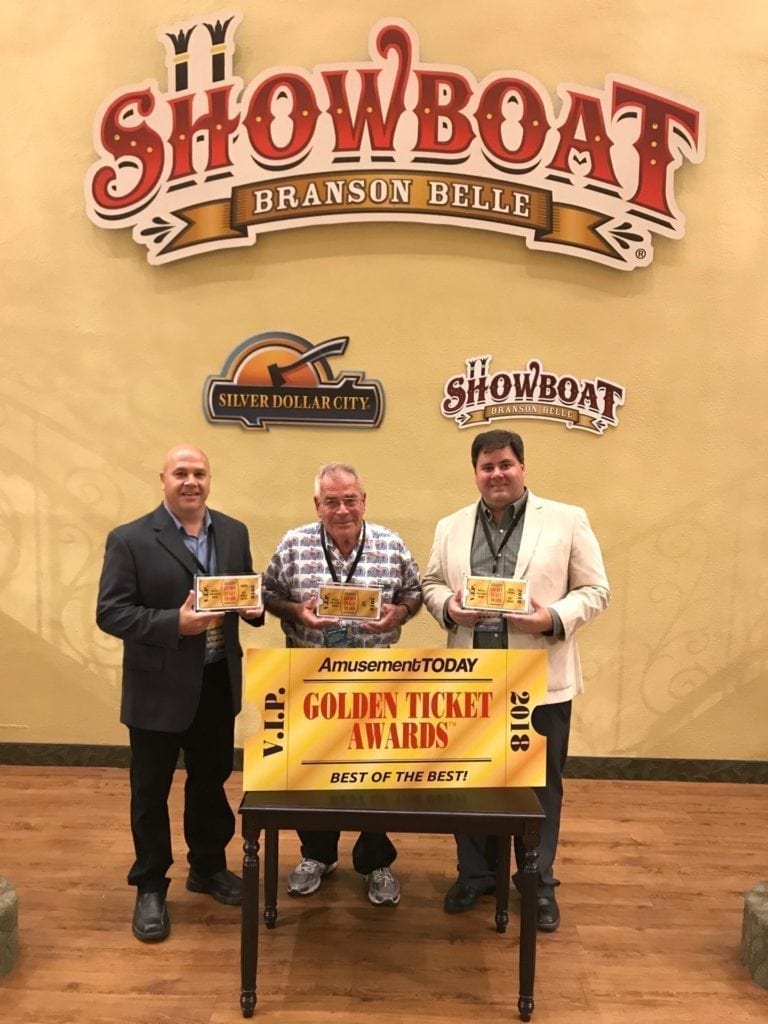 "It is encouraging to see a family-owned business make such an impact on the amusement industry," said Tim Baldwin, Golden Ticket Awards Communications Coordinator, Amusement Today. "Even against global competition, Knoebels was a finalist in eight categories. No other park topped that. Plus the fact they took home three Golden Ticket Awards — that's amazing! It's very indicative of the commitment and passion the people behind this park have."
Phoenix opened to the public on June 15, 1985, and has been a guest favorite ever since. The name, "Phoenix," is ever so fitting, considering the ride was reborn like the mythical bird that rose from its ashes. The coaster's appearance may be unassuming, but its design by Herbert Paul Schmeck has withstood the test of time.
"Phoenix is one of only two wooden coasters that have made the Top Ten list for all 21 years. That's an incredible accomplishment," said Baldwin. "To see it finally rate as the No. 1 coaster this year has been astounding. The park maintains — and loves! — that coaster. It is the quintessential wooden coaster experience."
From Amusement Today: "Coaster fans have kept things fluid in the Golden Ticket Awards. During this past decade, all four of the Nos. 1 – 4 wooden coasters have held the top spot at one point. Jockeying for position appears to be the rule of thumb. For 2018, the venerable Phoenix has finally taken top spot for the BEST WOODEN COASTER Golden Ticket. A success story since 1985, Phoenix was a triumph of preservation when Dick Knoebel of Knoebels Amusement Resort rescued The Rocket after Playland Park in San Antonio, Texas, locked its gates for good. Paying no attention to naysayers who said the move shouldn't be done, Knoebel resurrected the ride and made it better than ever. "Knoebels needed Rocket just as badly as Rocket needed a new home," said Knoebel. "We looked on with excitement as Rocket began to rise as Phoenix, still not fully realizing what this coaster would mean to us and generations of park guests. The happiness it brings makes it seem as if it's doing what it can to repay us for providing a second chance to thrill riders. "Phoenix isn't the tallest, fastest or longest roller coaster, but it sure does have heart. We're ecstatic knowing riders love Phoenix every bit as much as we do. Thanks to that love, a design that can withstand the test of time and our team's meticulous care of the coaster, Phoenix has risen to the top, and my heart is happy."
"What it went through to stay alive is pretty amazing," said Tom Rebbie, president of Philadelphia Toboggan Coasters, Inc. "To go from a closed park to a world-recognized park is remarkable. The Knoebel family takes care of it and keeps the nostalgia part of it alive. Phoenix is just a great ride that everyone in the family can go on." The BEST WOODEN COASTER category has had more winners than any other recurring category. Phoenix is the seventh ride to hold the title.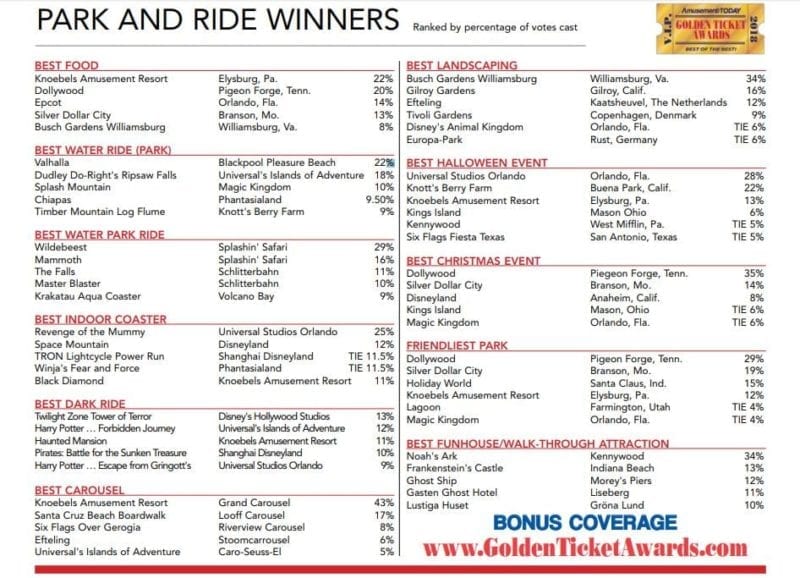 To provide perspective as to Knoebels' competition in the Golden Ticket Awards, Knoebels' Haunted Mansion, which opened in 1973, was trumped only by Twilight Zone Tower of Terror at Disney's Hollywood Studios and Harry Potter and the Forbidden Journey at Universal's Islands of Adventure. To earn the distinction of "Best Food," Knoebels beat out Dollywood in Tennessee, Epcot in Florida, Silver Dollar City in Missouri, and Busch Gardens in Williamsburg, VA.
Amusement Today newspaper was founded in 1997 and covers international amusement and water park news and trends. To view past results, please visit: www.goldenticketawards.com. To find information on Amusement Today, visit: www.amusementtoday.com.
About Knoebels: Knoebels Amusement Resort, which has been family owned and operated since its start over 90 years ago, is America's largest free-admission amusement park and offers free parking, entertainment and picnic facilities. While at the park, enjoy over 60 rides, award winning food, swimming at Crystal Pool, challenging games, gift shops, and Knoebels Three Ponds Golf Club, then stay overnight at one of two campgrounds. For more information, visit www.knoebels.com.