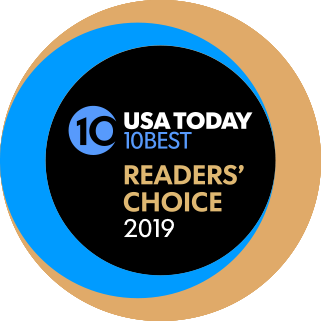 Knoebels is back in the spotlight for USA Today's 2019 10 Best Reader's Choice Awards.  The popular local attraction has garnered national recognition with several nominations in this year's Theme Parks/Waterparks voting categories. Knoebels is a top 20 nominee for "Best Roller Coaster" in the country, "Best Amusement Park Restaurant" in the country, and "Best Amusement Park" in the country. After voting concludes on Monday, June 17th, the top 10 list will be announced and the overall winner will be crowned in each category.
Knoebels faces tough competition from the various Disney parks, Dollywood, Busch Gardens, and Six Flags, among others in each category.
Latest leaderboard standings have shown Knoebels Amusement Resort to be ranking #3 in Best Amusement Park, #14 in Best Roller Coaster, and #4 in Best Amusement Park Restaurant. Individuals interested in voting for Knoebels may do so by visiting the links for each category above.  One vote per person daily in each category will be accepted. Category winners will be announced on June 28th.