by: Dave Ruckle
Additional thanks to BJ Teichman, current airport coordinator
The birth of the Bloomsburg airport, like so many innovations in the 1920s, was born out of necessity. Even though no airport existed in Bloomsburg at the time, the first commercial flight for business purposes here was made on March 17, 1929 when two Philadelphia carpet designers landed in a farm field to meet with executives from the Magee Carpet Company. After concluding business, the pair were back in the air for a one-hour flight home to Philly. Clearly, a transaction that could have taken days was accomplished within a few hours thanks to aviation. It was obvious to an enterprising Harry Magee that an airport would be an economic benefit to the town of Bloomsburg.
In the 89 years since, the Bloomsburg airport has proven time and again to be an asset not just to the town but to communities far and wide as well as the nation. Since space does not allow for a detailed accounting of all the historical facts about the airport, this brief review will highlight the most significant historical points.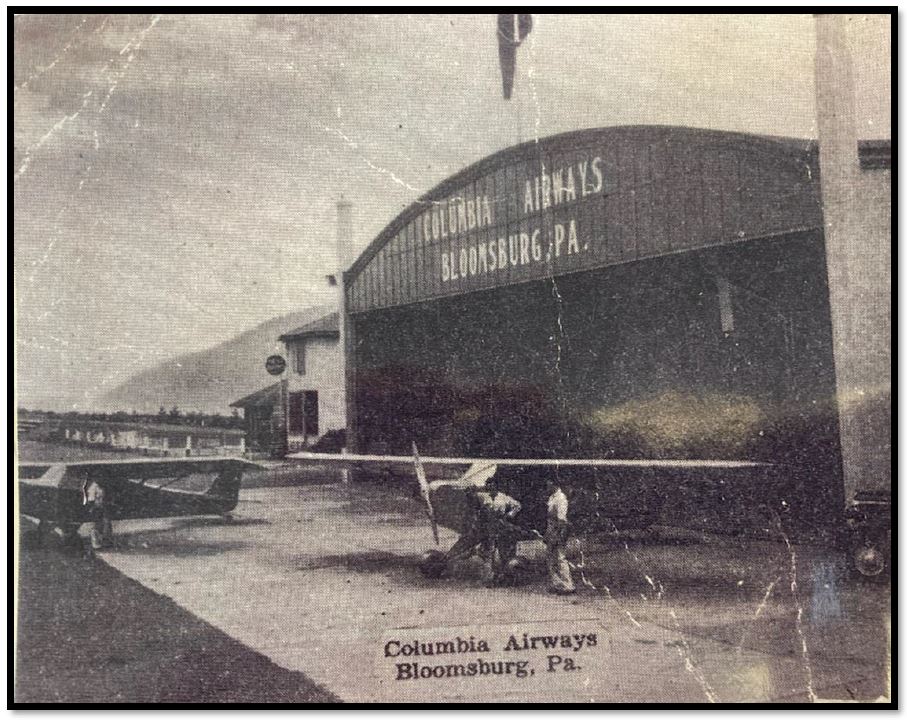 The Golden Age of Aviation
The Golden Age of Aviation is predominantly ear marked by the transatlantic flight of Charles Lindberg and the historical aviation feats of Amelia Earhart.
In the fall of 1929, like-minded, aviation proponents like Harry Magee began developing plans to construct an airport in Bloomsburg. By the summer of 1931, after making extensive test landings, Magee formed the Bloomsburg Flying Club along with seven other prominent, aviation enthusiasts, mostly members of the Rotary Club. These two organizations along with the support of the Morning Press (today's Press-Enterprise newspaper) led the drive to build an airport.
The Bloomsburg airport, at its present location, opened in April 1932. More than 6,000 enthusiastic, aviation-minded and curious spectators toured the new airport during its first week of operation. For a dollar, the Bloomsburg Flying Club treated hundreds of first-time flyers to sightseeing rides; weekend spectators were captivated watching parachute jumping and airplanes making continuous daylong take offs and landings.
Charter flights were also available to nearby cities, such as Philadelphia, Wilkes-Barre and Williamsport. The Bloomsburg Flying Club, organized under the name Columbia Airways, began expanded charter service to New York City and Pittsburgh in 1934.
In 1937, Harry Magee was appointed by Governor George H. Earl III to the newly formed State Aviation Council. Sadly, in 1938, Magee closed the airport, sighting the increasing competition from municipally owned airfields whose operating expenses, especially insurance costs, were much lower than for a privately owned airport like Bloomsburg. Town council president, Nathan Krauss, not wanting to see the airport shut down, officially declared the town's interest in retaining the airport.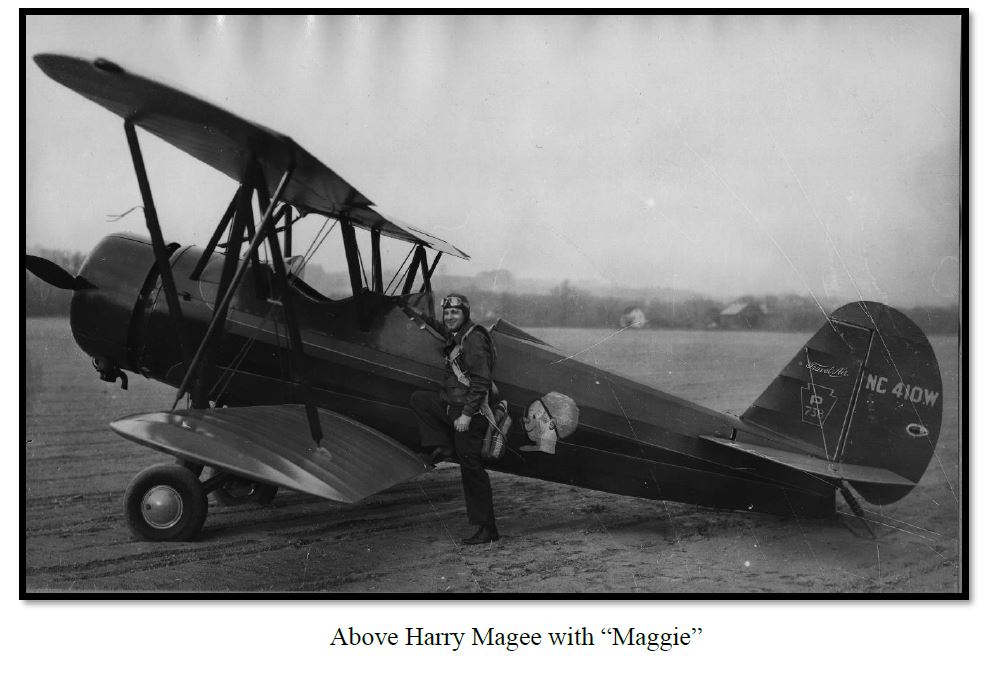 The War Years
At the same time, Harvey Andruss of Bloomsburg State Teachers College, sensing that war was on the horizon, organized the Civil Aeronautics Authority's Civilian Pilot Training Program (CPT) as part of the school's curriculum. Working with Magee and the college, the Town Council entered an agreement to lease the airport with the option to purchase it at a later date.
Soon after, the town subleased the airport to Sam Bigony. Bigony, along with the State Teachers College, held a CPT contract to train civilians for later placement in navy and army flying programs. Over one hundred students took ground school classes at the college and flight training at the airport.
With the increasing need for more officers and pilots because of World War II, the college initiated two very significant aviation courses; the Navy V-5 which trained over 500 aviation cadets between 1943 and 1944, and the Navy-12 program, which from July 1943 to October 1945, trained more than 500 officer candidates.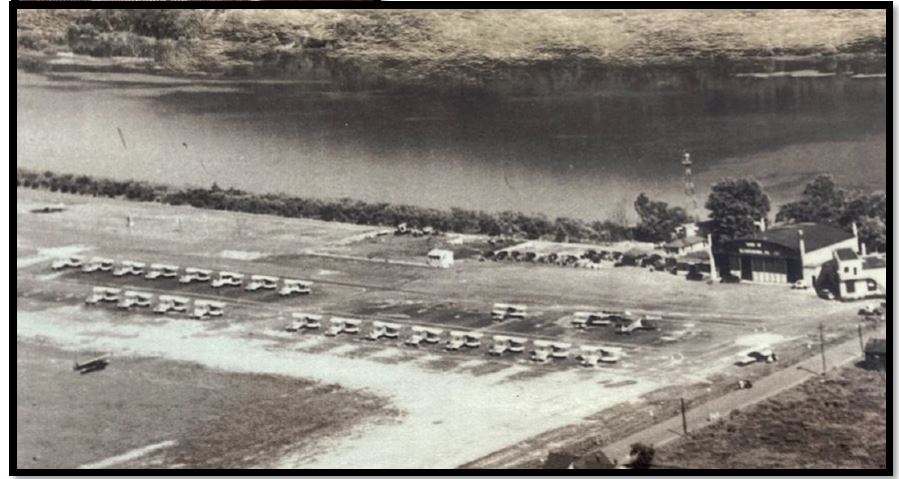 These programs proved vital to Bloomsburg's war time economic health, pumping $2 million a year into the community and helping keep the college open during a time when many colleges were closed for the lack of students.
In 1942, Fred Vietig, an ex-Army Air Corp member becomes owner of Columbia Aircraft Services (CAS), a repair shop that was established in the 30s. CAS also offers charter flights. Vietig became a sales agent for Piper Cub and Republic Seabee Aircraft Company.
World War II in Europe ended on May 7, 1945 with the surrender of Nazi Germany and the next day, May 8, 1945, the town of Bloomsburg purchased the airport from Harry Magee.
During the early post-war years, Andy Perugino, a former Army Air Corp flight instructor, succeeds Howard Ailor to become the new manager at the Bloomsburg airport and continued to promote private, commercial and instrument flight training to countless civilian student pilots under the provisions of the GI Bill.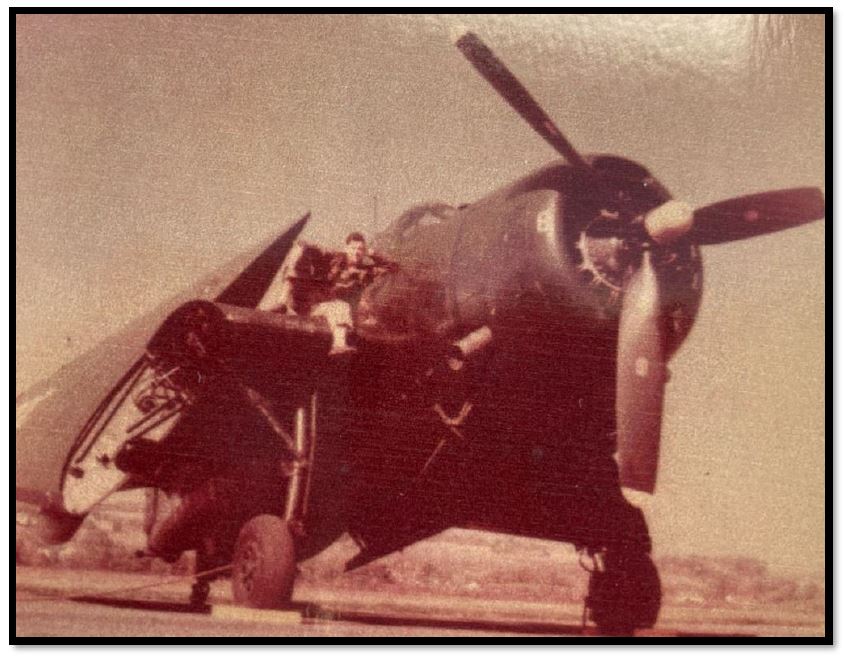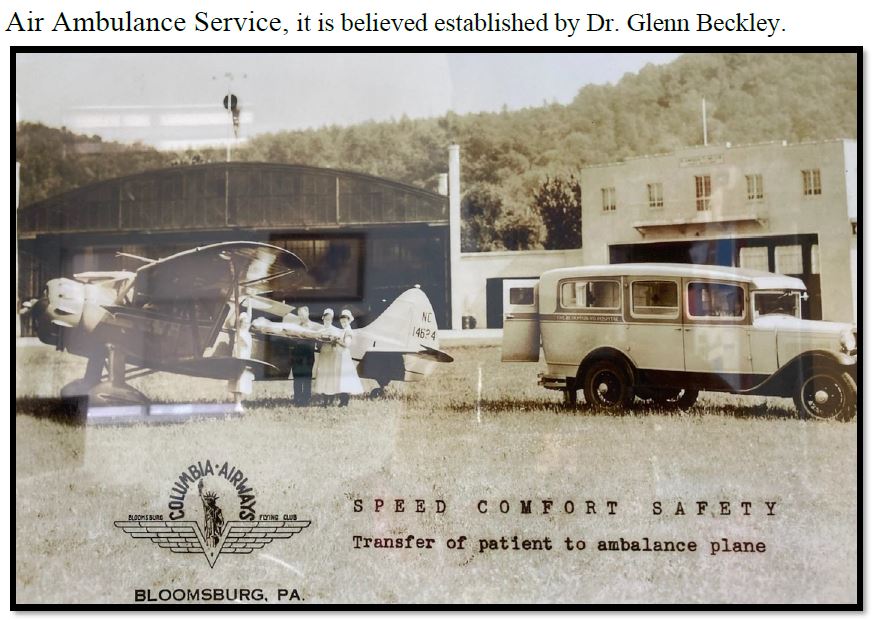 General Aviation Soars Again
Along with an existing Civil Air Patrol squadron, the 9548th. Volunteer Reserve Air Training Squadron was established in Bloomsburg in 1949.
In 1957, the Bloomsburg airport celebrated its twenty-fifth anniversary. The current Bloomsburg Flying Club was founded in 1964 as the Parlor City Flying Club by a group of local gentlemen who wanted to foster an interest in general aviation and make flying affordable. Those first meetings were held nearby at the old Parlor City Café and it became the club's namesake. The original Bloomsburg Flying Club was founded in 1931.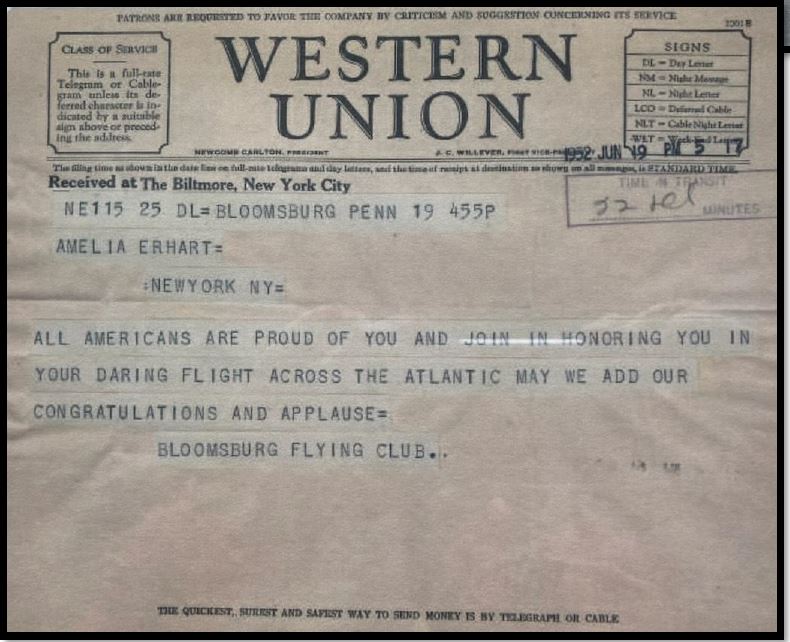 The runway was paved in 1965. Prior to that it was a multi-directional grass strip and in the 1940s the runway was lit with lanterns for night landings.By the 60s, both a need and a desire brought several aircraft owners together to construct a six bay T-hangar just east of the airport terminal building.
Over the years, numerous "Bloomsburg Airport Bums," pilots that earned their wings at the Bloomsburg airport or called N13 home, moved on to become professional pilots. Names that have become almost legendary among the ranks of N13 pilots are Bruce Beckner who flew for Northwest Airlines, Orey Garin a WWII pilot that flew for American Airlines, Jim McCutchin, a corporate pilot for Loomis Insurance Company, Lou Defacio with Continental Airlines, Dave Briner a pilot for U.S. Airways, Rich Laubach who flew for NetJet, and Dick Sharrow, an instructor who long ago lost count of the hours he has flown and the number of pilots he taught to fly.
On average, per year, from 1966 through 1983, Columbia Aircraft Services overhauled 150 GO-480 engines used by the U.S. Army in Queen Airs, Helo Curriers, Twin Beechcraft and Bonanza D-50s. In that same 17- year period, CAS employed 22 personnel, working a two-shift day.
Columbia Aircraft Services also had contracts with Lycoming and Continental Engine Companies, overhauling alternators, magnetos and carburetors, averaging 150 starters per month. Through the 1960s and 70s, CAS also had civilian contracts, overhauling engines for companies like Henry Webber Aviation, Mid-West Aircraft Company in Ohio, Dulles Aviation in Washington D.C., Ag-Rotors and Helicopter Aviators and Middlesex Helicopter Company of New Jersey.
The Bloomsburg airport was also a Seaplane base until 1972. Planes would land on the Susquehanna River and tie-up at mooring alongside the concrete boat house, built by Harry Magee in 1932 that still stands today.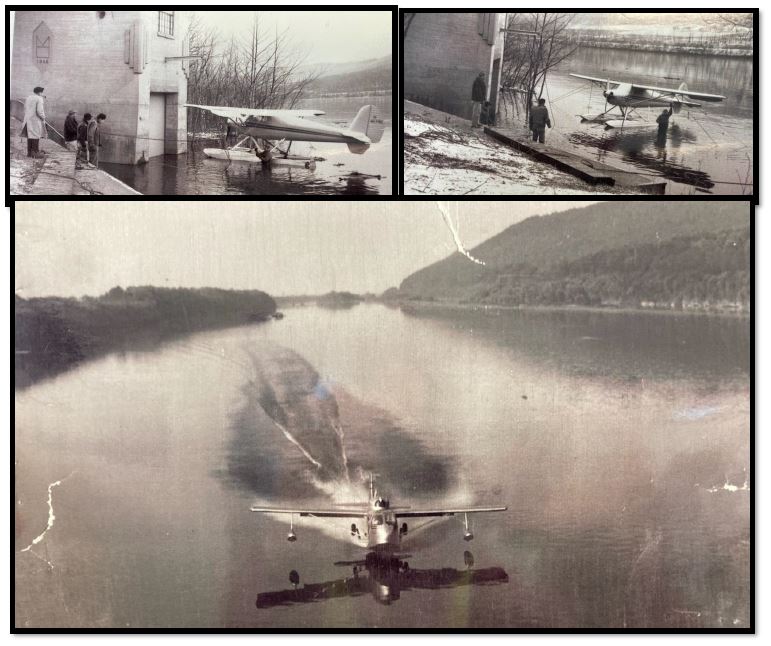 During the Agnes Flood in 1972, 52 Army engine containers washed downstream. The farthest made it to the Chesapeake Bay, meaning it went over the Conawingo Damn. Columbia Aircraft recovered every container.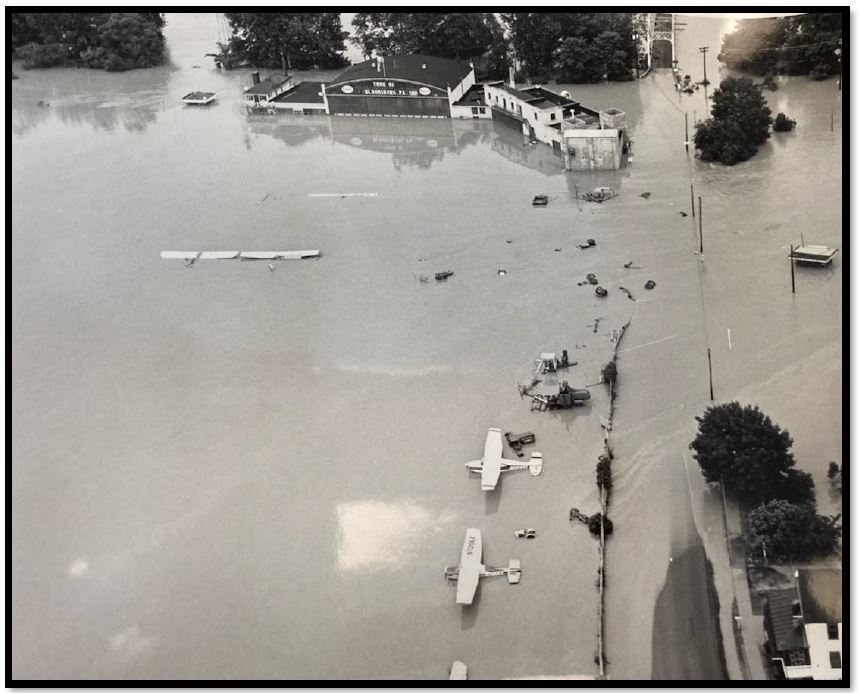 On the subject of floods, there have been a total of 28 floods in Bloomsburg since records started in 1850. Since the Bloomsburg airport opened in 1932 there have been 23 in excess of flood stage at 19 feet. The first one to affect the airport was March 20, 1936 at 27.8 feet. The most severe occurred on June 5, 1972 (31.2'); June 28, 2006 (28.64') and September 9, 2011 (32.75') respectively. Most floods were considered minor or moderate with many not affecting the airport operations.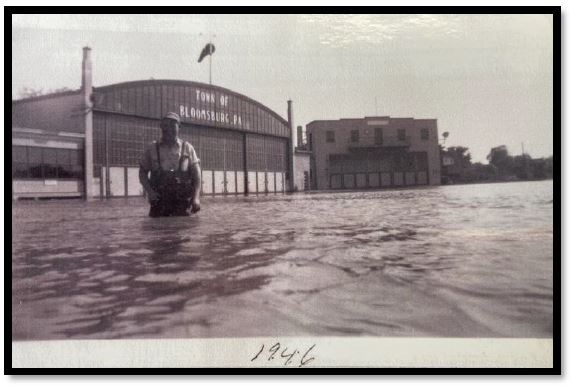 Columbia Aircraft Services Shines
In 1978, Mobil Oil Company selected Columbia Aircraft Service's engine test cell to perform a required 500-hour continuous engine run for the approval of one of its engine oils used in airplanes. Columbia is only one of a handful of approved engine repair stations on the east coast that has an FAA approved aircraft engine test cell.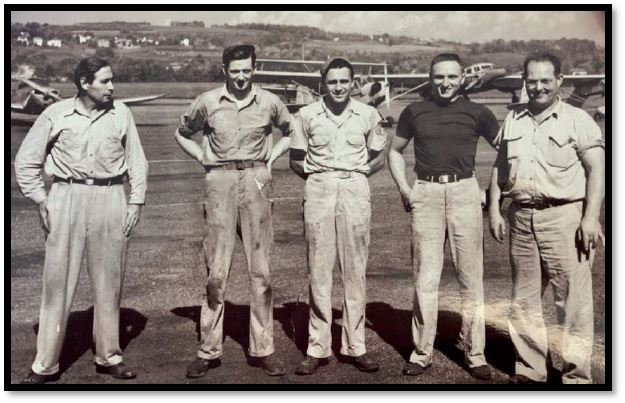 Bill Bartsler, who started working at Columbia Aircraft Services at age 16 in 1949, took over ownership in 1979, retiring in 1991. Shirley Brobst, who started working at a Columbia Aircraft as a secretary in June of 1966, and Scott Smith, who started as an aircraft mechanic in January 1967, takes over as co-owners in 1991. With the retirement of Scott Smith in 2008, Karl George partners with Shirley Brobst as co-owner of Columbia Aircraft. Then in April 2013 George and Brobst sell their interest in CAS to Kelly Green.
October 2015 saw a major overhauling of the Columbia Aircraft facilities from the maintenance shops to a completely remodeled office complex. Today, Columbia Aircraft Services is a global entity, receiving and shipping engines and magnetos from as far away as Germany, England, Italy, Norway, South and Central Americas, Africa, Thailand (Royal Air Force) and Mexico.
Convenient to Bloomsburg University, an unknown number of parents over the years have utilized the airport to bring and pick up their sons and daughters who are students at the school. Over the years, the Bloomsburg Fair has also benefited from the airport as numerous high-profile entertainers took advantage of flying into town to perform at the annual event. Some of the performers included Roy Clark, Pat Benatar, Mickey Gilley, John Denver, Sawyer Brown and bands Alabama and Chicago. Other notables that have traveled to the Bloomsburg airport include former Congressman Dan Flood, Senator John Heinz and golf legend Arnold Palmer.
Once again, the increased business use of the Bloomsburg airport created a demand for corporate hangar space. Addressing the need in 1987, Gary Hock, once local owner of Hock Construction Company and a corporate jet, erected "Big Blue," a two-story business hangar equipped with an office, second story storage space, restroom and kitchen.
Soon after Big Blue, Stanley Oberender built a scaled down corporate hangar for his business use Bonanza. This hangar was later acquired by Sunny Hills Farms for its plane. And, although he recently sold his RV 8, Chris Mazzitti still hangars a meticulously maintain Cessna 140 in this eastern most building at the airport.
As Harry Magee imagined long ago, many companies both local and nationwide have benefited from the Bloomsburg airport. Here's just a short list of those that have used N13 over nearly nine decades: Region Oil Company, Royal Swan Foods, Catawissa Lumber Company, JDK Management, Gary Hock Construction, Kama Corporation, Labar Trucking, Bercon Industries of Berwick, Custom Air Charters, A-1 Air Services, Rovac Pump Company, Multi Engine Charter Services, Orangeville Manufacturing, Alaska Wood Stoves Company, Laubach Trucking Company, Ray Hoffman Charter Services, Wise Potato Chips, Hayes, Large, Suckling, Fruth and Wedge Architects, Howard Eckhart Insurance Company, Inducto-Therm, Eyeland and Associates, Pennsylvania State Police, Kimball & Associates, Kawneer, Geisinger Medical Center, Helicopter Applicators, Golden Aviation, Penn Aviation, Triple-F Agricultural Spray Applicators, Emery & Associates, Commercial Construction, Sunny Hill Farms, Hilltop Services, Ag-Rotors Aerial Power Line Inspectors, JLink, Lincoln Investment Planning, Chris Cross Crusades, Paws and Pilots, Press Enterprise, Resilite, Complete Control Systems, Wonderview Water and Sewer Company, Delta Consultants, and Angel Flights.
The summer of 2006 saw a presentation made at the Bloomsburg airport of the most prestigious award the FAA issues to a private pilot, the Wright Brothers Master Pilot Award. Donald Brink qualified having over 50 years as a certified pilot recognized for exhibiting professionalism, skill and aviation expertise piloting aircraft.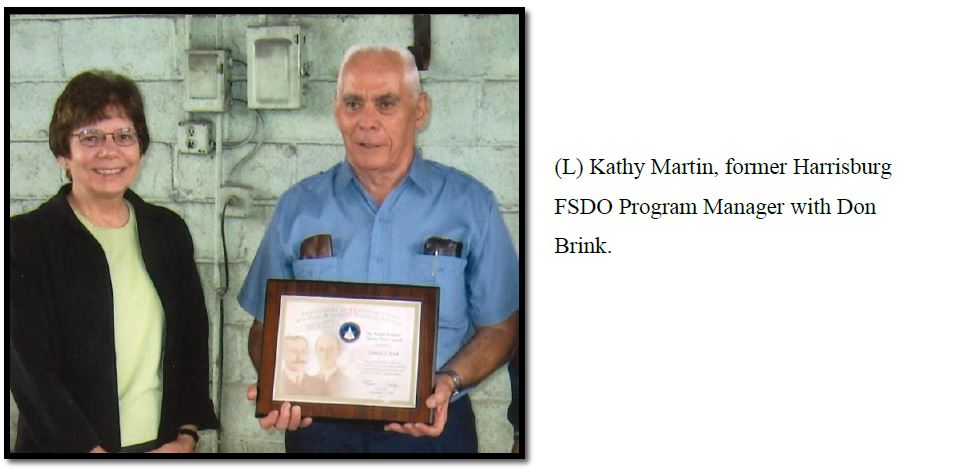 In July 2007, to mark the 75th anniversary of the Bloomsburg airport, Pennsylvania Senator John Gordner and State Representative David Millard each presented from their respective governing body citations to earmark the milestone. On August 6, 2008, Joe Reilly, owner and president of WHLM radio conducted his station's first ever live broadcast from a Cessna 172 Skyhawk. Billed as "On the air in the Air," Joe teamed up with Golden Aviation instructor Dick Sharrow on a sightseeing tour of Bloomsburg and the immediate area from 3,000 feet. At one-point Joe proclaimed, "Bloomsburg can boast of having the Bloomsburg Fair, the Bloomsburg Theatre Ensemble, Bloomsburg University and a Norman Rockwell downtown, but let's add to that list the Bloomsburg airport, rich in history and community potential."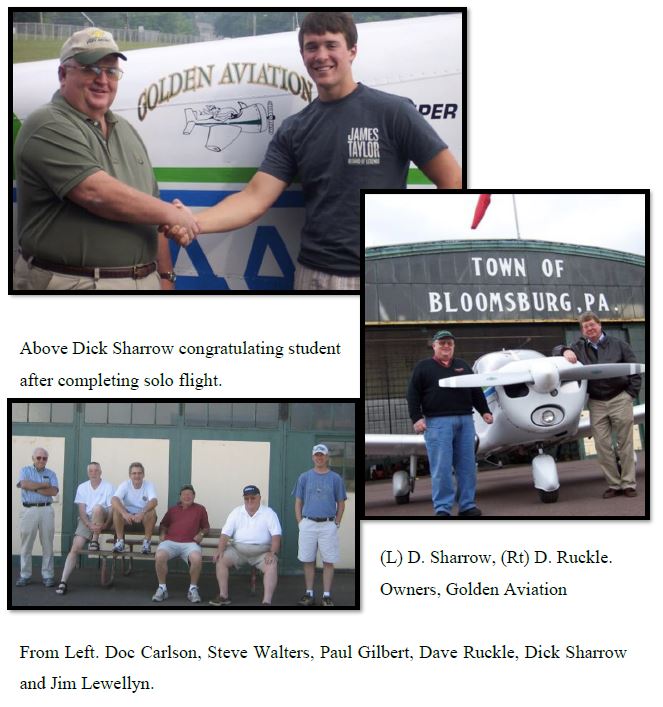 Prosperity at the Airport
As activity and the number of planes at N13 continued to grow, the demand for hangar space remained strong too. To answer the call, John Yohey and Dave Ruckle teamed up in the summer of 2008 to construct a 10- bay hangar with individually partitioned units complete with concrete floors throughout, electric hoist bi-fold doors, interior and exterior lighting and multiple outdoor water faucets. It also included a heated and completely finished pilot lounge. Father and son, Roland and Ryan Sharrow of R.L. Sharrow & Associates constructed the new, fully equipped facility.
The long-awaited re-alignment and lengthening of the runway was completed in 2013. Going from 2,800 to 3,200 feet x 60 ft., the runway elevation was also increased to be above flood level and the headings were changed from 8 and 26 to 9 and 27.
For many years, in addition to operating an aircraft engine repair shop, Columbia Aircraft Services also served as the FBO for the Bloomsburg airport. It was decided, however, following the 2011 flood and the renegotiation of their lease with the town, CAS wanted to focus more on their business. On October 4, 2016, BJ Teichman was named the town's first official Airport Coordinator at N13.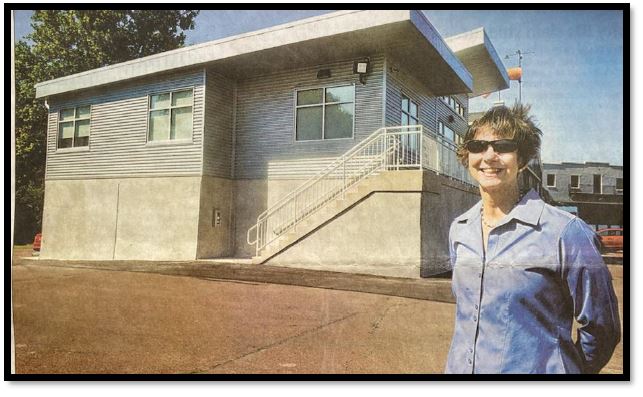 After years of repeated flood damage and deterioration, the old airport terminal building was demolished and replaced with a modern building constructed well above the highest flood levels. It opened on November 21, 2016 featuring a pilot's lounge for flight planning, simulator room, kitchenette, and conference room complete with built in projector and WiFi. Frequently the conference room is rented by businesses and community organizations. With 6 movable tables, the room can be arranged in any fashion to meet the needs of its guests.
On December 5, 2018, BJ Teichman was appointed by Pennsylvania Governor Tom Wolf to serve a three-year term on the State Aviation Advisory Board. That same year, BJ was appointed to the Board of Directors for the State Aviation Council of Pennsylvania. And, in October 2019, she joined the Columbia County Emergency Management Committee where she drafted the first emergency response plan specifically for the Bloomsburg airport.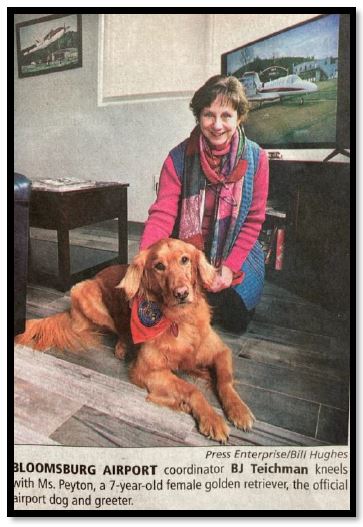 In addition to her unwavering drive to make Bloomsburg the best general aviation airport in Pennsylvania, BJ introduced everyone to Ms. Peyton, a friendly, tail-wagging Golden Retriever that quickly became known as the airport's first official greeter. In just four short years on the job, BJ built a team of equally enthusiastic aviators and airport supporters that has shined an aviation spotlight on the Bloomsburg airport. Here is a partial list of those achievements:
Teams up annually with the FAA to schedule and conduct FAAST Team workshops and safety seminars at the airport that qualify for insurance credits with the Wings Program. BJ and N13 become an FAA Service Provider.
Coordinates the annual Dream Machine car show at the Bloomsburg airport held each year on the second Sunday in June.
Facilitates the annual Community Day event conducted at the airport co-sponsored with the Scouts of America.
Started the first monthly newsletter to post and promote airport events. Circulation reaches over 900 subscribers in multiple states as well as throughout the region.
N13 hosts the increasingly popular annual Chili Cook Off, with an open invitation to enter the contest and for the public and pilots throughout the region to fly-in or drive-in and judge each year's entries.
May 2018 – The airport obtained its first courtesy car thanks to the generosity of Dan Broadt and the Bloom Flyers.
Negotiated with the town to relocate the Bloom Fliers Red Bird TD-2 Flight Simulator in the Terminal Building to enhance the group's membership and simulator usage.
Instrumental in getting Civil Air Patrol Squadron #522 re-established at the Bloomsburg airport where they have already received the Outstanding Achievement in promoting Aerospace Education, the PA Wing Phoenix Award in 2020 and the Outstanding Achievement and Service Award for a PA Wing.
Co-facilitated establishing both an Aviation Explorer Post with George Dalius and a new EAA Chapter 1641 with Dr. Phil Polstra, at N13 in 2018 and 2019, respectively. EAA Chapter 1641 received it's 501C# status enabling it to establish scholarships for young aviation enthusiasts.
Spearheaded outreach education hosting numerous field trips at N13 and attending Career Fairs at multiple School Campuses. Partnered with Dr. Kim Bolig at Bloomsburg University to host STEM programs for both teachers and students. BJ supervises summer interns and accepts work study students for class credit.
Continuously communicates via NOTAMs and emails with the aviation community about conditions and situations at the airport to ensure the safe operation of the facility. Has given multiple presentations locally and statewide promoting N13.
Provides the critical coordination of Avgas purchases, deliveries and the continuous monitoring of its quality as evidenced by becoming a Branded Phillips 66 customer for everyone based at N13 as well as all transient pilots. In addition to becoming a Branded Phillips 66 customer, for the first time, credit cards are now accepted for fuel and other airport related fees.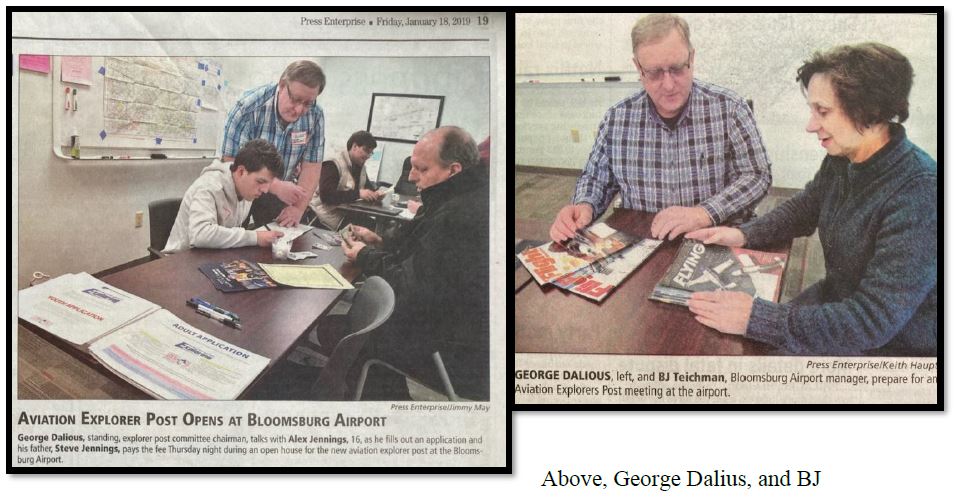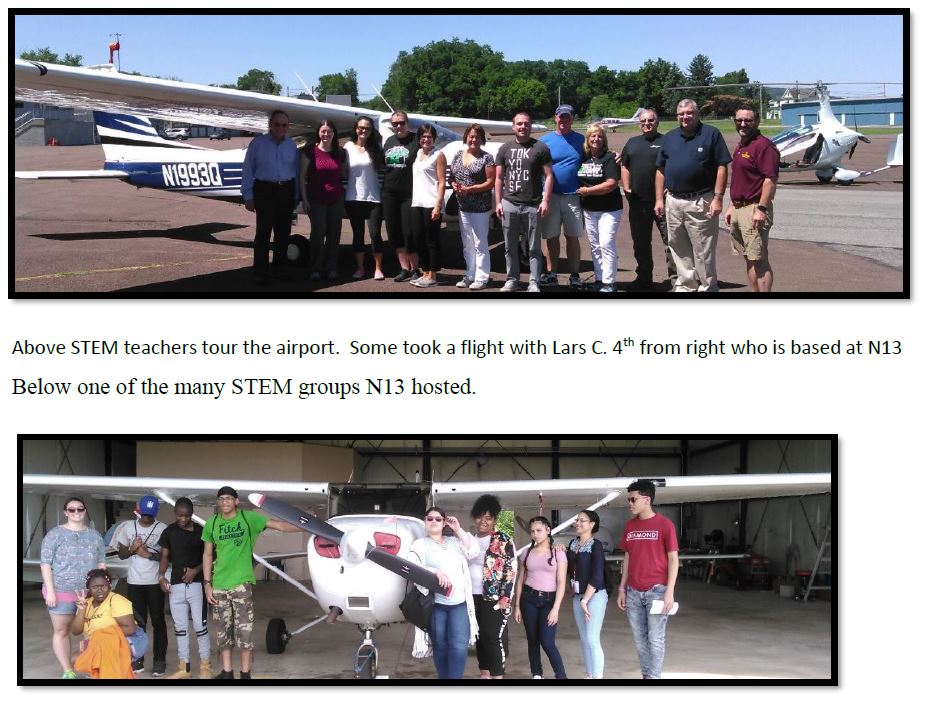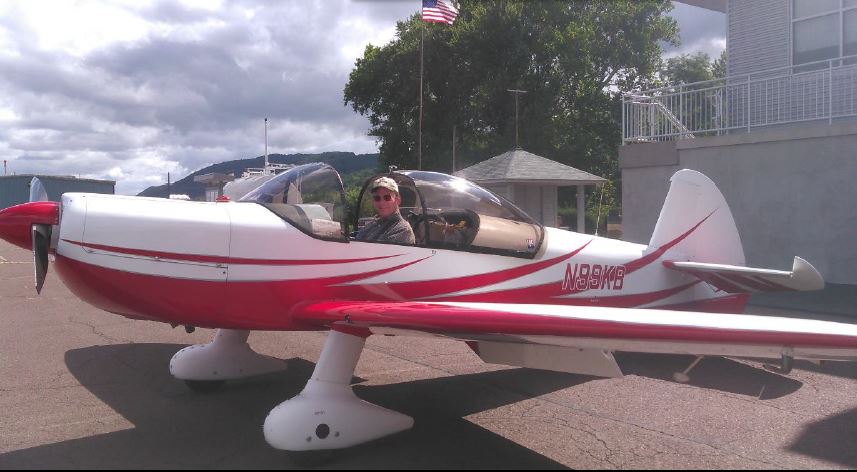 The Recent Years
A sure sign that airport activity is thriving is the participation of its pilot population in attending fly outs and the fly-in events they host. The 2000s saw a hectic schedule of annual fly-ins at Bloomsburg. Although the griddles were well manned at all times, the head pancake flippers were the father/son combo of Stan and Ty Williams. Equally notable, most all fly-outs were commanded by Colonel Denny Stahl, a rank given him for the take charge skills he exhibited.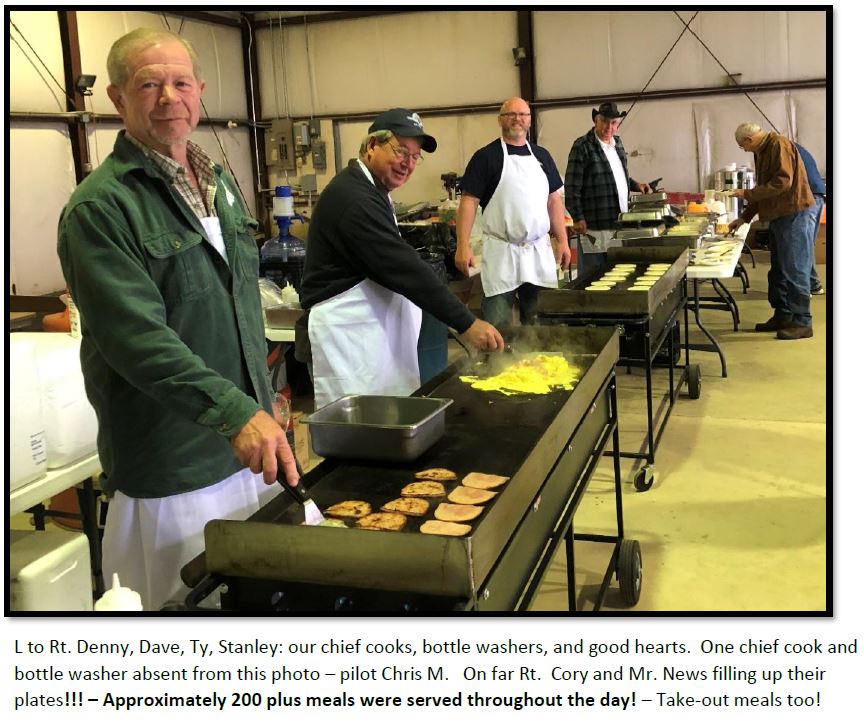 2016 brought the first Gyro-copter to N13 – 914RB owned by Ron Andress. Ron has graciously given countless pro-bono rides, always culminating in a completely satisfied customer. He averages about 300 hours of flight time annually.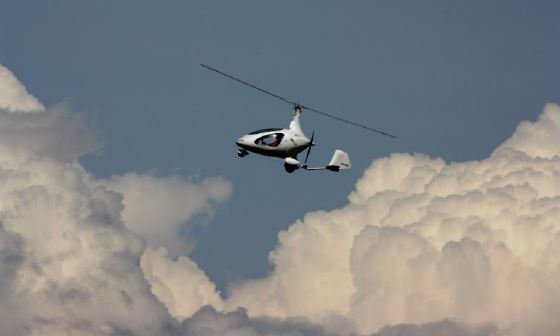 2017 Brought one of our first celebrity flight students, 11-year NASA veteran mechanical engineer Ms. Grier Wilt. One of Grier's many responsibilities at NASA was preparing astronauts to safely perform their spacewalks by instructing them in the buoyancy lab. Grier completed her private pilot in 20 days! – then she went on to become the Deputy Director of NASA Space program in Star City Russia. She remains a member of the Bloomsburg Flying Club and the airport is always happy to see her when she returns home for a visit.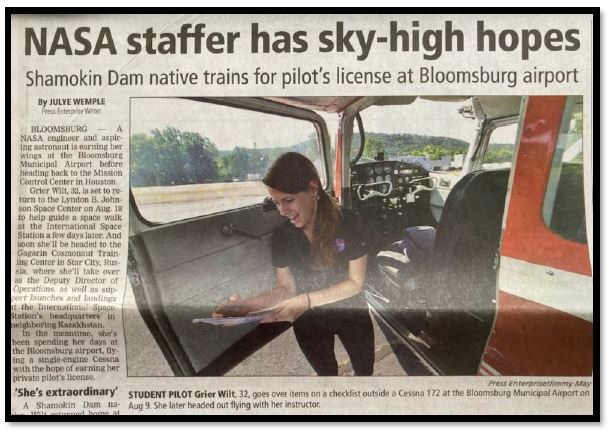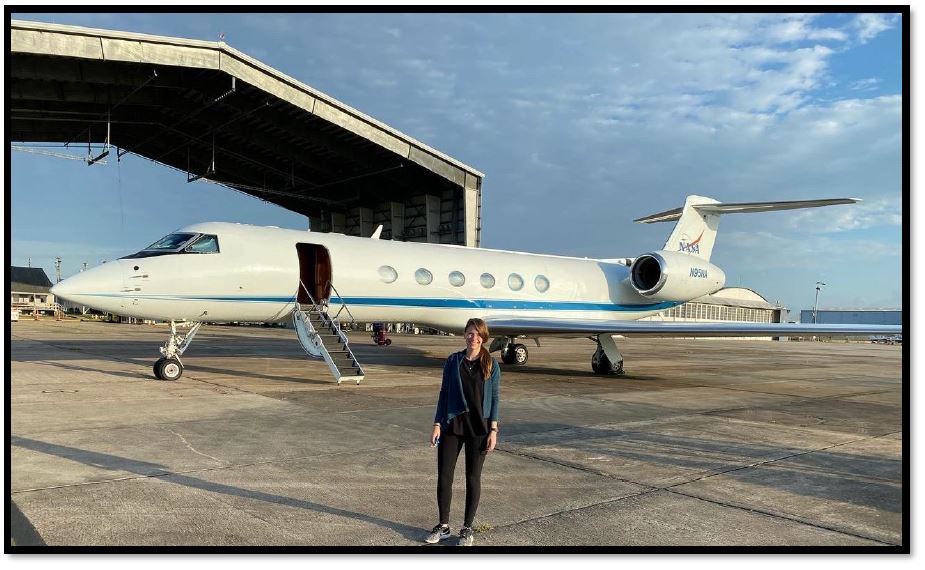 Supporting the tremendous interest in learning to fly is a host of flight instructors at the Bloomsburg airport, including Rob Staib, CFII; Hans Lawrence, CFII/ MEI/ RI; Eric Cipcic, CFI and Phil Polstra CFII, recipient on March 19, 2019 of the "2019 Flight Instructor of the Year Award" for the FAA Harrisburg District.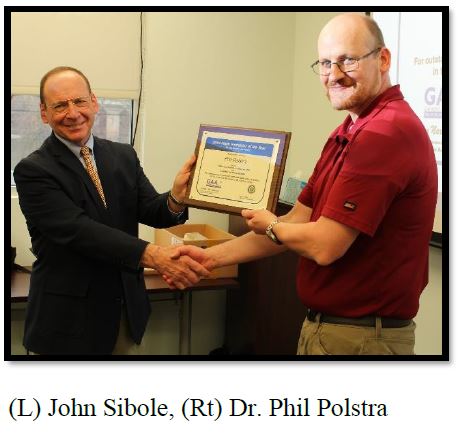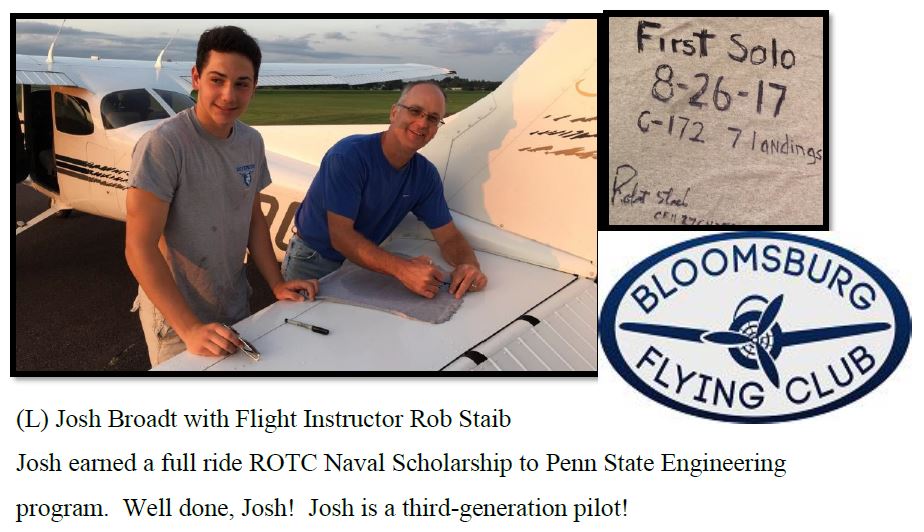 In 2020, thanks to Steve Savage, of Northeastern Technology, WiFi became available in the Town's hangars, making it possible to safely remotely engage the block engine heaters in the winter which saves on electrical costs and is better for the aircraft engines. Thank you, Steve!
Throughout the spring and summer of 2020, a much-needed reconstruction of the airport apron was completed.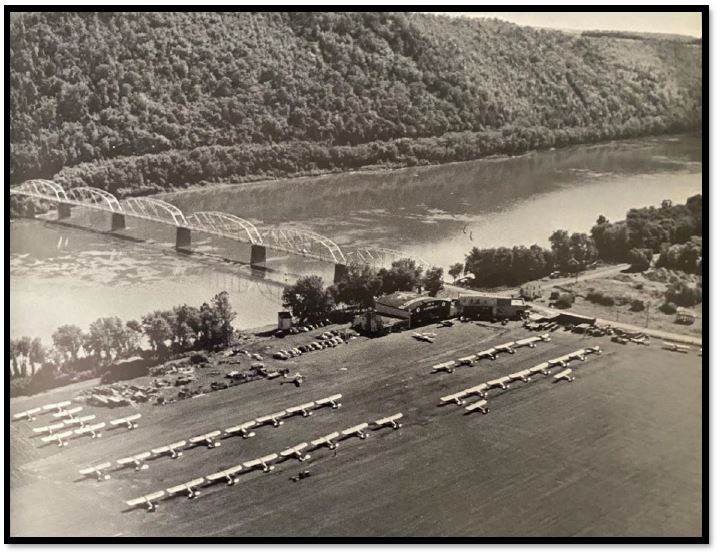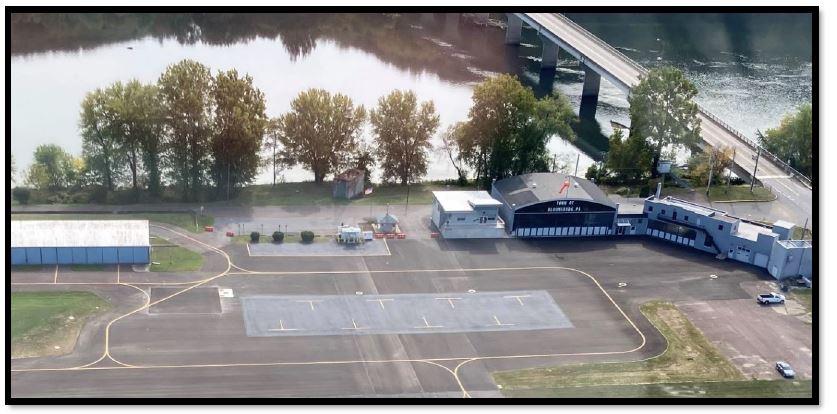 As of January 2021, the Bloomsburg Flying Club is busting at the seams, maxing the number of members allowed by its by-laws with more than a half dozen on its' waiting list. That's not a bad thing. It's just an indicator that aviation is alive and well at the Bloomsburg airport. Even during a period when Covid-19 has brought a lot of activities to a near screeching halt, between the two club planes, almost 700 hours were logged in 2020.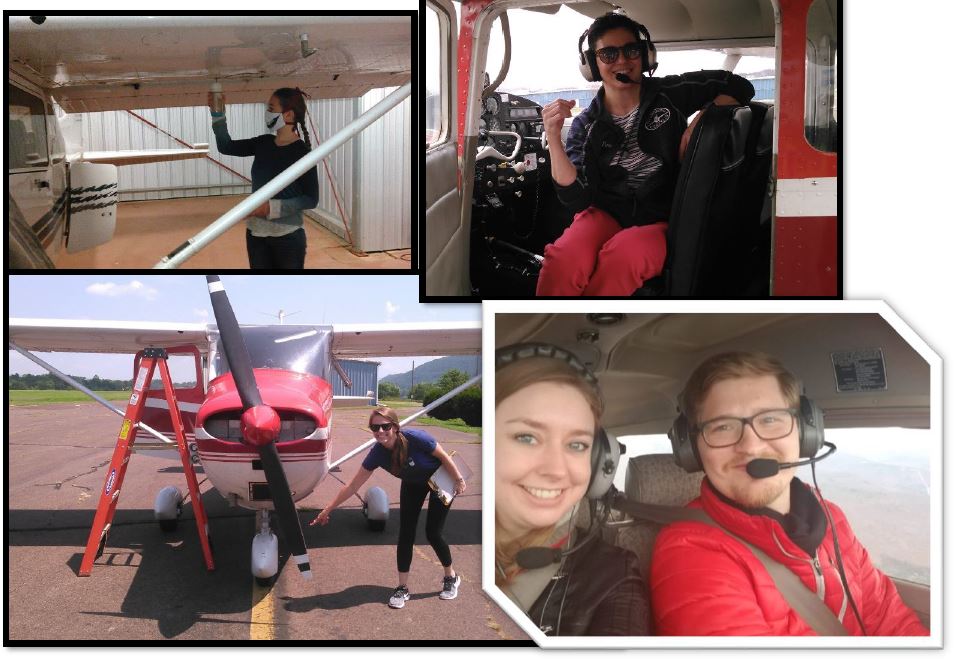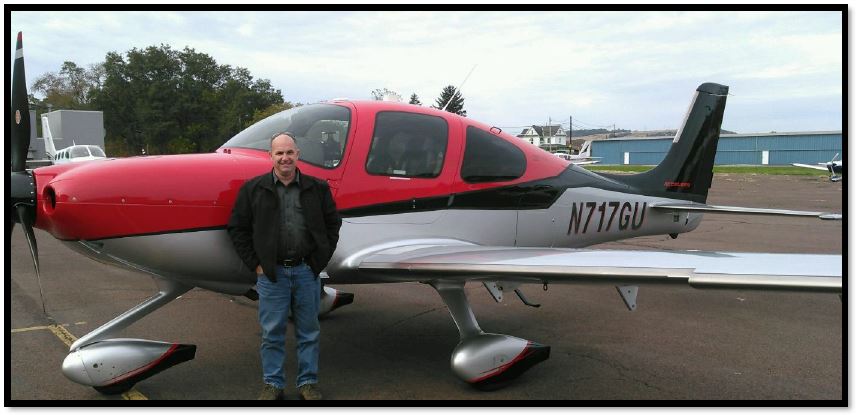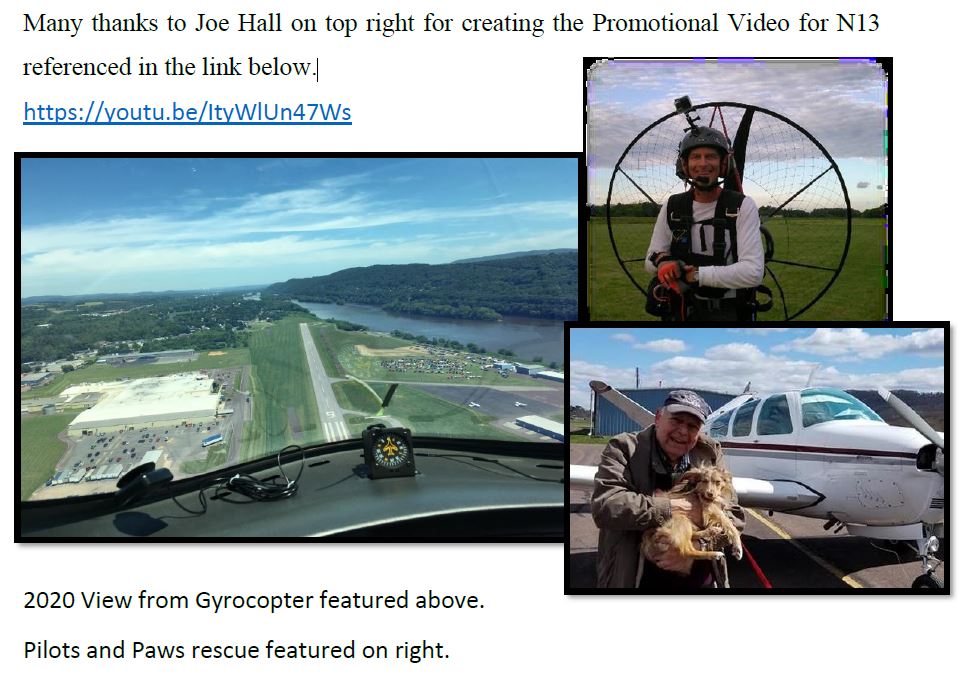 Get in Touch
For more information about the Bloomsburg Flying Club, the Bloomsburg EAA #1641 Chapter, the Bloomsburg Civil Air Patrol Squadron and the Aviation Explorer Post, simply visit the airport's website and click on each organization's sub-tab under the main "About Us" tab.
In the End
Time is like rust, it has a tendency to fade memories, including historical facts unless someone records them and there are people passionate about keeping them alive. The Bloomsburg airport has a rich history that has created a heritage well worth preserving. It's the hope of many today that eighty-nine years from now time has only added more memories and that they, too, will be recorded in some way they can be recalled by those with the same passion for the Bloomsburg airport then that we feel today.
Note from the airport: We would like to acknowledge, and thank, the Press Enterprise Newspaper for granting us permission to use the newspaper photographs which appear in this History of the Bloomsburg airport. We would also like to thank the Enterprise's many skilled photographers and talented journalists who contributed to these photos and articles.
Additional Photos