by Nancy Bishop
You've driven past them hundreds of times, but have you ever really noticed the historical markers that dot the roadways?
Pennsylvania's readily recognizable blue and gold markers highlight significant people, places, and events in the state's and nation's history. Columbia County is home to nine of the markers while Montour County has six.
Did you know, for instance, that typewriter inventor Christopher Sholes, was born in Montour County? His historical marker, located on Liberty Valley Drive (State Rt. 642) just east of Mooresburg Road in the village of Mooresburg, says, "Typewriter inventor, was born near here Feb. 14, 1819. Went to school and worked as a printer at Danville. Migrated to Wisconsin at the age of 20. His first writing machine patent was issued June 23, 1868." Another marker for Sholes is on Northumberland St. (US 11) just west of Continental Blvd. (PA 54) in front of Danville Middle School.
Sholes also gets a mention on the historical marker for Montour County, located in front of the County Courthouse at 29 Mill St. in Danville. The sign reads: "Formed May 3, 1850 from Columbia County. Named for the Indian woman leader, Madame Montour. Site of the first manufacture of iron T-rails for railroads. Inventor of typewriter, Christopher Sholes, born here. County seat, Danville, was incorporated 1849."
And one I pass all the time is at the intersection of Lightstreet Road (PA 487) and Papermill Road by the Columbia-Montour Visitors Bureau's Visitor's Center. Commemorating Fort Wheeler, the sign says: "A stockade-type fort was built here in 1778 along Fishing Creek by Moses Van Campen. It served during the Revolution as a refuge against the Indians, by whom it was once attacked. Van Campen was the noted Indian scout of this region."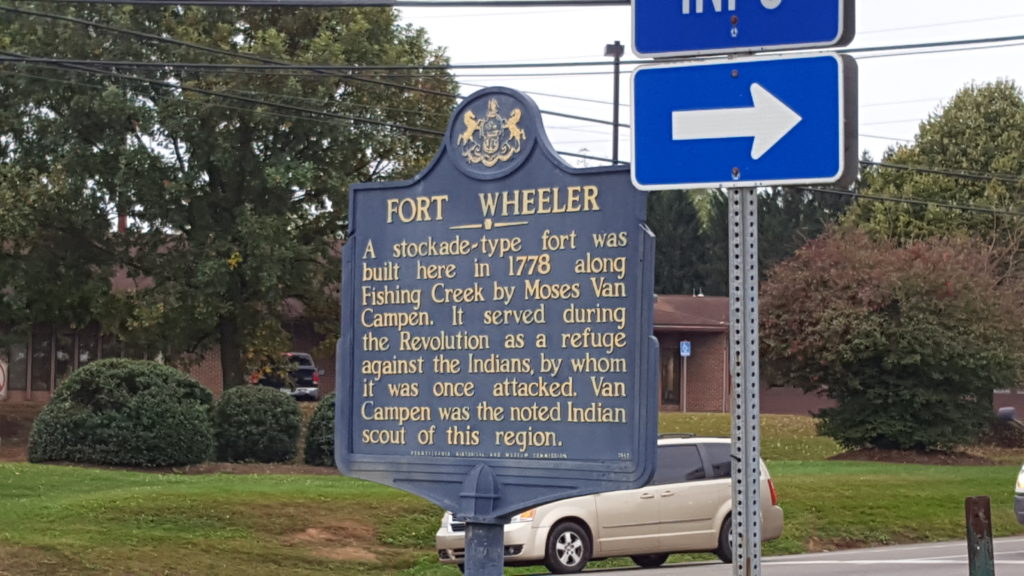 So how did the historical markers come to be in the first place?
An article in the Fall 2014 issue of Pennsylvania Heritage Magazine featuring the 100-year anniversary of the marker program notes that on July 25, 1913 an Act of the General Assembly created the Pennsylvania Historical Commission (PHC), and one of its major responsibilities was to "mark by proper monuments, tablets, or markers, places or buildings within this Commonwealth, where historical events have transpired, and . . . arrange for the care and maintenance for such markers or monuments."
In those early years, the markers were plaques usually fastened to a large rock. But in 1945, the Pennsylvania Historical and Museum Commission (PHMC) formed and a new era began for the historical marker program. The signs were redesigned and now feature gold letters on a blue background topped by the coat of arms of the Commonwealth. They're mounted on metal posts and are easier to read (and find) than the early plaques.
Six of the markers in Columbia County and three of the ones in Montour County were erected in the late 1940s during a period when the PHMC installed 1,000 of the historical markers across Pennsylvania.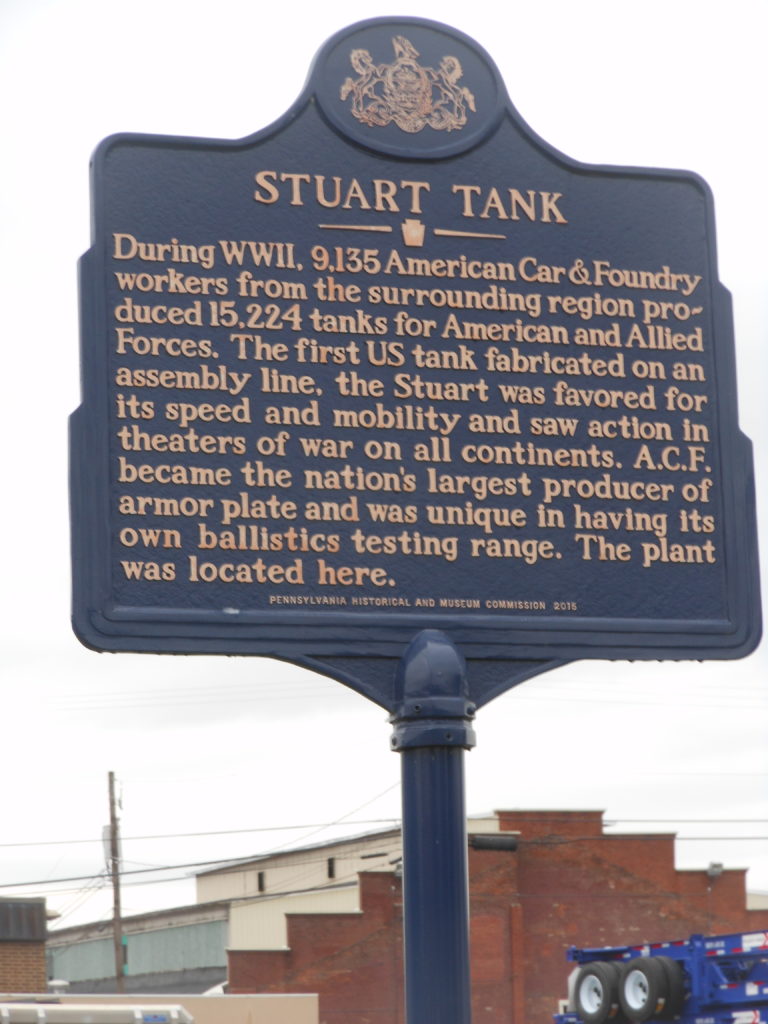 But the marker program is still going on. The most recent marker in this area was dedicated in 2015 in Columbia County to recognize the iconic Stuart Tank. Located at Third and Oak streets in Berwick, the marker reads: "During WWII, 9,135 American Car & Foundry workers from the surrounding region produced 15,224 tanks for American and Allied Forces. The first US tank fabricated on an assembly line, the Stuart was favored for its speed and mobility and saw action in theaters of war on all continents. A.C.F. became the nation's largest producer of armor plate and was unique in having its own ballistics testing range. The plant was located here."
Columbia County also is home to another recent marker, the Fishing Creek Confederacy, added in 2009. That marker, located at 90 Mill St. (PA 487) in Benton, reads: "Alarmed about draft resistance, the federal government deployed 800 troops to the Fishing Creek Valley in August 1864 to suppress the opposition. Peace Democrats suspected of Confederate sympathies were questioned at the Christian church near this site; 44 were arrested and imprisoned at Ft. Mifflin without access to civil courts. While most supported the Union, they disagreed with Pres. Lincoln's wartime policies. In 1866, the US Supreme Court declared military arrest & trial of civilians unconstitutional."
Not only is the historical markers program still going on, but you can nominate a marker subject for consideration by PHMC. The Commission says marker subjects must have statewide and/or national — rather than local or regional — historical significance as well as having a substantial association with Pennsylvania. The Marker Program looks for wide geographic distribution, so individuals and organizations from all 67 counties in the Commonwealth are encouraged to research their history and develop nominations for people, places, events, and innovations in their own area. In fact, the Commission says Columbia and Montour counties are "under-represented" in the program so additional nominations for places in this area are encouraged.
If you want to do a tour of historical markers yourself, check PHMC's website for a statewide database of the markers.
Another great place to begin an online look at the historical markers is the blog "Marker Quest". Laura Klotz, the blogger, has set out to view each marker in the Commonwealth every two weeks. Quite a task, since there are now more than 2,500 according to PHMC.