by Nancy Bishop
Halloween will soon be here. What better time to learn about some of the real-life ghost stories in Columbia and Montour Counties!
Among the most well-known is Katy's Church in Washingtonville, Montour County. According to legend, Katy Vandine is sometimes seen on the grounds of the church or walking beside the road wearing a white dress and crying for the married man who betrayed her by telling people she had bewitched him. Pregnant with the man's child, she decided to spare herself from her broken heart and the community's ostracism, as well as a potential conviction for the crime of witchcraft, by hanging herself in front of the church.
Over at Bloomsburg University, several buildings are said to be haunted, including the Phi Sigma Sigma fraternity house, the Andruss Library and the Haas Center. Students at the Phi Sigma Sigma house report a ghost that messes with the lights, hides things, shakes beds, laughs out loud and even chokes sleeping residents. (Of course, maybe it's just college students who did a little too much partying!)
The Library's ghost is said to appear on the fourth floor asking library visitors to change his diaper. And over in the Haas Center campus legend says a past séance led to a haunting by a deceased dancer called Ned, who sometimes can be heard crying during productions.
Also in Bloomsburg, one of the buildings at the Inn at Turkey Hill is an old farmhouse in which an owner's mother passed away. She's said to wander the place at night, and people report having smelled her perfume. The rocking chair on the porch seemingly moves on its own, too.
And, of course, there has to be a haunted cemetery around! Behind Geisinger Medical Center in Danville is the abandoned Sidler Hill Cemetery. Once part of a Catholic parish, it's on a steep hill behind the water tower. Strange lights have been reported, as well as the voices of adults speaking in their native Welsh and Irish tongues.
Over in Millville, the old Hotel Iola boasts shadowy figures appearing in long black dresses, and faces wearing Victorian-style collars materializing in the mirrors.
Not convinced ghosts are real? Then talk to Evelyn Moore. She and her husband Mark lived for a while in a house near Orangeville in Columbia County that had a lot of ghostly activity. She told me the home, which had been a parsonage for the church next door, got them interested in paranormal activity. One day her husband was sitting on the couch in the living room when he looked up to see half of a person's shadow walk in the front door, look directly at him and then walk around the adjacent rooms before looking at him again.
From time-to-time the Moores also smelled cigarette smoke wafting through the house although they didn't smoke. And once while Evelyn was watching TV late at night, she felt cold breath on her cheek.
Those experiences got Evelyn and Mark interested in finding out more about the area's ghosts. So they started Moore Ghostseekers in 2010. Over the past 10 years, they've been called to many area homes to investigate ghosts.
Evelyn also told me about "orbs" they've seen in various places where they've been investigating ghosts. Orbs are free-floating lights — transparent balls, or globes, of light energy that may be connected to spirits. They can be a variety of shapes, sizes and colors. You can see them in these photos taken by the Moores.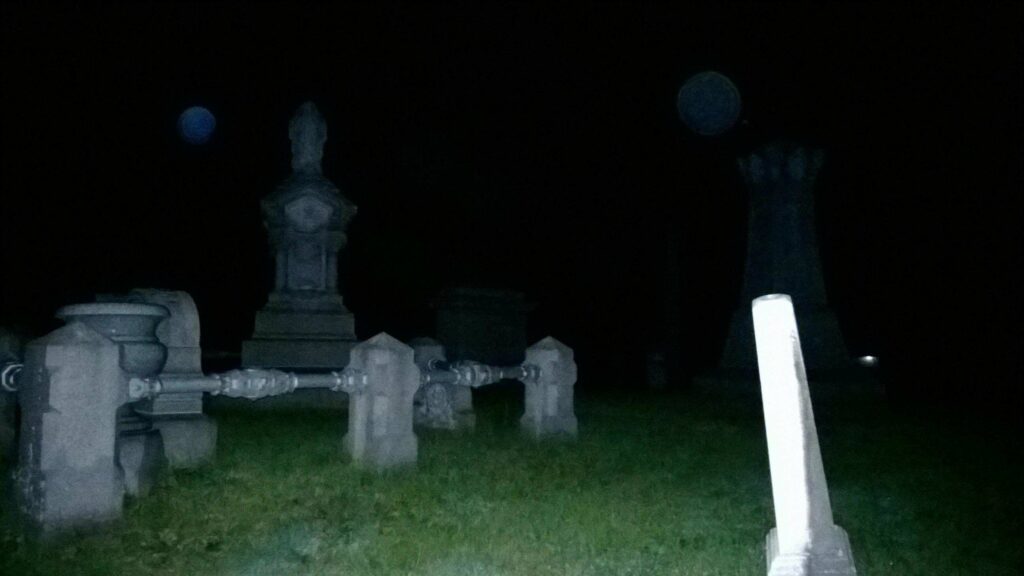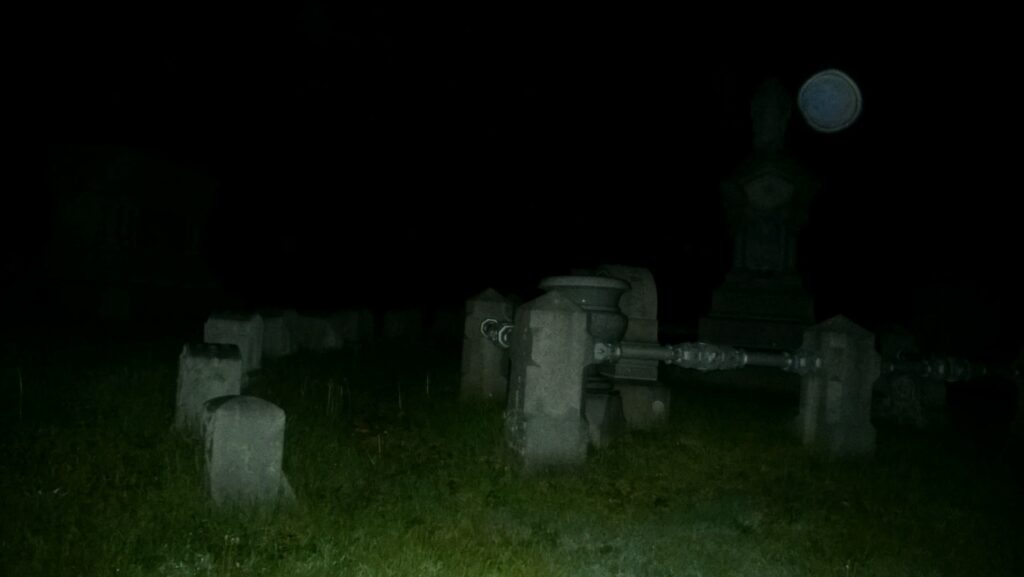 If you have a home you want investigated that seems to be haunted, you can reach Moore Ghostseekers at 570-204-4902.
And for a final ghost story. There's a legend about Johnny Martin, a railroad engineer from back a hundred years or so ago, who is said to hang around the Boy Scout's Camp Lavigne near Benton, Columbia County. There's even a cave at camp called Johnny Martin's Cave. Tales of Johnny's ghost told over the campfire have probably given many a Scout a sleepless night at camp!
Happy Halloween from your friends at the Columbia Montour Visitors Bureau 👻