Getting Around
Danville
Need to get around Danville when you visit but don't have access to a vehicle? A recently unveiled shuttle program will provide free transportation throughout the Danville area to community members and visitors.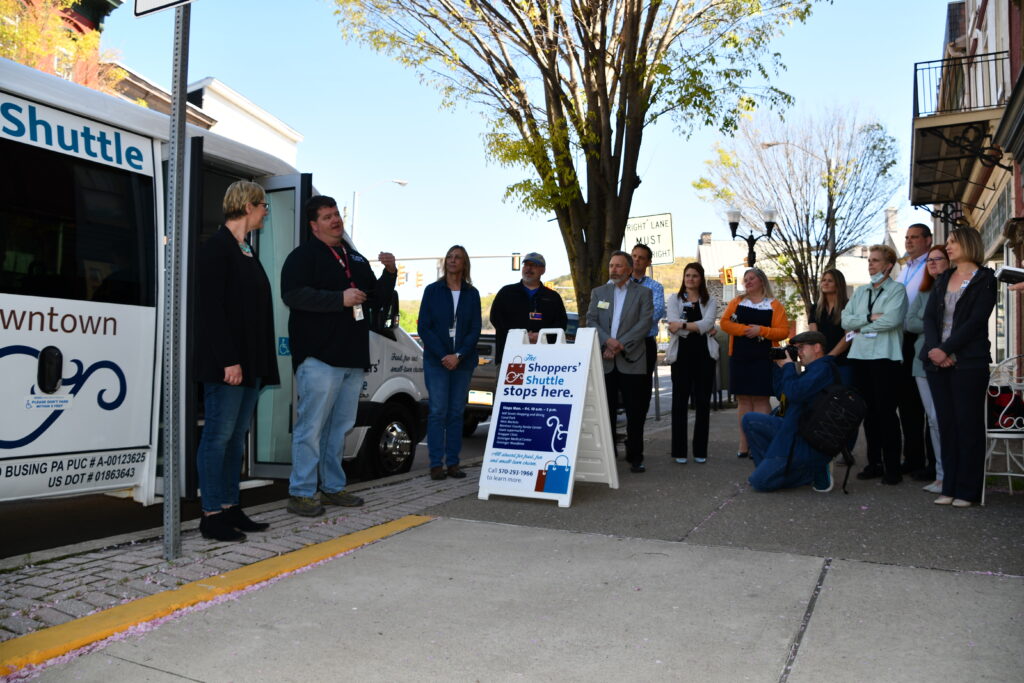 The shuttle runs weekdays from 10 a.m. to 5 p.m. Riders will be picked up and dropped off at various locations throughout Danville including local shops, grocery stores, and healthcare facilities.
"This started as a labor of love and grew into a strategic partnership to provide free, convenient transportation for our community and visitors. It's a wonderful opportunity to support our local businesses and the needs of our community," said Rebecca Dressler, executive director of the Danville Business Alliance (DBA).
The Shoppers' Shuttle is a collaboration between the Danville Borough, the DBA, FishingCreek Transportation and Geisinger.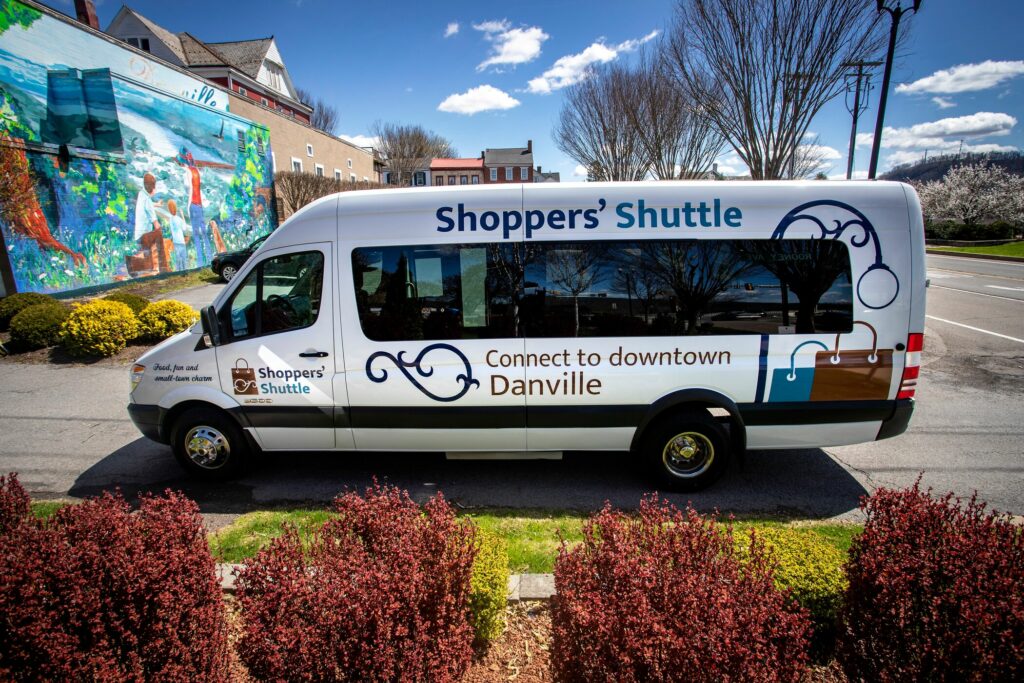 "This program will be a huge benefit to our community, and we look forward to serving them. Whether you want to shop downtown, get groceries or need to go to a medical appointment, we're here to help get you there," said Fred Bennett, president of FishingCreek Transportation.
The pilot will go on throughout 2022 to gauge interest in the program and its benefit to county residents, visitors and businesses.
"Geisinger has been part of the Danville community for more than 100 years," said Megan Brosious, chief administrative officer for Geisinger's Central Region. "The Shoppers' Shuttle will have a great impact on our local businesses and help easily connect the community with our services. We're excited to partner with these great local organizations to provide this service."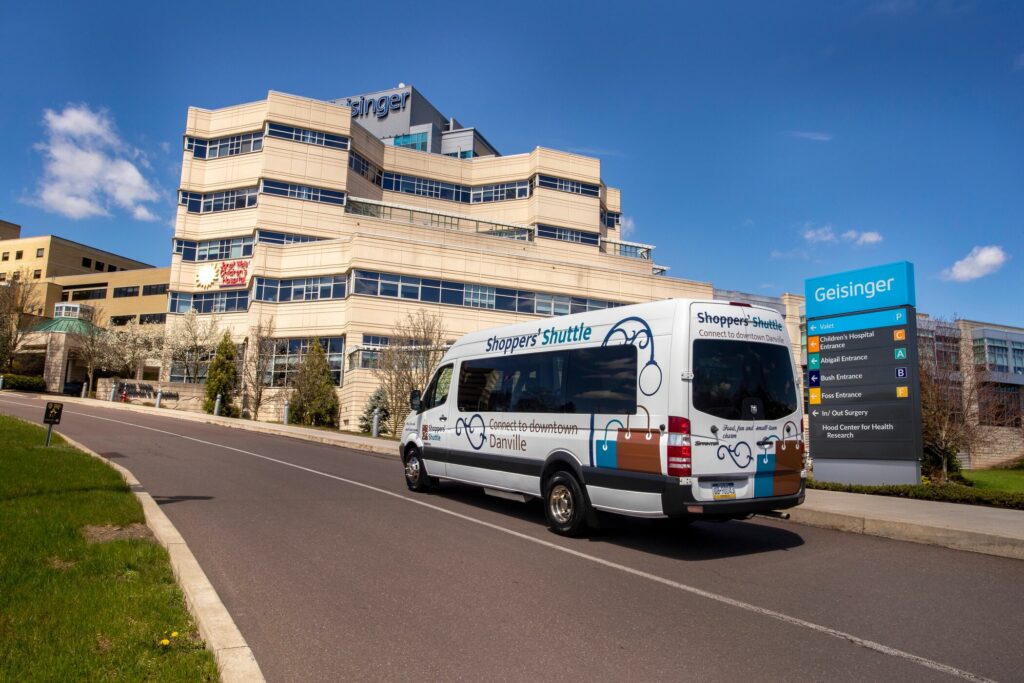 The shuttle will run a fixed route throughout the Danville area on weekdays. Stops include downtown Mill Street, Canal Park, Weis Markets, Giant supermarket, Geisinger Medical Center and Geisinger Healthplex Woodbine. Community members also can call 570-293-1966 to arrange a potential pick-up location that isn't near the shuttle's normal route.
Bloomsburg
Currently, visitors or locals looking to get around the Bloomsburg area can take advantage of RabbitTransit's Stop Hopper Microtransit option.
Flexibility is at your fingertips with RabbitTransit's on-demand shuttle service. Stop Hopper is similar to other ride-share services where customers can use a smartphone app to request a ride to and from anywhere they wish to travel within the service zone boundaries. Following a ride request, the app will provide an estimated pick-up time, track rides in real-time, and provide an alert upon arrival.
Where available, Stop Hopper can offer a convenient option to connect with fixed route service. Stop Hopper is only $2.00 per one-way trip and is FREE for seniors with a registered Free Fare ID card.
Stop Hopper is also available for the Danville area as well as neighboring communities (Lewisburg, Milton, Northumberland, Shamokin Dam, Sunbury, Selinsgrove) in Union County.
To get started with a trip on the Stop Hopper service, download the Stop Hopper App through the App Store (iPhone) or Google Play (Android).
Personalized Transit
Susquehanna Valley Limousine
Susquehanna Valley Limousine is equipped with a growing fleet of premium vehicles for all of your transportation needs. Their vehicle range includes town cars, executive SUV's, luxury limousines, and party busses of various sizes. Whether you are an individual who wants to ride around the region in style, a large group of family and friends taking a wine tour, or need a pick-up from the airport, Susquehanna Valley Limousine delivers high quality transportation at a reasonable cost.
The company also manages a taxi service, Susquehanna Valley Taxi, that operates Monday-Friday from 8 AM – 5 PM in Montour County, as well as neighboring Northumberland, Snyder and Union counties.
To plan your travels with Susquehanna Valley Limousine, contact them directly at (570) 473-8833.