Susquehanna Valley Fun Ride in Columbia & Montour Counties 
CANCELLED FOR 2020, PLEASE CHECK BACK FOR INFORMATION ABOUT 2021 EVENT, 2021 DETAILS TBD - Forks Farm, Orangeville, PA
What is the Farm to Fork Fun Ride?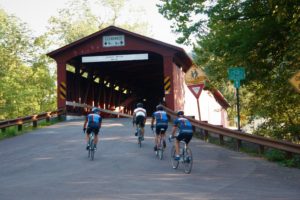 The Susquehanna Valley Farm to Fork Fun Ride is a non-competitive bicycle ride where participants choose the distance best for them and stop for chef-prepared bites at farms along the way. Course options for all abilities will range from 10 to 50 miles. For this year's fun ride, riders will be able to choose from a 50 mile "Feast Ride", a 25 mile "Snack Ride", and a 10 mile "Bite Ride." After the rides, participants will return to Forks Farm to enjoy the festival market, which will include a farm-to-table food truck, local beer, and all of the usual Forks Farm Market vendors. Participants can expect rolling terrain in the Susquehanna River Valley.
Forks Farm will serve as the start-finish location on May 30. As owners of the all-grass farm, John and Todd Hopkins rely on the naturally occurring grasses and to feed their animals and return nutrients back to the soil. After twenty-five years of the Hopkins' stewardship, the farm is more robust than ever, raising grass-fed beef and lamb, free-range chicken and turkey, and woodlot pork.
Get ready for a day filled with culinary delights made from ingredients sourced from the beautiful farms along your route.  During your ride you'll stop at the farms and enjoy gourmet catered small bites with featured ingredients from farms. After the ride, choose from a selection of farm-to-table food trucks and celebrate with a cold local finisher brew from Marley's Brewery & Grille, included in your registration.  
Event Schedule
All activities at Forks Farm, 299 Covered Bridge Road, Orangeville, PA 17859
CANCELLED FOR 2020, DETAILS TO COME ABOUT 2021 EVENT
8 to 9am Check-In and Registration open
9am Feast Ride departs
9:30am Snack and Bite Rides depart - all riders must be on course by 10am
11am to 2pm Post-Ride food trucks and Forks Farm Market open
On-site activities: local and cycling industry vendors; the famous Forks Farm Market; and a historic covered bridge.
The Rides
3 Aid Stations at local farms; 3,700+ feet of elevation gain over rolling hills.
Get up close and personal with dozens of Susqehanna Valley farms. Breathtaking views and rolling Pennsylvania hills. Earn your feast. Dine in style.
2 Aid Stations at local farms; 1,800+ feet of elevation gain over rolling hills.
Rolling hills, working farms and bucolic vistas of the Susquehanna Valley's distinctive farmland. Your favorite Sunday drive, now on two wheels. We've packed the picnic.
1 Aid Station at a local farm; 700 feet of elevation gain over rolling hills.
See some farms and lovely views by bike. Wave to your friends. Cross the finish line. Relax and dine. Happy tummies ride local.