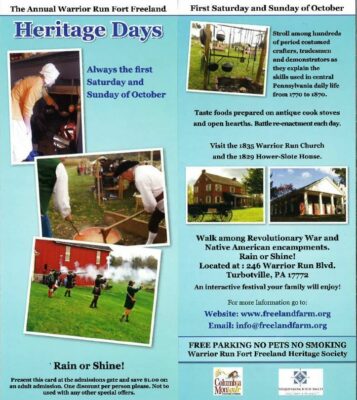 Stroll among period costumed crafters, tradesmen and demonstrators as they explain
the skills used in central Pennsylvania daily life in 1770's through 1870's.
Taste foods prepared on antique cookstoves and open hearths,
Battle re enactment held each day.
Apple butter boil and butchering.
Visit the 1829 Hower-Slote House and The 1835 Historic Warrior Run Church and cemetery.
Walk among Revolutionary War and Native American encampments.
An interactive, educational festival your family will enjoy!
Prices:
$6 Adults, $2 Students, Free: 5 & under
October 7th: 10 AM – 4 PM
October 8th: 11 AM – 4 PM