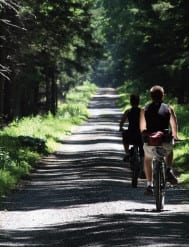 The drive-through will begin at 9:00 AM, starting at the Route 42 parking lot gate; the gate will remain open until 2:00 PM.  Traffic will be restricted to one-way travel on the 8-mile Roaring Creek Trail and will exit at the Route 54 parking lot gate.  All vehicles must exit the Roaring Creek Trail by 3:00 PM.  Passenger vehicles only (cars, pick-up trucks, SUVs, passenger vans, motorcycles) will be permitted to enter.  Vehicles towing trailers/campers, buses, motor homes and other large vehicles will not be permitted.
The public is invited to come out and enjoy the day.  Relaxation, outdoor enjoyment and healthful outdoor recreation will be the theme for the day.  Visitors are encouraged to bring a picnic lunch and stop at one of several picnic tables located along the Trail or share the pavilion at the C. Q. McWilliams Picnic Area.  The picnic area is adjacent to McWilliams Reservoir at the half-way point of the Trail.
For more information please contact the Weiser Forest District Resource Management Center at 570-875-6450.