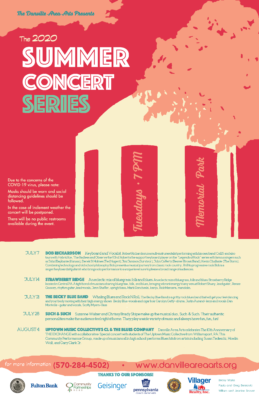 The Summer Concert Series, sponsored by Danville Area Arts, will feature a range of musicians over the course of five dates in July and August. The concert series will take place on Tuesdays at 7:00pm in Memorial Park starting on Tuesday, July 7 and ending on Tuesday, August 4.
The lineup of musicians includes:
Bob Richardson (July 7)
Strawberry Ridge (July 14)
The Becky Blue Band (July 21)
Such & Such (July 28)
Uptown Music Collective's CL & The Blues Company (August 4) in collaboration with The Exchange.
Audience members are encouraged to bring lawn chairs or blankets to sit in the park. Due to the concerns of the COVID-19 virus, there will be several changes made to the series for the health and safety of artists and audience members. Masks should be worn and social distancing guidelines should be followed. In the case of inclement weather the concert will be postponed. There will be no public restrooms available during the event.