Star Wars Day Online Event
May 4, 2021 @ 7:00 pm

-

8:00 pm

FREE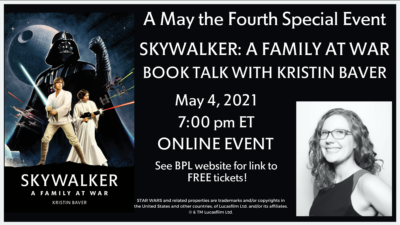 Listen in on a casual conversation with Kristin Baver and Brett Rector, her editor at Lucasfilm.
This is a virtual event that will be hosted on Zoom. To receive a link to the event, you must register for a free ticket on this Eventbrite site.
Audience members may submit questions in advance.
ABOUT STAR WARS SKYWALKER A FAMILY AT WAR
Uncover the secrets of the Skywalkers: the family that shaped a galaxy far, far away …
The Skywalker story has everything: passion, intrigue, heroism, and dark deeds.
This revelatory biography explores every twist and turn of the Skywalker dynasty: the slow seduction to the dark side of Anakin; his doomed marriage to Padmé Amidala; the heroics of Luke and Leia; the fall and redemption of Han Solo and Princess Leia's son, Ben; and the struggles of his dyad in the Force, Rey.
Leaving no stone unturned in tracing the dynasty's trials and tribulations, this definitive biography of Star Wars' first family explores and explains the deeper, more personal story of the Skywalkers, their characters, motivations, and, against seemingly impossible odds, their ultimate triumph.
© AND TM 2021 LUCASFILM LTD.
Kristin Baver is the Associate Editor of StarWars.com, covering Star Wars news, writing interview features on George Lucas and other important figures in the Star Wars galaxy, as well as spotlighting the dedicated fan community and their impressive and imaginative creations. She is the host of This Week! in Star Wars and The Star Wars Show Book Club. She previously worked as an award-winning journalist covering crime and social issues in central Pennsylvania.
For more information: https://www.bloomsburgpl.org/skywalker-event/
To buy your own copy of Skywalker: A Family at War: bit.ly/DK-PRH-page
STAR WARS and related properties are trademarks and/or copyrights in the United States and other countries, of Lucasfilm Ltd. and/or its affiliates. © & TM Lucasfilm Ltd.