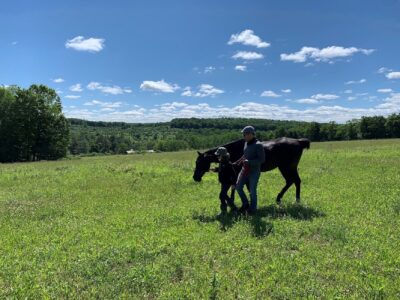 Take a guided hike with our horses (not ride – there is no riding out of respect for our horses) through the fields to the ridgetop to enjoy the incredible mountain view.
Your experience begins in the barn (please dress for the weather, expect manure/bugs/wildlife, moderate hill climbing) with a short orientation and bathroom break (outhouse). Then, the horses will choose their hiking partners. After a short instruction session on guiding your horses, we will take a leisurely hike to the top of the ridge to enjoy the incredible views. Once at the top, we will relax for photos with the horses. We will then hike back down to the barn to say goodbye. Note: there is no riding in this experience.
We hope our guests leave with an appreciation for the beauty of this area and the horses, and a better understanding of the individual personalities of these conscious beings.
This is a fantastic experience for anyone a bit afraid of horses, or inexperienced, to gain confidence. Experienced riders will enjoy the lovely views and relaxed time with the horses.
Don't see your preferred time? Ask us!  bfarm.link
No pets. Advance notice of service animals please.