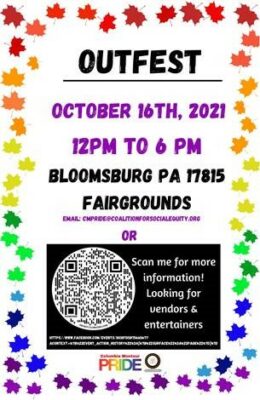 Come out and celebrate our free admissions LGBTQA+ community at OUTFEST 2021 this Fall. This is our first ever PRIDE event happening here at the Bloomsburg Fairgrounds.
Will you be there? What better time than during LGBTQA+ History Month and the month of National Coming Out Day (October 11) to celebrate Pride with Outfest!   Prides are for the people in our community, they are for us to celebrate and show people that we do accept and value diversity, equity and inclusion.
Please park and enter from Gate 2. The event will be happening on and around the Band Shell.