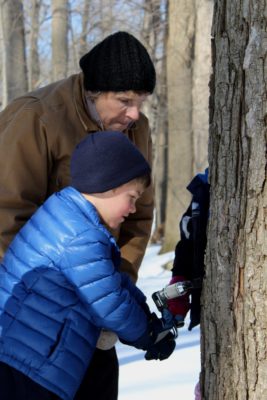 Admission is free, but donations are welcome.
Presentations of the movie 'A Visit to a Maple Sugar Farm' will begin in the Environmental Education Center auditorium at the top of each hour at 10am, 11am, 12pm, 1pm, 2pm, and 3pm.
Programming at the Montour Preserve's sugar shack will be begin at thirty minute intervals, beginning at 10:00am and every one-half hour thereafter. Visitors are welcome to arrive and depart at any time between 10am – 4pm.  Visitors will be directed to the sugar shack along the Goose Woods Trail where they will learn about the cultural and natural history of maple sugaring and have the opportunity to experience the sights, sounds, smells, and tastes of maple sugaring.
Maple products will be available for sale from the Roloson Brothers inside the Environmental Education Center.