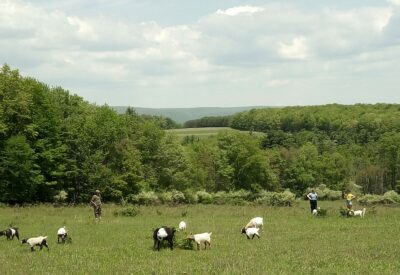 Help Kasey herd the fainting goats on their daily walks to forage for food and herbs.
Guests arrive at the main barn (and are happily greeted by our giant white fluffy livestock dog Runa). After a brief orientation and release form, the guests will be introduced to the fainting goats in their pen. After meeting the herd, guests head out into the pastures with the goats. In the pasture, guests may pet goats, feed treats and hold babies. Kasey will answer questions about our farm's unique approach to goat care, practiced on only a handful of Fainting Goat farms.
After making the rounds of the field and enjoying the playful antics of our goat families, guests are escorted back to the barn to wrap up with final questions and answers.
We hope guests leave with a greater appreciation of rare breed preservation, the role of goats in a healthy farm, and the unique and loving personalities of fun fainting goats.
Don't see your preferred day or time?  Please ask us!
Want more time with the goats? You can book a Picnic or Goat Playtime experience at bfarm.link
No pets – advance notice of service animals please