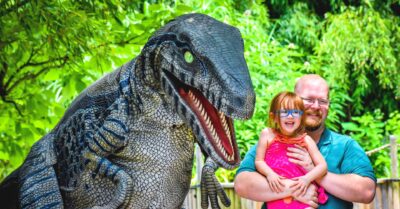 Join us on June 23-25, 2023 from 10am – 4pm for our biggest event of the year! 𝗗𝗶𝗻𝗼 𝗗𝗮𝘆𝘀 is a three-day prehistoric party you don't want to miss!
Journey back in time to the land of the lost! Join Dr. Dino on a dinosaur expedition, and learn about his fascinating fossil collection! Embark on a prehistoric journey through 𝘋𝘪𝘯𝘰𝘴𝘢𝘶𝘳𝘴 𝘊𝘰𝘮𝘦 𝘵𝘰 𝘓𝘪𝘧𝘦, and take home a Jurassic souvenir (while supplies last). Children 11 and under can also enter to win our Prehistoric Prize Pack filled with goodies perfect for any dino-loving kiddo!
You can also grab a bite from local food truck The Big Chee!
Victor the Velociraptor will be roaming around the zoo throughout the day. If you see him, be sure to stop and give him a little neck rub . . . much like our tortoises, that's a great way to get on his good side!
Last but not least, we'll be offering special photos with a baby Triceratops (puppet, of course) for $20; the perfect souvenir to remember your dino-filled day at the zoo!
𝘈𝘥𝘥𝘪𝘵𝘪𝘰𝘯𝘢𝘭 𝘌𝘷𝘦𝘯𝘵 𝘐𝘯𝘧𝘰𝘳𝘮𝘢𝘵𝘪𝘰𝘯
Tickets to this event include general admission to the zoo for the day. Also, the zoo is open from 9am to 5pm, but the activities for this event will take place from 10am to 4pm; please plan your visit accordingly!