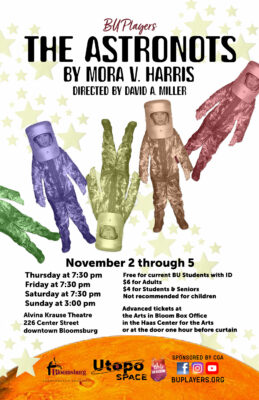 The Astronots by Mora V. Harris
Directed by Prof. David A. Miller
November 2-5, 2023
Alvina Krause Theatre, 226 Center Street, downtown Bloomsburg
Thursday at 7:30 pm
Friday at 7:30 pm
Saturday at 7:30 pm
Sunday at 3:00 pm
Free for current BU Students with ID
$6 for Adults
$4 for Students & Seniors
Not recommended for children
Advanced tickets at the Arts in Bloom Box Office in the Haas Center for the Arts or at the door one hour before curtain.
About the Play: In the very near future, billionaire C.E.O. Alston Garth invites four lucky contest winners to ride with him on a quick scenic orbit around the Earth in an unmanned craft. But when Alston reveals he has a larger adventure in store, the passengers are determined to reverse the ship's course before they languish away in a metallic tube full of strangers.
Performances of this production will include moments of theatrical haze/fog and strobe lights.