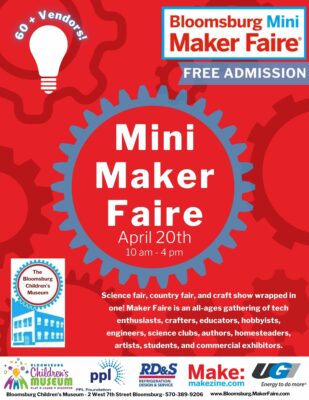 The Bloomsburg Mini Maker Faire® is a FREE Bloomsburg Children's Museum organized event hosted on Saturday, April 20th. This is a one-day, family-friendly event that celebrates arts, crafts, engineering, food, music, science and technology projects, and the Do-It-Yourself (DIY) mindset.
It's for resourceful, creative people who like to tinker and love to make things. Craftsmen, artisans, performers, homesteaders, crafters, inventors, thinkers, and doers are welcome to apply to be Makers.
The Faire will showcase cutting-edge technology such as 3D printing and robotics, but also have more traditional trades such as woodworking, fine arts, and sewing crafts.