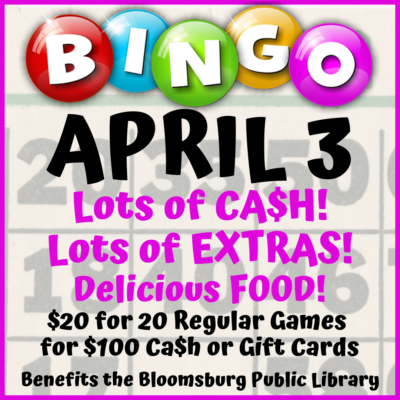 Call your friends and family – it's time to get together for an afternoon of FUN!
Best part? You will be helping the Library provide services all year!
$20 for 2 Games.  Each game $100 value – cash or gift card.
Advance tickets for $20 still available at the Library or ONLINE with credit card at https://bit.ly/BPL-Bingo-Tickets
Tickets available at the door. Please come early.
Doors open at noon for early Rip-off play and food. Bingo starts at 2:00pm
Lots of Extras including Special Games for $200 Cash and Special Raffles. Delicious homemade food, too.
Special $100 Cash Drawing! If you bring an item for the Women's Center, you will receive a ticket. See Bingo website for items needed.
Seating is limited. Each seat needs a ticket.