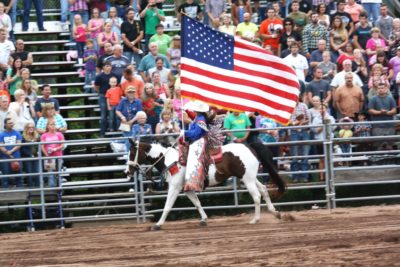 The Benton Rodeo is considered one of the best of over 65 rodeos east of the Mississippi River, as voted by the American Professional Rodeo Association and draws cowboys and cowgirls from all over the country as well as Canada. They come to the rodeo to show what they've got and to compete with the best of the best. The Benton Area Rodeo Association is a non-profit organization whose goal is to stimulate tourism to the Benton area to provide fund raising opportunities to the Local Charities, Service Groups, Fire Companies, Ambulance Associations, Scouts and Churches. This event is growing each and every year, so don't sit home. Come be a part of this awesome event. You won't be disappointed.
Enjoy the variety of food: hotdogs and burgers, soups and drinks, hot sausage sandwiches, halushki and more at the main food stand. Pizza – plain or pepperoni & stromboli at the pizza stand. Fresh cut french fries at the Benton Fire Company stand. Funnel cakes and corndogs from the Benton Rodeo Association. There is ice cream, roasted peanuts, and from the Benton Lions Club. Thick Milk Shakes from the Benton Little League and try the nachos plus at the Boy Scout Troop #51 stand or snow cones from The Benton FFA.
Be sure to visit the Official Rodeo Association Souvenir stand next to the ticket office to purchase your official 37th Anniversary Souvenirs.