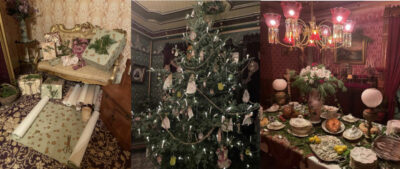 December 5, 2022 through December 30, 2023  tour the Jackson Mansion and see how it would have looked as the Jackson's celebrated their first Christmas in their new home.  Authentic Victorian decorations, live tree, and greens, costume guided tours with much Christmas history. Tours are at 11:30AM or 1:30PM.
Special – On December 9th and 10th only, Tours will run every hour from 11:00AM until 7:00PM.  Basement kitchen will be open for these special tours only!  Cookies and hot wassail will be prepared on the kitchen coal burning stove.
All groups will tour the mansion with their own tour guide. Groups may be combined. Cost $30 for non-members and $15. for Berwick Historical Society Members and children under 16 years old.  Because some tour time slots may become filled, PAID RESERVATIONS ARE RECOMENDED TO SECURE YOUR DATE AND TIME.
Call the Jackson Mansion Carriage House Gift Shoppe  at 570-520-4110 to make reservations.