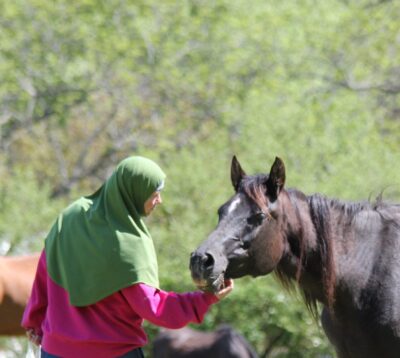 Meet the last Malabar Jilfan Arabian horses in the world. We are the ONLY Malabar Jilfan farm globally and the only Malabar farm open to the public. Only 200 Malabars and a few Jilfan exist globally.
Your experience happens in the spacious open-air barn. Upon arrival, expect a friendly greeting from Runa, our livestock guard dog. We begin with a release form, short safety orientation and bathroom break (outhouse). You then learn the Malabar and Jilfan stories, discuss the history and politics of rare breed preservation, and hear the fun story of how host Carrie's toddler passion for horses led to working with the Malabar Jilfan Arabians.
While you learn, you meet each horse and experience their unique personalities. We provide treats for you to share with them. The horses enjoy interacting with visitors, inviting petting and selfies. You may sit and share their peace, or actively engage with them. If the Arabians agree, we bring Bahiya out for you to brush. We hope you leave with an appreciation for rare breed preservation and the unique intelligence, individuality and empathy of Malabar Jilfan Arabians.
Don't see your preferred time? Ask us!
No pets – Please give advance notice of service animals
More information at bfarm.link