by Nancy Bishop

It's a hot summer day, but you're cool and very happy – you're floating in fresh mountain stream water in Crystal Pool at Knoebels.
And you're floating in a piece of history! Long before Knoebels was the amazing amusement park it is today, where you're floating was the local swimming hole on Roaring Creek. In 1828, the Rev. Henry Hartman Knoebel bought the land known as "Peggy's Farm" that included the swimming hole. The land was farmed and also had several sawmills.
In the early 1900s, the swimming hole was a popular picnic spot, and Henry's son, also named Henry Knoebel, earned some money by charging people a quarter to feed, brush and water their horses. Later he began selling soft drinks, ice cream and snacks to the visitors, who liked to sit along the creek bank, roam the countryside or jump off the covered bridge into the waterhole below.
Known as Knoebels Grove, its popularity continued to grow and Henry began leasing plots of land along the creek for use as summer cottage sites. Some of these privately owned cottages, as well as other cottages Henry built and rented, still exist in today's Knoebels Amusement Resort.
But how did the local swimming pool become Crystal Pool? Well in 1926 when Henry decided to add a restaurant, a steam-powered Philadelphia Toboggan Company carousel and a few simple games to his grove, he also built a large concrete swimming pool on the site of the old swimming hole with a filtration system so his guests could swim in clean water instead of muddy creek water. Thus the name "Crystal Pool," a tribute to the now crystal-clear stream water that feeds the pool even today.
My own memories of Crystal Pool begin back in the mid-'70s when my kids were small. Every summer we took our trailer to Knoebels Campground for several days. Hanging out in the pool was part of every day we were there. And even today my son, who now lives in another state, comes back every August for a week at Knoebels Campground. His two teenage sons schedule their other summer activities around the now-traditional visit to Knoebels. They're not going to miss a Knoebels trip! And, yes, the tradition includes getting Grandma (me) into the pool, preferably all at once, with alot of splashing her involved on their part.
At the center of the amusement park that grew up around it, Crystal Pool is filled with 900,000 gallons of clear, filtered mountain stream water. Today the pool area has four water slides, a children's splash area, a food stand and a picnic area. Kids love running under the fountains and waterfalls, playing with the water guns, going on the kiddie slides or the seesaw, and splashing around in the shallow water. And adults and bigger kids will get a thrill from the Two Slide Winders — tunnel tube slides that offer exciting twists, turns and drops before you land in the splash pool, and the Twin Twister Slides that will have you flying down a nearly vertical drop at lightning-fast speeds.
Since its beginnings as a picnic grove, the park has developed around the pool. Today it has 64 rides as well as 28 games, 24 Gift Shops, 14 Attractions, two Arcades and 34 food locations including two full-service restaurants. Besides the 45-acre park, the Resort also includes Knoebels Campground, Lake Glory Campground and Three Ponds Golf Course. The park remains under the Knoebel family's control to this day with Henry's grandson, Dick, the current president.
The pool opened for the 2019 summer season on Memorial Day Weekend.
Popular 2019 summer events at the pool include:
Learn to Swim Program (5 and older)
July 1 – 5; 9 a.m. – 10:15 a.m.
Take your child's swimming skills to the next level! Red Cross Certified Lifeguards are on duty at Knoebels Crystal Pool, and ready to lead the next generation of swimmers. This event is open to children 5 and over, and of all swimming abilities.
Cost: $5.00 donation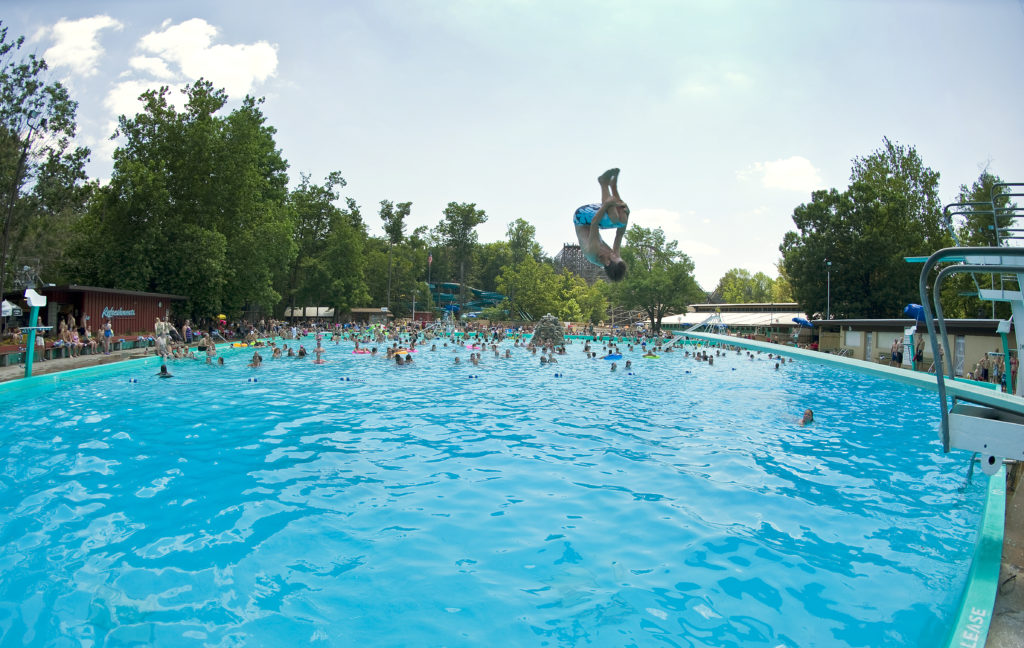 Tiny Tots Swim School (Under 5)
July 29 – August 2; 9:30 a.m. – 10:15 a.m.
Knoebels Tiny Tots Swim School is designed to help your child feel comfortable in the water at an early age. This is a great way to get your child to understand the different sights and sounds of the pool and introduce kicking, blowing bubbles, floating and general water movement. The parent is the teacher, partnering with our Red Cross Certified lifeguards who will guide you and your child through a positive experience. Children should wear swim diapers under their suit and must be accompanied in the water by a parent or another trusted adult.
Cost: $5.00
Knoebels Doggie Dive
September 8; 11 a.m. – 3 p.m.
Bring your furry family members to enjoy a day of fun for a good cause at Crystal Pool! There will be swimming, raffle baskets, a bake sale, food, vendors and a visit from Kozmo! 100% of the proceeds are donated to local animal shelters and rescues. Rabies tag and licenses are required; dogs must have a collar on; and leashes must be on hand by owner. Limit one dog per handler; aggressive dogs not permitted. Admission, parking and entertainment are free! Cash, check or money order accepted. Pre-register online at www.knoebels.com. Checks and money orders can be mailed to the park with ATTN: Doggie Dive.
Cost: Pre-registration is $8 per dog. Registration at gate is $10 per dog (human attendees are FREE)
See you at the pool!