Dedicated to bringing the arts to all communities throughout our region, The Exchange again presents Columbia County's biggest one-day outdoor art-and-music event of the year.
We have moved ArtFest to the other side of Main Street – just as lovely and shady, but with more room!  Bigger than ever before, the fifteenth annual ArtFest will take place on Saturday, the 19th of August, from 10 a.m. to 5 p.m., in its convenient, attractive, and slightly adjusted location on the Square in downtown Bloomsburg, now surrounding the monument and down Market Street.  ArtFest will showcase more than 50 artists' original work, accompanied by seven hours of live music, local and regional food vendors, and fun and educational activities for people of all ages.  A summertime art party, ArtFest draws attendees from throughout our region, and it draws artists from across Pennsylvania.  As always, the event takes place rain or shine and has no admission fee – free to all!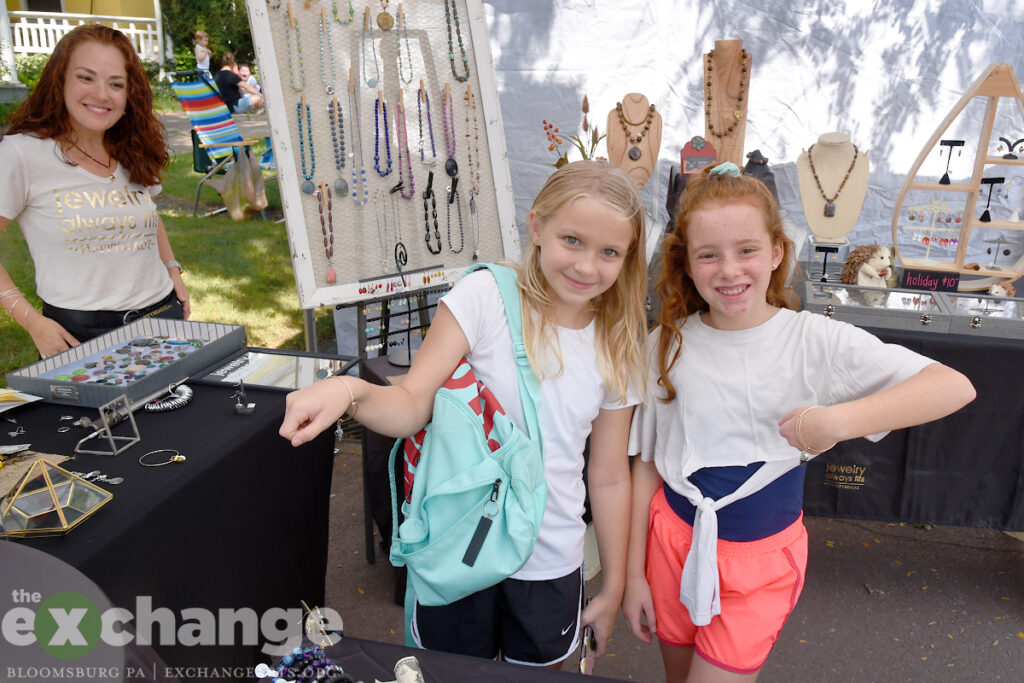 The exhibitors who will display and sell include painters, photographers, potters, jewelers, sculptors, fabric artists, woodworkers, skincare experts, bonsai growers, and more.  Eleven non-profit organizations will also have booths: The Exchange's Art Cart will provide a hands-on activity for kids of all ages, using simple materials – many of them recycled – to help bring out the beauty inside each person, and the Fishing Creek Watershed Association will host its annual container-garden contest.  Other non-profits greeting visitors will include the Bloomsburg Public Library, the Bloomsburg Children's Museum, Susquehanna Greenway Partnership, Columbia-Montour Action Together, the River Poets, The Women's Center, Bloomsburg Theatre Ensemble, Cats in Bloom, and the Columbia County Historical and Genealogical Society.  Local and regional musicians who will perform throughout the day include Raven Creek Bluegrass, Kat Holdren, Prairie Dogma, and the Kerry Kenny Band.  In addition, attendees will find great food from local and regional vendors – Project Pizza Company, The Gingham Table, Fourth Taco, Heier's Home Cooking, Dida's Incredible Edibles, and more.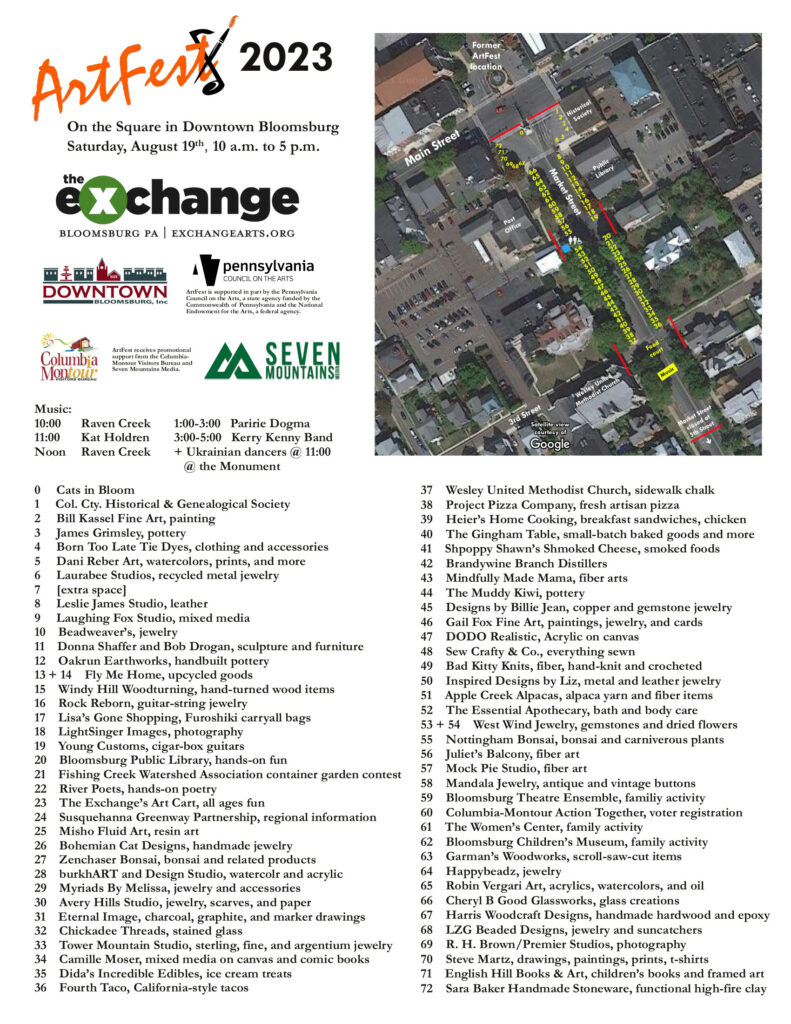 In its open, friendly, and highly-visible location, ArtFest attracts thousands of attendees, among them Bloomsburg University students and their parents in town on the last move-in weekend before the semester starts.  Downtown Bloomsburg has plenty of parking; meters require payment from 10 a.m. to 5 p.m. on Saturdays, and in addition to coins one can now also pay through the PANGO app: To sign up, go to mypango.com.
Downtown Blooomsburg, Inc. (DBI), the non-profit organization devoted to the betterment of Bloomsburg's downtown commercial district, founded ArtFest in 2009; The Exchange, the non-profit that operates a Main Street Gallery and produces music events, has produced ArtFest since 2016; and the Town of Bloomsburg has provided the venue and support services each year.  DBI and The Exchange thank the Columbia-Montour Visitors Bureau for their support of ArtFest; the event also receives support from the Pennsylvania Council on the Arts, a state agency funded by the Commonwealth of Pennsylvania and the National Endowment for the Arts, a federal agency.
For more information about Downtown Bloomsburg, visit DowntownBloomsburg.org.
For more information about The Exchange and ArtFest, visit ExchangeArts.org and Facebook.com/BloomsburgArtFest or call 570-317-2596.