by Nancy Bishop
Yes! These certainly aren't the gumballs of my childhood where a nickel or dime would get you a prize if you were lucky or gum, which was even ok, at Gourlie's, the corner store not far from my elementary school.
These gumballs each hold a piece of art from one of more than 35 artists who submitted their work to The Exchange in Bloomsburg – 49 different pieces in all. From now until mid-November, you can buy a gumball for 50 cents from 26 vending machines located throughout four counties.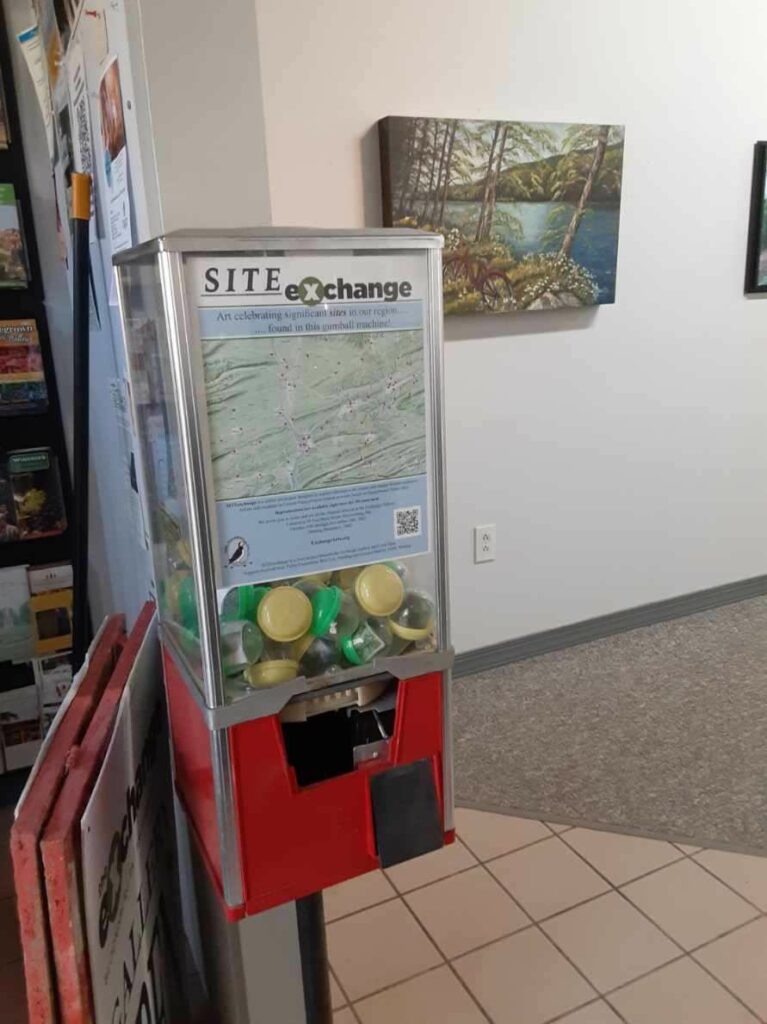 Called SITEexchange, artwork in the project captures places in this region important to each artist. When I happened to see one of the gumball machines, I quickly got out two quarters and fed them to the machine. On my first try, the piece of art was of a place I knew well – Susquehanna Riverlands, a nature preserve on Route 11 across from the Susquehanna nuclear plant near Berwick. Done by Anne Cosper, the abstract art in shades of blue, green and black challenges the viewer to "see" fish swimming in Lake Took-A-While at the Riverlands.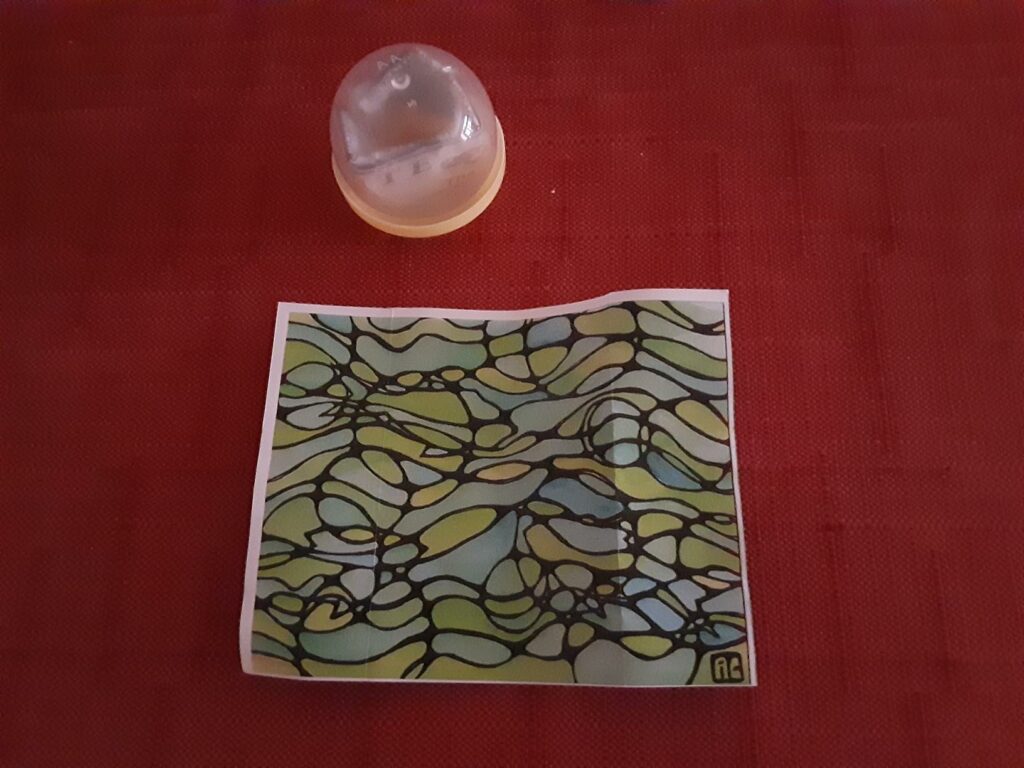 My second try got me a black and white drawing by Shaina Davis called "Somewhere in the Woods." Both were beautiful and I knew I had to plan a trip to The Exchange Gallery, 24 East Main Street in Bloomsburg, before the exhibit ends Nov. 18 to see all the pieces.
Talking to Exchange Director Oren Helbok when I visited, I learned that the project was the idea of Cindi Hron of Lewisburg, an artist originally from California who had participated in a similar project in Nebraska called SITE Omaha in 1996.
Each piece of art submitted was printed on a 4-1/4 inch by 5-1/2 inch piece of paper, folded and inserted in a plastic gumball – 2,000 in all. Six volunteers did all the folding and stuffing of the eggs and filled the vending machines, which were provided by Joe Ross, owner of NEPA Vending.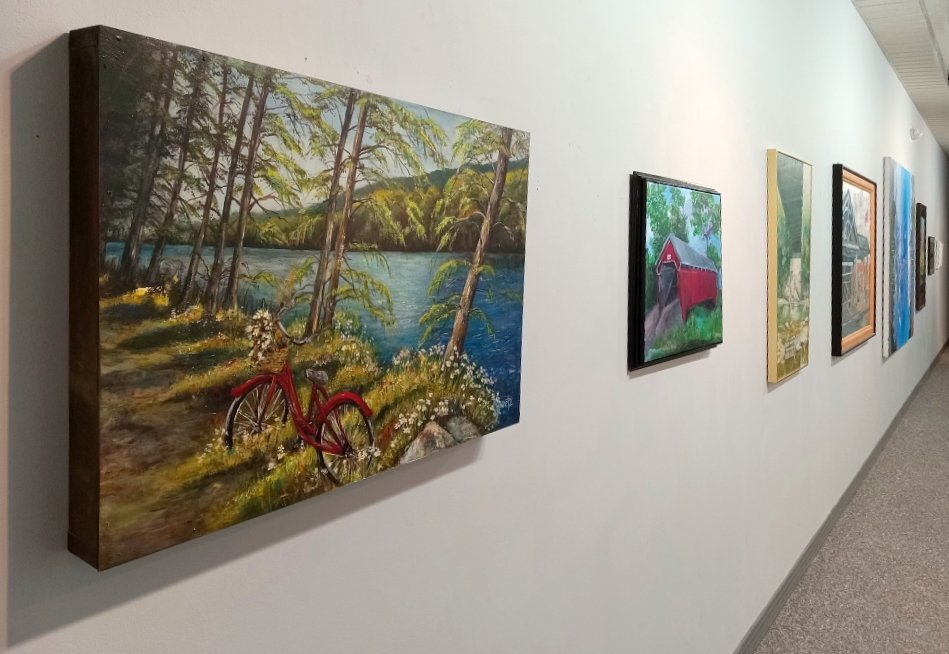 Gumball machine locations include The Exchange, Bloomsburg Hospital, the Columbia-Montour Visitors Bureau, Rohrbach's Farm in Catawissa, The Art Grind in Danville, the Degenstein Library in Sunbury, the Art Academy of Milton, the Bloomsburg and Lewisburg Children's Museums, all the Union County libraries, the Montour Preserve, and many others; you can find all of them on The Exchange website, ExchangeArts.org.
Artists of all ages and levels of experience were encouraged to submit their work, and each participant could determine how to interpret the idea of "site." I was drawn to a large piece done by a group of 5th-grade students from Liberty Valley Intermediate School, Danville, who painted their school.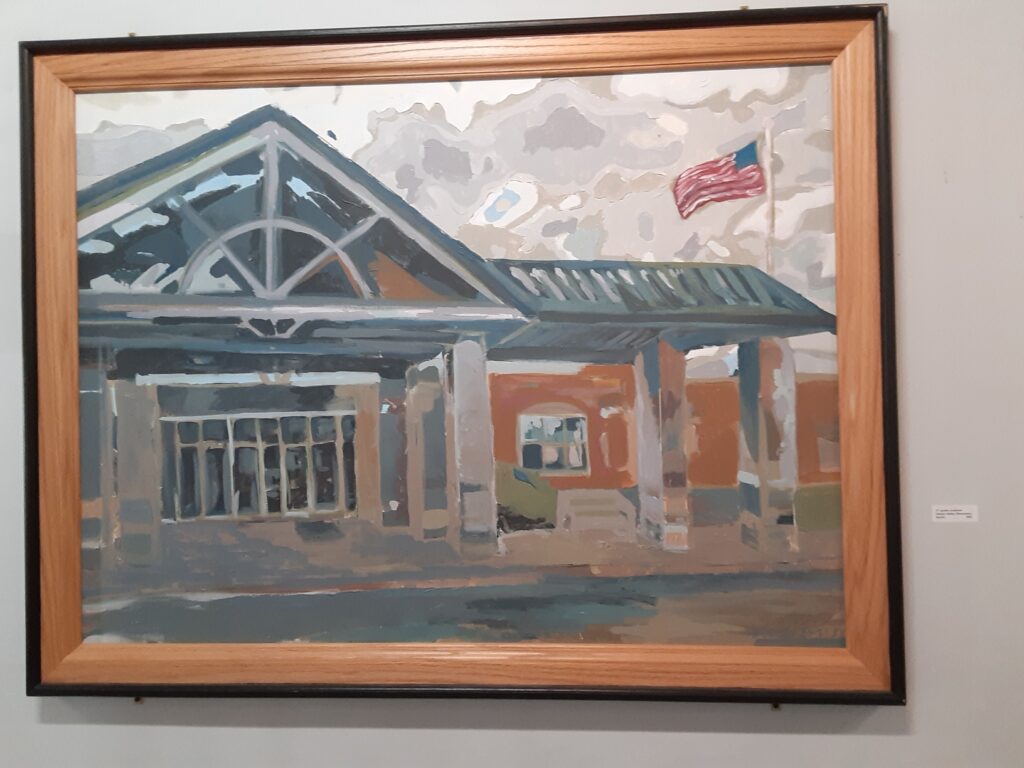 ​For a couple of quarters, anyone can buy art and experience this region, Helbok said. It helps to identify Columbia and Montour counties and what sets the area apart from other places in Pennsylvania. You'll find Bloomsburg Town Park, different sections of the Susquehanna River, the Graffiti Highway in Centralia, monuments, fountains, farm fields and even one artist's backyard among the sites depicted.
Above: Just a sampling of the artwork you will find in the gumball machines!
Not all the pieces are paintings. A photograph of rubber ducks caught my eye immediately. The colorful photo of the yellow ducks in a race that raised funds for a local non-profit organization was titled "Got My Ducks in a Row." It would make a perfect Christmas gift for my grandson, who collects ducks! Since artists in the Exchange Gallery show can sell their original work, at prices of their choosing, it's going home with me after the show is over in November.
Check out the Exchange Arts website and find one of the gumball machines or visit the Gallery to see the show.