Winning photograph will be featured as this year's edition of Visitors Bureau's historic Covered Bridge Puzzle series.
BLOOMSBURG, PA – The Columbia-Montour Visitors Bureau is pleased to announce this year's Covered Bridge Photo Contest winners. The overall winning image will be featured as the 2019 Covered Bridge Puzzle. This year's puzzle will be released in the fall as the ninth installment in the Visitors Bureau's limited edition series, and will feature the Kramer Bridge for the first time.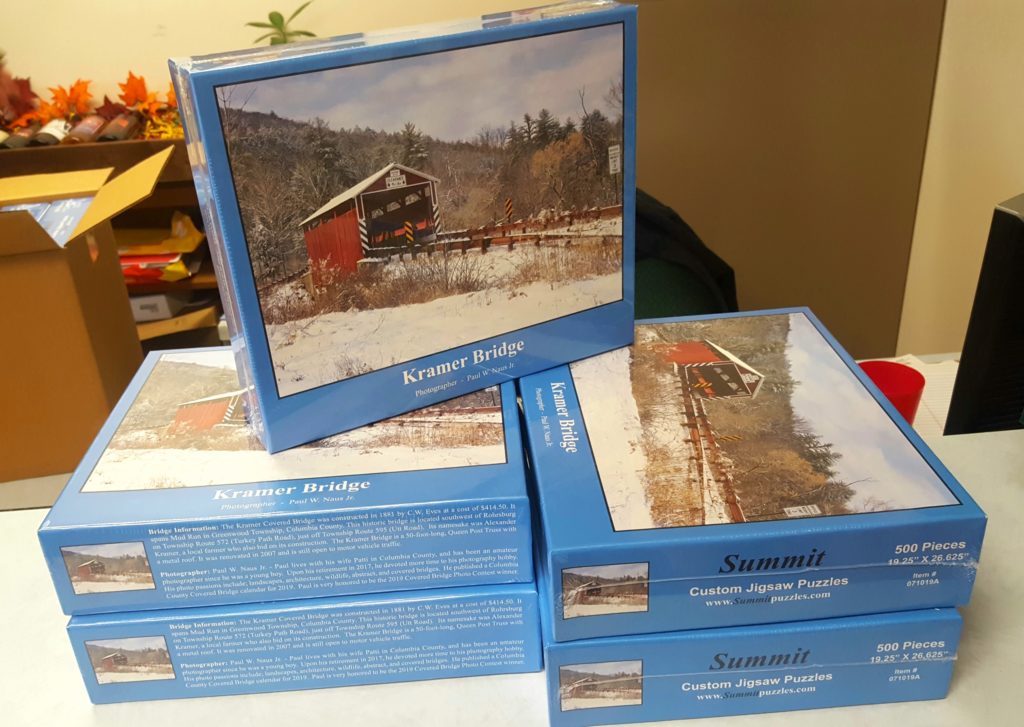 Paul W. Naus Jr.'s snapshot of the Kramer Bridge in Columbia County was selected as this year's overall winner. Paul lives with his wife Patti in Columbia County, and has been an amateur photographer since he was a young boy. Upon his retirement in 2017, he devoted more time to his photography hobby. His photo passions include; landscapes, architecture, wildlife, abstract, and of course, covered bridges. He published a Columbia County Covered Bridge calendar for 2019. Paul is very honored to be the 2019 Covered Bridge Photo Contest winner.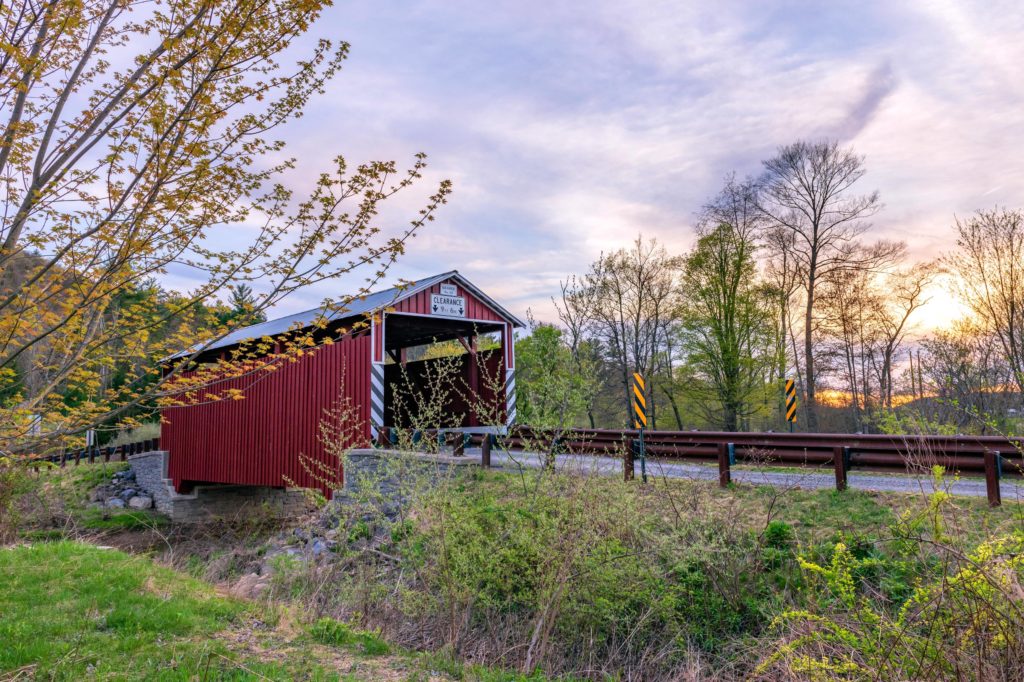 Several other photographers were recognized in this year's contest: Margie Hunsinger submitted the 5th place photograph of the Davis Bridge, Anthony Berard Jr. was awarded 4th place for his photo of the Kramer Bridge, Jill Davidson was awarded 3rd place for her image of the Sam Wagner Bridge, and Bob Erlsten placed overall runner-up with his photo, also of the Kramer Bridge. The Visitors Bureau would like to thank everyone who submitted photos for the contest, as there were over 50 images submitted for consideration this year.
The 2019 Kramer Bridge puzzles will be available for purchase starting in late September at the Visitors Bureau Welcome Center, 121 Papermill Road in Bloomsburg. The Visitors Bureau is now taking pre-orders for the puzzles – cost is $15, tax included. Individuals interested in pre-ordering a 2019 Kramer Bridge Puzzle may stop in at the Welcome Center during normal business hours (Monday – Friday; 8:30am – 4:30pm) or call 800-847-4810.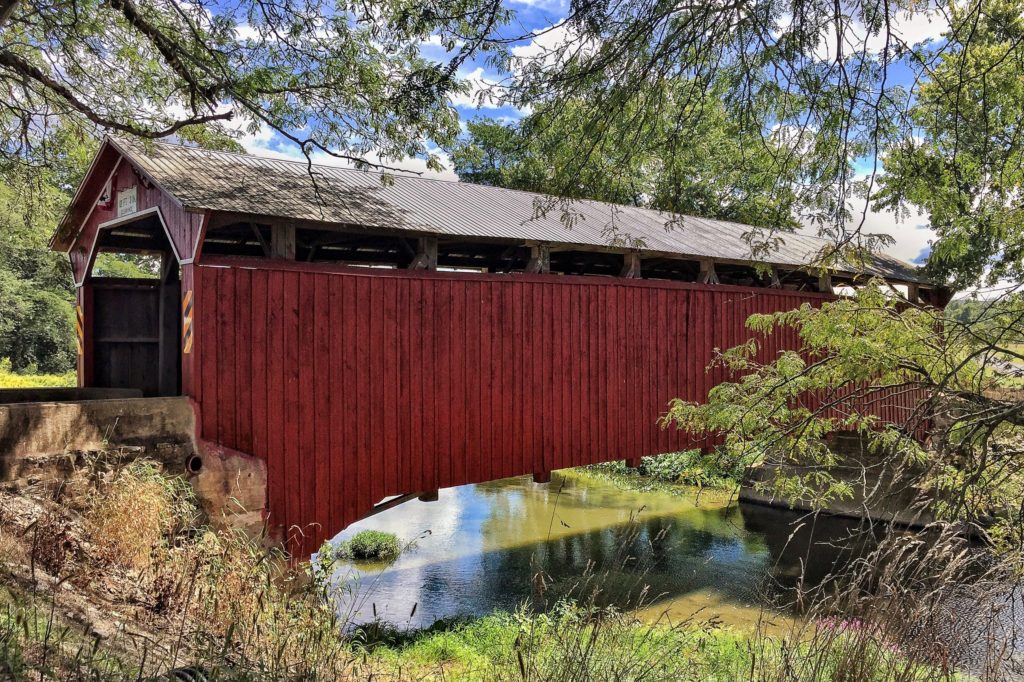 The Visitors Bureau may also have the puzzles for sale at their Bloomsburg Fair booth this year and at the Covered Bridge and Arts Festival (October 3-6 at Knoebels Amusement Resort) if puzzles are not yet sold out. The Visitors Bureau's covered bridge puzzles are collector's items and make for a great birthday or Christmas present.
A donation of $2 from every puzzle sold will be made by the Bureau to the Columbia County Covered Bridge Association to go toward restoration and preservation of our local covered bridge treasures. Individuals are instructed to call the Columbia-Montour Welcome Center at 800-847-4810 with their pre-order intentions. A limited quantity of only 250 puzzles are available on a first come, first serve basis.
Shane Kiefer, Director of Marketing for the Columbia-Montour Visitors Bureau, states that "for the last eight years, the Visitors Bureau has made a donation from the puzzle sales to the Covered Bridge Society. We hope that by continuing this tradition for another year, we are helping to preserve and restore these bridges for everyone in Columbia and Montour Counties to enjoy and cherish, as well as the many thousands of people from around the world who visit them each year."
The Columbia County Covered Bridge Association restores, preserves, and advocates for the covered bridges of Columbia County for historical and recreational purposes. Their purpose is simple: they recognized the historic importance of the covered bridges as a public treasure to be available to and enjoyed by the public and the important part they play in tourism. This non-profit association protects all of our covered bridges not only for today, but also for future generations.