Enjoy a sweet journey through the wineries of Columbia & Montour Counties this Valentine's season with that special someone, or with your go-to group of friends! From February 11-20, visit eight participating wineries and enjoy special wine & chocolate features for a chance to win wine-themed prize baskets.
From Friday, February 11th through Sunday, February 20th, trail-goers can travel from winery to winery, tasting delicious seasonal wine features. Along the way, participants will be able to get their tickets stamped at each location. Trail-goers who visit every participating winery will be entered to win one of eight individual winery gift baskets as well as a Grand Prize basket featuring a bottle of wine from each winery.
The wineries participating in the Valentine's Wine & Chocolate Trail are:
🍷 Cardinal Hollow Winery Outlet at Winding Creek Shops – Benton
Address: 4378 Red Rock Rd, Benton, PA 17814
🍷 Colonel Ricketts Hard Cider Winery – Benton
Address: 4360 Red Rock Rd, Benton, PA 17814
🍷 Freas Farm Winery – NOT REQUIRED (was unable to open)*
Address: 130 Twin Church Road, Berwick, PA 18603
🍷 Juniata Valley Winery Outlet at Nature's Outdoors – Benton
Address: 357A Camp Lavigne Rd, Benton, PA 17814
🍷 Kulpmont Winery Outlet at the Ol' Country Barn – Benton
Address: 9 S Comstock Rd, Benton, PA 17814
🍷 Pour Choices Winery
Address: 1549 State Route 487, Orangeville, PA 17859
🍷 Shade Mountain Winery & Vineyard – Riverside/Danville Outlet
Address: 1 D and H Ave, Danville, PA 17821
🍷 Three Dogs Vino
Address: 129 Hidlay Church Road, Bloomsburg, PA 17815
*IMPORTANT UPDATE: Freas Farm Winery will NOT BE REQUIRED on this year's trail. Due to unforeseen circumstances, Freas Farm Winery will unfortunately not be able to be open for this year's trail. For all trail-goers, this means that Freas Farm is now officially NOT REQUIRED for your tickets to be counted as complete. Simply leave their space blank, or if you have another winery authorize that spot, that's fine also.
NOTE: Hours vary for each winery. The trail can be completed at any point from February 11-20 during each winery's open business hours. Please call ahead or visit individual wineries' websites or social media pages for individual hours of operation. No purchase necessary to win prize baskets; wine trail tickets are free, but please note that wine tastings at each stop may have fees if you choose to indulge.
How it Works:
1. If you are interested in participating in the Valentine's Wine & Chocolate Trail, simply proceed to one of the wineries of your choosing during the posted event dates (you may start at whichever one you'd like).
2. Pick up a FREE event ticket at the first winery you visit – all will have tickets available.
3. Fill out 1/2 of the ticket and turn it in at the first winery. Keep the other half to record stamps/signatures.
4. Enjoy your first seasonal wine tasting and have your ticket authorized in the assigned space for that particular winery.
5. Proceed to the rest of the wineries during their normal business hours and enjoy delectable wines + get more stamps/autographs!
6. At your final winery stop, turn in your completed second half of the ticket to be entered to win any of the prize baskets. All participants who complete every stop on the trail will have a chance to win any of the individual winery baskets and the Grand Prize basket regardless of where they turn in their ticket.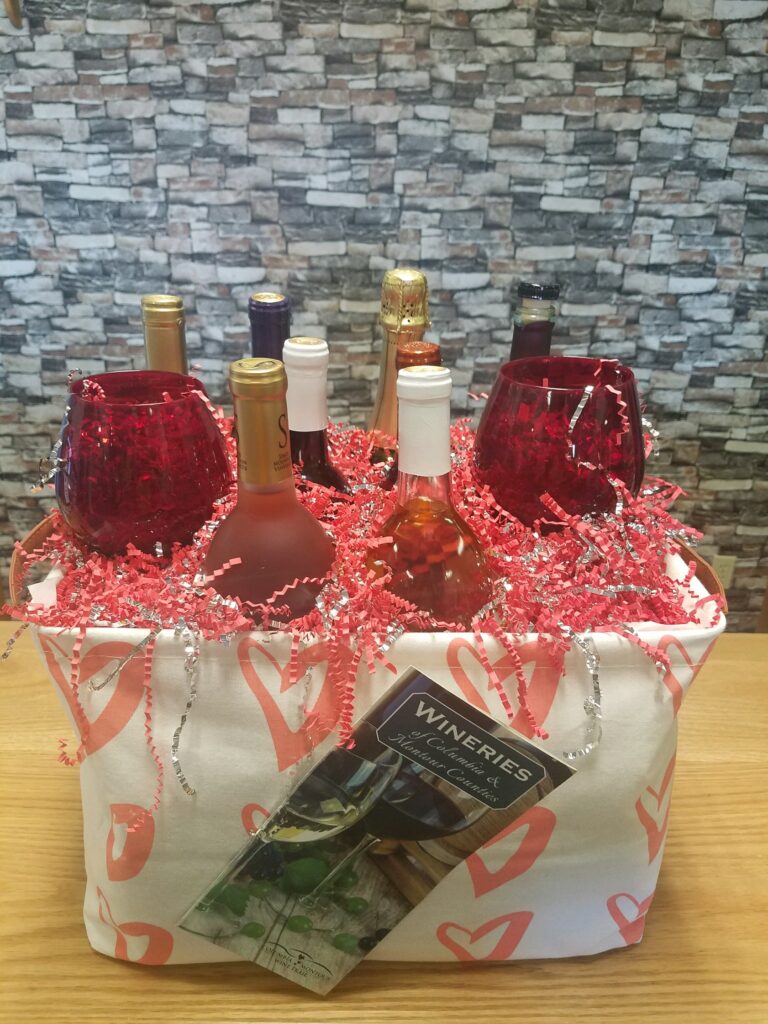 Features:
– Cardinal Hollow Winery at Winding Creek Shops: Fermented Strawberry Wine with Dove Chocolate
– Kulpmont Winery at the Ol' Country Barn: Local homemade chocolate confections by Dipped with our wines.
– Pour Choices Winery: Your preferences of dry/semi/sweet paired with brownie bites.
– Shade Mountain Winery: Visitors will be able to choose two of the three pairings to try – 1.) Six Dwarfs Mint Wine paired with chocolate covered pretzels; 2.) Ginger Owl Sparkling Wine paired with caramel Hershey kisses; 3.) Proprietor's Red paired with dark chocolate.
– Three Dogs Vino: Wines paired with variety of wrapped chocolates
Hours Updates from Wineries:
Cardinal Hollow Winery at Winding Creek Shops trail hours:
Monday – Friday: 10 AM – 5 PM | Saturday & Sunday: 11 AM – 4 PM
Juniata Valley Winery at Nature's Outdoors trail hours:
Wednesday & Thursday 5-7 PM | Friday & Saturday 1-7 PM | Sunday 12-4 PM
Kulpmont Winery at Ol' Country Barn trail hours:
Fridays 2-6 PM | Saturdays 10 AM – 5 PM | Sundays 12-5 PM
Pour Choices Winery trail hours:
Fridays & Saturdays 12-6 PM | Sundays 12-5 PM
Shade Mountain Winery – Riverside/Danville's trail hours:
Fridays: 11 AM – 7 PM | Saturdays: 11 AM – 6 PM | Sundays: 1 – 5 PM | Monday – Thursday: 11 AM – 6 PM
Three Dogs Vino trail hours:
Thursday and Friday 4-7 PM | Saturday 12-7 PM | Sunday 12-5 PM