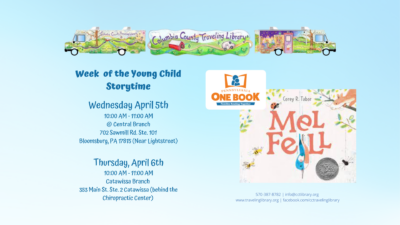 In conjunction with the Pennsylvania One Book, Every Young Child Early Literacy Program, children ages 2-5 are invited to enjoy a special story time featuring this year's PA One Book selection, Mell Fell by Corey R. Tabor. Younger and older siblings are welcome to attend.
Following the special story time, children are invited to explore five unique early literacy centers and enjoy a snack.
Each child will receive a free book for attending!