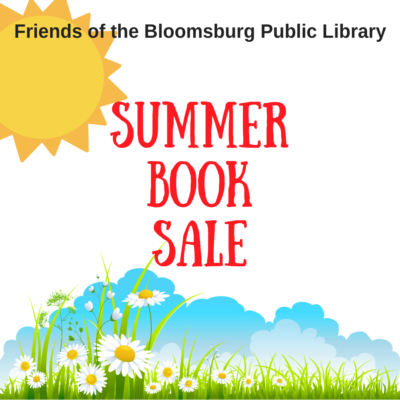 Book Lovers! Thousands of gently-used books are waiting for you! Hardcover, softcover, paperbacks, nonfiction, and children's books. DVDs, audiobooks, and music CDs. Best prices!
Get to the best books first: Come to the Preview Night for Members of the Friends of the Library on June 12 from 5:30 to 8:00pm. Not a member of the Friends group? No problem – you can join at the door for $10!
For more information, please call the Library at 570-784-0883.
Check the Bloomsburg Public Library Facebook or Instagram pages for special deals!
June 12: 5:30pm-8:00pm [Preview Night for Members of the Friends of the Library] June 13: 9:00am-8:00pm [open to all] June 14: 9:ooam-5:00pm
June 15: 8:00am-12noon
June 16: closed
June 17: 9:00am-1:00pm