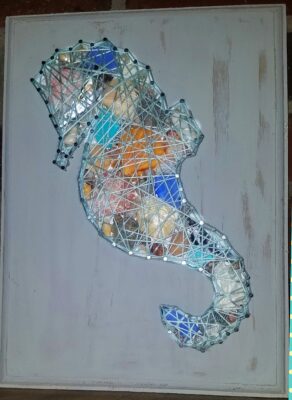 Call your babysitter and don't delay in registering for this fun night out! Taught by Katie Bartilomo, create a beautiful seahorse filled with assorted seashells and sea glass. Finished project is on a 9×12" wood plaque. Choose your own paint & string colors as well as your own seashells and sea glass.
Make your fun night complete with some Big Dan's BBQ before class.
Class sizes are limited to ensure safe distancing for everyone. Registration must be paid in full to secure your seat. Please use the provided link to register & pay.
Cancellations made up to 24 hours before the class will be issued a full refund; other cancellations will be given as credit for a future class.
For questions, call (570) 356-2597 or email rohrbachs.events@gmail.com