State Game Lands #115 Hike
January 1 @ 2:00 pm

-

4:00 pm

FREE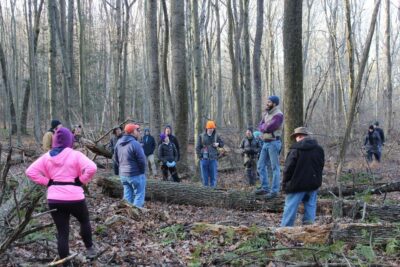 Ring in the new year by joining Bob Stoudt (Director, Montour Area Recreation Commission), Van Wagner (Danville-area educator, historian, entertainer), and Renee' Carey (Executive Director, Northcentral Pennsylvania Conservancy) for a relatively easy 3.4 mile-long out-and-back hike on Montour Ridge in PA State Game Lands #115 (Liberty Township, Montour County).
We'll discuss interesting tree and wildlife species found along Montour Ridge, discuss the efforts of the Northcentral Pennsylvania Conservancy and the Pennsylvania Game Commission to conserve and protect the area, and visit historic remnants associated with the nearby Liberty Iron Furnace.
Most of this hike will be along a dirt/gravel roadway, but a portion (0.3mi +/-) will be through rocky, moderately challenging wooded areas. Though the hike will be suitable for most visitors, unpredictable weather conditions may lead to icy, snowy surfaces. Attendees are cautioned to be prepared for wintertime conditions. Proper footwear (with excellent traction) and clothing are essential.
This event will be held regardless of weather conditions, except in the case of severe weather. Please bring adequate water, snacks, and other supplies as may be needed for a roughly two hour-long wintertime outing.
Children and well-behaved, leashed dogs are welcome. Admission is free. Pre-registration is not required.
For questions or more information, please contact Bob Stoudt at (570) 336-2060 or RStoudt@MontourRec.com.