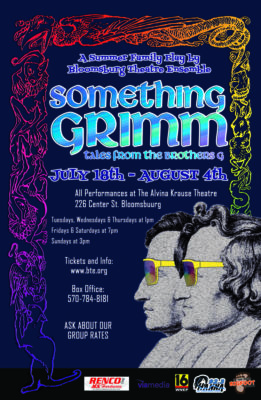 This summer, we invite audiences of all ages for our unique take on the classic stories of The Brothers Grimm. The Brothers Grimm are the wonderfully weird minds behind famous fairy tales like "The Frog Prince", "Rumpelstiltskin", and more!
Bring the whole family for a wacky play that is perfect for fans of Shrek, Lemony Snicket's A Series of Unfortunate Events, and BTE audiences who adored Charlotte's Web.
Rated GA, good for all ages! Advisory for some mildly spooky and macabre content.
Group rates start with just eight people, and reservations are now being accepted. Reservations can be made at any time, but some performances fill up quickly!
Group rates are $13 for adults (ages 14+) and $7 for kids. Bus drivers receive a complimentary ticket. Please let us know beforehand if you have any eligible driver(s) who will be staying for the performance.