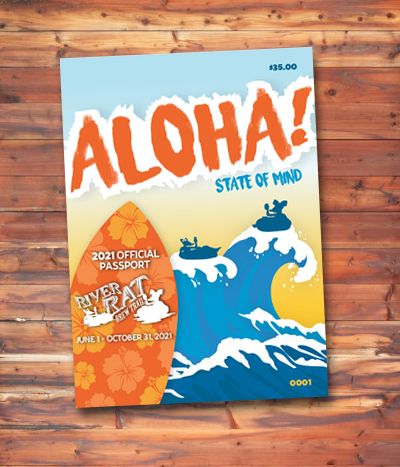 The 2021 River Rat Brew Trail Passport is bringing you some fun in the sun! This year's Aloha! State of Mind theme will feel like a walk on the beach with the best cold brews — from your forever favorites to new discoveries. The Summer Passport program will take you to 9 participating breweries in our area: Civil War Cider, Covered Bridge Brewhaus, Eclipse Craft Brewing Company, Jackass Brewing Company, Marzoni's Brick Oven & Brewing Company, Old Forge Brewing Company, Rock God Brewing Company, Rusty Rail Brewing Company, & Three Beards Brewing Company.
Statewide mandates in place at our trail breweries still require limited capacity for indoor dining and social distancing as well as masks, and guidelines are expected to be followed at all of the trail stops. However, the fun doesn't have to stop as long as you're practicing responsibly and safely.
Your passport is valid at all participating venues from June 1 through October 31, 2021, giving you plenty of time to hit all the stops! As you tour each location along the Trail, be sure to claim your passport sticker to verify your visit. No purchase is necessary, but we think you'll want to try some of the great drafts on tap — you're a craft beer lover after all! Given the changes our breweries have had to make on the fly as the COVID-19 pandemic has evolved, PLEASE still plan to contact breweries in advance of your visit or check out their social media channels for updated hours, brewery-specific guidelines, and more. We want to make sure your experience is as enjoyable as possible this trip along the trail, so be sure to be prepared in this ever-changing world.
Along the trail, your passport also allows you to collect an exclusive River Rat Brew Trail Brewer-designed koozie at each participating brewery. Plus, if you complete all the brewery stops on your passport, you can mail it in (postmarked no later than November 5) to get the official 2021 Trail's final prize (choice of theme-specific apparel) mailed back to you after the trail concludes. And if you do turn in your completed passport, you'll also be entered to win one of several Grand Prize packages (prizes currently TBD). We know you'll be in an aloha state of mind in no time!